Hello friends and Happy Virtual Pumpkin Party Day!!  Today, 75+ bloggers are sharing their favorite pumpkin recipes, and I am bringing this Pumpkin, Olive Oil and Dark Chocolate Cake to the table!
This post may contain affiliate links.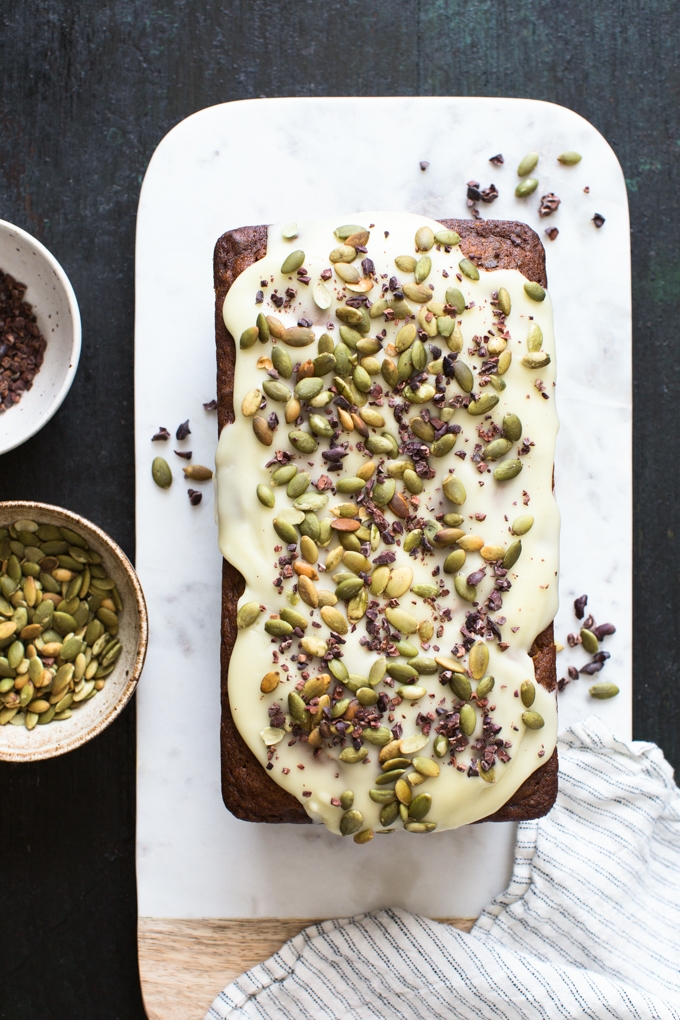 Every October, the lovely Sara from Cake Over Steak hosts the Virtual Pumpkin Party, and it's an event I look forward to each year.  In 2016, I made these Pumpkin Ricotta Gnocchi with Rosemary Brown Butter Sauce, and the year before that, I made Yeasted Pumpkin Waffles with Candied Ginger.  The recipes that the group comes up with are so inspiring, and they really push pumpkin to the limit!
My recipe today takes pumpkin bread to the next level.  Inspired by a recipe in the Gjelina cookbook, this cake starts with a can of pumpkin puree spread thin on a baking sheet.  The pumpkin is roasted in a hot oven until thick and rich (more about this below).  Next, you make a runny cake batter infused with cinnamon, nutmeg, roasted pumpkin and bits of bittersweet chocolate.  Pour the batter into a buttered loaf tin and bake until tender and golden.  The cooled cake is then blanketed with an olive oil glaze, toasted pepitas and cocoa nib shrapnel.  Each bite of this rich pumpkin cake is packed with chocolate and spice.  The glaze provides a hit of sweetness that has a surprisingly pleasant olive oil flavor while the confetti of toppings add bitterness and crunch.  Although somewhat casual in appearance, this pumpkin cake is a real special treat that is best enjoyed with a hot cup of coffee.  Continue reading for the recipe.
I shared this little trick with last year's pumpkin recipe, but it's such a good one, that I thought I'd mentioned it again today.  Canned and homemade pumpkin puree can often be very watery, resulting in a muted pumpkin flavor.  You can easily concentrate the pumpkin flavor by roasting the puree in a 400°F oven for 15 minutes.  The resulting puree should measure around 1 1/4 cups.  You'll only need 1 cup for this recipe, so you can use the remaining puree in your morning oatmeal or smoothie!
Extra-virgin olive oil is the fat of choice here, and it lends a savory, peppery note to the cake.  The same oil is also swirled into a simple glaze, tinging the topping a pale honey color.  The sweet-savory thing happening with the evoo pairs beautifully with the pumpkin and spice.  There's also a significant amount of dark chocolate studded throughout the cake.  All of these robust flavors make this rich cake perfect for a cool autumn evening.
This year, Sara has gathered all of the Virtual Pumpkin Party recipes on one simple microsite.  Check it out here!  I'll be running through the list this week, and bookmarking my favorites.  A big thanks to Sara for coordinating and keeping this fun tradition going!!
Pumpkin, Olive Oil and Dark Chocolate Cake
Ingredients
For the cake:
Unsalted butter, for greasing the tin

1

15-ounce can pumpkin puree (not pumpkin pie filling)

1 1/2

cups

180 grams flour, plus more for the tin

1 1/2

teaspoons

baking powder

1/2

teaspoon

baking soda

1

tablespoon

cinnamon

2

teaspoons

freshly grated nutmeg

3/4

teaspoon

kosher salt

3

eggs

1 1/3

cups

sugar

1

cup

plus 1 tablespoon extra-virgin olive oil

8

ounces

bittersweet chocolate, chopped
For the glaze:
1 1/4

cups

150 grams confectioners' sugar, plus more as needed

2

tablespoons

hot water, plus more as needed

3

tablespoons

extra-virgin olive oil
Toasted pepitas, for topping (about 2 - 3 tablespoons)
Crushed coca nibs, for topping (about 1 to 2 tablespoons)
Instructions
Preheat an oven to 400°F. Spoon pumpkin on to a rimmed baking sheet. Smooth out into an even, thin layer, and bake for 15 minutes. Let cool, then measure out 1 cup (225 grams) puree.

Reduce heat to 325°F. Butter and lightly flour a 9-inch loaf pan.

In a large bowl, add flour, baking powder, baking soda, cinnamon, nutmeg and salt, whisking to combine. In a medium bowl, whisk together eggs, pumpkin puree, sugar and olive oil until smooth. Add the wet ingredients to the dry ingredients, stirring just until combined. Fold in the chocolate.

Pour the batter into the prepared loaf pan, and bake until the top is golden brown and a toothpick inserted into the middle of the cake comes out clean (75 to 80 minutes). Transfer to a cooling rack and cool for 20 minutes. Carefully remove the cake from the tin and let cool for an additional 20 minutes.

To make the glaze, add confectioners' sugar and water to a medium bowl, whisking until smooth. The consistency should be similar to honey - add more sugar or water as needed to achieve the right texture. Slowly drizzle in the olive oil, whisking constantly. The glaze should be thick but pourable.

To finish, drizzle the glaze over the cake, letting it run down the sides. Sprinkle the top evenly with toasted pepitas and cocao nibs. Let the glaze set completely before serving (about 1 hour).
Tried this recipe?
Tag @brandiego on Instagram so I can check it out!
9