Last week, I shared a round up of some of my favorite Holiday cookies recipes. This week, I've got something new for you: Earl Grey Shortbread Cookies with Lemon Glaze.
This post may contain affiliate links.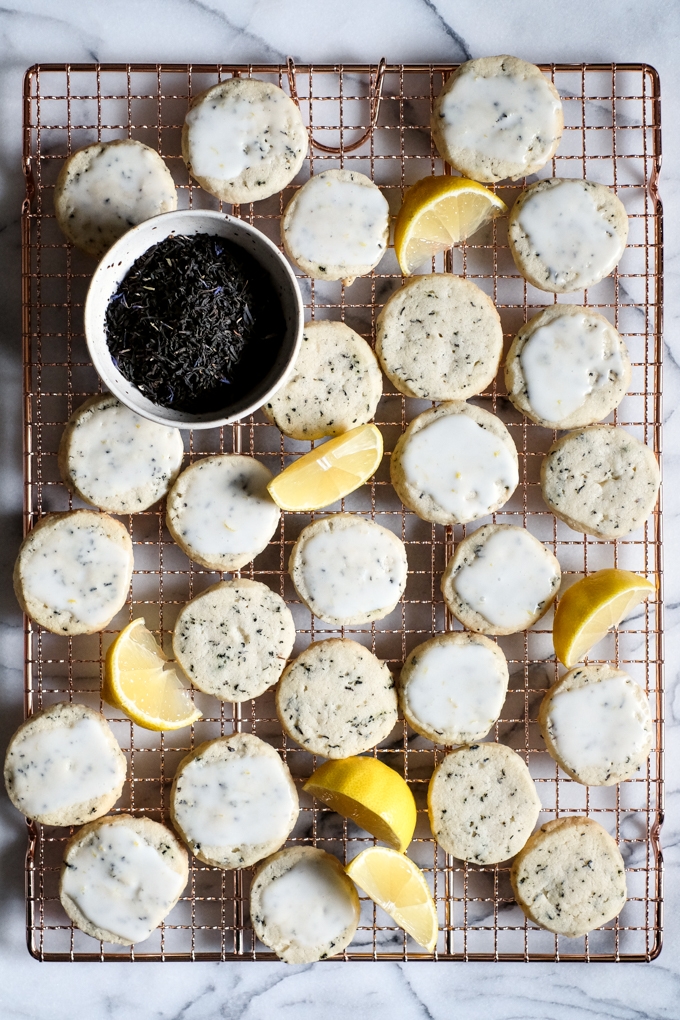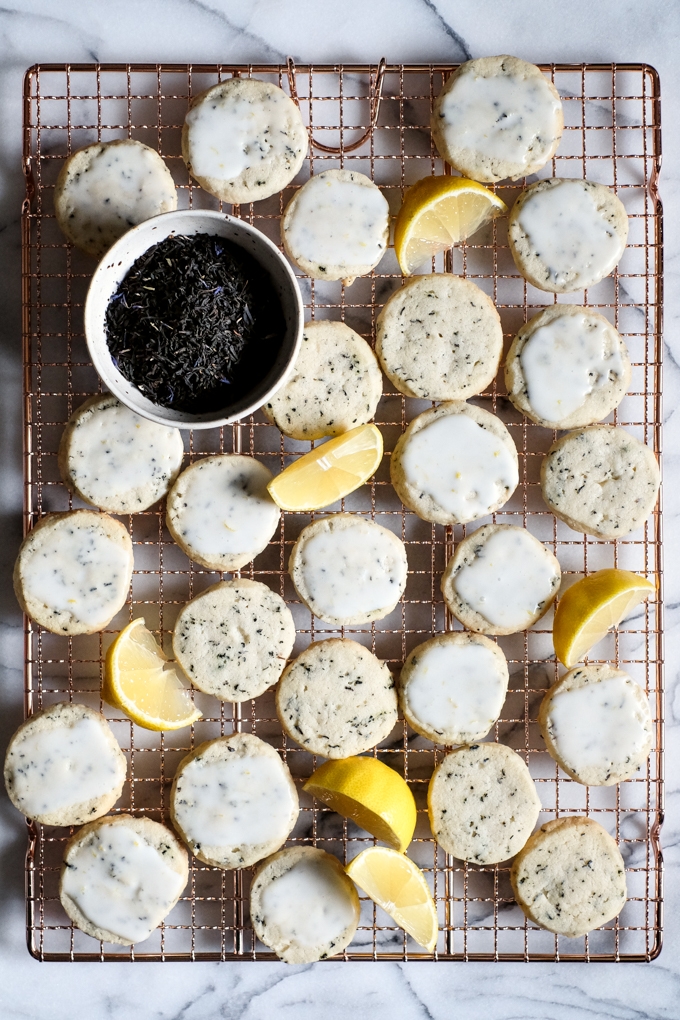 I recently posted this recipe on Instagram, and it got such an amazing response, I thought I'd turn it into a full article here on Kitchen Konfidence. These shortbread cookies are a simple mix of butter, sugar, vanilla, flour, salt and loose earl grey tea. Everything comes together in a stand mixer, then the dough is rolled into two logs and chilled until firm. Slice the cookies into rounds and bake until just golden at the edges. Each tender shortbread cookie is buttery and rich with sweet notes of vanilla, black tea and bergamot. They're delicious as is, but I've added an easy lemon glaze to take things to the next level. Jorge and I have seriously been eating these for breakfast, after lunch and for dessert at night. SO tasty. Continue reading for the recipe.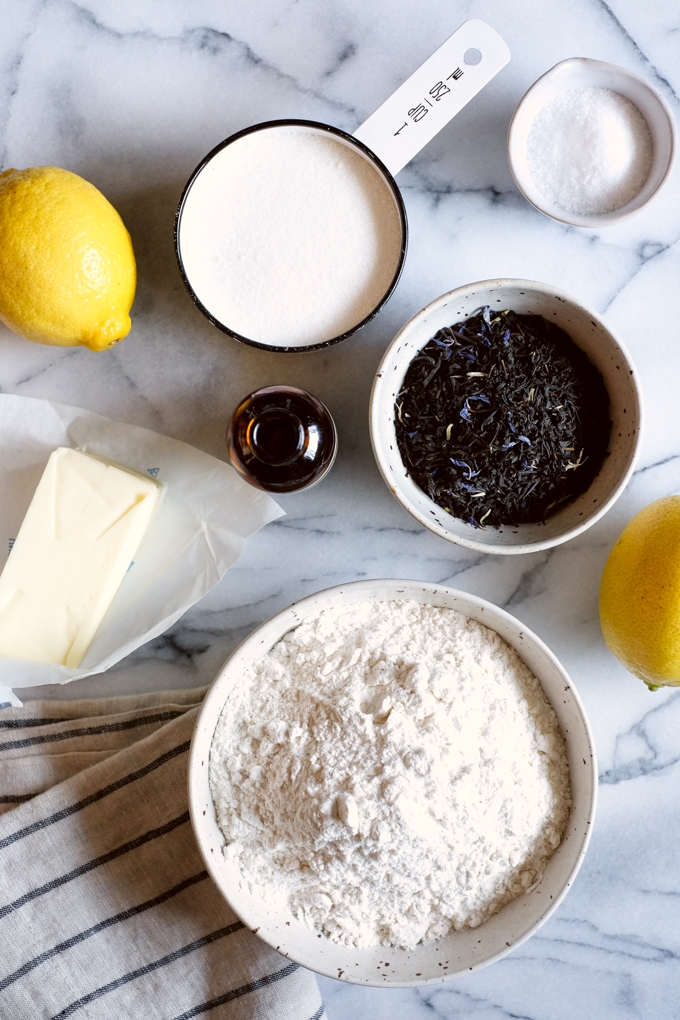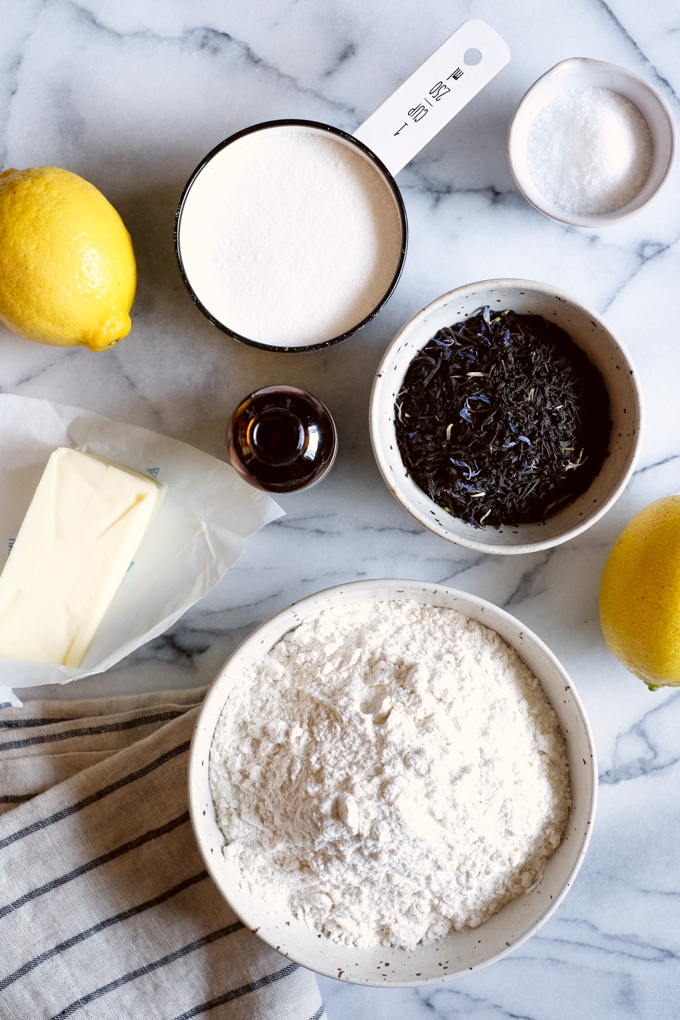 These earl grey shortbread cookies are pretty straight forward. The only "trick" here is that the butter needs to be room temperature before creaming. This doesn't mean you leave the butter out for 15 minutes on the counter. The butter needs to sit out for several hours to come up to temperature. This is a detail I often overlook, and luckily I've got a method to speed up the process.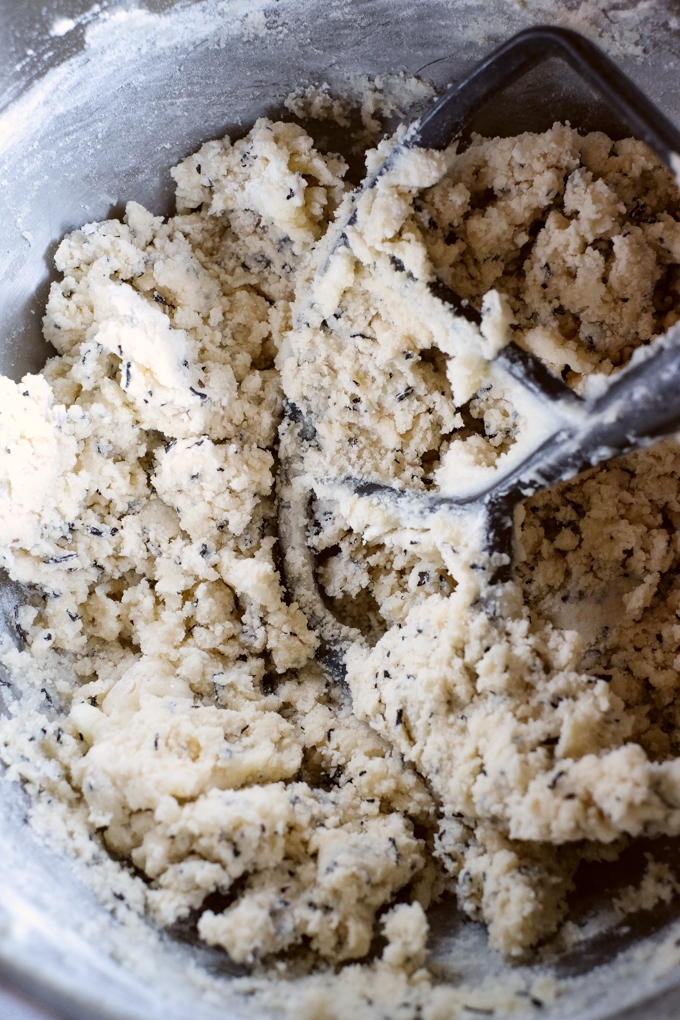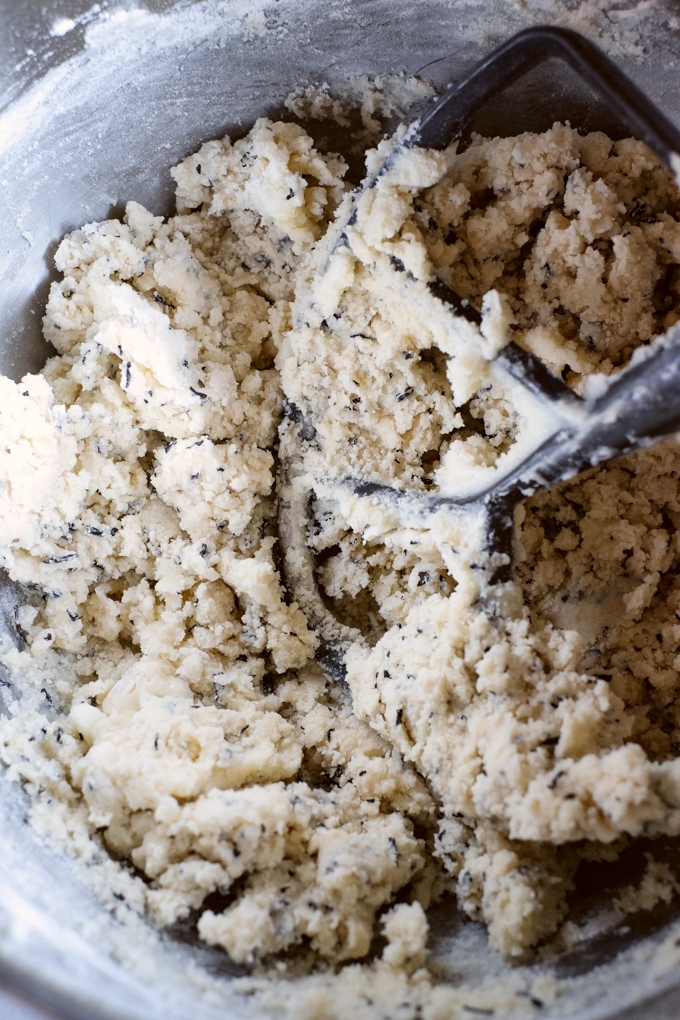 Here's how to quickly soften butter:
Cut butter into tablespoon slices and stand each slice upright on a small plate. The slices should be separated from each other. Set aside.
Fill a small bowl with water and microwave until hot and steaming (3 to 4 minutes).
Place the plate of butter in the microwave next to the bowl of steaming water, and let sit until the butter is soft. Do not turn on the microwave.
The butter should be soft in 15 – 20 minutes.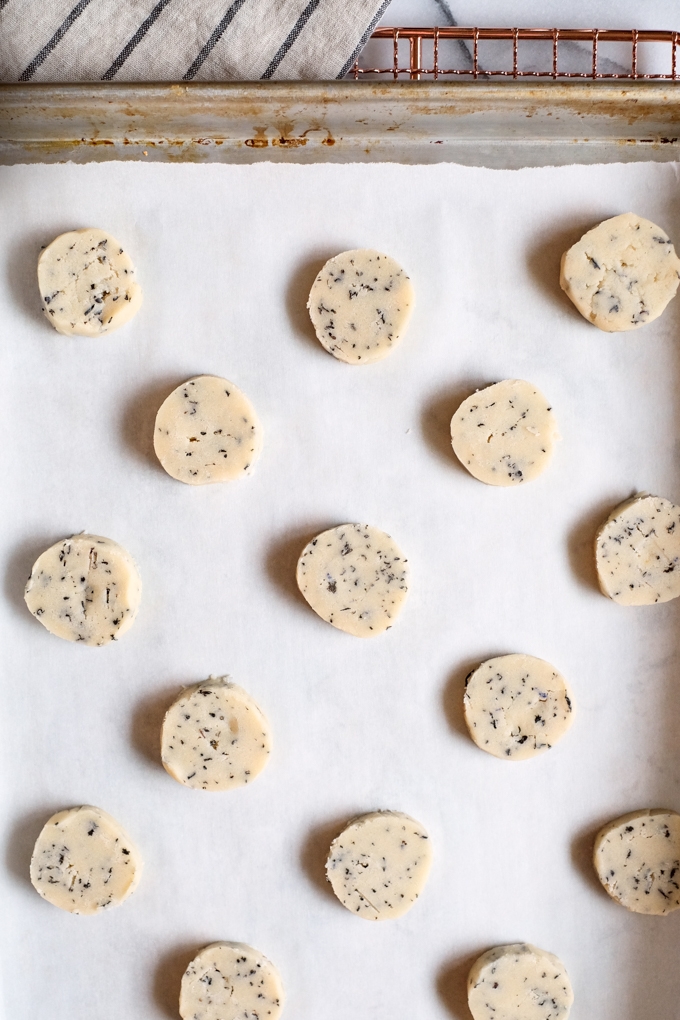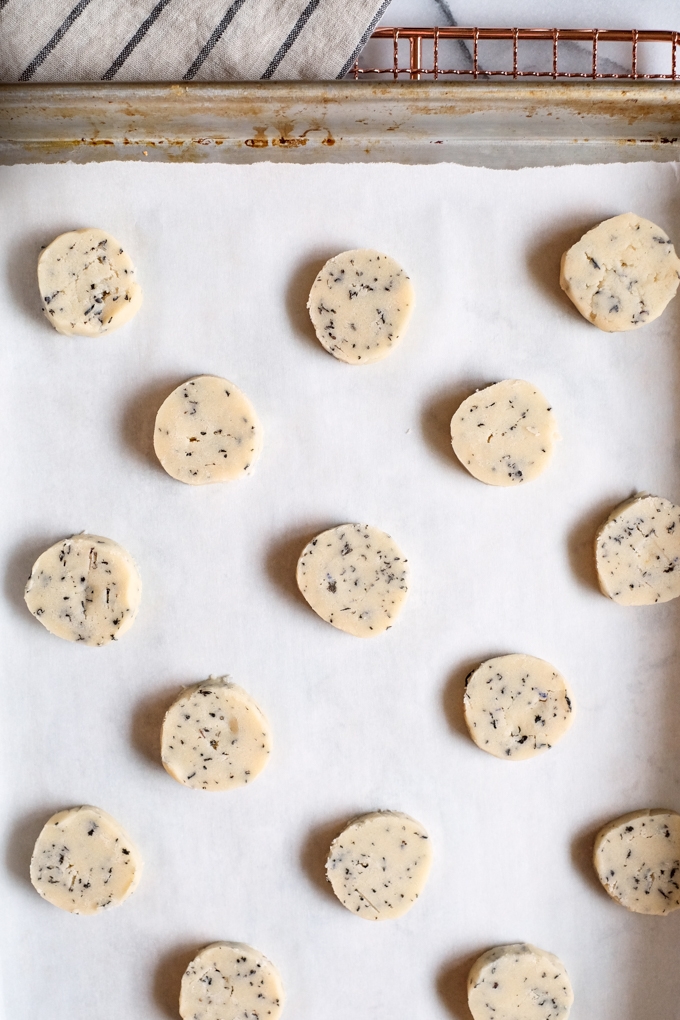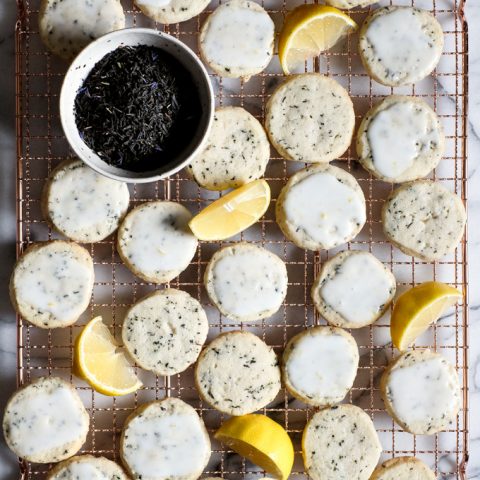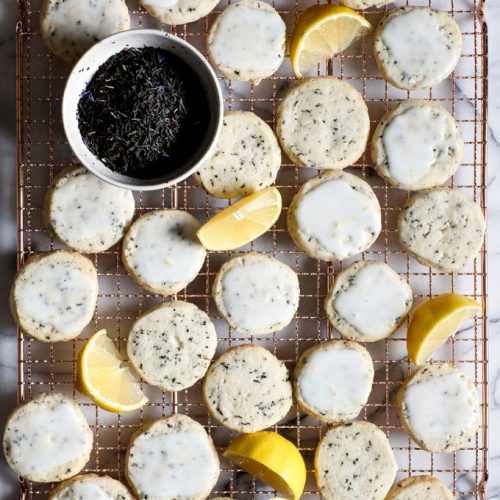 Earl Grey Shortbread Cookies with Lemon Glaze
Ingredients
For the shortbread cookies:
2

cups

all purpose flour

2

tablespoons

loose earl grey tea

1/2

teaspoon

fine grain sea salt

2

sticks (1 cup, 8 ounces) unsalted butter, at room temperature

3/4

cup

sugar

1

teaspoon

vanilla
For the glaze:
1

cup

confectioners' sugar

2 1/2

tablespoons

fresh lemon juice

1

teaspoon

melted butter

1/2

teaspoon

lemon zest

Pinch

of fine grain sea salt
Instructions
In a medium bowl, whisk together flour, earl grey tea and salt. Set aside.

In the bowl of a stand mixer fitted with the paddle attachment, cream butter and sugar and medium until light and fluffy (about 2 minutes). Add vanilla and mix just until incorporated. Scrape down the sides, then add the dry ingredients. Start the mixer on low, then increase to medium. Beat just until a crumbly dough forms. Do not overmix!

Turn the dough out on to a work surface and shape into 2 logs 2-inches in diameter. As you are shaping the logs, the dough will crumble and break. Just keep on pressing and rolling until it comes together. Wrap the logs in plastic wrap and freeze until hard (30 – 40 minutes). At this point you can keep the dough in the freezer for up to 3 days.

When ready to bake, preheat an oven to 350°F and place a rack in the middle position. Line 2 baking sheets with parchment paper.

Working with 1 log at a time, slice into 1/3-inch round cookies, and arrange on the prepared baking sheets. You should be able to fit around 18 per sheet. If a cookie crumbles as you are slicing, just press it back into a round shape. Working in batches, bake for 13 – 15 minutes until the cookies are lightly browned around the edges. Let cool for 5 minutes on the baking sheet, then transfer to a cooling rack.

To make the glaze, add all the glaze ingredients to a medium bowl, and whisk until smooth. Once the cookies have cooled completely, brush glaze on each cookie.
Tried this recipe?
Tag @brandiego on Instagram so I can check it out!
119