Ever since I was a kid, I've always loved pretzels.  They're still a snack of choice at my house.  From time-to-time, I'll even work them into a dessert recipe like these Salted Pretzel and Stout Brownies, sponsored by Frito-Lay.
This post may contain affiliate links.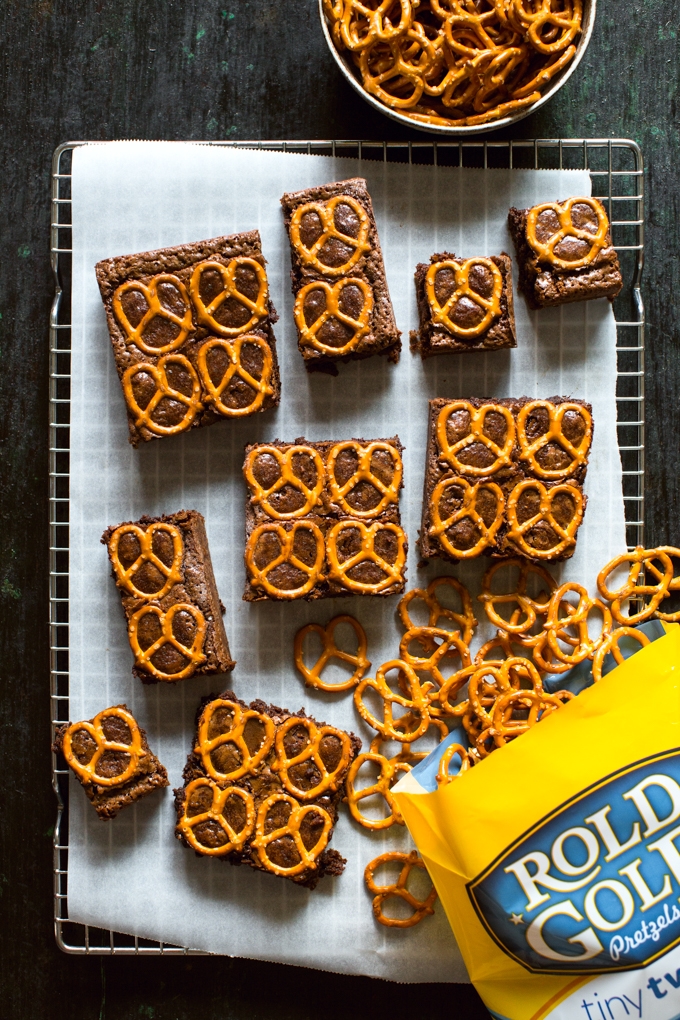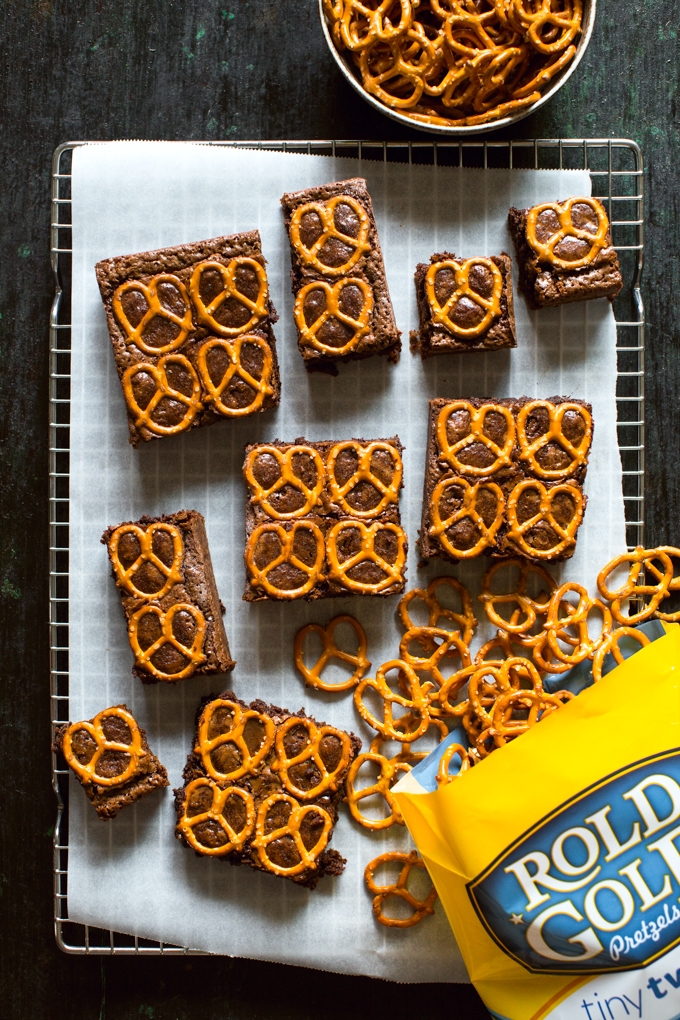 This recipe starts with rich, creamy stout beer bubbling away over high heat.  The beer is reduced to concentrate flavor while removing water.  Eventually the stout reduction is swirled into a dark chocolate brownie batter infused with vanilla and molassesy brown sugar.  A clattering cup of semisweet chocolate chips are a final addition before rows of ROLD GOLD® Original Tiny Twists Pretzels get arranged on top.
Fudgy in texture, the finished brownies are deep and dark with just the right amount of sweetness.  The stout reduction provides depth of flavor without making them taste too much like beer, and the pretzels on top add a salty and crunchy contrast.  These brownies are so good you guys.  You really need to make them, especially for your upcoming Super Bowl LII party.  Continue reading for the recipe.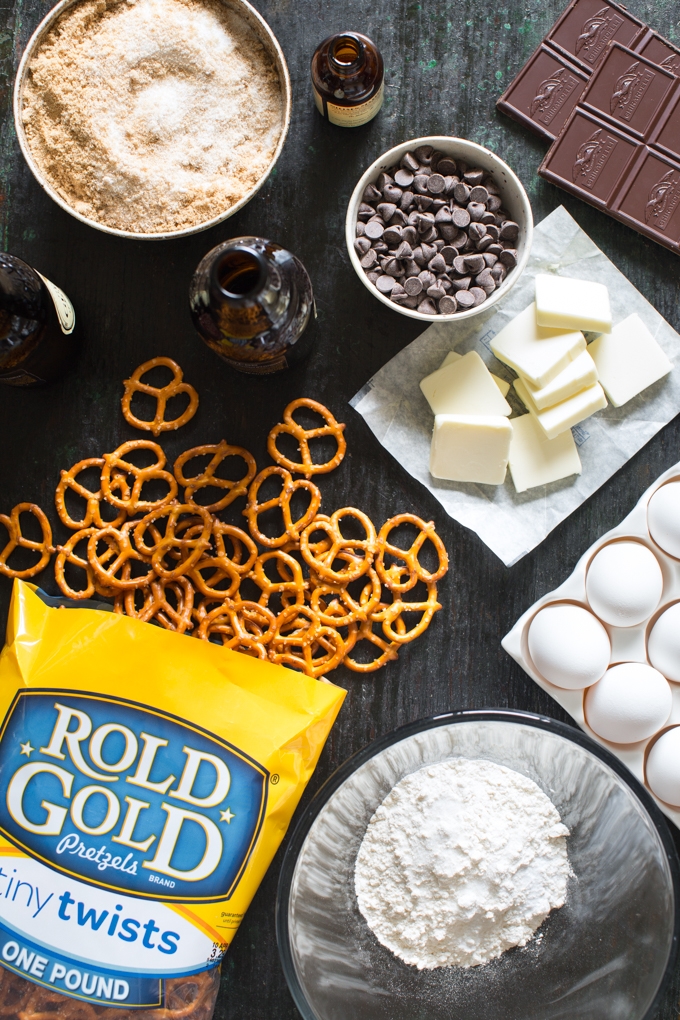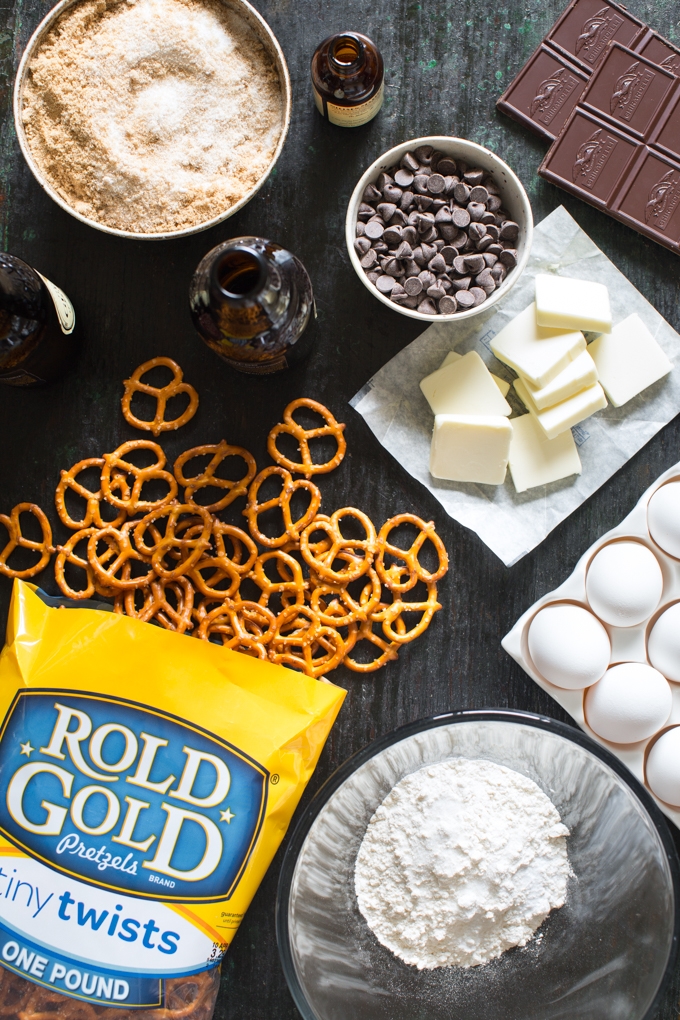 These Salted Pretzel and Stout Brownies would be a perfect addition to a game day dessert spread.  You can cut the brownies into various sizes (see picture above) as needed.  Throwing a large party?  Cut the brownies up into 35 1 x 1 squares, so everyone can have a taste or two.  For a mid-sized bash, you may want to cut them into 2 x 1 rectangles.  This size is also good for dunking into cold milk.  For a smaller gathering, you may want to cut into larger 4 x 4 squares.  These bigger brownies are delicious when topped with a scoop of vanilla ice cream.
I just love the contrast of the crunchy pretzels and the fudgy brownie.  The pretzels on top will soften a bit as the brownies sit, so it's best to make these the day you are going to serve them.  They're still tasty even with the softer topping.  You just won't get that texture contrast on top.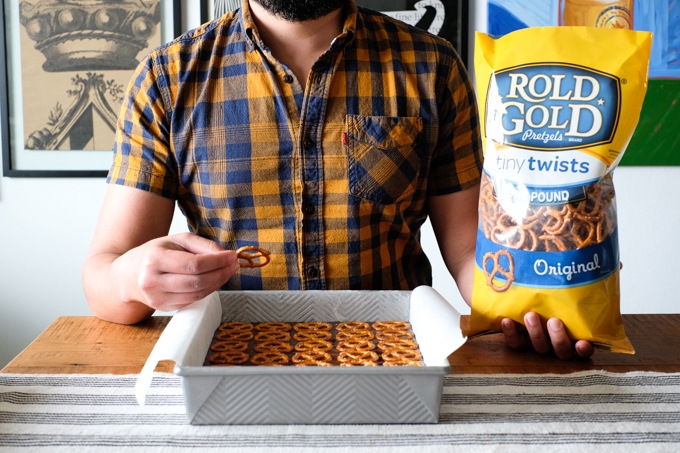 Although these brownies would be a tasty treat at Super Bowl LII party, the addition of stout beer here also makes them perfect for St. Patrick's Day, so bookmark this recipe now for March!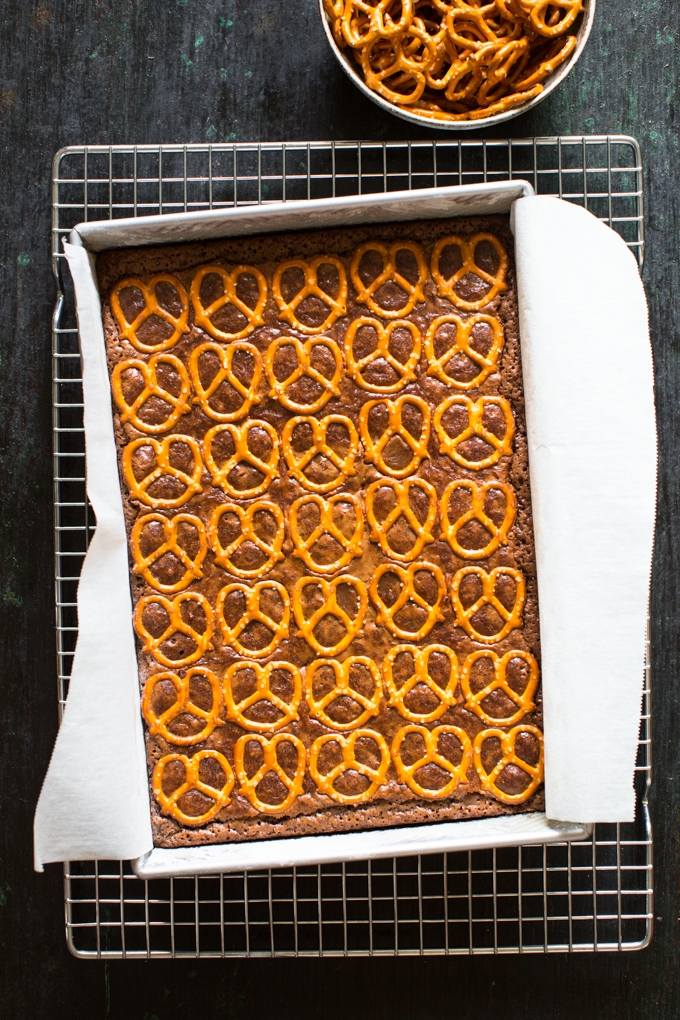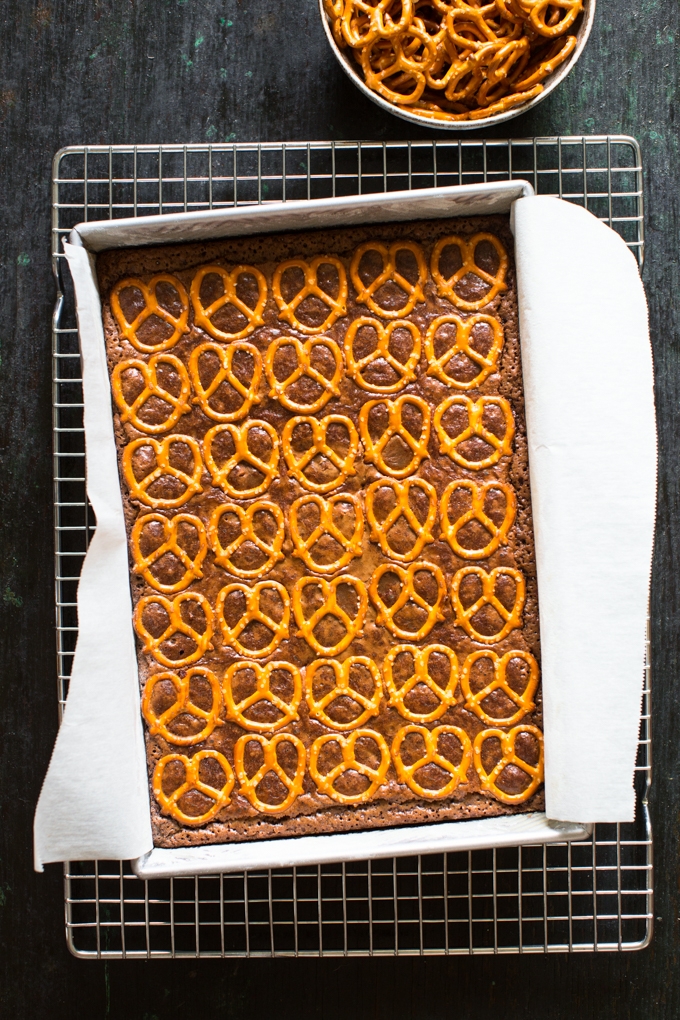 Salted Pretzel and Stout Brownies Recipe
Ingredients
1

cup

stout beer

1

cup

all purpose flour, plus more for the pan

1/2

teaspoon

baking soda

3/4

teaspoon

fine sea salt

3/4

cup

(1 1/2 sticks) unsalted butter, plus more to butter the pan

6

ounces

bittersweet chocolate, chopped

1

cup

sugar

1

cup

firmly packed light brown sugar

4

large eggs, at room temperature

2

teaspoons

vanilla extract

1

cup

semisweet chocolate chips
Instructions
Bring stout to a boil in a medium saucepan over medium-high heat. Cook until the stout reduces to 1/3 cup (about 15 minutes). Watch the pot during the first couple of minutes to make sure it doesn't boil over, and adjust heat as needed. Set aside.

Preheat an oven to 350°F. Lightly butter a 9" x 13" baking pan, line with parchment, then lightly butter and flour the parchment. Tap out excess flour. Leave some parchment overhang (see photo above), so you can easily pull the brownies out of the pan.

Add flour, baking soda and fine grain sea salt to a medium bowl, whisking to combine. Set aside.

Bring a large pot filled with 2 inches of water to a simmer. Set a heatproof bowl on top of the pot, but make sure the bottom of the bowl is not touching the simmering water. Add butter and chocolate to the bowl, stirring until melted and combined. Turn off the heat, but keep the bowl on the pot. Whisk white sugar and light brown sugar into the chocolate mixture. Remove the bowl from the pot and whisk in the eggs 1 at a time. Switch to a spatula, then stir in vanilla and reduced stout. Gently fold flour mixture into the chocolate mixture until just incorporated. Then fold in chocolate chips. Do not overmix here. Pour brownie batter into the prepared baking dish. Arrange pretzels in even rows on top of the batter.

Cook for 25 - 30 minutes, or until a toothpick inserted into the center of the brownies comes out with just a few moist crumbs. You may want to test in a few spots, because hitting a chocolate chip with the toothpick will make the brownies seem wetter than they actually are. Transfer the baking pan to a cooling rack, and let cool.

Using the parchment overhang, lift the brownies from the pan, and cut into squares or rectangles, leaving the pretzels on top in tact.
Tried this recipe?
Tag @brandiego on Instagram so I can check it out!
This post was written in partnership with Frito-Lay.  All thoughts, opinions and recipes are my own.  Find more game day recipes with Frito-Lay on their Pinterest page! 
8