Happy New Year everyone!!  Over the past week, I've been cleaning all of the Holiday indulgences out of my fridge and pantry, and replacing them with plenty of healthy goodies.
This post may contain affiliate links.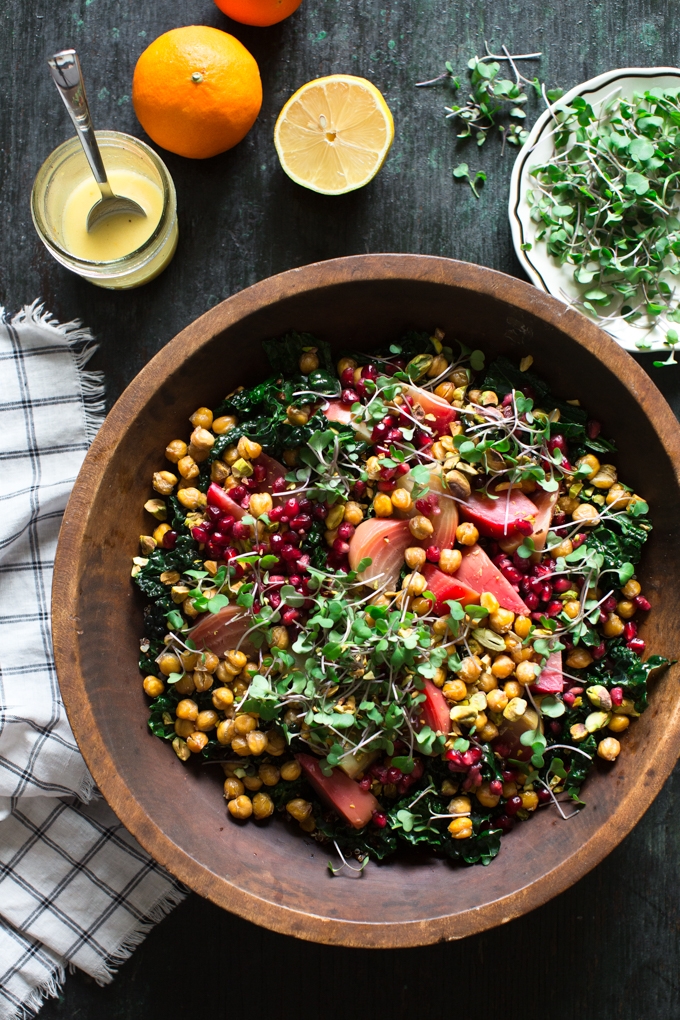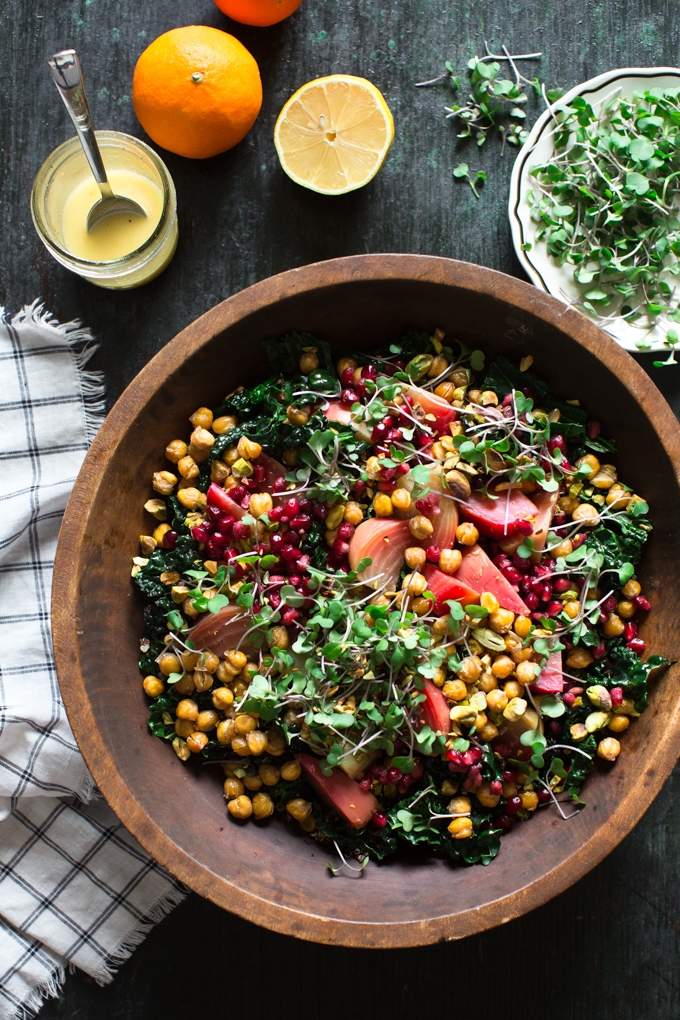 Today's recipe, prepared in partnership with USA Pulses & Pulse Canada, is a vibrant Superfood Salad topped with Easy Roasted Chickpeas.  Lacinato kale rubbed with a citrus vinaigrette is the hearty base of this salad.  Layers of flavor and color are then arranged on top:  cooked quinoa, roasted beets, toasted pistachios, pomegranate arils, microgreens and golden, roasted chickpeas.  An extra drizzle of citrus vinaigrette and a final sprinkling of salt and pepper finishes the salad.  A celebration of red, yellow, pink and green, this gorgeous salad nourishes both the mind and body.  Continue reading for the recipe.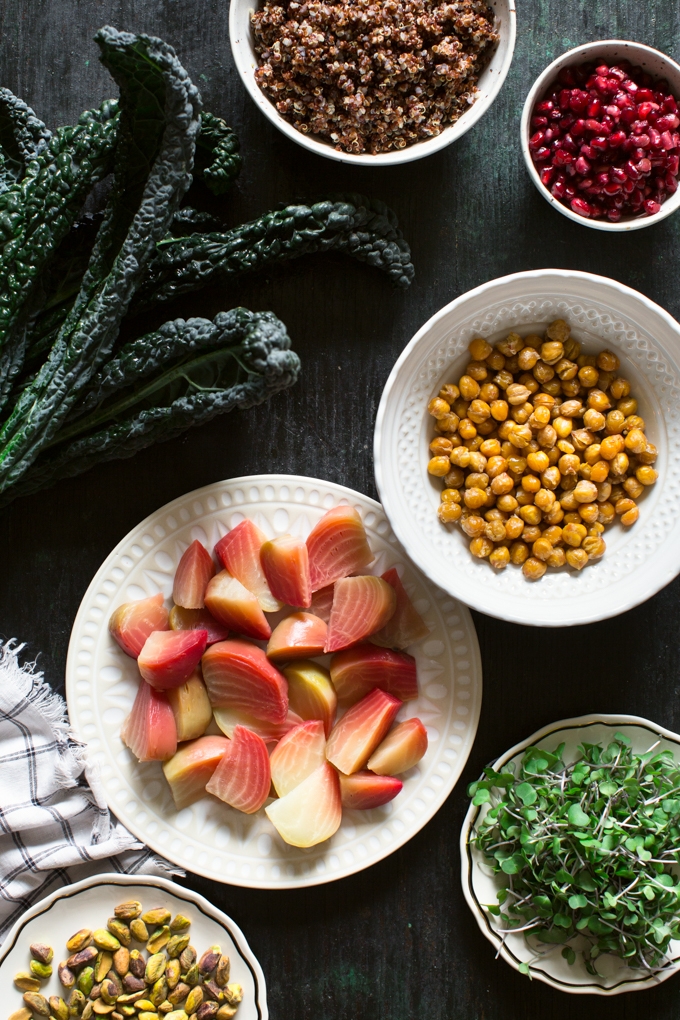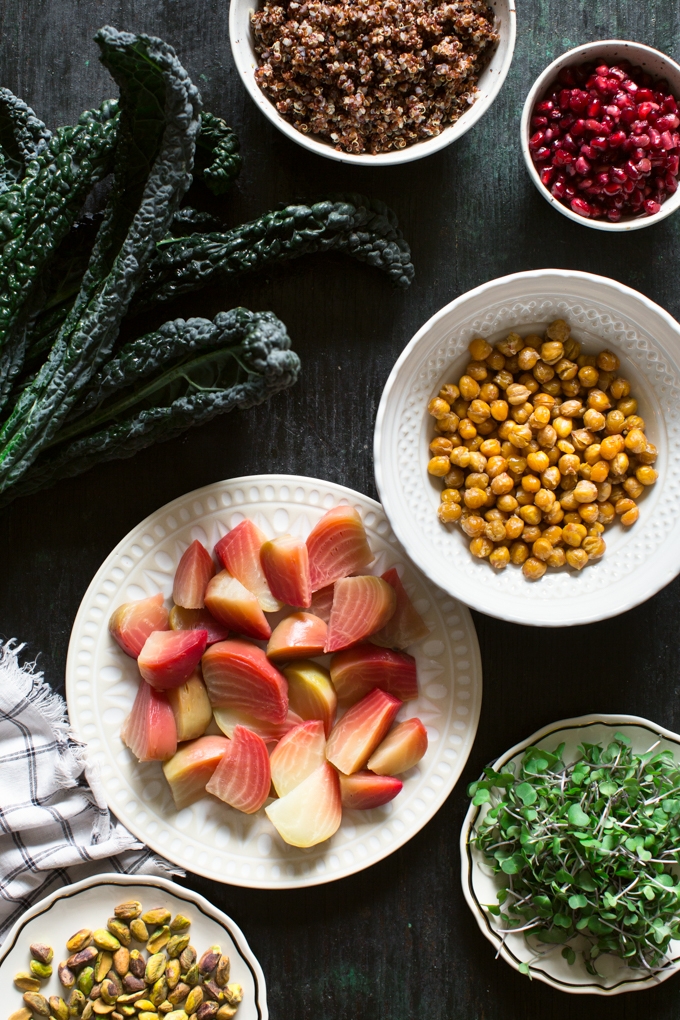 Eating salads is not something that comes natural to me, so for me to really enjoy one, it needs to be exciting.  Contrasting flavors.  Contrasting textures.  Pretty colors.  These things help keep me motivated when I'm trying to eat healthier.
This salad in particular contrasts the dark, earthy flavors of beets, kale, and chickpeas with the brightness of pomegranate and a citrus-spiked vinaigrette.  Quinoa is added for more substance and pistachios for moments of grassy crunch.  Each varied bite of this salad is so satisfying.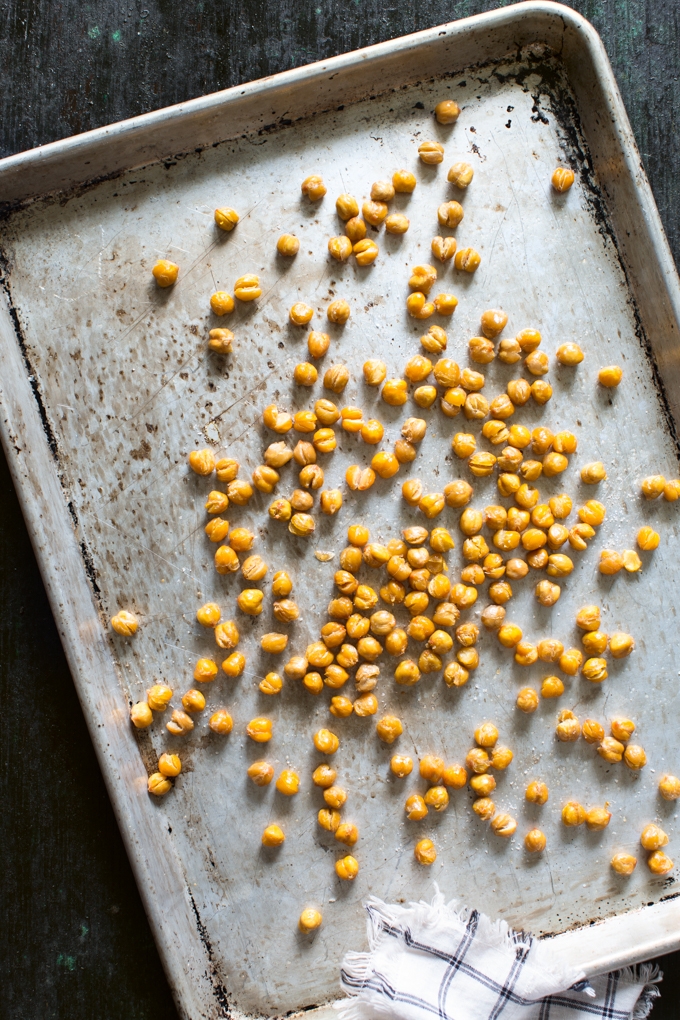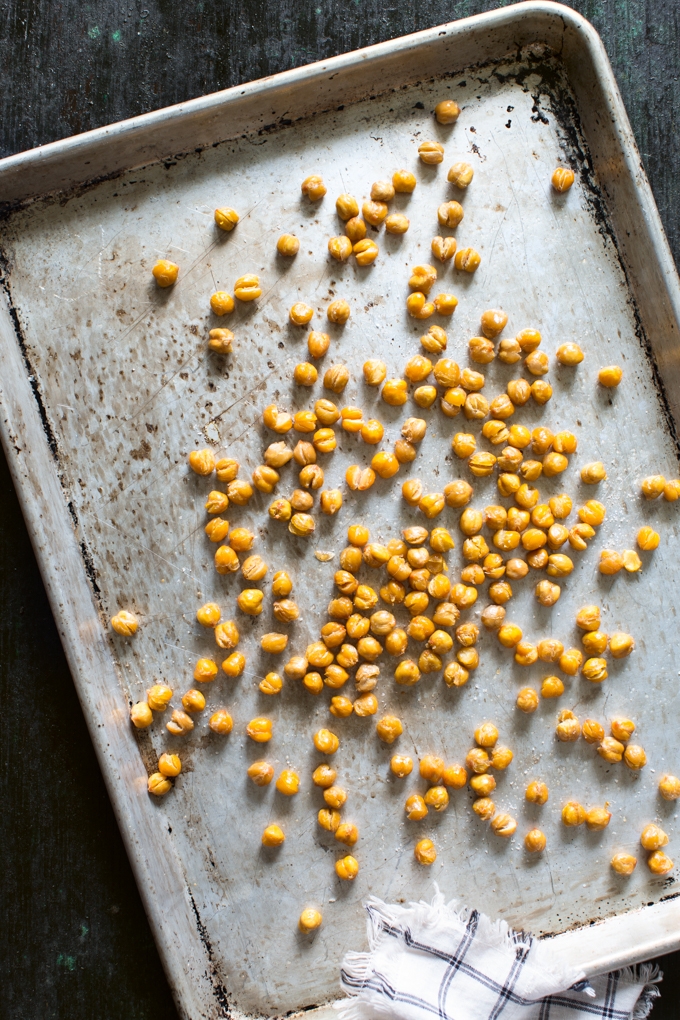 Roasted chickpeas are a delicious snack when enjoyed as is, but they're also tasty sprinkled over any salad.  I like to think of them as a gluten-free crouton.  Packed with protein, fiber and nutrients, eating chickpeas (and other pulses!) can help maintain a healthy weight and improve overall well-being.
My friends over at USA Pulses & Pulse Canada are currently promoting the Half-Cup Habit where they are encouraging everyone to enjoy 1 1/2 cups of pulses (dry chickpeas, peas, beans and lentils) each week.  You can sign up for their email list to get plenty of recipes, tips and digital resources.  And you may even see a recipe or two of mine in the mix.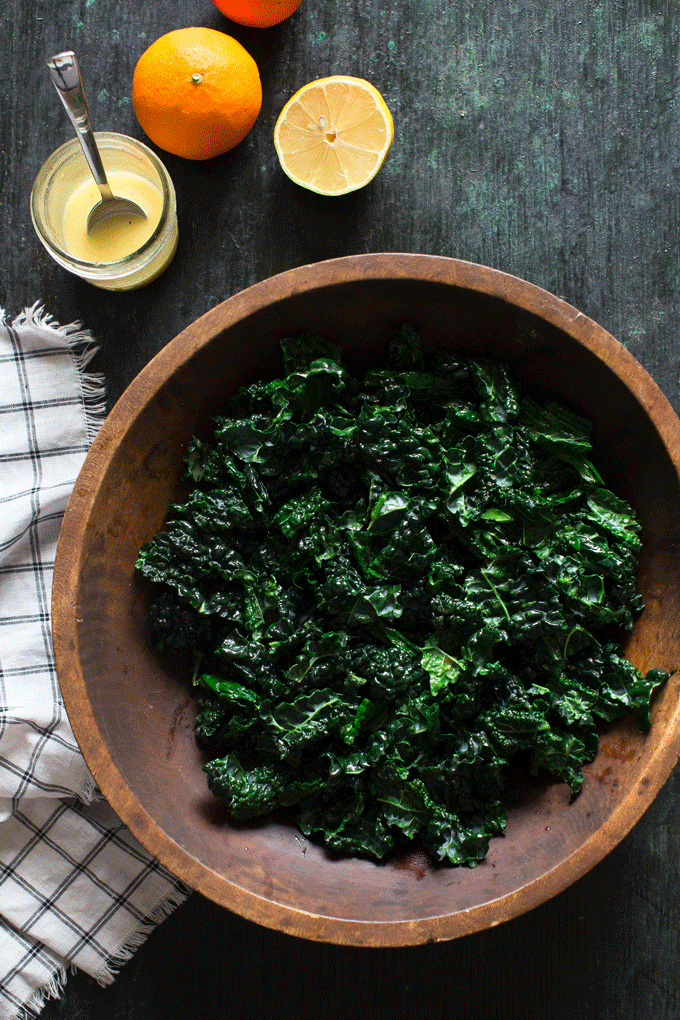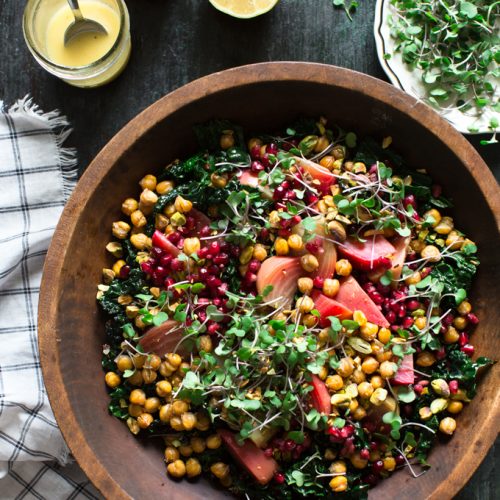 Superfood Salad with Easy Roasted Chickpeas Recipe
Ingredients
For the chickpeas:
1 1/2

cups

cooked chickpeas (prepared from dry*)

1

tablespoon

olive oil

Kosher salt
For the salad:
4

tablespoons

olive oil

1 1/2

tablespoons

white wine vinegar

1

tablespoon

lemon juice

1

tablespoon

tangerine juice (or orange juice)

1

teaspoon

tangerine zest (or orange zest)

1

teaspoon

honey

1

teaspoon

Dijon mustard

Kosher salt

Freshly ground black pepper

2

bunches lacinato kale (also known as Tuscan or dino kale), stems discarded and leaves chopped into bite-sized pieces

3

chioggia beets, roasted, peeled and cut into wedges

1/3

cup

cooked quinoa, at room temperature

1/3

cup

toasted pistachios, chopped

1/2

cup

pomegranate arils

Sprouts or microgreens, for sprinkling
Instructions
Start by making the roasted chickpeas. Preheat an oven to 400°F. Place chickpeas on a rimmed baking sheet, and toss with olive oil and a couple pinches of salt. Roast, tossing occasionally, until crispy and golden on the outside and creamy within (about 20 minutes). Season to taste with additional salt, and let cool a bit before using on the salad.

Meanwhile, add olive oil, vinegar, citrus juice and zest, honey and Dijon mustard to a small jar with a couple pinches of salt and a few grinds of black pepper. Secure the lid, and shake until combined. Season to taste with additional salt and pepper.

Place kale in a large bowl, and drizzle over 3 tablespoons citrus vinaigrette. Using your hands, work the vinaigrette throughout the greens, tossing and massaging as needed. The leaves should be glistening with vinaigrette. Let the salad sit at room temperature for 15 - 20 minutes until the kale leaves are tender.

Top the kale with beets, quinoa, pistachios, pomegranate arils and roasted chickpeas. Drizzle the toppings with vinaigrette, then finish with a sprinkling microgreens, salt and pepper. Any extra salad will keep in the fridge for up to 3 days. Extra vinaigrette will keep in the fridge for up to 7 days.
Notes
*I like to brine the dried chickpeas overnight and then cook quickly in my pressure cooker. You'll need 1/2 cup dried chickpeas for this recipe, but I would recommend preparing the chickpeas in bulk and then using in various dishes throughout the week. They're great with pasta or on salads. You can also blend them up into homemade hummus!
Tried this recipe?
Tag @brandiego on Instagram so I can check it out!
This post was written in partnership with USA Pulses & Pulse Canada. Thoughts, opinions and recipes are my own.
27