Everyone's favorite football game is just a few weeks away.  I've mentioned before that I'm not the biggest football fan, but I do love a good Game Day party and all the food that goes along with it.  Today's recipe, sponsored by Frito-Lay, is an irresistible addition to your Super Bowl LII bash.
This post may contain affiliate links.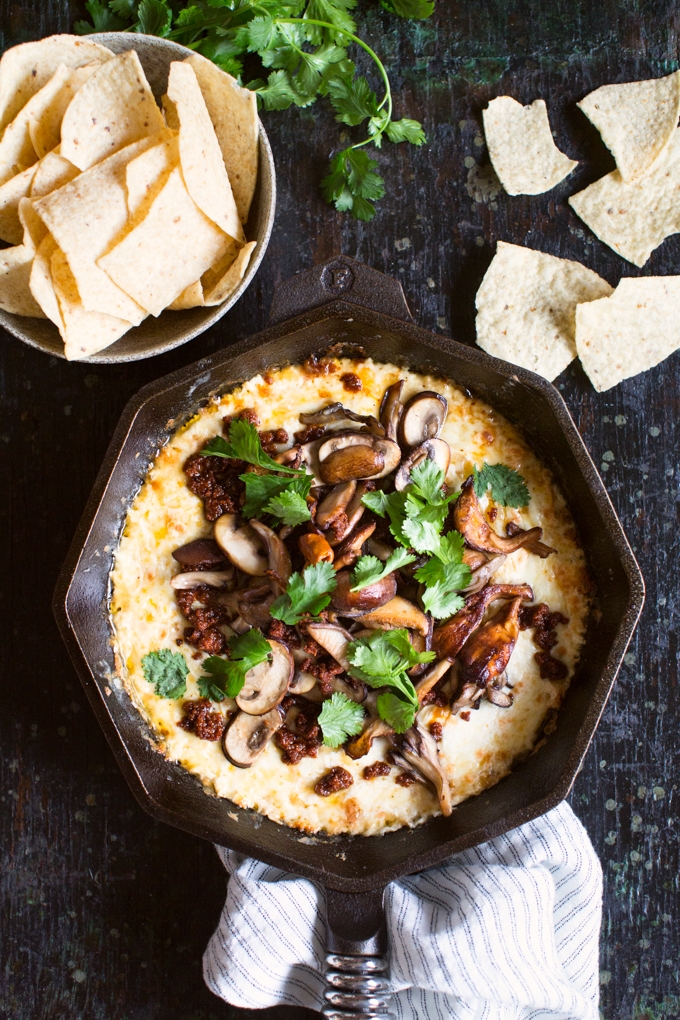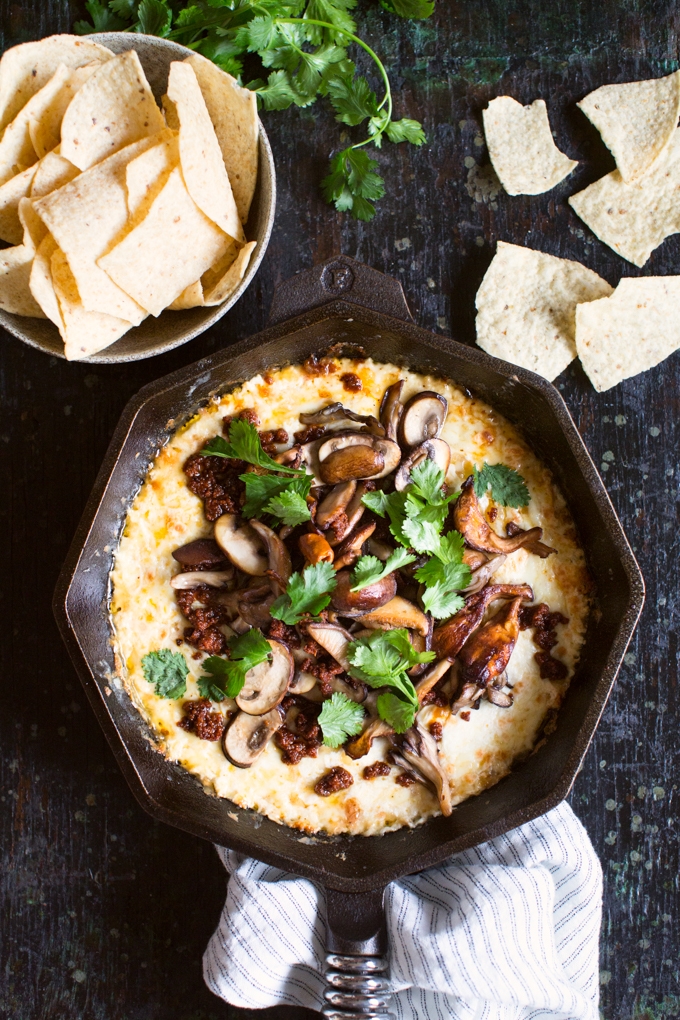 Queso fundido is a traditional Mexican dish of warm, melty cheeses flavored and topped with various delicious things.  This recipe starts with onions and garlic sizzling in a skillet.  Shredded Oaxacan and Monterey Jack cheeses are then thrown into the mix, and the skillet is transferred to the oven.  Moments later, the queso fundido emerges from the hot oven melted, bubbling and flecked with golden spots.  The dish is finished with sautéed wild mushrooms, cooked Mexican chorizo and leaves of fresh cilantro.
This Wild Mushroom and Chorizo Queso Fundido is best served hot out of the oven and with a big bowl of TOSTITOS® Original Restaurant Style Tortilla Chips.  I just love the contrast of the crunchy, salty tortilla chips against the rich, melty cheese.  Seriously, I could eat the whole skillet!!  Continue reading for the recipe.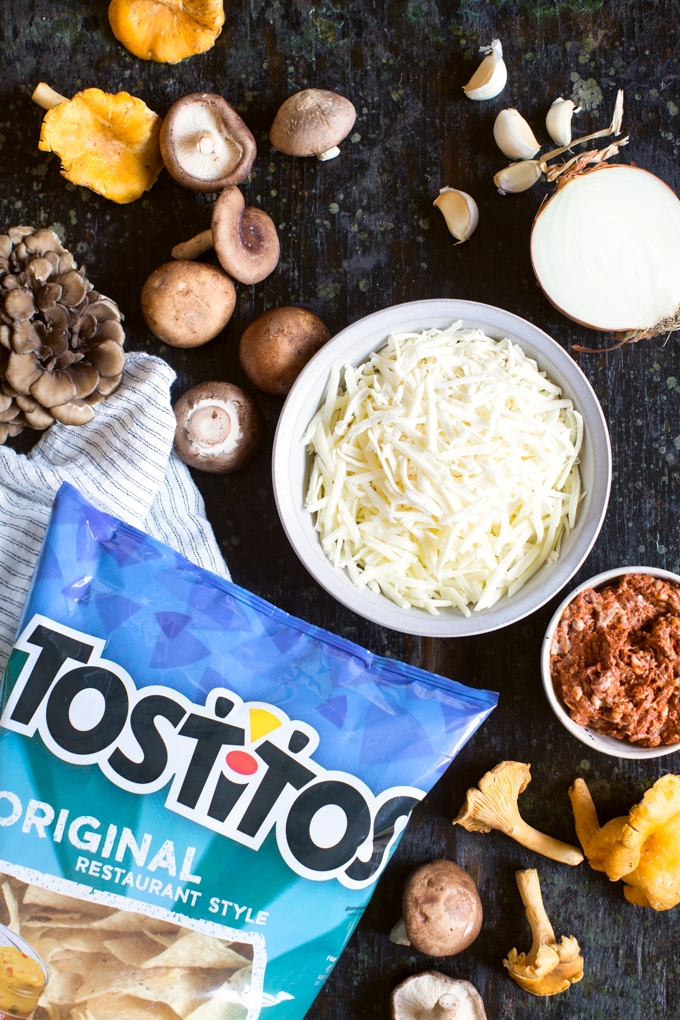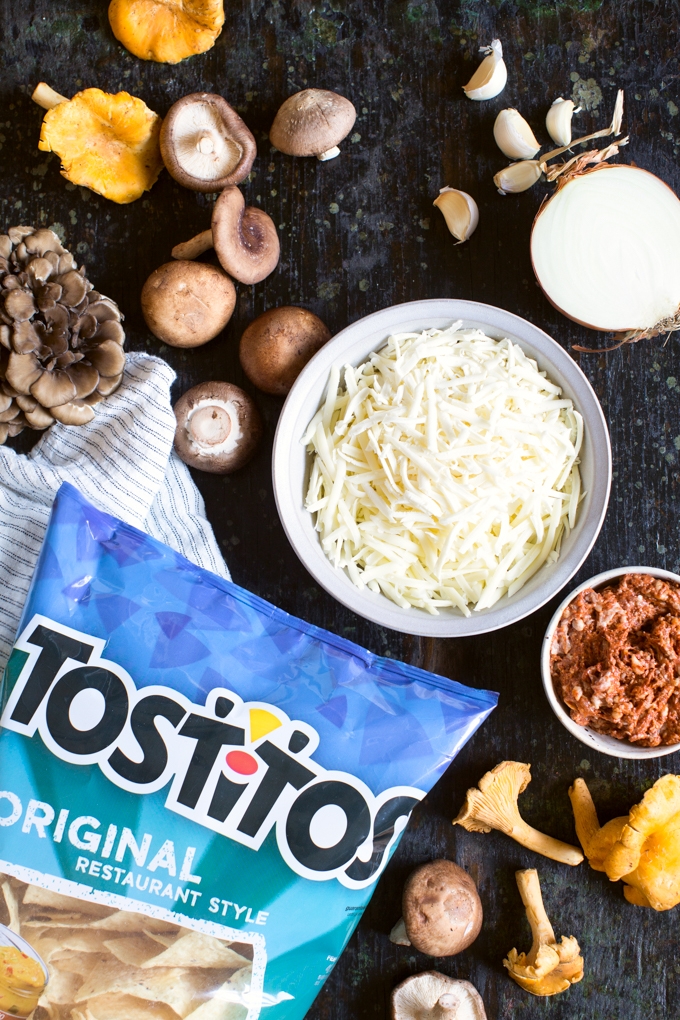 I was at the market recently and saw that chanterelle mushrooms were in season!  These tender beauties are orange in color with a robust mushroom flavor.  Inspired, I purchased a handful of them to use as a topping for this queso fundido along with a number of other wild mushrooms like creminis, shittakes and maitakes.  Chanterelles can be difficult to find, so if you don't see them at your local market, you could certainly use whatever's available.  Just creminis would be fine here.  The only mushroom I wouldn't use is white button.  They're better raw.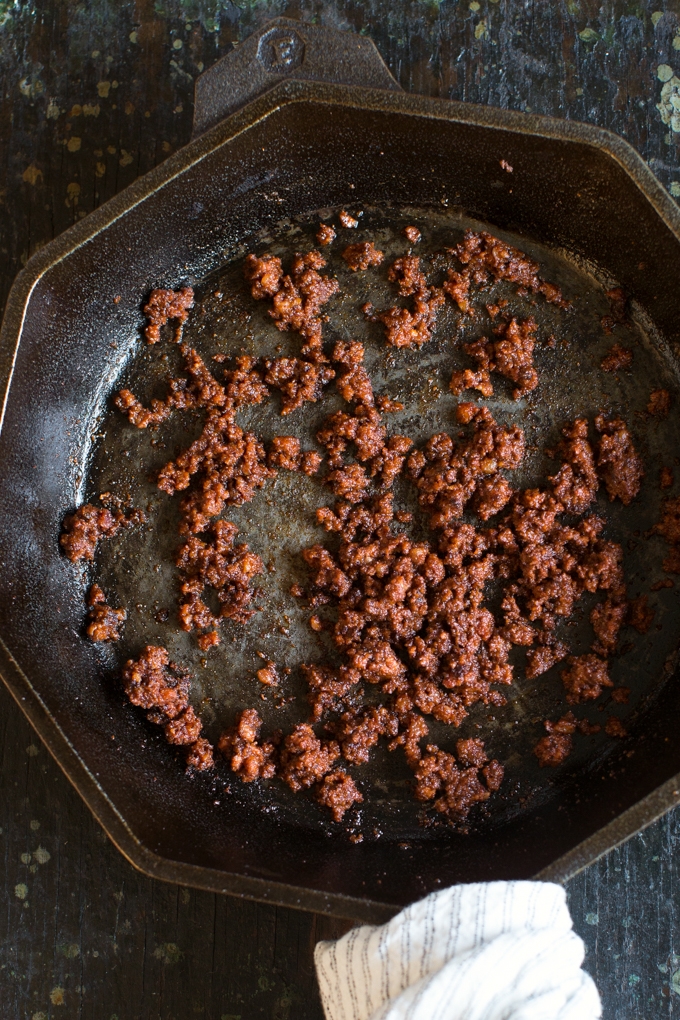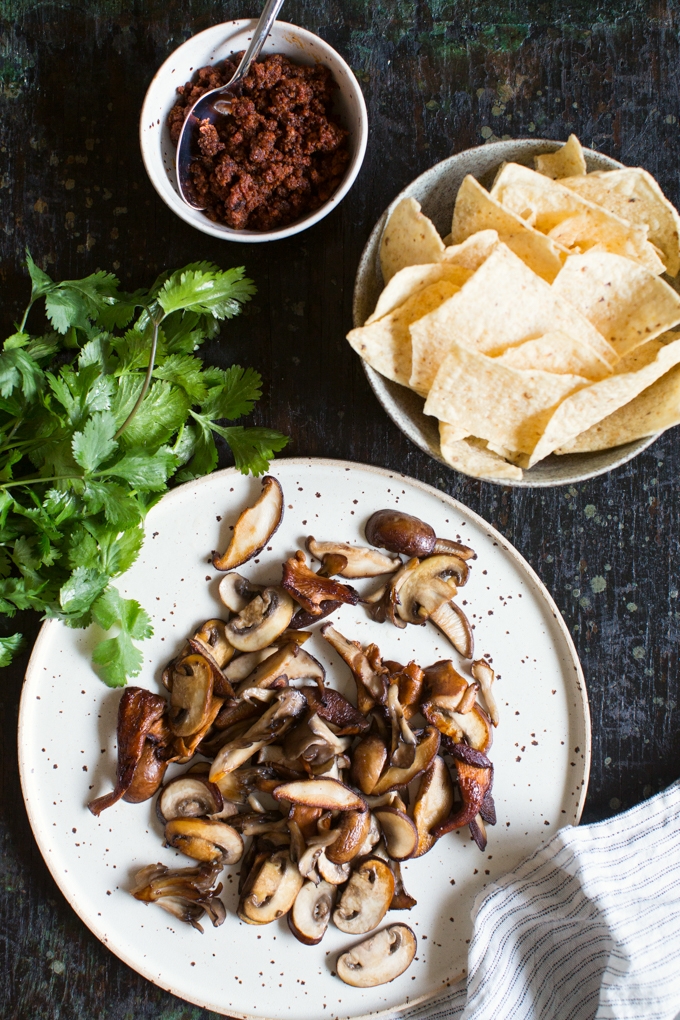 TOSTITOS® are a must-have at any party.  They're perfect with this queso fundido, but I also love serving them with guac and salsa.  To round out your Super Bowl LII bash, try some of these recipes as well: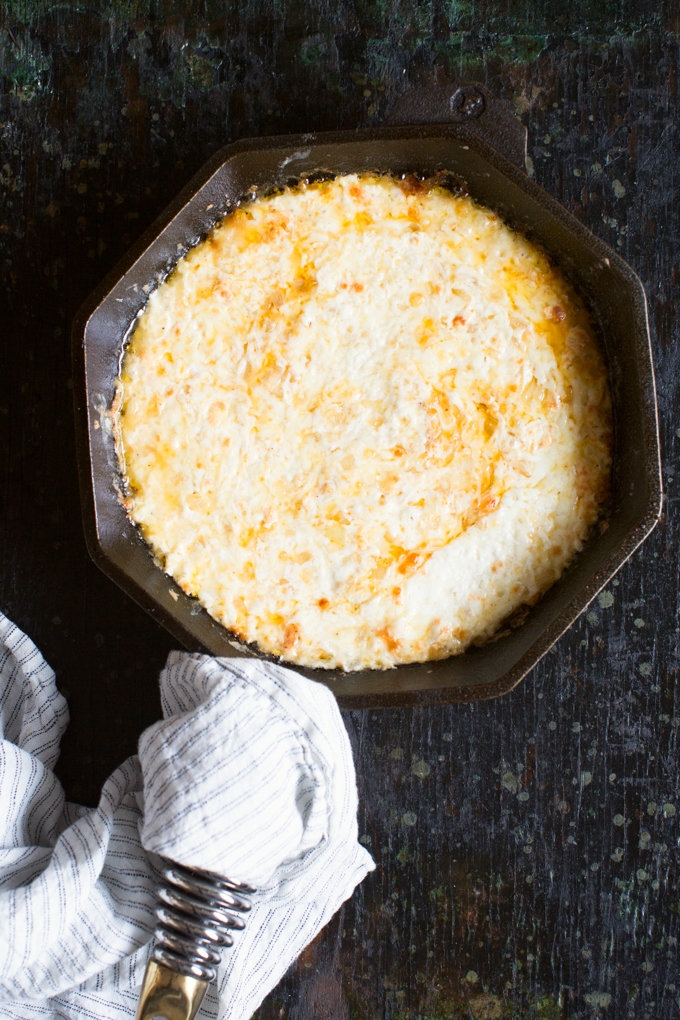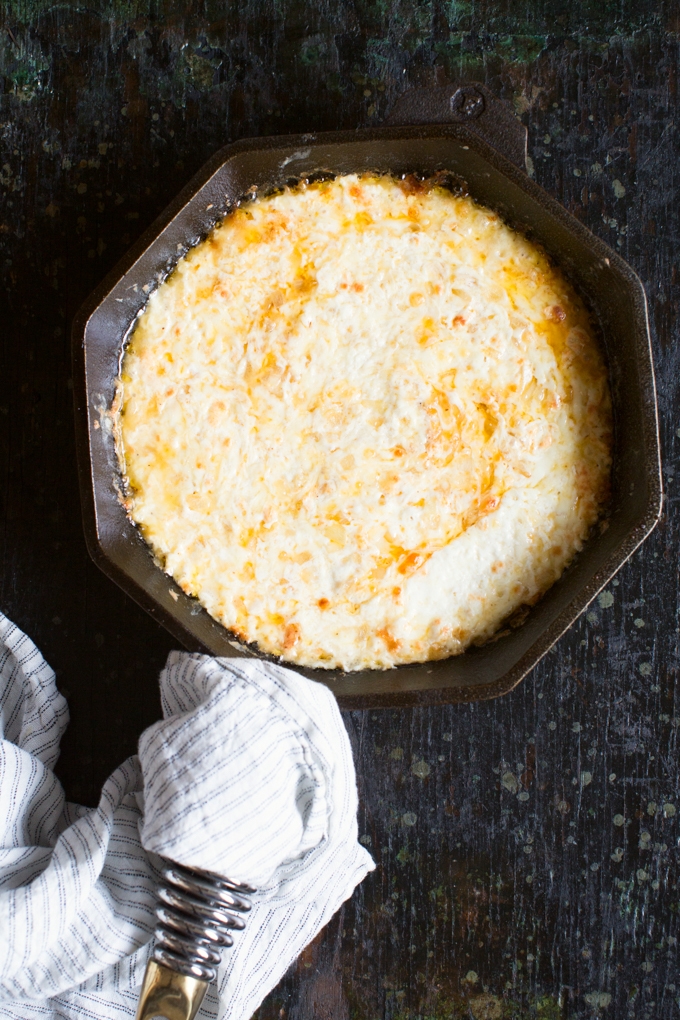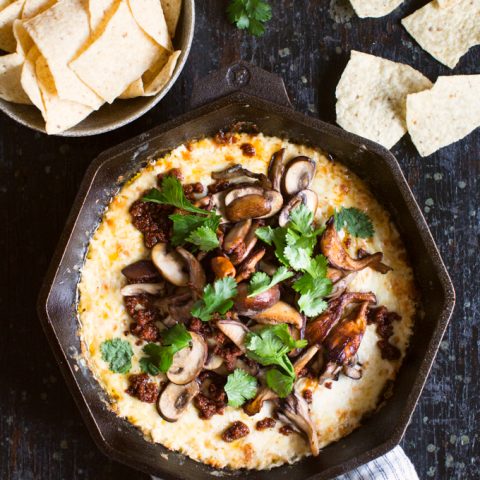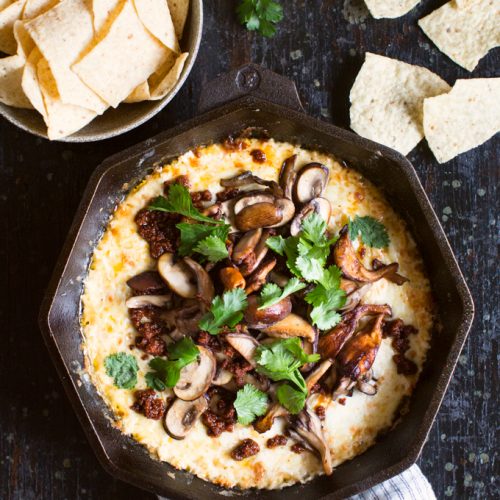 Wild Mushroom and Chorizo Queso Fundido
Ingredients
1/2

pound

mixed wild mushrooms*

2

tablespoons

vegetable oil, divided (or other neutral-flavored oil)

Kosher salt

4

ounces

Mexican chorizo, removed from casing

1

small onion, finely chopped

2

garlic cloves, minced

1

pound

mix shredded Oaxacan and Monterey Jack Cheeses (or use mozzarella instead of Oaxacan cheese)
Cilantro leaves, for topping (optional)
Instructions
Start by prepping the mushrooms. Using a damp paper towel, wipe down any dirty mushroom caps. Remove shiitake stems, and slice the caps. Trim cremini stems, and slice. Trim the bottom of the maitakes, then tear into bite-sized pieces. Tear chanterelles into bite-sized pieces.

Add 1 tablespoon canola oil to an 8-inch cast-iron skillet over medium-high heat. Once the oil is hot, add the mushrooms, tossing to coat in the oil. Cook until the mushrooms are tender and golden (about 6 to 8 minutes). Don't move the mushrooms around too much as they are cooking, so they can develop a nice golden sear. Season to taste with a pinch or two of salt, then transfer to a bowl.

Add chorizo to the same skillet and return to medium heat. Cook, stirring to break up the meat, until firm and crumbly (about 8 minutes). Transfer to a bowl.

Preheat an oven to 425°F. Add 1 tablespoon canola oil to the same skillet over medium heat. Once the oil is hot, add onion with a pinch of salt, and cook until soft and just starting to brown (about 5 minutes). Stir in garlic, cooking just until fragrant (about 1 minute). Stir in grated cheese, then transfer the skillet to the oven. Bake until the cheese gets all melty, and the surface develops golden brown spots (10 – 15 minutes).
Notes
* I used a mix of chanterelle, cremini, shittake and maitake mushrooms here. Use whatever wild mushrooms are available at your market. Just creminis would be fine here. The only mushroom I wouldn't use is white button. They're better raw.
Tried this recipe?
Tag @brandiego on Instagram so I can check it out!
This post was written in partnership with Frito-Lay.  All thoughts, opinions and recipes are my own.  Connect with Frito-Lay on Pinterest, Instagram and Facebook.
13