Hello friends and Happy Friday!!
This post may contain affiliate links.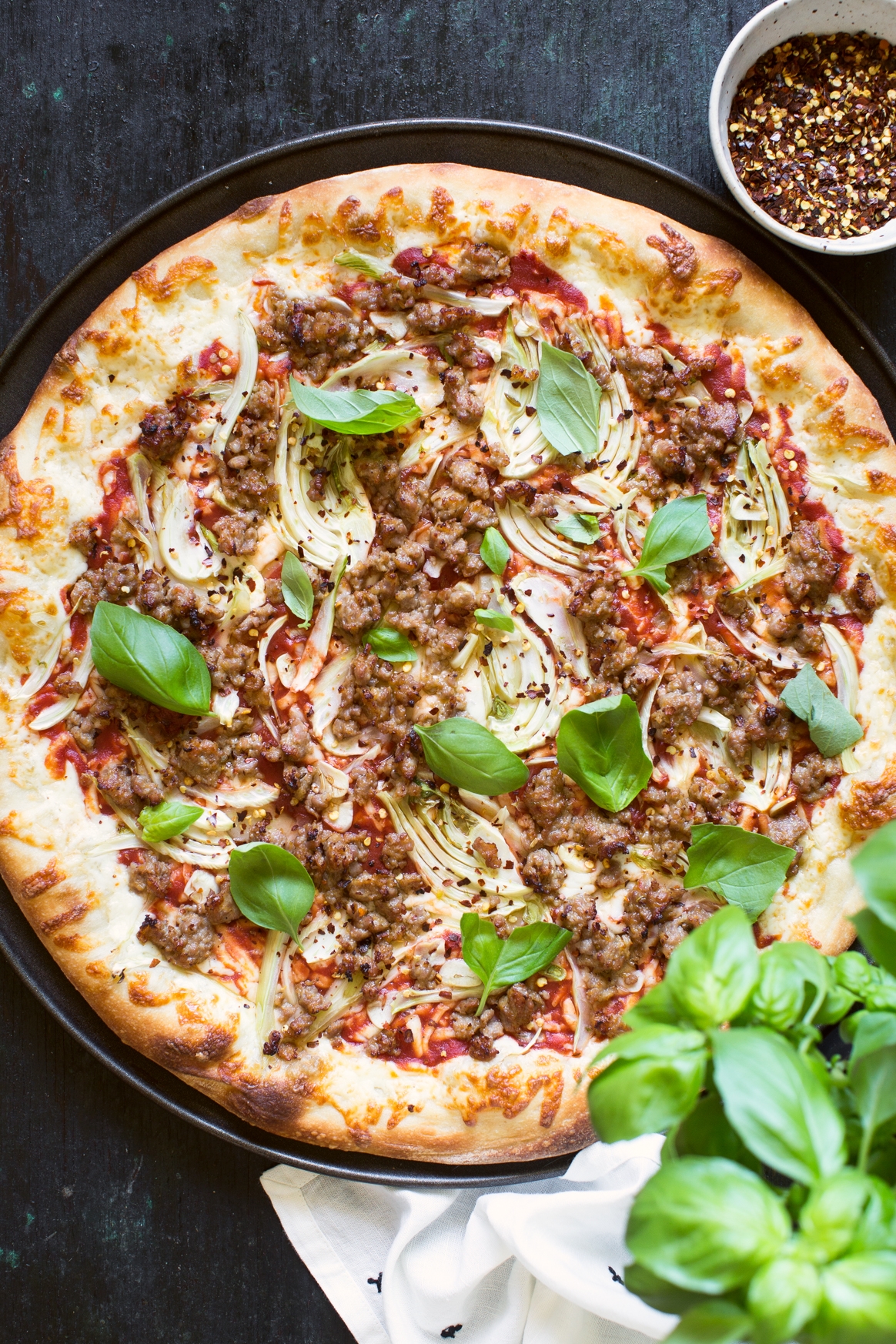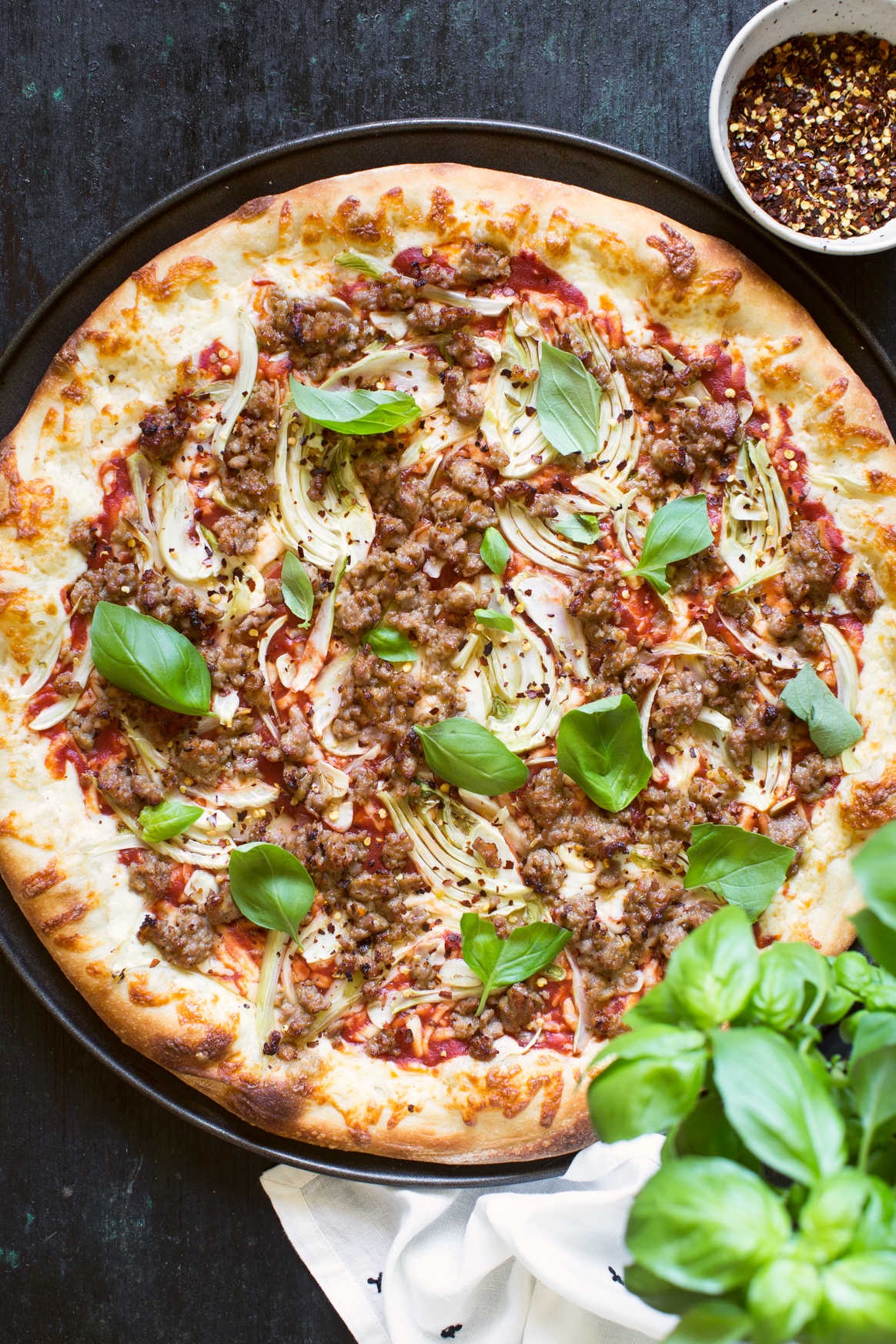 Also, greetings from Italy!! Late last week, I arrived in Italy for a press trip along with a little pre travel. The days before the press trip were spent exploring the gorgeous lake regions of Italy including Stresa, Lake Como and Verona. On Tuesday of this week, I started a press trip to learn all about balsamic vinegar in Modena. I'm not going to get into that now, because I'll have a full blog post with all the details coming in the next couple of weeks. If you want to check in on my live adventures, come say hello on Instagram (I've been posting a bunch of stories)!
Now, on to this Fennel and Sausage Pizza.  I saw this recipe in a recent edition of Bon Appétit, and I was immediately compelled to make it.  Fennel seed is an ingredient in Italian sausage, so the pairing of fresh fennel and Italian sausage is just perfect.  The original recipe is prepared in a cast iron skillet, but I adapted it to fit my style, using a pizza pan instead.
You start with mild Italian sausage—sans casing—browning in a skillet.  Then you layer toppings on a round of pizza dough as follows:  shredded mozzarella cheese, tomato sauce, sliced fresh fennel, cooked sausage and thinly sliced garlic.  Slide the pizza in a screaming hot oven and let cook until golden and bubbly.  Once the pizza comes out of the oven, it gets a final sprinkling of crushed red pepper flakes and torn basil leaves.  The finished pizza is spicy and savory with moments of fresh anise from the fennel and basil.  And the garlic is a game-changer.  Continue reading for the recipe.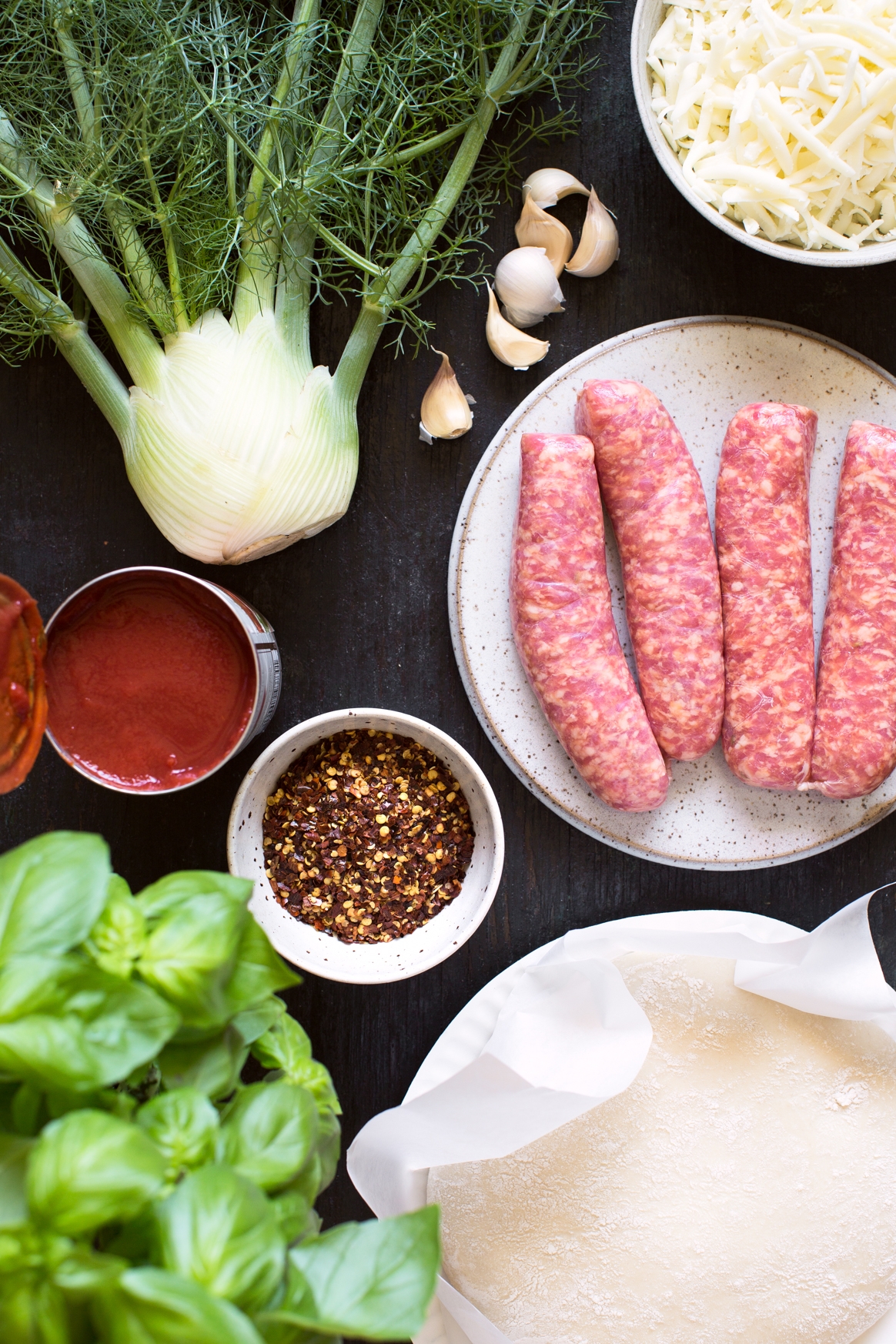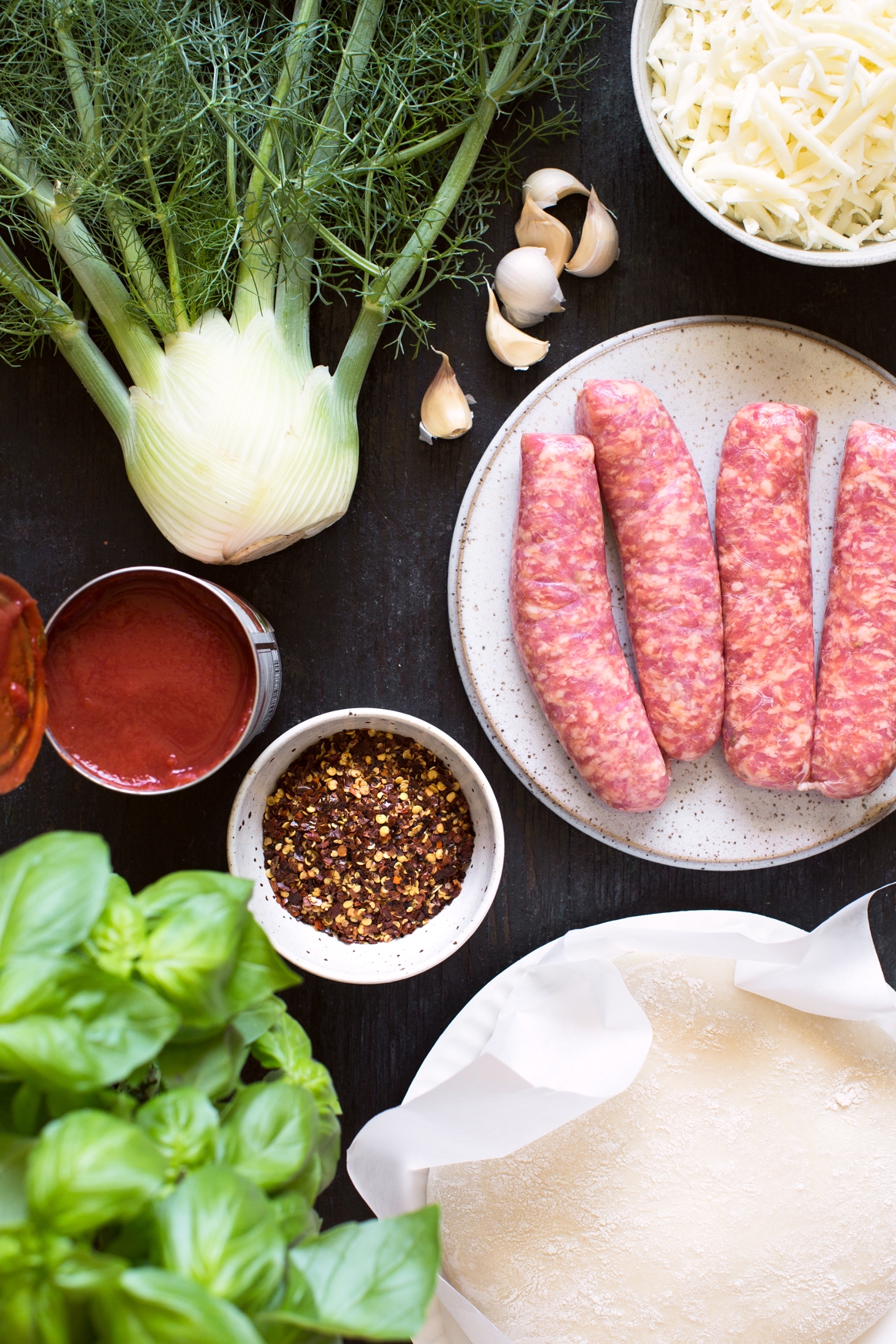 The ingredients are pretty straight-forward here.  Just make sure you use mild Italian sausage, since you add crushed red pepper flakes at the end.  If you get the spicy sausage, just omit the chiles at the end.  Also, I like to mention from time to time that I get my pizza dough from a local pizzeria.  I find it always comes out better than my homemade dough, and it only costs $2!  Such a time saver.  I'd recommend you check around with your local pizzerias to see if they sell their dough.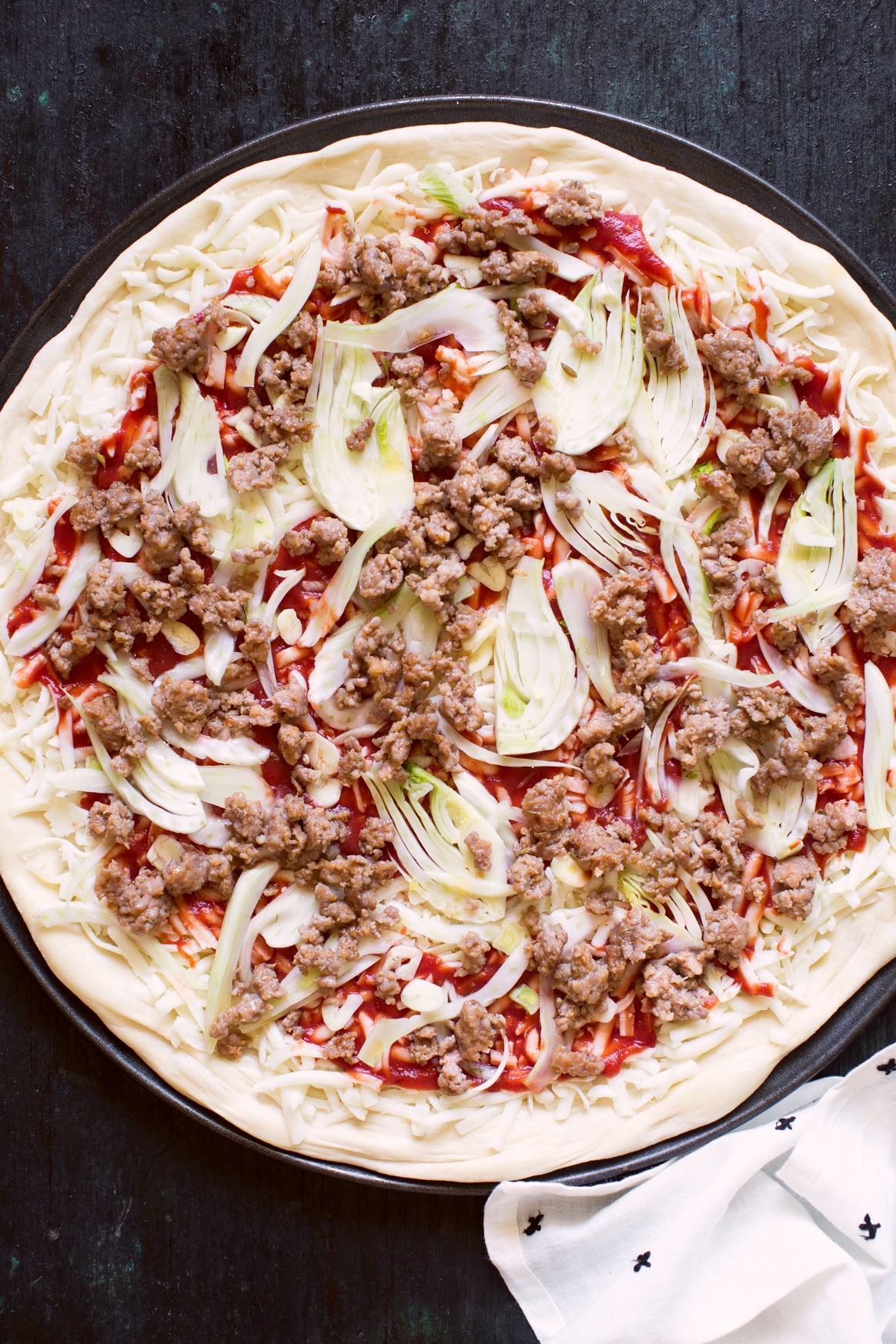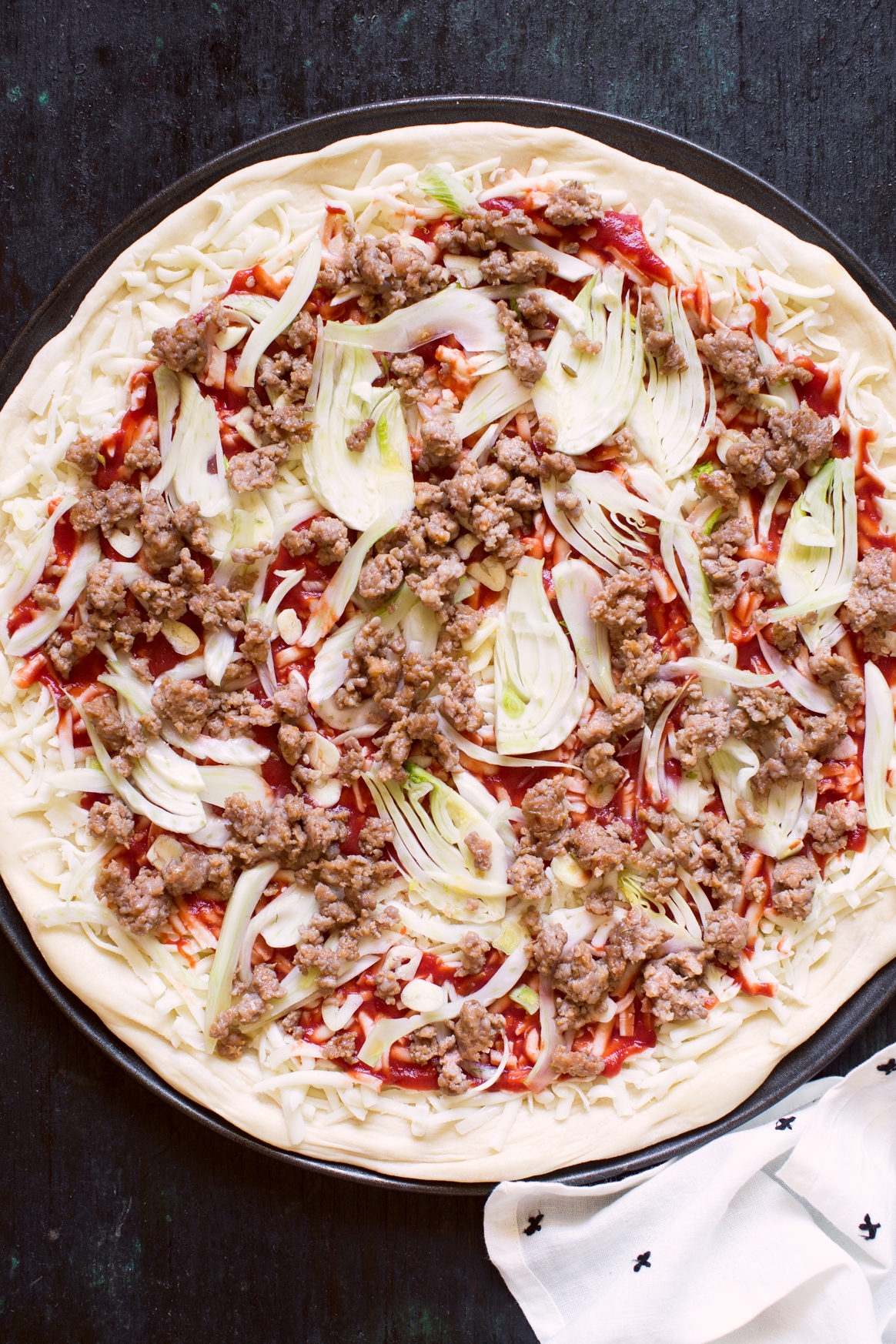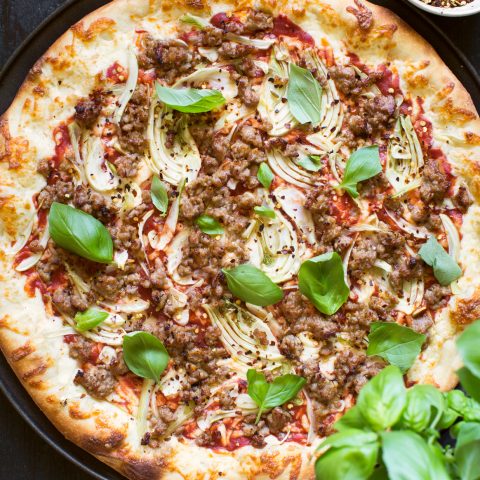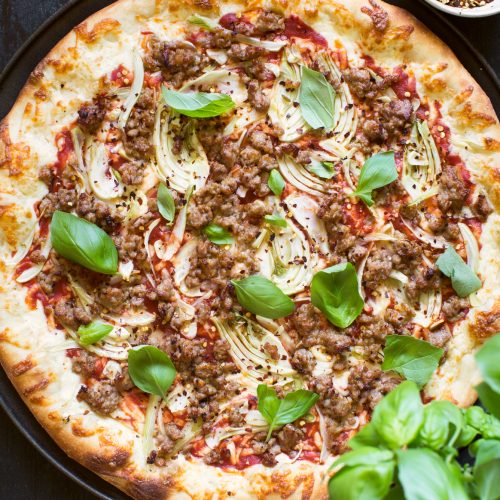 Fennel and Sausage Pizza Recipe
Ingredients
1

tablespoon

extra virgin olive oil, plus more for drizzling

8

ounces

sweet Italian sausage, casing removed

1

large ball pizza dough

Kosher salt

8

ounces

freshly grated low moisture mozzarella cheese

Scant 1/2 cup good quality canned tomato sauce

1/2

fennel bulb, fronds and stalks removed, root trimmed, thinly sliced

3

garlic cloves, thinly sliced

Crushed red pepper flakes

Torn basil leaves
Instructions
Warm olive oil in a medium skillet over medium heat, then add the sausage. Cook sausage until browned, using a wood spoon to stir and break the sausage up as it cooks. Transfer sausage to a paper towel-lined plate, and let cool.

Preheat an oven to 500°F, and set an oven rack in the lowest possible position. Lightly coat a pizza pan with nonstick cooking spray.

Stretch pizza dough into a round large enough to fit the pizza pan. Very lightly drizzle the dough with olive oil, using your hands to evenly spread the oil around. Sprinkle dough with a small pinch of kosher salt. Top pizza evenly with grated mozzarella cheese and tomato sauce, then evenly scatter sliced fennel, cooked sausage and sliced garlic over top. Sprinkle the surface of the pizza with a little kosher salt and then lightly drizzle with olive oil.

Transfer pizza to the oven on the lowest rack and cook until the crust is golden brown (bottom and crust) and the cheese is nice and bubbly (9 - 11 minutes). Let pizza cool for just a bit, then sprinkle with red pepper flakes and torn basil.
Tried this recipe?
Tag @brandiego on Instagram so I can check it out!
74