Last week, I shared these Blood Orange Margaritas for Cinco de Mayo.  This week, I've got a special May 5 dessert prepared in partnership with Bob's Red Mill:  Strawberry Rhubarb Tres Leches Cake.
This post may contain affiliate links.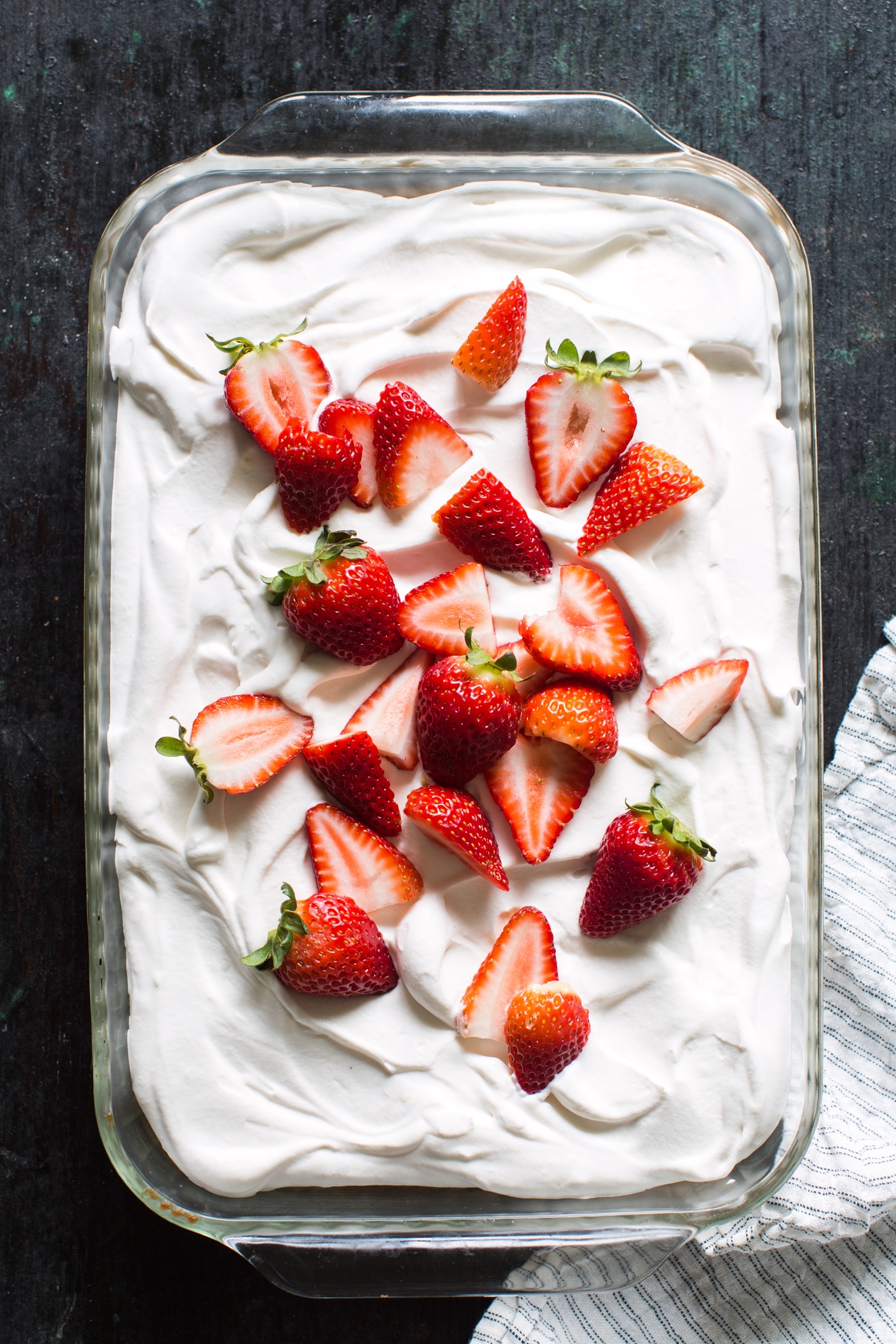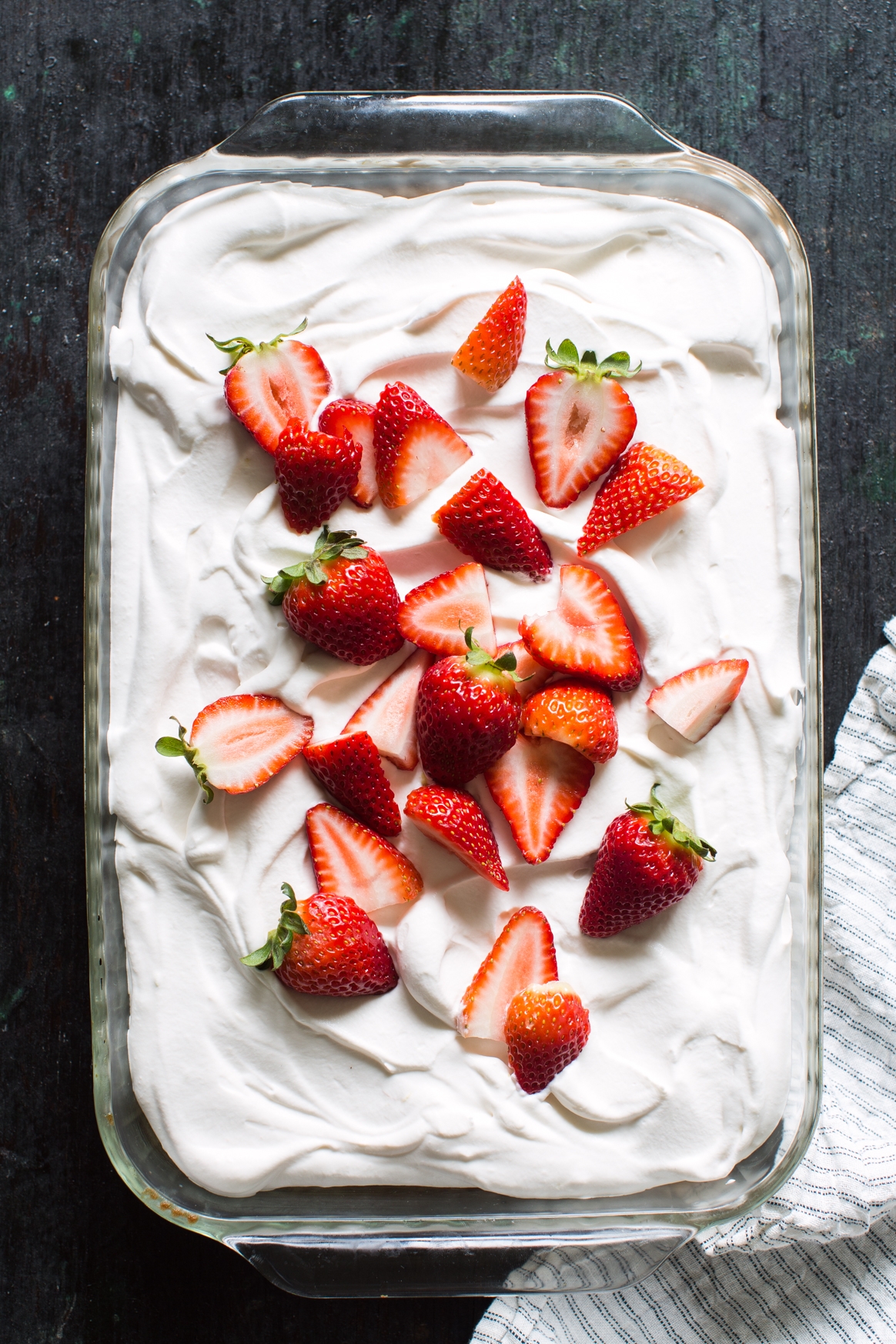 Tres leches cake is one of my favorite Mexican desserts.  The classic recipe is made by soaking an airy yellow cake with a mixture of three milks—usually evaporated milk, sweetened condensed milk and heavy cream.  The cake then sits in the fridge for a few hours (or overnight) to let everything soak in.  Finished with sweetened whipped cream or a light frosting, tres leches cake is moist and rich with such a unique and pleasant texture.
With this recipe, I'm adding a little seasonal flair in the form of strawberries and rhubarb.  Stalks of bright pink rhubarb are sliced and then cooked in a mixture of sugar and water.  The tender solids are folded into the cake batter, and the remaining rhubarb syrup is reduced and used later in the whipped cream topping.  Fresh, ripe strawberries are strewn over the top.  The sweet tang of the fruit adds some nice contrast against the sopping richness of the cake.  This is such a treat!  Continue reading for the recipe.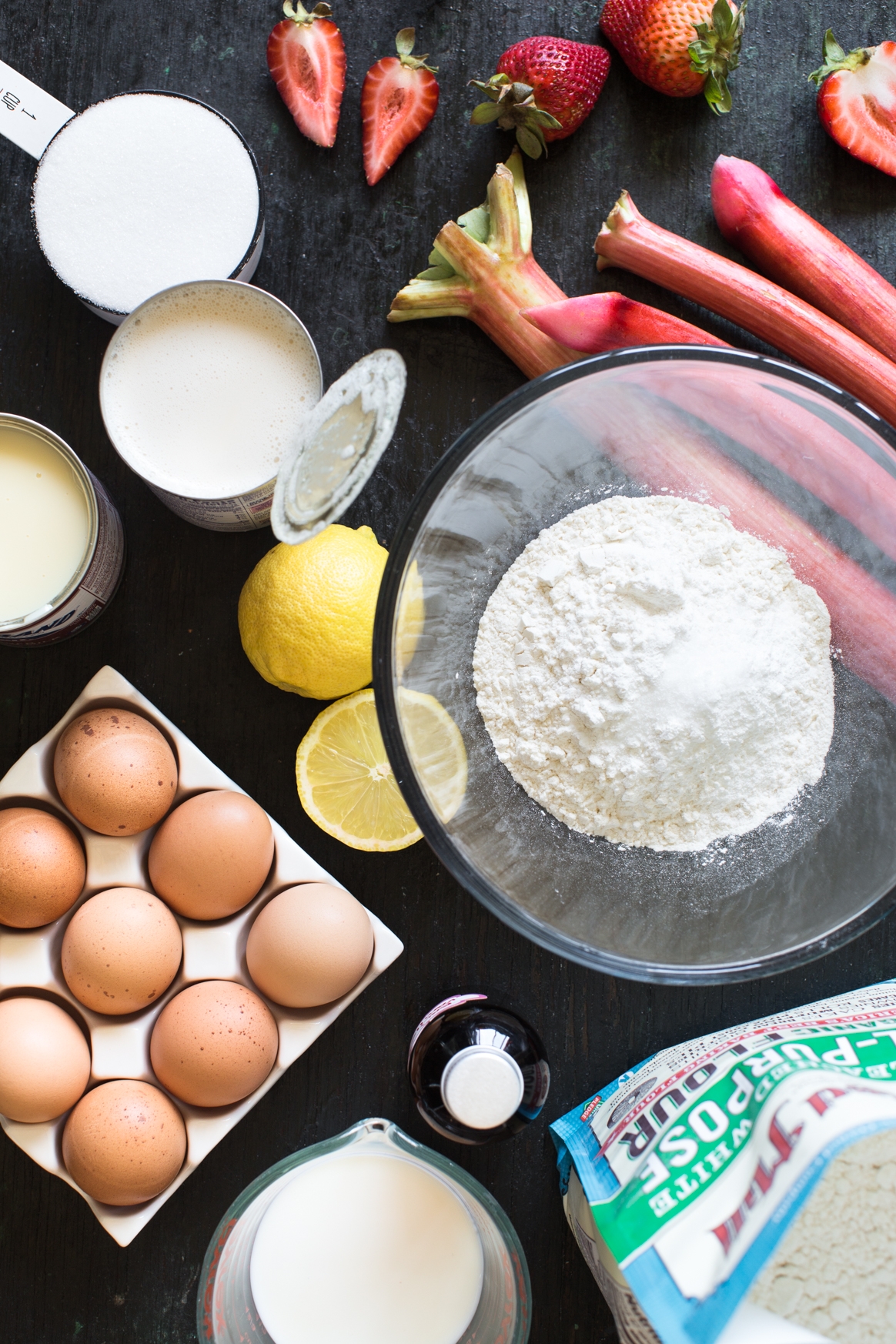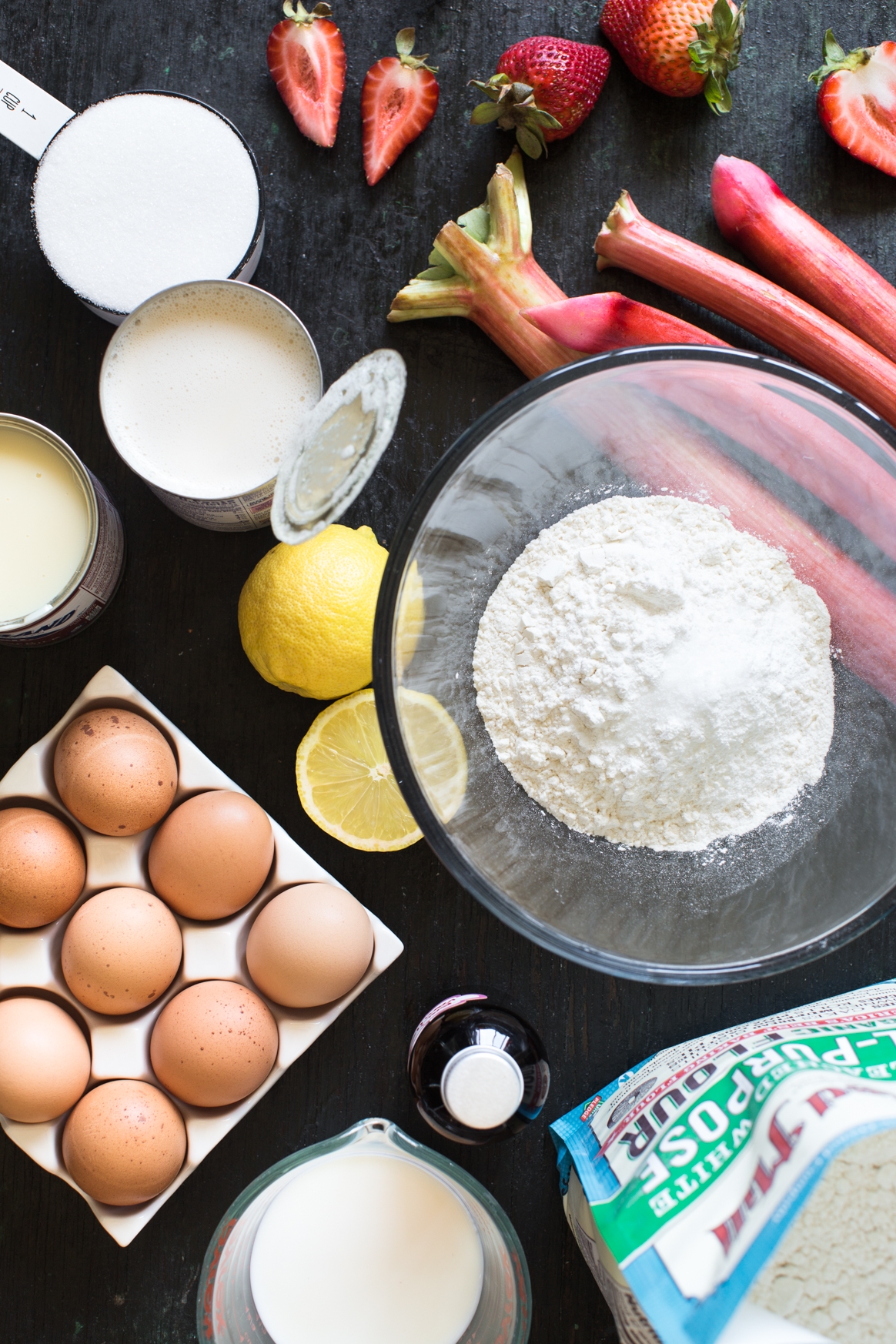 I've always got bags of Bob's Red Mill flour and whole wheat flour in my pantry, so I was excited when they when reach out to partner on a recipe.  I decided to take this opportunity to get to know some of their other products, particularly, Bob's Red Mill Organic Unbleached Flour.  Milled from high quality, certified organic, hard red wheat, this organic flour can be used in any way you would use regular all purpose flour.  I tested the flour out while making bread, chocolate chip cookies and this cake, and each one was delicious.  Bob's Red Mill Organic Unbleached Flour is a solid base for all baked goods, and a perfect option if you are looking to incorporate more organic products in your kitchen.  I'd highly recommend it!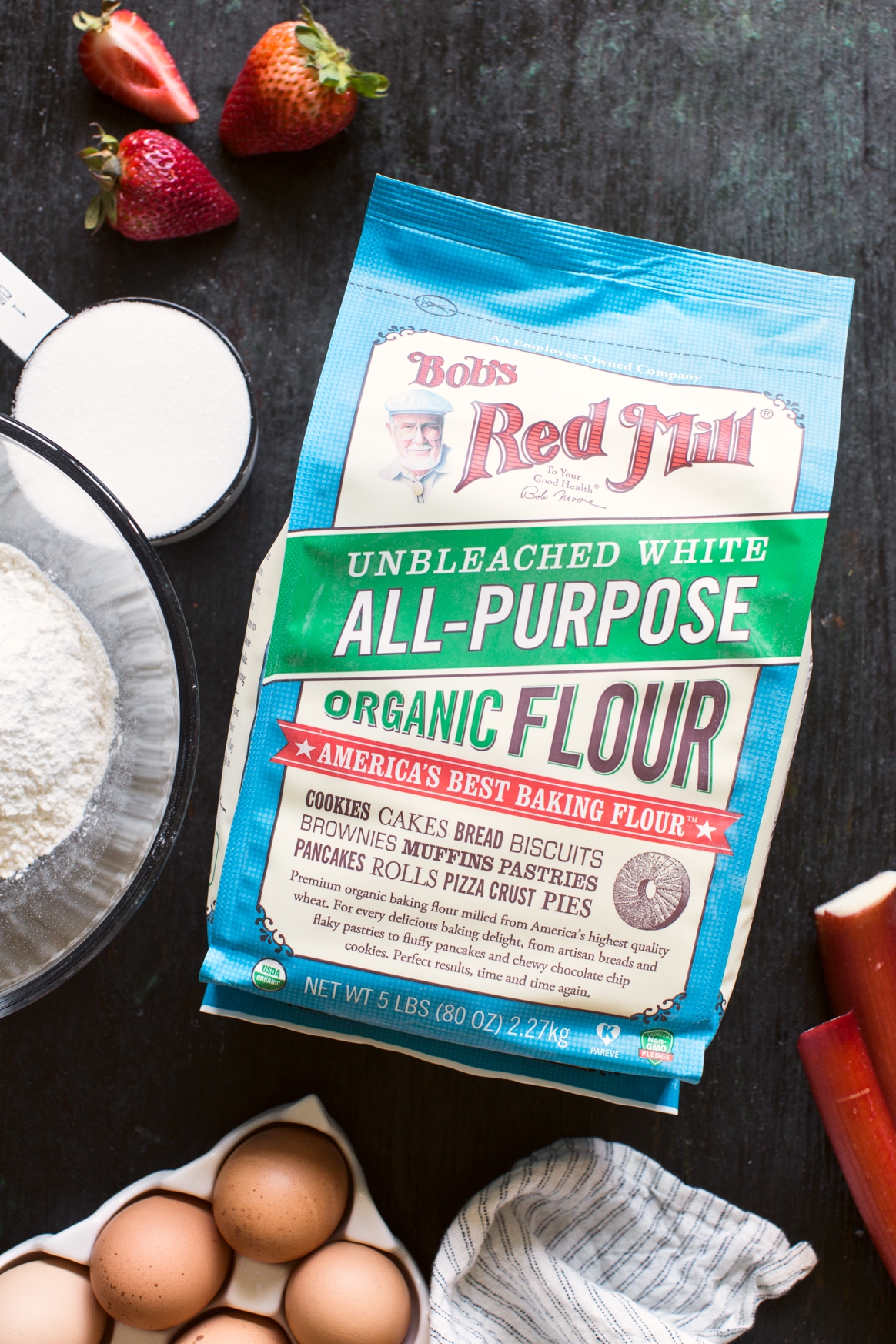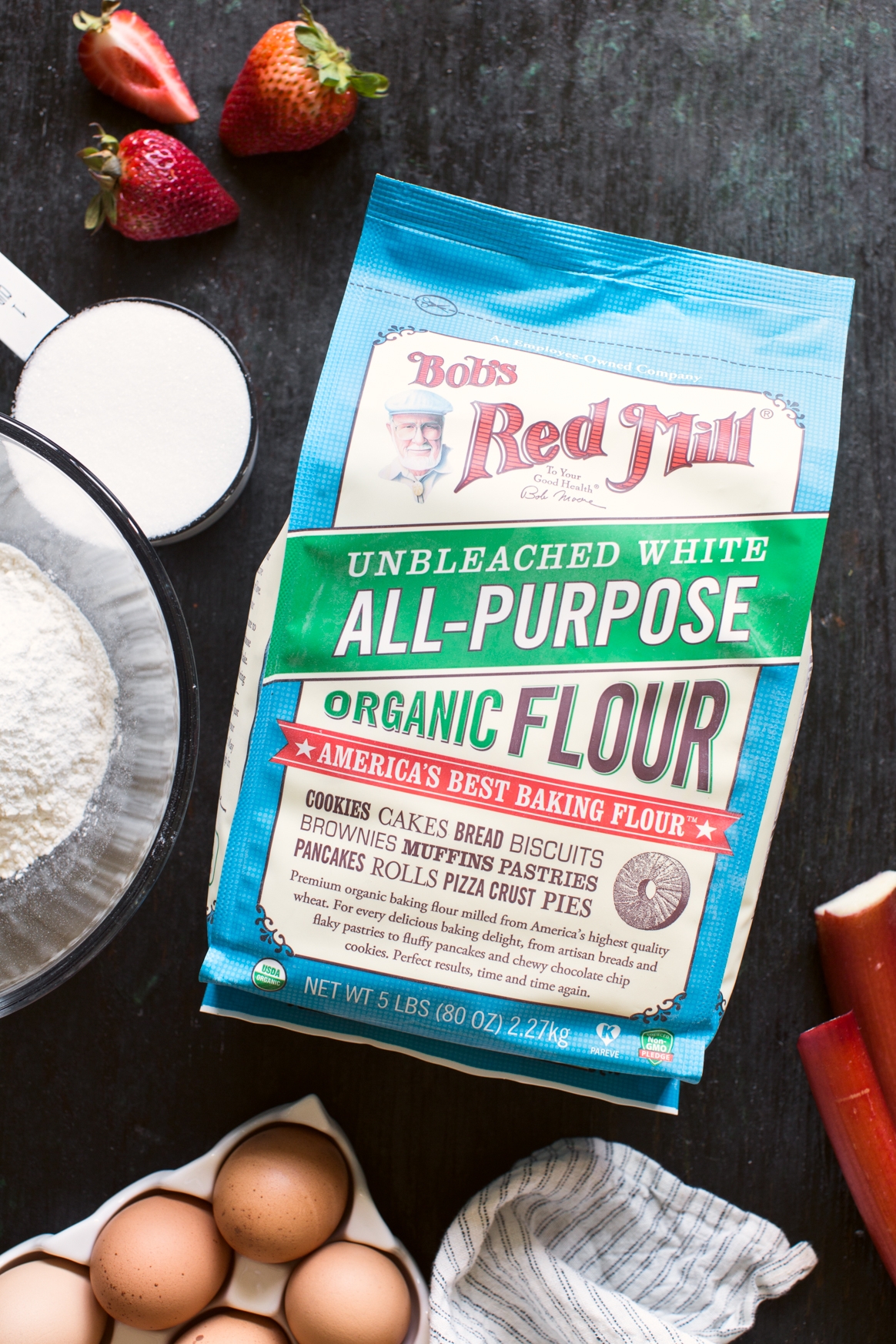 If you are planning on making this tres leches cake recipe for Cinco de Mayo, be sure to start it the morning of or the night before.  You need to let the cake rest several hours in the fridge before topping with the rhubarb cream and strawberries.  This is great if you like to make things in advance!  Not so great if you leave things to last minute 😉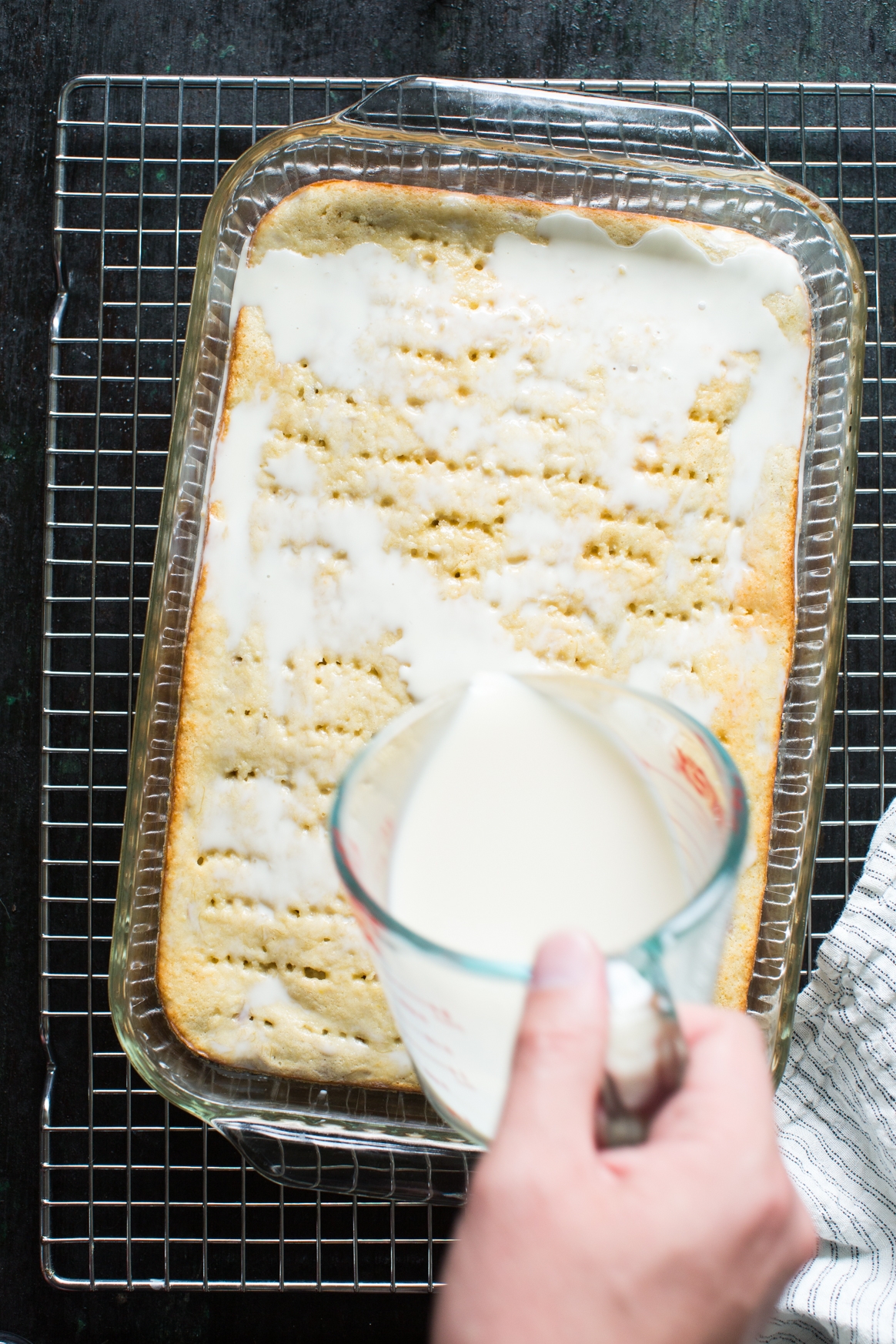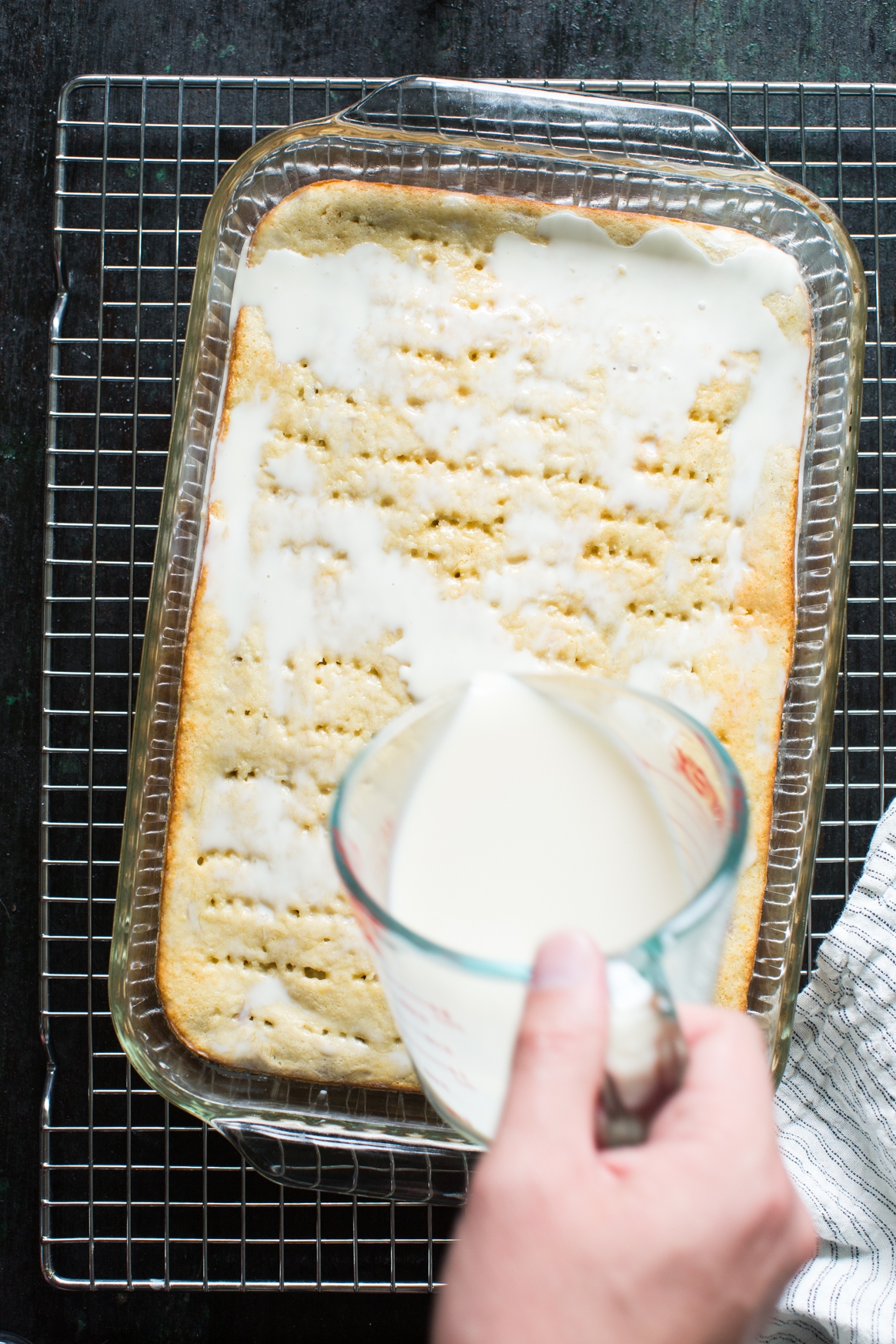 Another little trick to this recipe is to use only a portion of the milk mixture to soak the cake.  I find that if you use the entire milk mixture, you'll have a lot of liquids pooling at the bottom of the cake pan.  You want just enough to moisten the cake, but not so much that it's drowning!   You'll have about 1 cup of the milk mixture left over.  Save this for your morning coffee!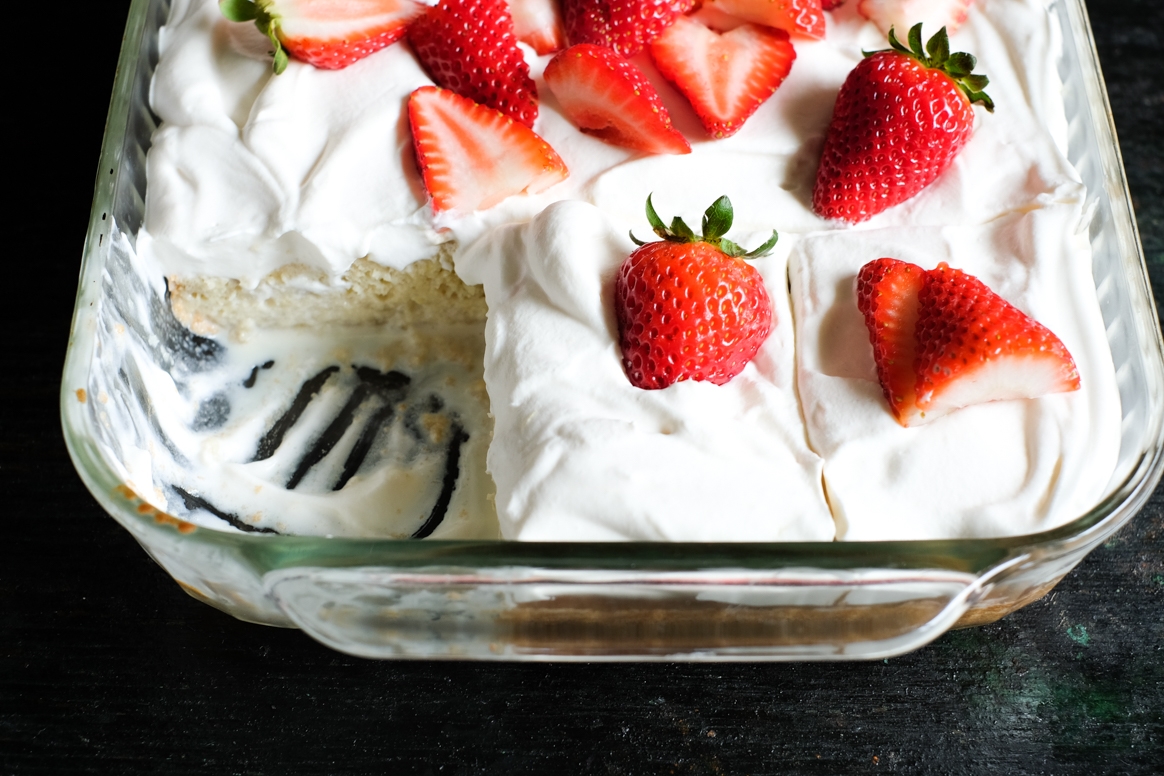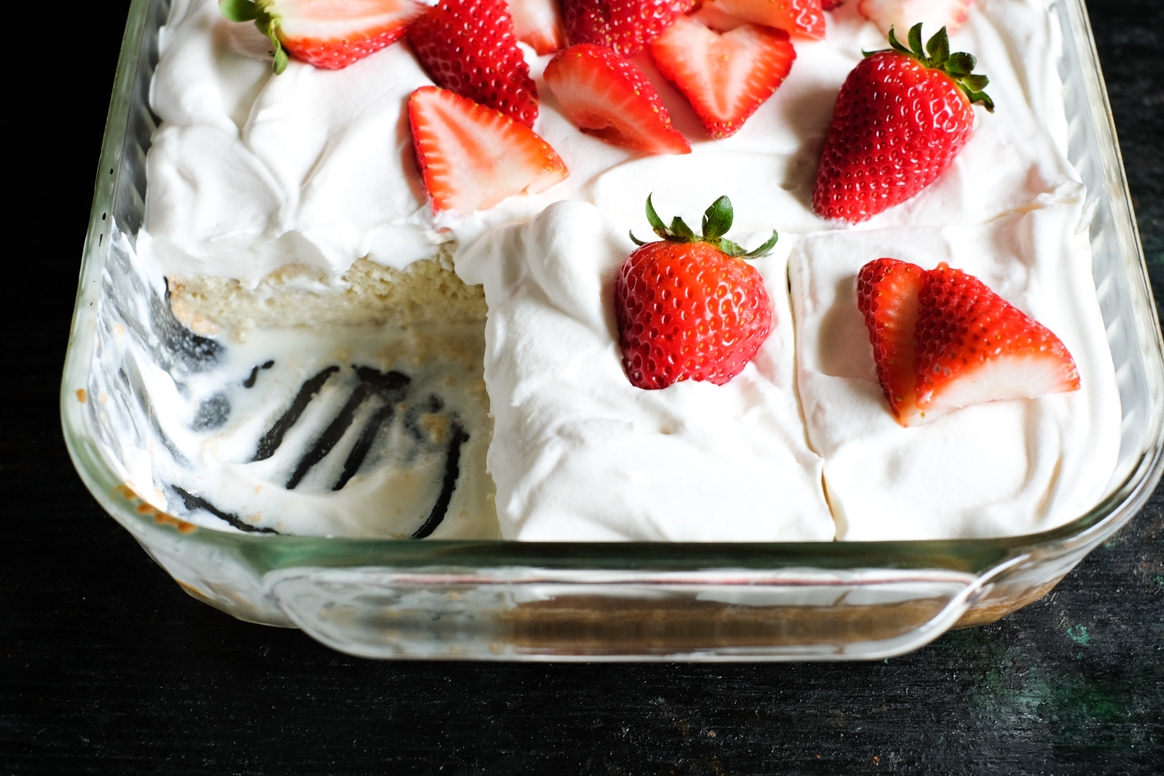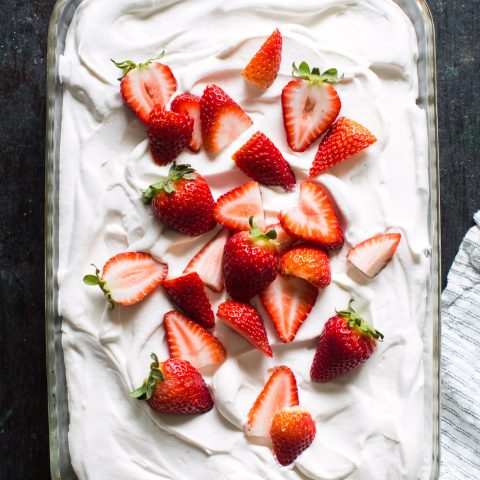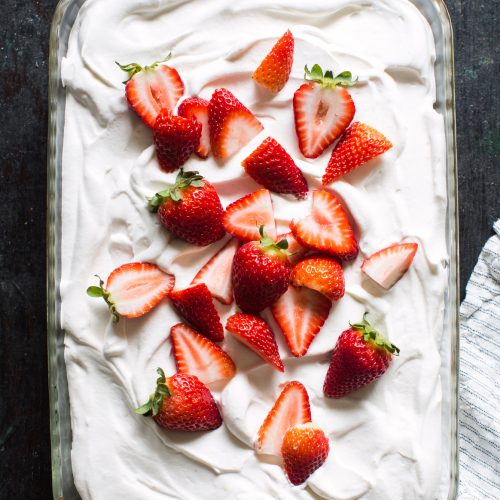 Strawberry Rhubarb Tres Leches Cake Recipe
Ingredients
11

ounces

rhubarb, ends trimmed, sliced

3

tablespoons

+ 1 cup sugar

1

cup

water

Unsalted butter, for greasing the baking dish

1 1/2

cups

Bob's Red Mill Organic Unbleached Flour

2

teaspoons

baking powder

1/2

teaspoon

fine grain sea salt

3

eggs, at room temperature

1

teaspoon

good vanilla extract

1/2

cup

whole milk

1 1/2

cups

half and half (I used a mix of whole milk and heavy cream here)

1 12-

ounce

can evaporated milk

1 14-

ounce

can sweetened condensed milk

2

cups

cold heavy cream

1/3

cup

confectioners' sugar

Zest of 1 small lemon

Sliced strawberries, for topping
Instructions
Add sliced rhubarb, 3 tablespoons sugar and water to a medium saucepan over medium heat. Cook, stirring occasionally, until the rhubarb is tender and starting to fall apart (5 to 6 minutes). Pour the mixture through a fine-mesh strainer into a clean bowl. Reserve the rhubarb solids for the cake. Return the liquid to the saucepan and increase the heat to medium-high. Reduce mixture to just under 1/4 cup liquid (9 – 11 minutes). Keep an eye on this as it can bubble over. Reduce heat as needed. Reserve liquid for the whipped cream, storing covered in the fridge.

Preheat an oven to 350°F and set an oven rack to the middle position. Lightly butter a 9 by 13 baking dish and set aside.

In a medium bowl, whisk together flour, baking powder and sea salt. In the bowl of a stand mixer fitted with the paddle attachment, beat eggs, 1 cup of sugar and vanilla on medium-high speed until pale yellow and very fluffy (about 10 minutes). Add half of the flour mixture, and beat on low until just combined. Gradually mix in the milk on low, then the remaining flour mixture. Using a spatula, fold in the cooled rhubarb solids.

Scrape the batter into the prepared baking dish, and bake until lightly golden on top and a toothpick inserted into the center of the cake comes out clean (25 - 30 minutes). Transfer to a cooling rack, and let cool for 30 minutes.

Meanwhile, whisk together half and half, evaporated milk and condensed milk in a medium bowl. Measure out 3 cups for this recipe, and save the rest for another use. Once the cake has cooled, poke holes all over with a fork. Gradually pour the milk mixture over the cake. If it starts to pool, stop and let the liquid absorb before adding more. Cover and let rest in the fridge for at least 4 hours or overnight.

Right before you are ready to serve, make the whipped cream topping. In the bowl of a stand mixer fitted with the whisk attachment, beat together heavy cream, confectioners' sugar, lemon zest and reserved rhubarb syrup on medium-high until soft peaks form. Spoon most of the rhubarb whipped cream over the tres leches cake and spread out in an even layer. Top with sliced strawberries. Serve with any extra rhubarb cream on the side.
Tried this recipe?
Tag @brandiego on Instagram so I can check it out!
This post was written in partnership with Bob's Red Mill. Thoughts, opinions and recipes are my own.
30