I recently had the chance to check out The San Diego Museum of Art's latest exhibit, Epic Tales from Ancient India, and I absolutely loved it!  Afterwards, they asked me to come up with a recipe inspired by the artwork.  Here's what I made:  Homemade Flatbread with Yogurt, Eggs and Curry Brown Butter.  Below, I'm sharing this tasty recipe along with more details on the exhibit and a museum giveaway.
This post may contain affiliate links.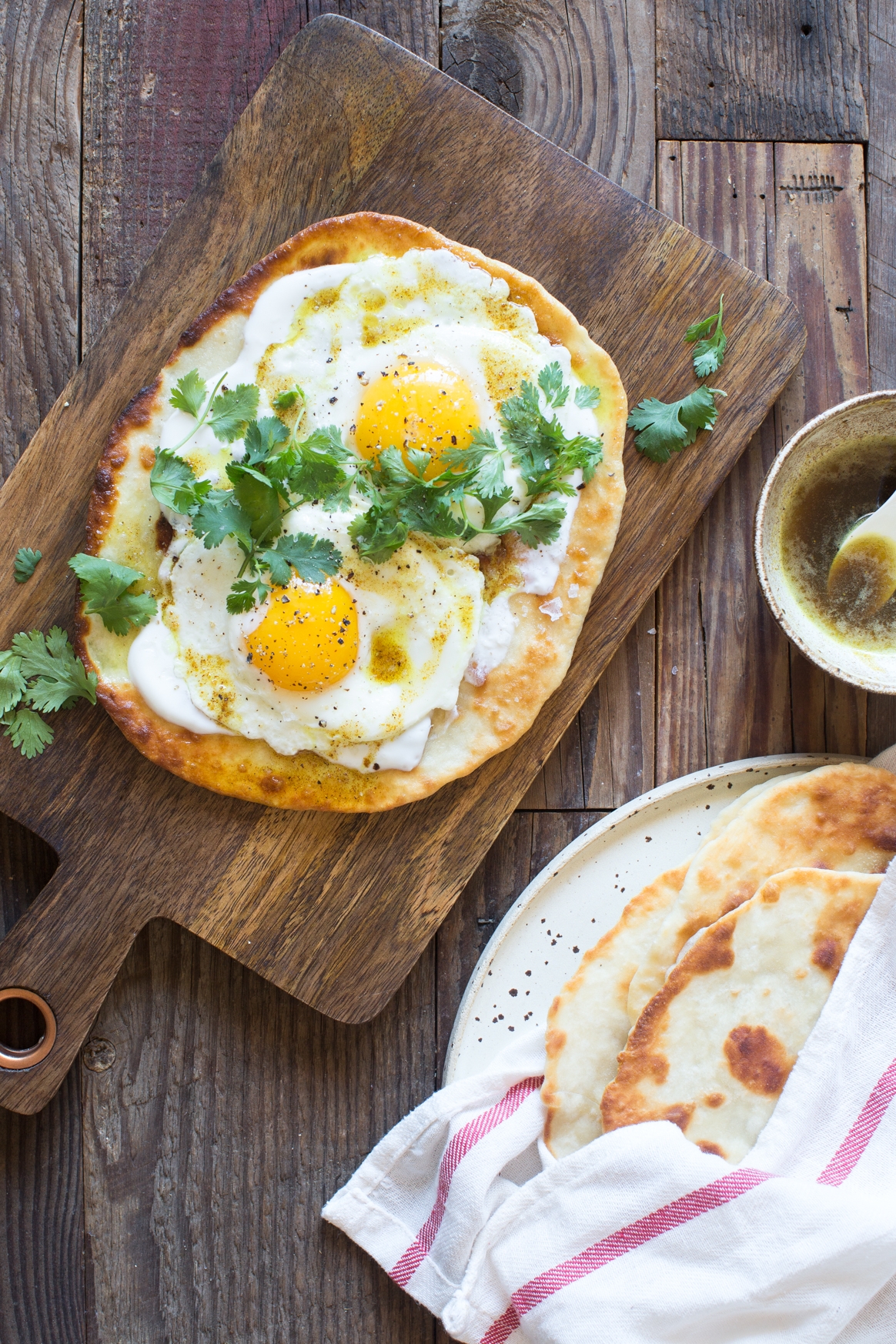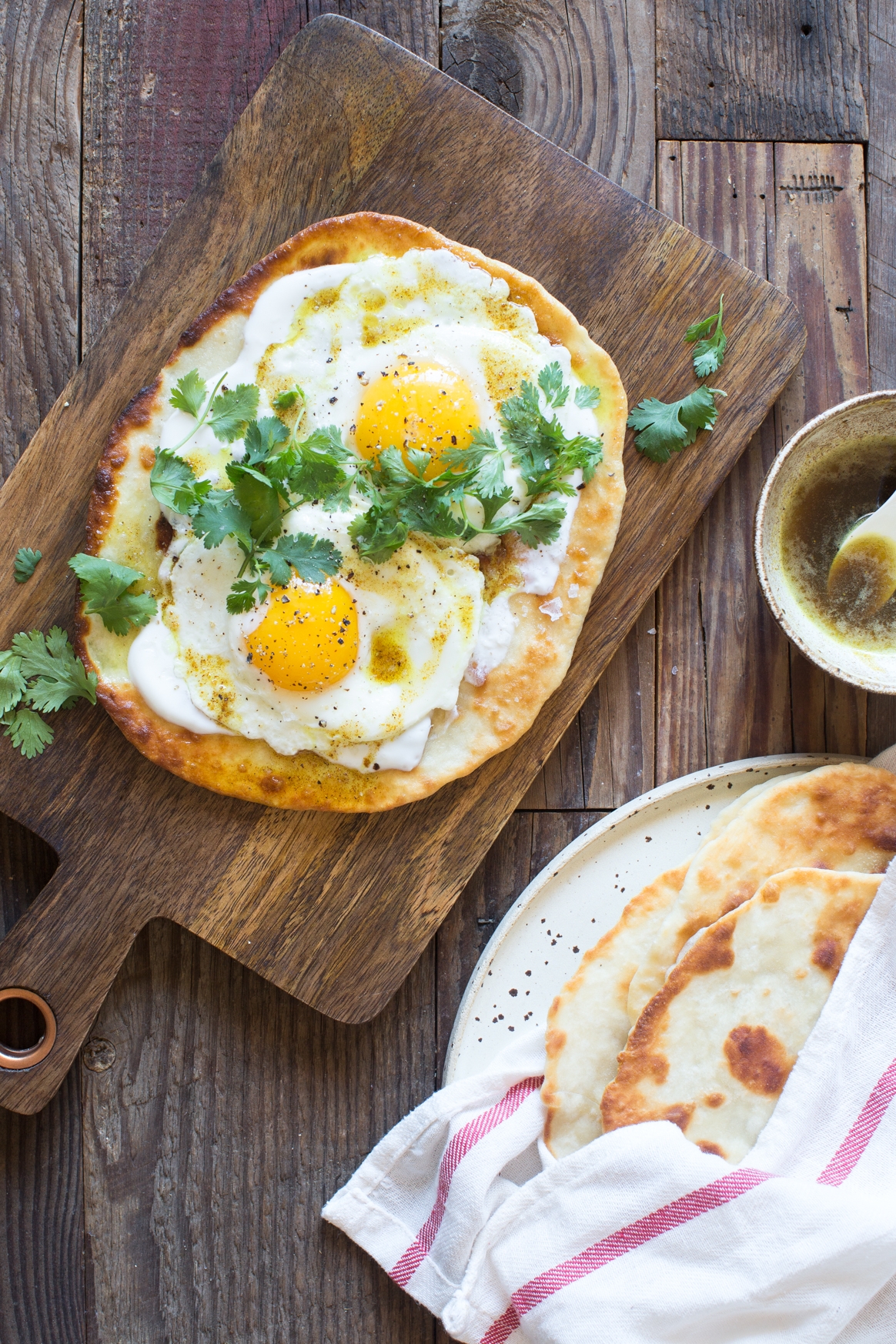 I just love a good creative challenge, so when I got the opportunity to make a recipe based on unfamiliar works of art, I was like, "sign me up!"  Epic Tales from Ancient India features more than 90 works of art depicting themes of adventure, battle and romance.  Most of these paintings came from books and were intended to accompany a text.  The exhibition is arranged by narrative, allowing the viewers to take in the tales as if they were reading a book.  This recipe, inspired by one of the romantic scenes, starts with golden homemade flatbread warm from a skillet.  The tender bread is then slathered with a garlic-infused yogurt and topped with eggs, torn cilantro and nutty brown butter flecked with aromatic curry.  Each bite is so rich and savory with a pleasant tang from the yogurt.  And the flatbread couldn't be easier to make!  Continue reading for the recipe and giveaway details.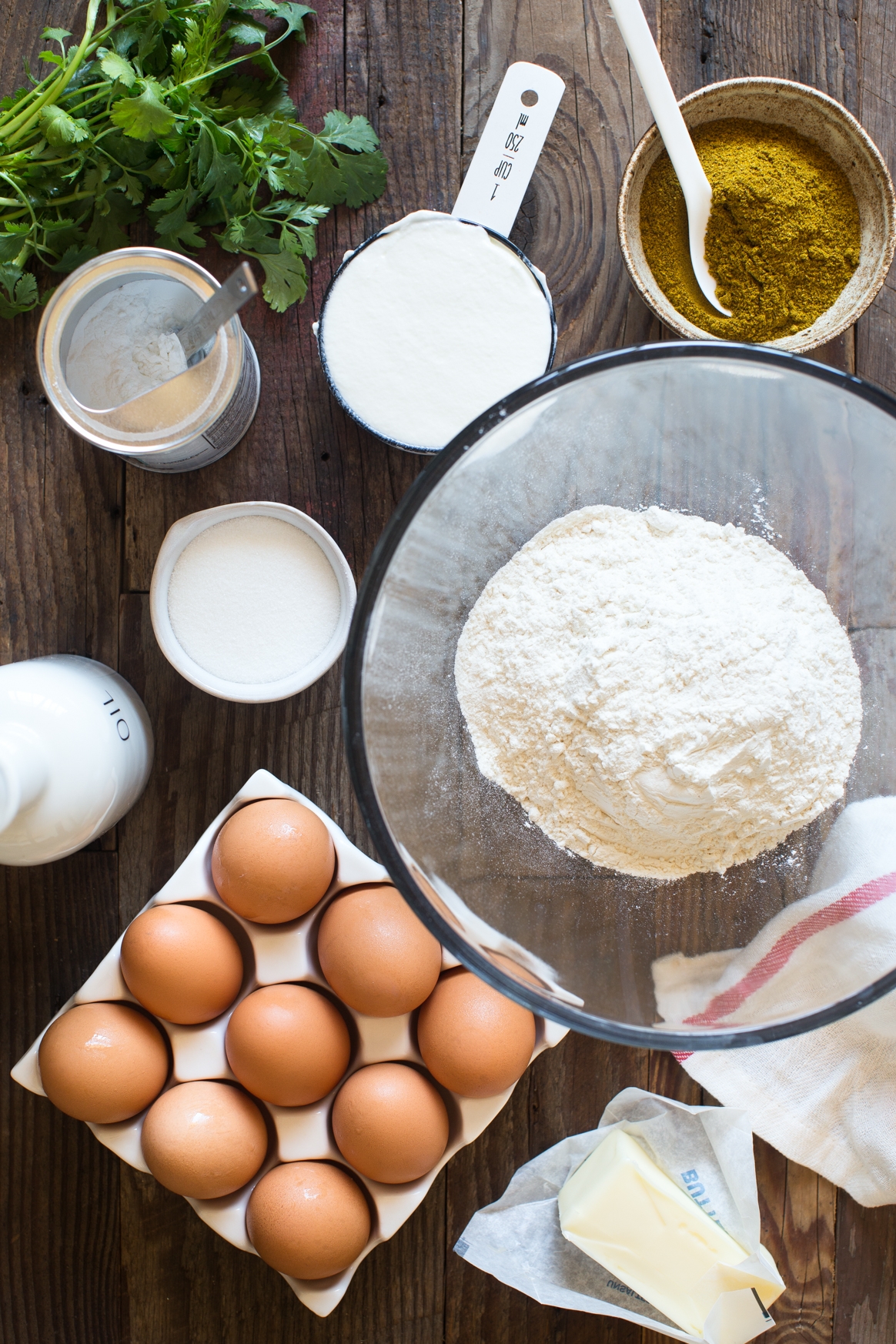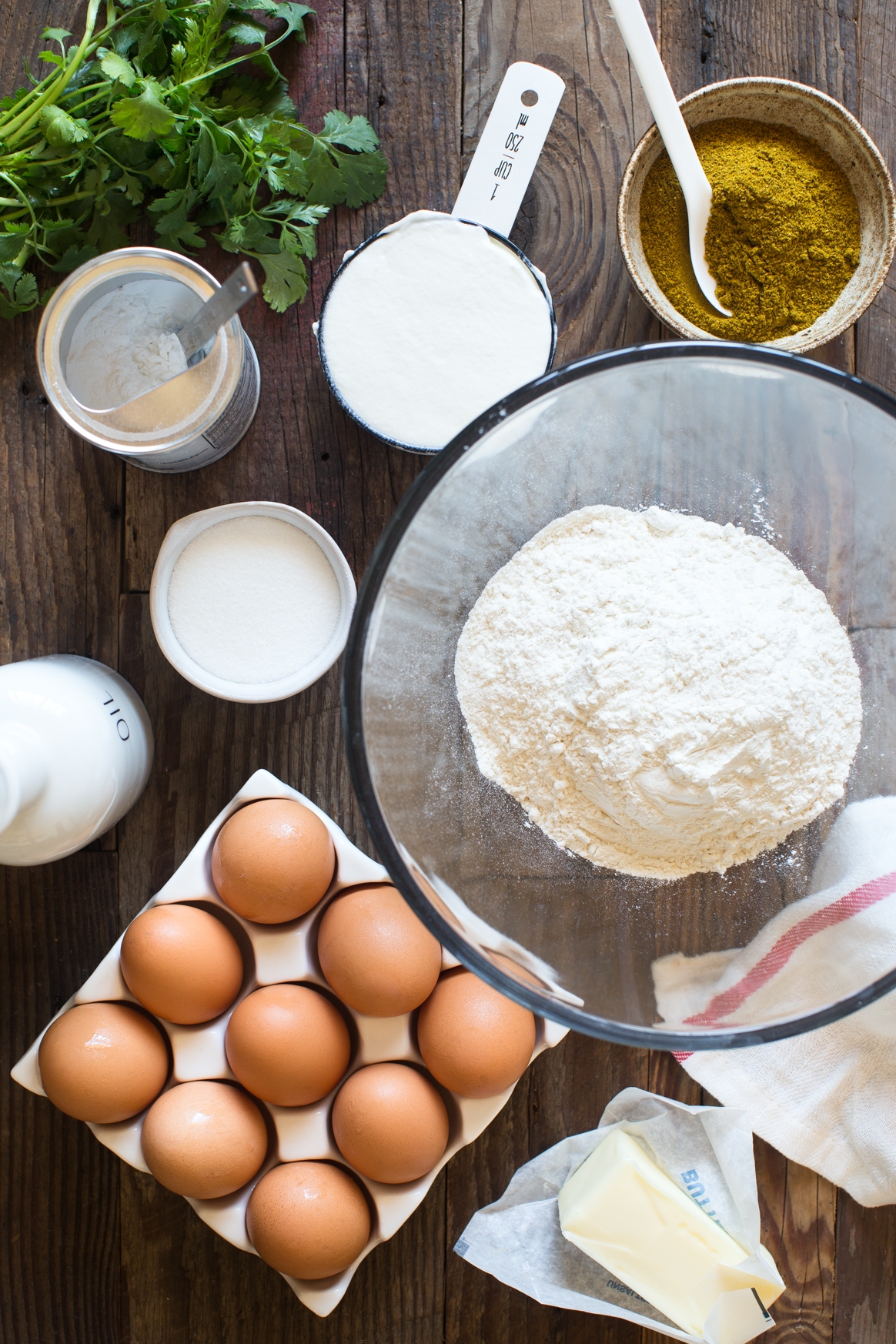 First, I'm going to chat a bit about the recipe, and then we'll get to the museum inspiration + giveaway!  I just love making bread at home.  Normally I'll bake up a loaf of no-knead bread or focaccia, but for this recipe—intended for breakfast or brunch—I wanted to make an easier bread that could be done in under an hour.  To make homemade flatbread, you simply mix together flour, baking powder, sugar, salt and yogurt in a big bowl until a shaggy dough comes together.  You then turn it out on a lightly floured surface and knead for a couple minutes until somewhat smooth.  Divide into four balls and let rest for 15 minutes.  Each ball of dough is then rolled out and cooked for about 3 minutes in a hot skillet.
At this point, you could top the warm, golden flatbread with a number of different things.  Cream cheese and smoked salmon.  Eggs, tomato sauce and Parmesan cheese.  Ripe tomato slices, mozzarella and basil.  Here, I opted for an Indian flavor profile, pairing sunny-side up eggs with garlic yogurt, cilantro and curry brown butter.  These flavors are bold, but approachable.  The richness of the butter rounds out the complexity of the curry powder.  Enjoy with a hot mug of chai or coffee infused with cardamom.  Now, more about the Epic Tales plus giveaway info.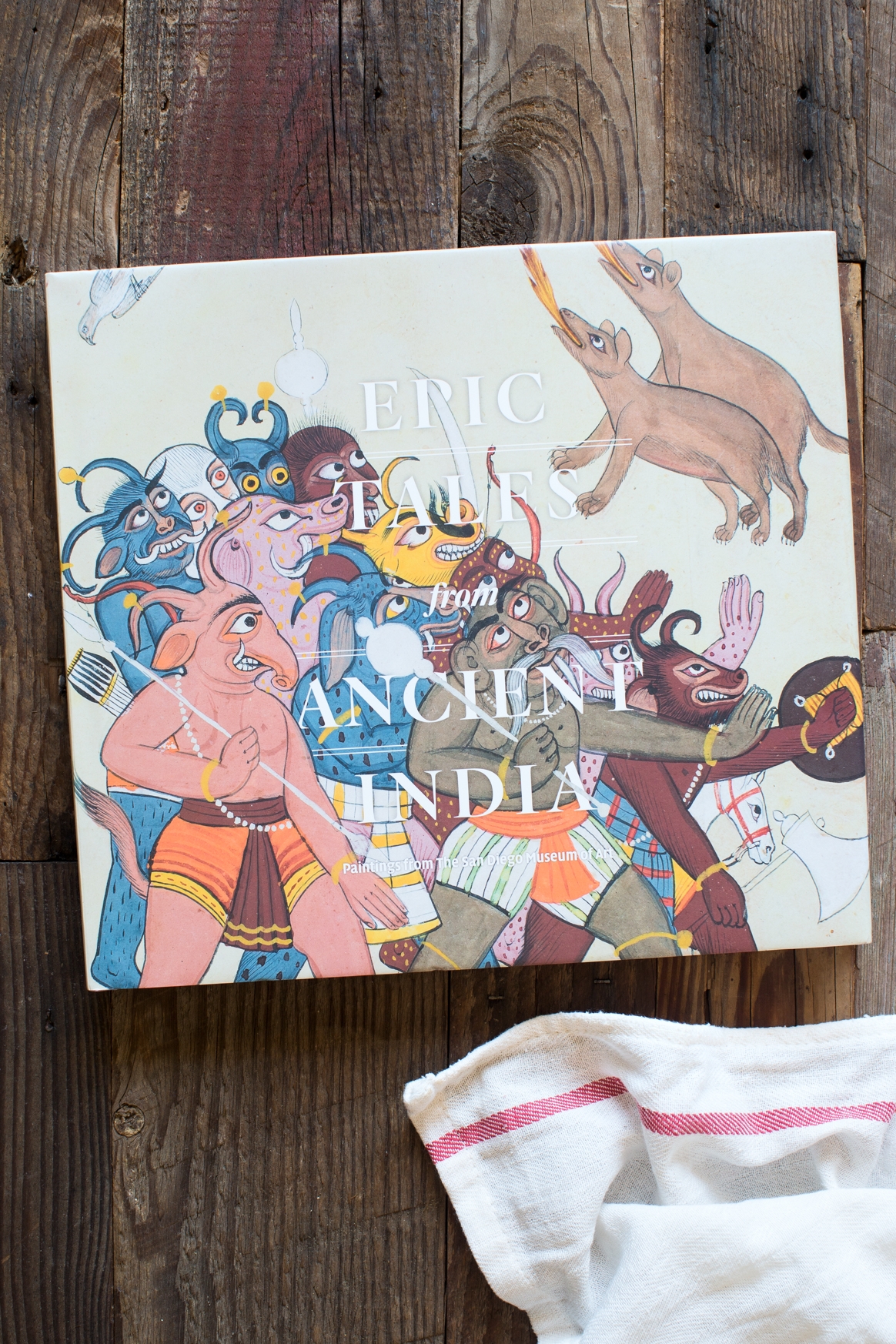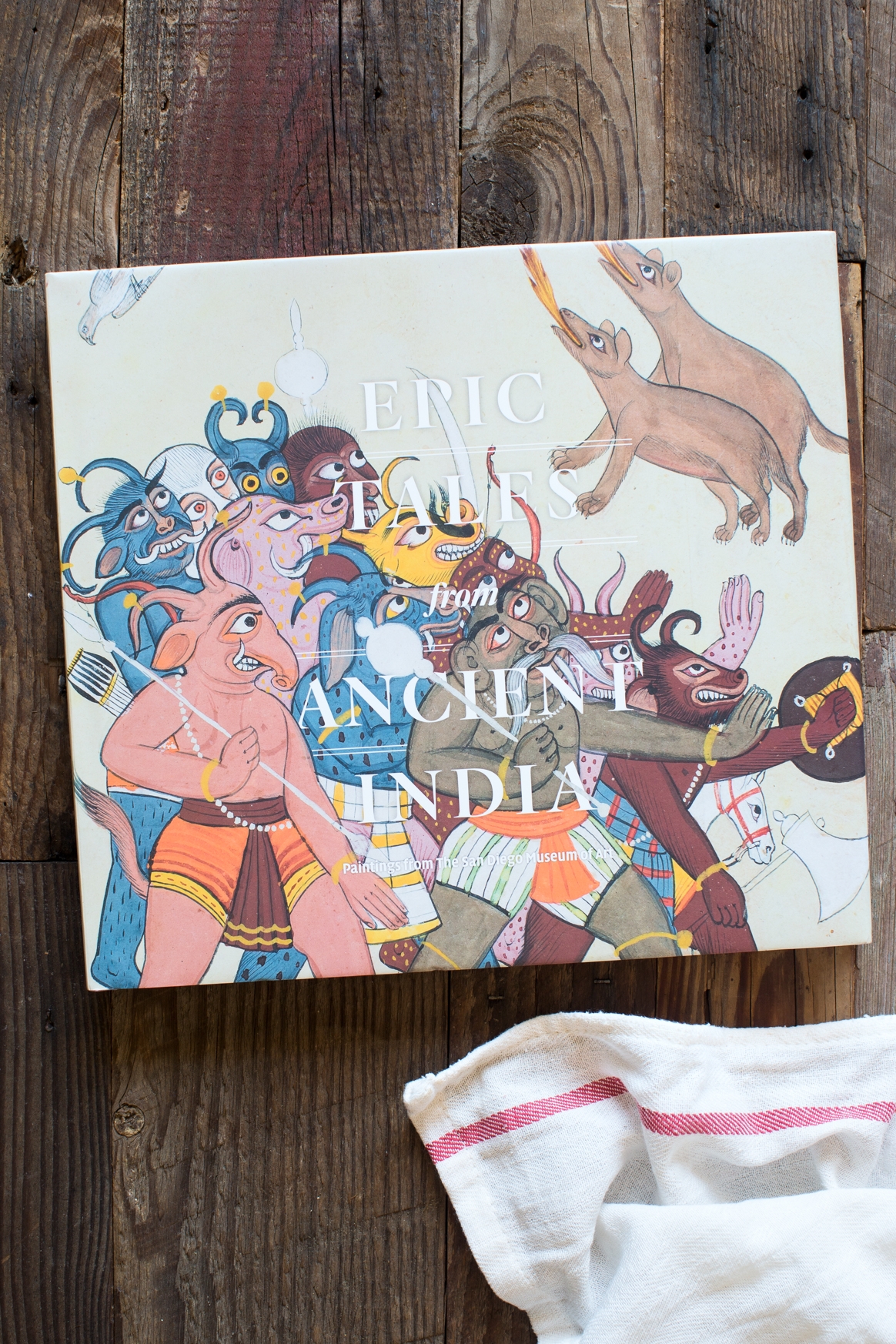 Epic Tales from Ancient India introduces viewers to the world of South Asian paintings and their original narrative context by explaining the classics of literature that the works illustrate.  The stories showcased in Epic Tales are classics of literature, some of which are thousands of years old, but the narratives still remain relevant today, as they touch on themes of love, death, war and celebration.  I could spend hours looking at all of the fine details throughout the exhibit.  The museum provides magnifying glasses so you can really appreciate the intricate paintings.  Some of the finest brush strokes were done using a single hair!
The exhibition features four sections arranged by the literary categories, including:
Bhagavata Purana, a Sanskrit text about the Hindu god Vishnu and his different incarnations
The Ramayana, recounting the adventures of Prince Rama of Ayodhya and his wife Sita
The Ragamala, verses illustrating music played at particular times of day or season
Works of Persian literature, including the Shahnama, a poem about the legendary kings of Iran
This recipe was inspired by the painting above called Desavarati Ragini of Dipak where a female lover is throwing her hands up in a wave a passion as she recalls a satisfying sexual encounter from the night before.  When I saw this painting, I immediately thought of a girlfriends brunch—Sex and the City style—where all the ladies are chatting about their weekend adventures.  I would imagine these women enjoying this flatbread while gossiping and having fun together!
The San Diego Museum of Art has graciously provided 2 tickets to view the exhibit along with an Epic Tales catalogue (pictured above) to one Kitchen Konfidence reader!  Enter to win here:
Epic Tales from Ancient India opened on Saturday, June 9 and will be on view through September 3, 2018.
Homemade Flatbread with Yogurt, Eggs and Curry Brown Butter
Flatbread recipe lightly adapted from
here
.
Ingredients
For the flatbread:
2

cups

all purpose flour, plus more for dusting

2

teaspoons

kosher salt

3/4

teaspoon

baking powder

1/2

teaspoon

sugar

1

cup

plain, full-fat yogurt

4

tablespoons

olive oil
For the toppings:
1

cup

plain, full-fat yogurt

1

garlic clove, finely grated or minced

Kosher salt

1/2

stick (1/4 cup or 2 oz) unsalted butter

3/4

teaspoon

curry powder

8

eggs, cooked sunny-side up, over-easy or poached

Cilantro leaves, for scattering

Flaky sea salt

Freshly ground black pepper
Instructions
Add flour salt, baking powder and sugar to a large bowl, whisking to combine. Add 1 cup yogurt, and stir until a shaggy dough forms. Turn dough out onto a lightly floured work surface, and knead until a mostly smooth ball of dough forms (1 to 2 minutes). Divide dough into 4 pieces, and shape each into a ball. Cover with plastic wrap and let rest for 15 minutes.

While the dough is resting, prepare some of the toppings. Add 1 cup yogurt, grated garlic and 3/4 tsp kosher salt to a medium bowl, whisking to combine. Season to taste with additional salt. Set aside. Cook butter in a small saucepan over medium heat until the butter turns a deep golden brown color and takes on a nutty aroma (about 5 minutes). Take the saucepan off the heat, and stir in the curry powder and a pinch of salt. Let cool for a moment then season to taste with additional salt. Set aside.

Place a large, cast-iron skillet over medium heat. While the skillet is heating up, roll 1 ball of dough on a lightly floured surface into a 1/8" thick round (doesn't have to be perfect). Add 1 tablespoon of olive oil to the hot skillet (it should smoke a little), then carefully add the dough round. Cook until the bottom is golden brown and the top starts to bubble and puff (about 2 minutes). Flip and cook until the other side is golden in spots (1 to 1.5 minutes longer). Transfer to a plate, and then repeat this process with the other 3 balls of dough. I like to roll out the next ball while one is cooking in the skillet.

To serve, slather each flatbread with garlic yogurt, then top with eggs, cilantro leaves and a drizzle of curry brown butter. Finish with a sprinkling of flaky sea salt and freshly ground black pepper. Enjoy immediately!
Tried this recipe?
Tag @brandiego on Instagram so I can check it out!
This post was written in partnership with The San Diego Museum of Art. Thoughts, opinions and recipes are my own.
26