Several months ago, I traveled to Italy to learn all about real Balsamic Vinegar of Modena. Here's a recap (with plenty of photos!) of the incredible three day press trip.
This post may contain affiliate links.
I arrived in Italy several days in advance of the press trip, so I could explore the lake regions north of Milan on my own (while getting adjusted to the new timezone!). Destinations included Stresa, Como, Bellagio and Varenna. I immediately fell for these picturesque lakeside towns with the breathtaking Alps looming in the background. Of the four spots, Varenna was my favorite. I still remember sitting at a cafe just a few feet away from the lake while enjoying an Aperol Spritz and small bowls of olives and crackers. A storm just starting to roll in over the mountains.
From there, I spent a day in Verona where I visited Juliette's house and had several spectacular meals. Warm polenta with mushrooms, pecorino, gorgonzola and cured meats. Smoked burrata with anchovies, herbed butter and housemade crackers. Bigoli (a local pasta) with cheese and black pepper. Satiated and on Italian time, I made my way to Modena to immerse myself into the world of balsamic vinegar.
We started our trip by exploring the city of Modena. Located in Italy's Emilia-Romagna region, Modena is mainly known for two things: food and cars.
One of our first stops around Modena was Mercato Albinelli, a bustling food market brimming with gorgeous, fresh produce, meat, seafood, cheese and baked goods. I just love exploring markets, because you can get a glimpse of what everyday life is like in that city. What produce is in season and produced in the region. What fish can they catch nearby. What baked goods does the city specialize in. What the locals look like and how they like to shop. There are so many vibrant scenes to take in.
I could have spent hours exploring Mercato Albinelli, but our time was limited and there was plenty more of Modena to see.
As we strolled down the cobblestone streets in the center of Modena, we stopped by a bakery whose front window was filled with pies and cakes and pastries all stacked in neat piles. The smell of Italian cookies—an aroma I distinctly remember from visiting Italian bakeries in Elizabeth, NJ as a kid—enticed me inside. Sesame seed dusted crescents. Swirled anise cookies dipped in chocolate. Crumbly sandwich cookies filled with jam. I purchased several and we strolled on.
After that, we stopped by Giuseppe Giusti, the oldest Salumeria in Modena. This family business has been operating since the early 1600's!
Modena is also home to Massimo Bottura's Osteria Francescana, a three-Michelin-star restaurant that has held a spot in the top 5 of The World's 50 Best Restaurants Awards since 2010. Dinner at Osteria Francescana would certainly be ambitious for a press trip, so instead, we had a fabulous lunch at Franceschetta58, Massimo Bottura's trendy casual spot.
The menu included:
The famous Emilia Burger
Saba lacquered pork ribs
Red sponge cake with chocolate mousse and a local bitter liqueur
I also photographed Laura's creamed cod with zucchini blossoms (from the meatless menu).
Below you can see the food blogger/influencer chaos that breaks out when food first hits the table.
That afternoon, we visited our first Acetaia (balsamic vinegar producer), Modena Aceti. I'll get more into production specifics on Day 2, but for now here are some technical details. Balsamic vinegar:
must be aged in wood barrels, but the barrels can be any size
must be made with wine vinegar (minimum 10%), grape must (minimum 20%) and 10 year+ aged balsamic vinegar (in any quantity)
must be dark brown in color (max 2% caramel usage)
must be aged 2 months to 3 years for regular balsamic vinegar or 3 years+ for aged balsamic vinegar
must have a minimum 6% acidity
must be made from grapes within the region
There are two designations for balsamic vinegar of Modena: IGP and PDO. IGP requires that the production of the vinegar must happen within the Modena region; however the raw materials and bottles can come from outside the region. PDO requires that all materials come from and production happens within the Modena region.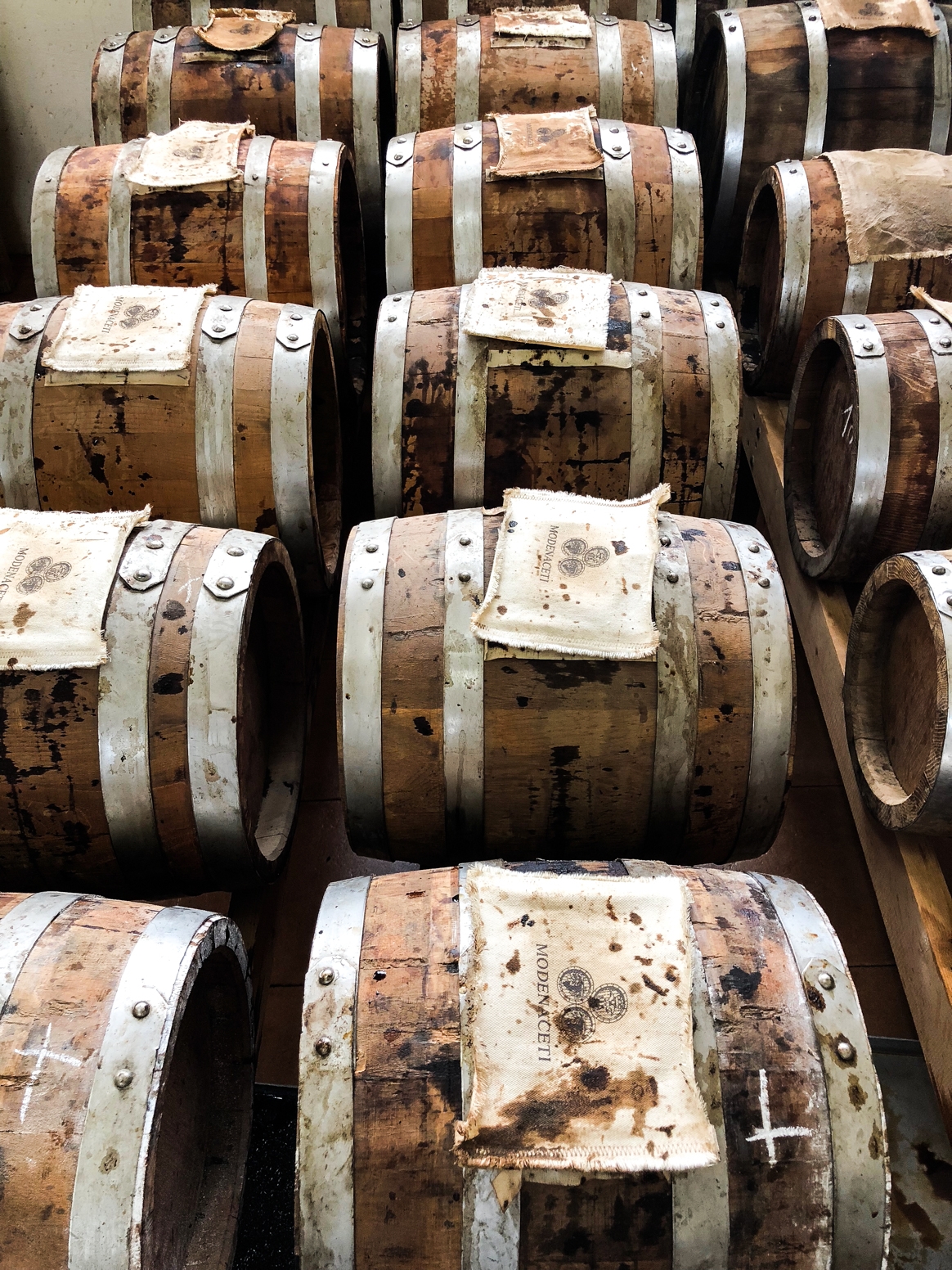 Balsamic vinegar is a mix of wine vinegar, grape must and aged balsamic vinegar, and the flavor and texture of the vinegar depends on the ratios of the three. Grape must adds sweetness and heft, so a vinegar that has a higher percentage of grape must will be sweeter and more syrup-like. A balsamic with a lower percentage of grape must (and a higher percentage of wine vinegar) will be thinner and more acidic.
Aged balsamic can be added in any quantity to the mix (even just a drop), so its effect on flavor is unique to each bottle/producer. One important thing to note is that a balsamic's age isn't a direct indication of flavor. For this reason, the age of the balsamic cannot be printed on the label.
When shopping for a high quality balsamic vinegar, the best thing to look for is an IGP (blue and gold) or PDO (red and gold) label. When you see one of these labels, you'll know that the balsamic vinegar was produced in Modena, according to their strict quality and flavor standards.
We finished our first day with a visit to Vignola Castle and dinner at Michelin-starred Stada Facendo.
Our dinner menu:
Capon salad with raisins, pine nuts, Parmesan cheese and balsamic gel.
Gnocchi with balsamic dust and crispy Parmesan rind.
Pork with pea puree, mint and potatoes
Frozen zabaglione with chocolate and caramel
A selection of sweet treats to finish
This meal was really outstanding and I especially loved the gnocchi and the frozen zabaglione.
Day two was my favorite of the whole press trip. We started with a visit to Pavarotti's house. I didn't know much about Pavarotti going into this, but I enjoyed learning about his life here in Modena, and I especially loved his bright yellow kitchen!
Afterwards, we had a rustic lunch at Via Cavour. The waiter was really speedy when serving us a variety of delicious pastas, so I wasn't able to get any good shots of those. But after pasta, we enjoyed baskets of gnocco fritto along with a mouthwatering selection of salumi (pictured below).
Gnocco fritto is a puffy, fried bread from the region. We topped ours with salty, cured meats and dabs of lardo flecked with rosemary and garlic. I seriously could have snacked on these for daaaaaaayyyyys. So tasty.
Our next stop was Acetum, a gorgeous, modern Acetaia in Cavezzo. Here, we learned more about the production of balsamic vinegar of Modena:
The Start: Grape must is first boiled and concentrated by 30 to 50% before going into aging barrels.
The Casks: A typical balsamic cellar will use five to seven barrels in varying sizes and wood types (including oak, chestnut, cherry, ash and mulberry). The barrels are lined up from smallest to largest (or vice versa). This is known as a batteria.
Maturing and Aging: Traditional balsamic vinegar of Modena is aged in open barrels to allow continuous contact with oxygen. The different types of wood barrels will lend different flavors to the vinegar during the fermentation process.
Refilling: Once a year, vinegar is drawn from the smallest barrel. From there, the smallest barrel is refilled from the next barrel up. That barrel is then refilled from the next barrel up and so on. The last barrel (the largest) is topped off with freshly concentrated grape must.
This process really infuses the balsamic with so much depth of flavor as the grape must sits in various different wood barrels and mixes with fermented grape must from years past.
During this tour we also learned how the various different types of balsamic vinegar are best used with food:
A lighter, more acidic balsamic vinegar is ideal for salads and daily use.
A medium-bodied balsamic works well with grilled meats and roasted vegetables.
A full-bodied balsamic is tasty with meat and fish.
A dense and syrupy balsamic is perfect with fruit, ice cream and Parmesan and cheese.
We finished day two with a tour of Panzano Castle and a lesson on how to make tortellini, a stuffed pasta that originated in Modena. Panzano Castle is gorgeous property lush with creeping rose vines, ivy and other massive trees. The citrus trees on property were blooming at the time, perfuming the air with a mix of orange blossom and rose.
The castle is also home to an impressive collection of vintage cars. I'm not really a car guy, so I spent most of my time taking pictures of flowers 😀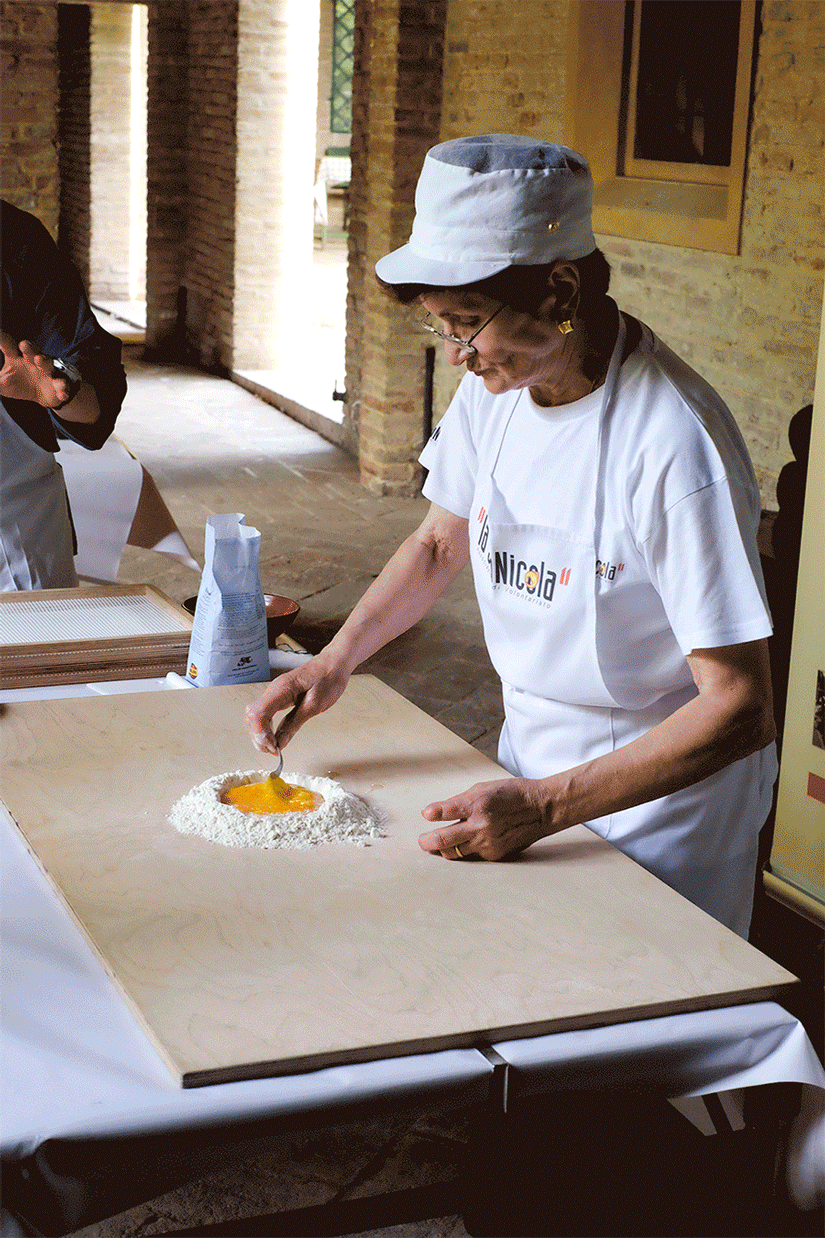 While at Panzano Castle, we learned how to make traditional tortellini stuffed with a pork filling (see video above). That evening we were surprised with a traditional country meal enjoyed inside the rustic castle.
To start, tender tortellini in a warm pork broth. Then, shards of Parmesan cheese, platters of Prosciutto and Mortadella and squares of golden focaccia. We finished our meal with a dry, sweet cake, local cherries and chilled Lambrusco. We dipped slices of the cake in the red wine as an accordion player sung opera in the background. It was truly a magical evening!
Day three began with a tour of Balsamico del Duca, the smallest of Acetaia that we visited. This family-owned company started in 1891! It was nice to see all of the love that goes into the production process here. We got to experience the bottling and labeling processes being done by hand.
I completely fell in love with the balsamic vinegar that we sampled at Balsamico del Duca. We got to try one of their aged balsamic vinegars with Parmesan cheese and chocolates. The balsamic was dark, rich and so complex. I would have happily just sipped it from a spoon!
For lunch, we went through a cooking class with Daniele Reponi, a local celeb chef that specializes in making sandwiches with ingredients from the Modena region.  Here are some of the tasty combinations we prepared:
Prosciutto de Modena (saltier than Prosciutto de Parma), fresh cherries, crispy Parmigiano-Reggiano
Fresh peach, Prosciutto de Modena, arugula, balsamic vinegar
Pancetta, Parmigiano-Reggiano, balsamic vinegar, white cherries soaked in Amarena
Head cheese, Parmigiano-Reggiano and orange zest
I was looooooving all of this.
That afternoon, we walked off our big lunch around the Ferrari museum and the Levizzano Castle.
We finished our trip with dinner at Antika Moka, one of the top restaurants in Modena. Here's what we had:
Guinea fowl with agrodolce (sweet and sour).
Tortelli fileld with ricotta and spinach. Slashes of red turnip puree around the plate.
Chicken stuffed with Prosciutto de Modena and cheese. The black little dots around the plate are tiny onions cooked in Balsamic Vinegar of Modena. FAV!!
Pear crostata with zabaglione and Balsamic Vinegar of Modena.
And that's it!! I just loved learning all about the Modena region of Italy, including all of the love and detail that goes into making Balsamic Vinegar of Modena.
A big thanks to the team that put together this fantastic press trip, including the Balsamic Vinegar Consortium.
Please comment below with your favorite way to use balsamic vinegar!
9