When the days start getting shorter as summer turns to autumn, I just love firing up the grill to make dinner on a chilly evening.
This post may contain affiliate links.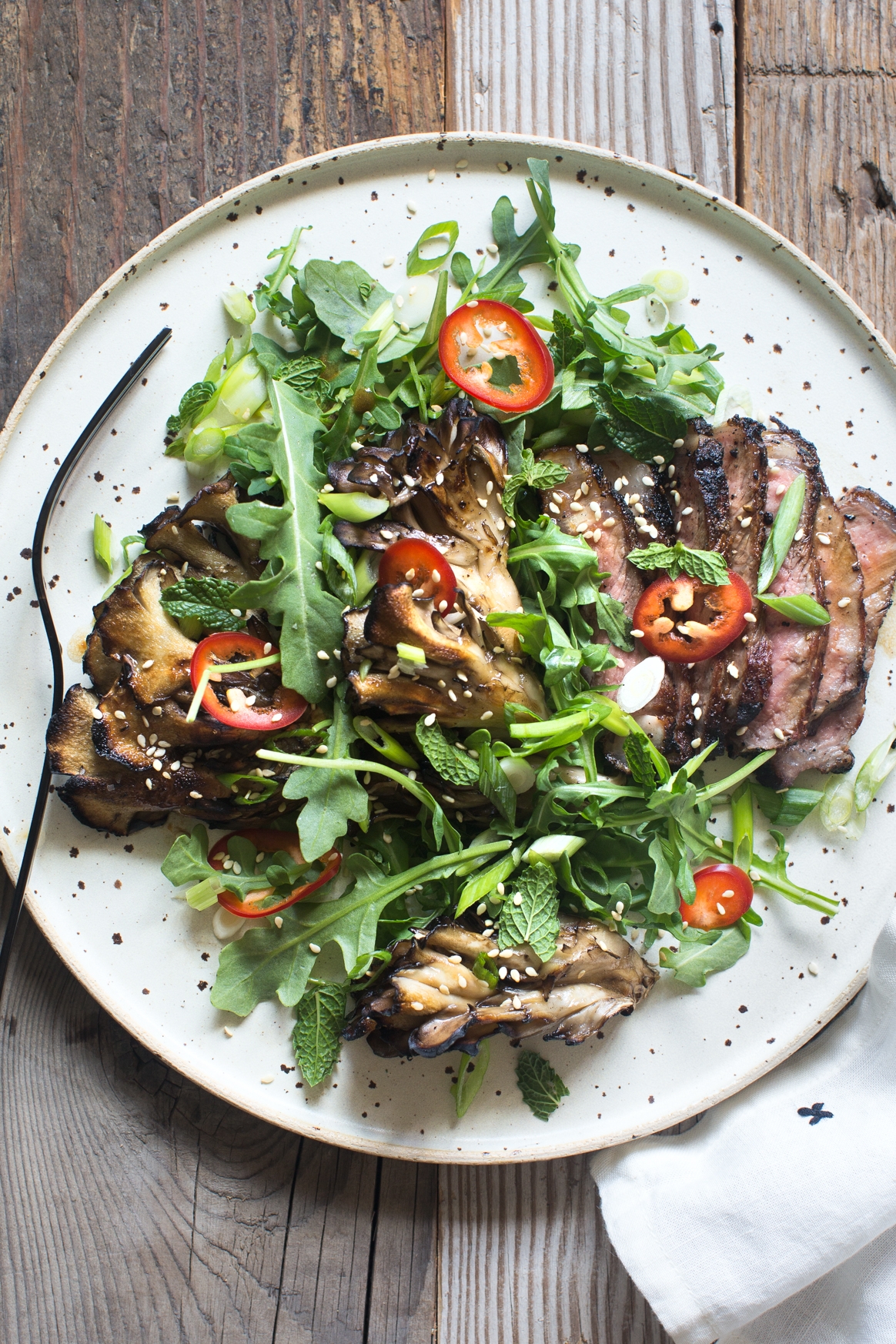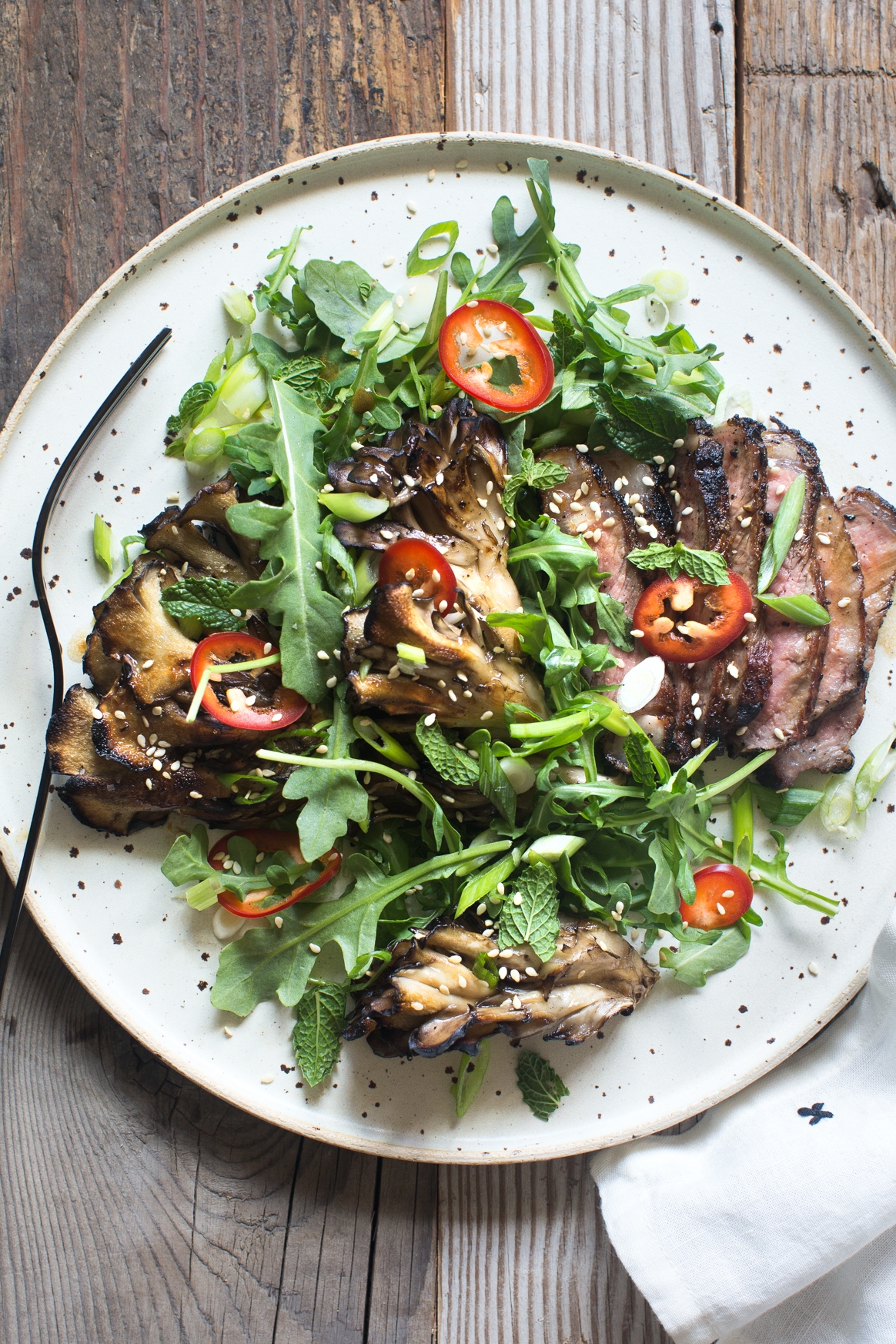 During the summer months, I enjoy grilling on a hot afternoon with an ice cold beer in hand.  Music playing in the background.  The warm sun on my skin.  In the fall, the whole grilling experience changes for me.  I'll often start the grill as the sun is setting, below a sky filled with oranges, reds and purples (fall sunsets are the best here in San Diego!).  As dusk winds down, I huddle by the grill for warmth as aromas of charred meats and vegetables escape upwards with puffs of charcoal smoke.  So cozy!
I also love grilling during the autumn months, because I can switch up flavors as new seasonal produce hits the markets.  Recently, I've been totally into grilled mushrooms.  In this salad recipe, prepared in partnership with Kingsford®, I'm pairing grilled maitake mushrooms with juicy slices of NY strip steak and rich dressing made with soy sauce, rice wine vinegar, ginger and toasted sesame oil.  Sliced scallions, red chile and mint are scattered on top to provide exciting pops of freshness and heat.  These flavors are bright, bold and perfect for a chilly autumn evening.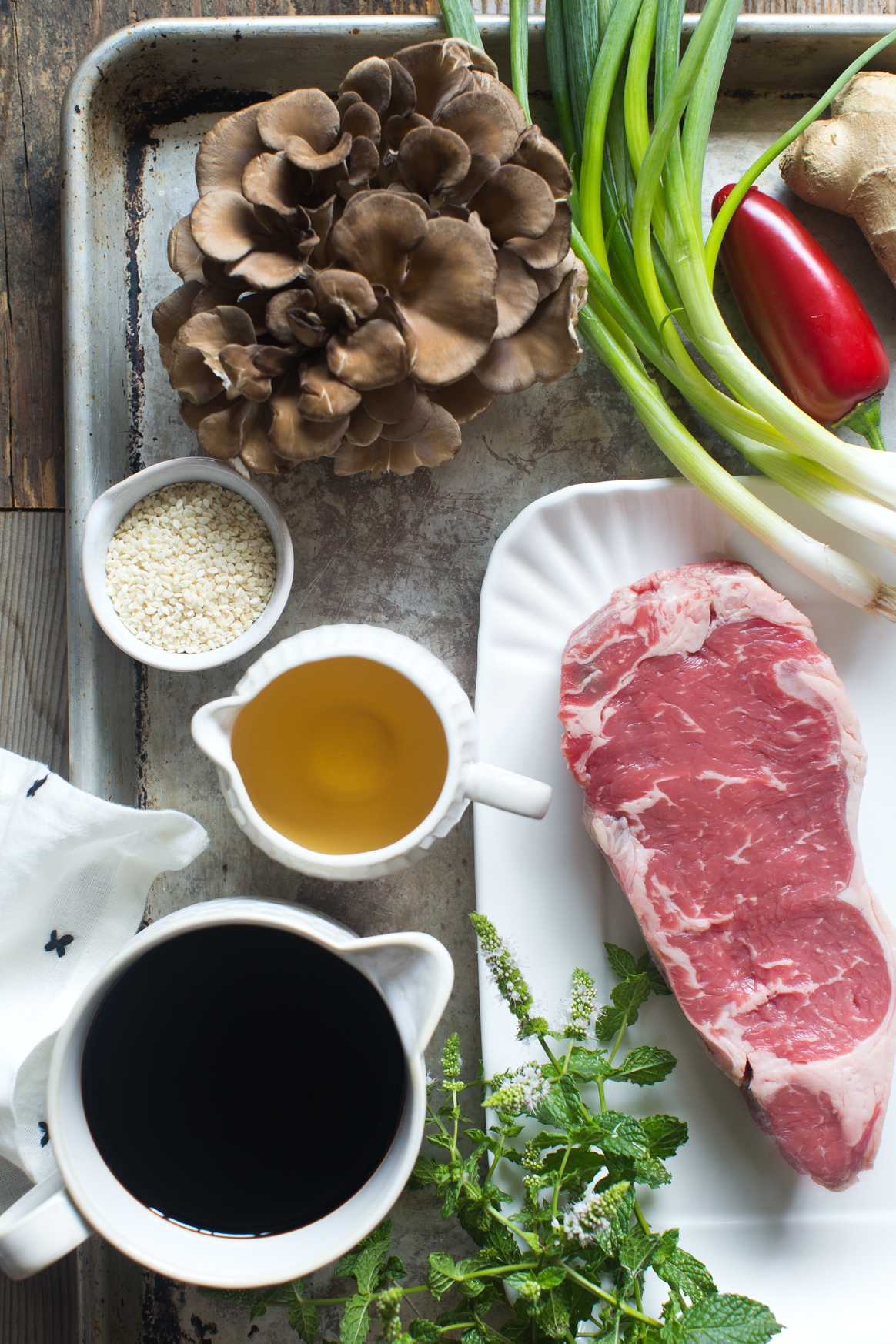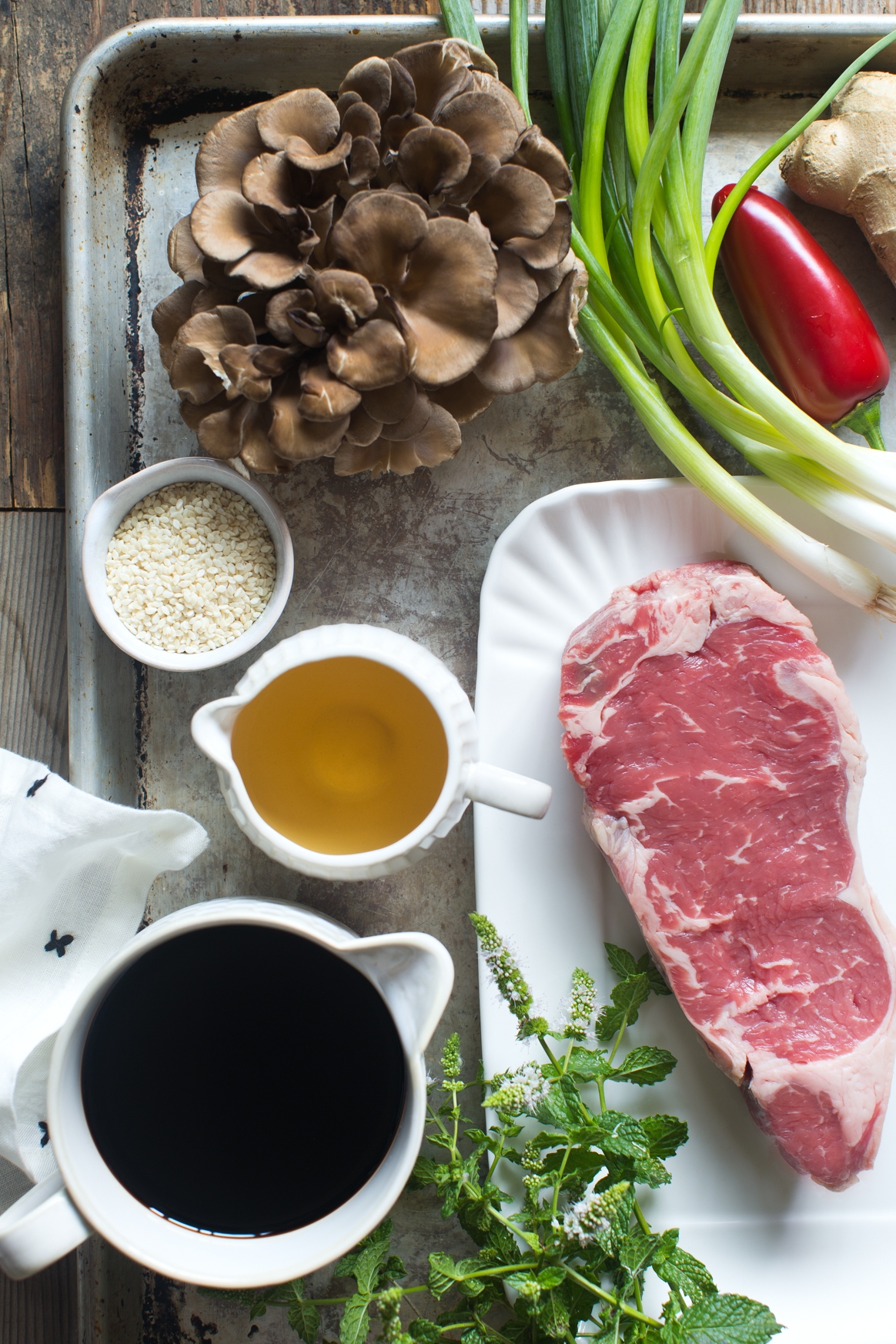 The two star ingredients in this recipe are maitake mushrooms and NY strip steak.  Maitakes (pictured below) are one of my favorite mushrooms.  They've got a real savory, meaty flavor that loves to be seared golden and charred crisp.  Perfect for the grill.  And tbh, I just love the look of them!  If you can't find maitake mushrooms in your local grocery store, check an Asian market.  They're often sold in individual packages (I used four 3.5 oz packages here).
As for the steak, you want to make sure you use a really good cut of meat here.  There's not a lot of steak per salad, so you want to make sure you're using something really fatty and delicious.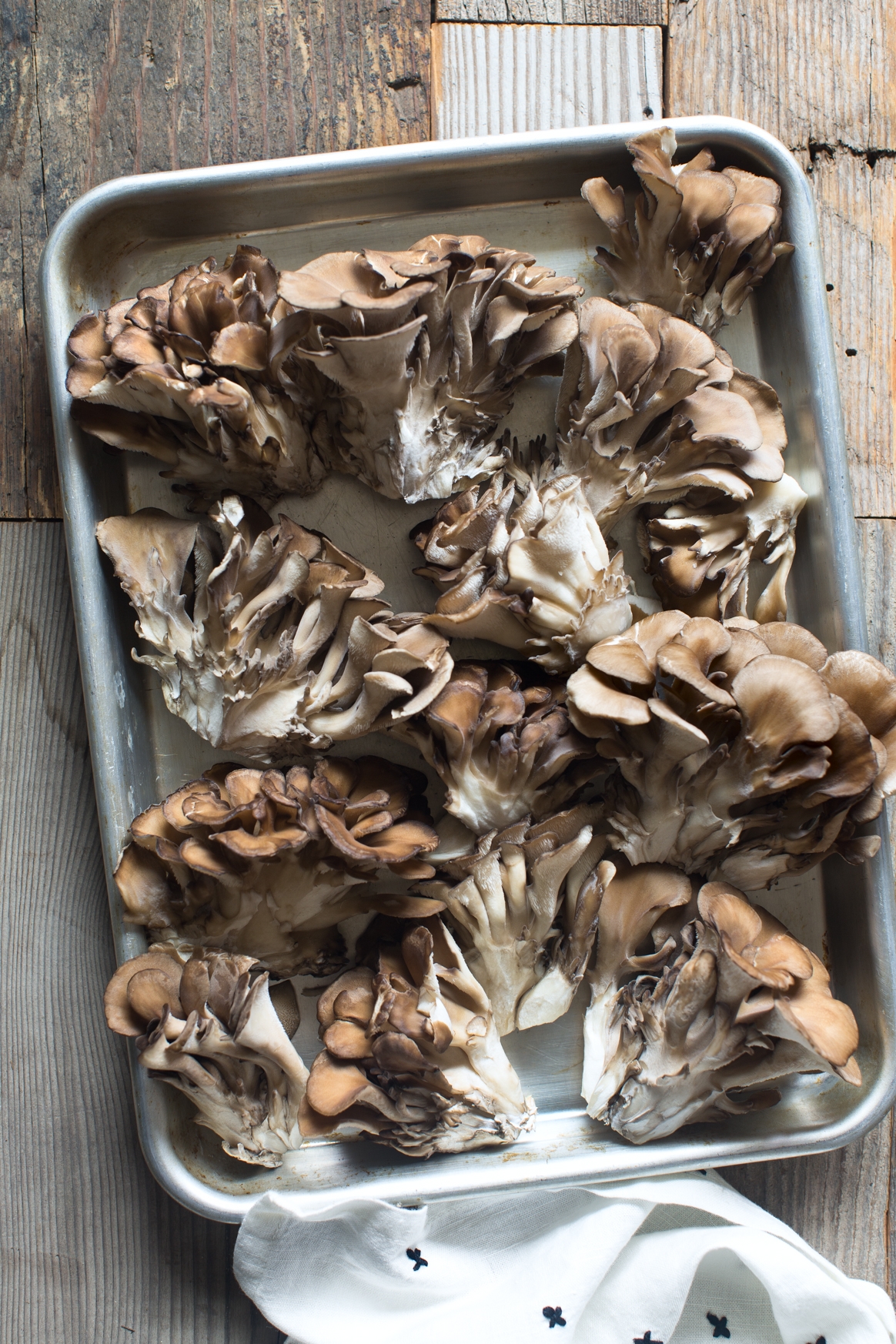 This Grilled Steak and Mushroom Salad works well as a hearty dinner for two or as salad course for four.  You can easily double this recipe and serve to a crowd!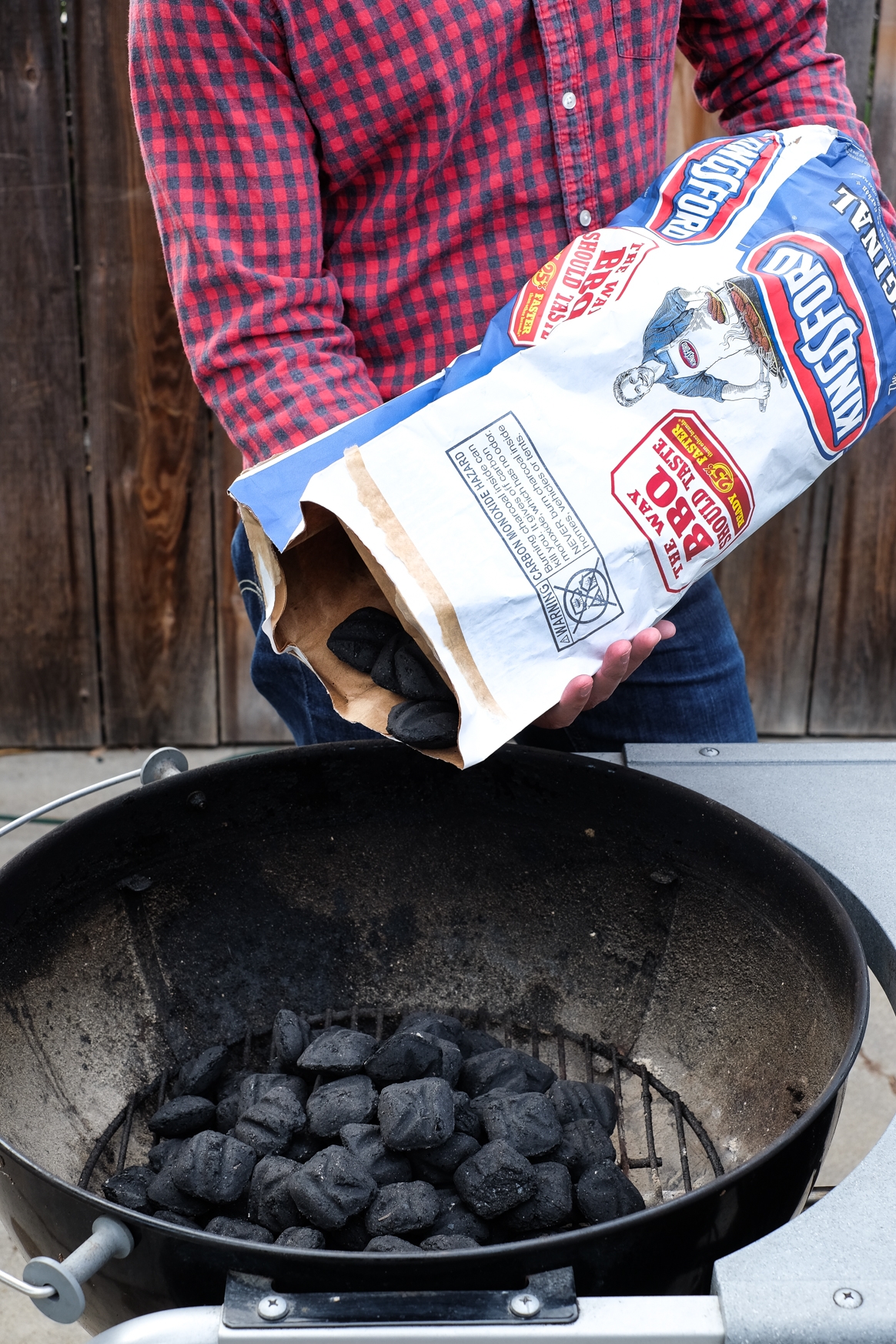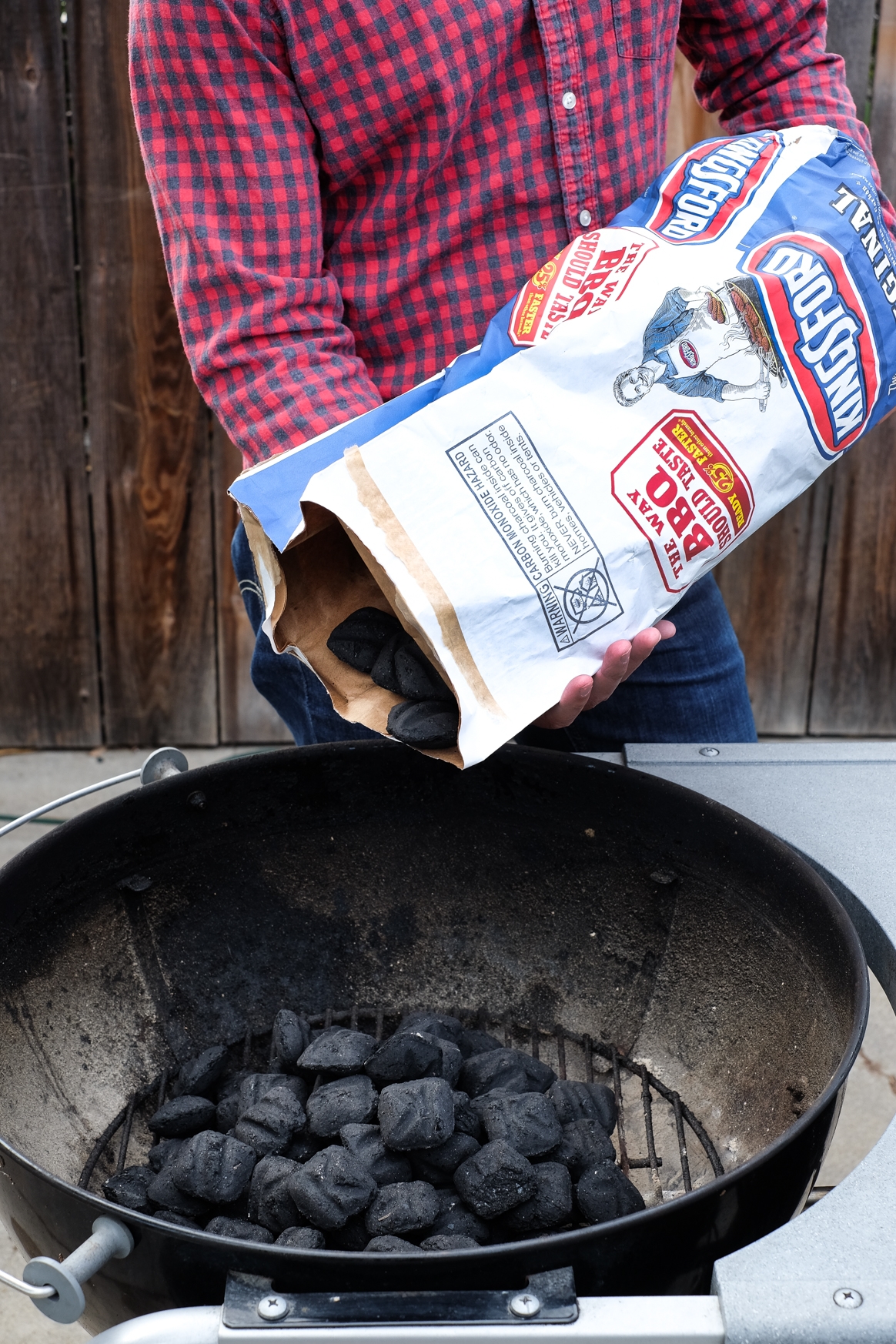 For me, charcoal grilling is a must.  It does take a little more time to set up compared to gas grilling, but I feel like the smoky flavor you get from a charcoal grill is so much better.  We've always got a bag of Kingsford® Original Charcoal Briquets at our house, because they're so easy to get started!  The grill used here has a propane starter that ignites the briquets, and after just 15 minutes, they're screaming hot and ready for use.  They stay hot for a while, giving you plenty of time to grill both the mushrooms and the steak.  You can even linger by the embers with a glass of wine while the steak rests!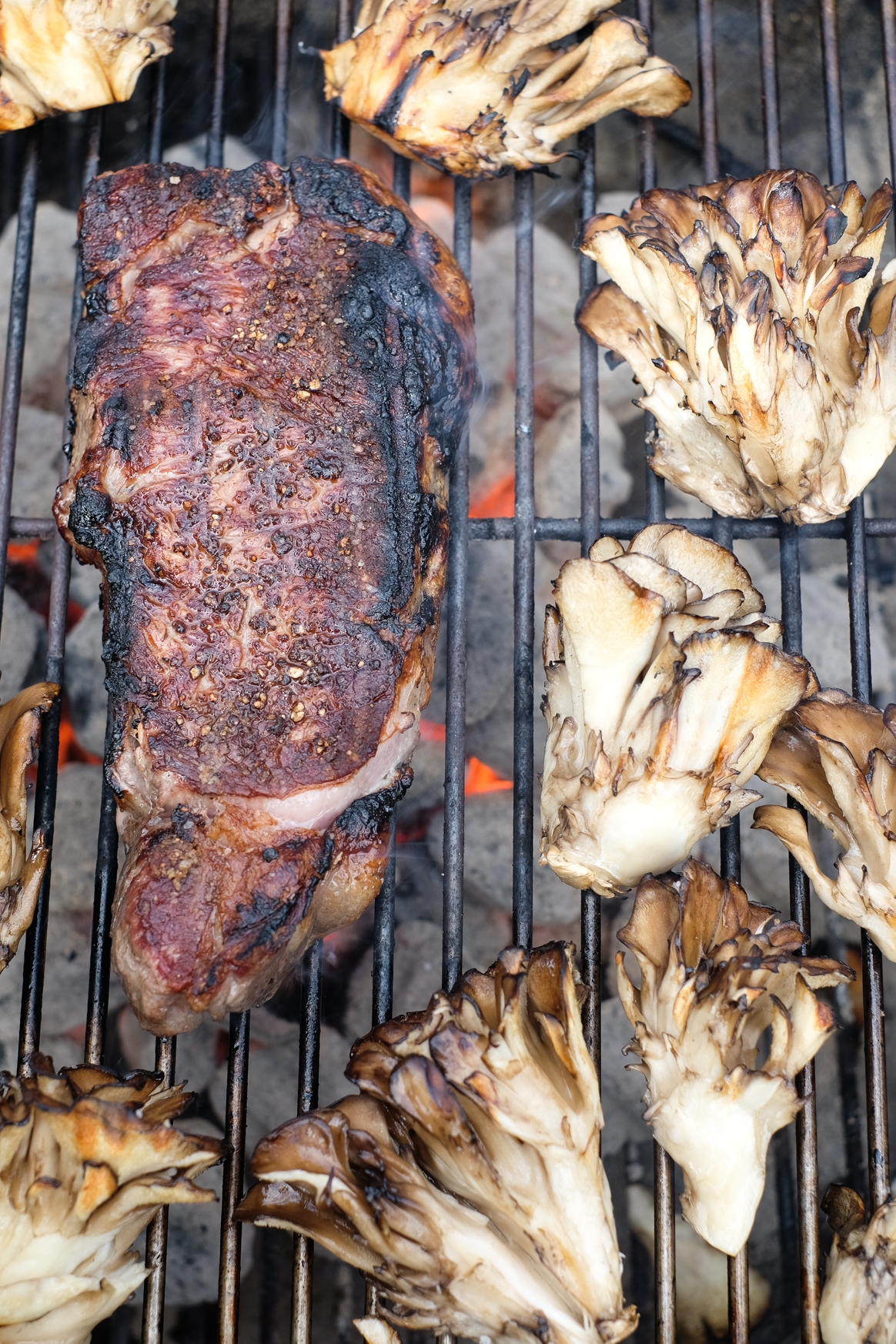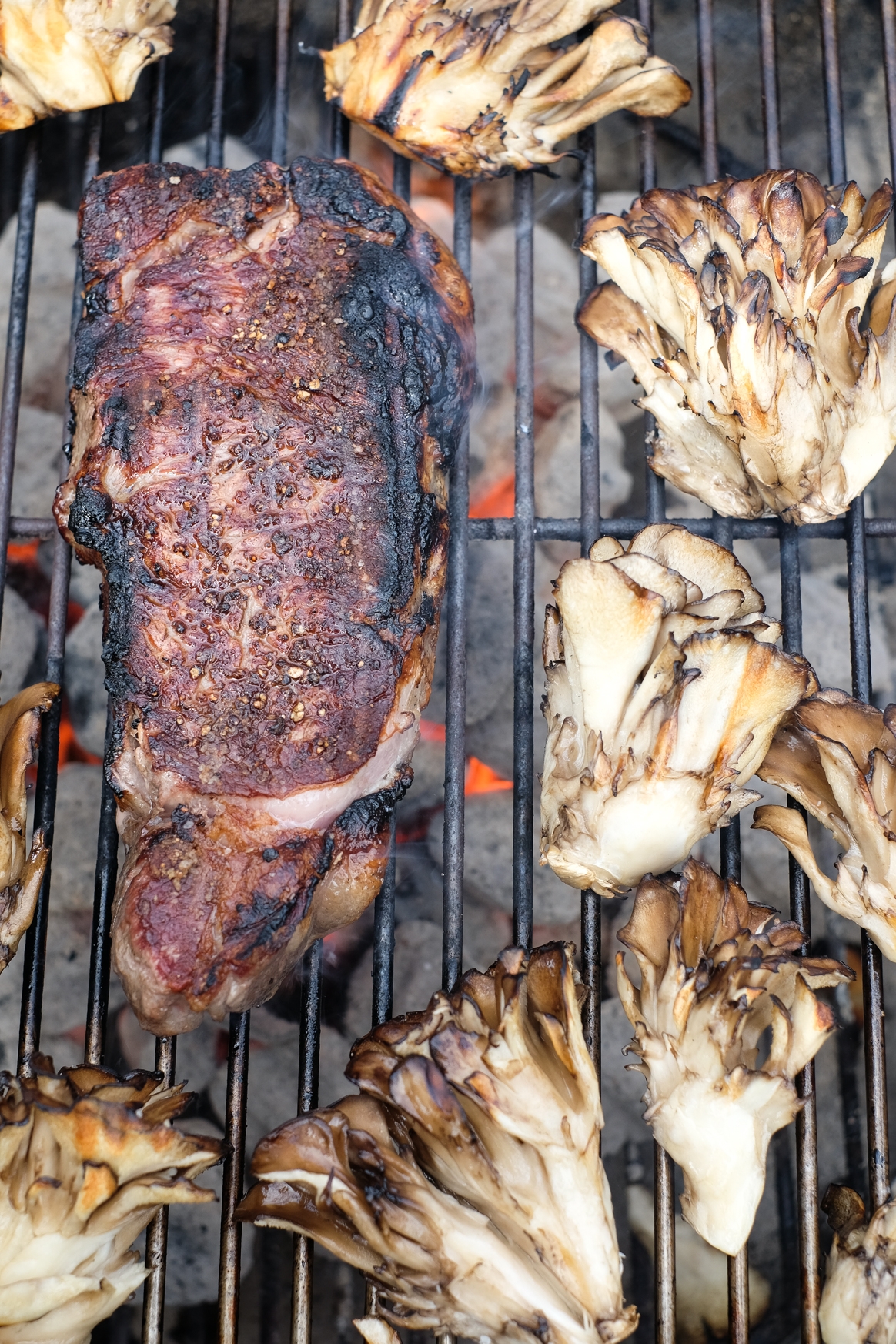 When grilling the mushrooms and steak for this recipe, don't be afraid of getting a little color on everything.  The mushrooms should be golden and crispy at the tips while the steak can get a little blackened around the edges.  These flavors can really stand up to the rich, salty dressing.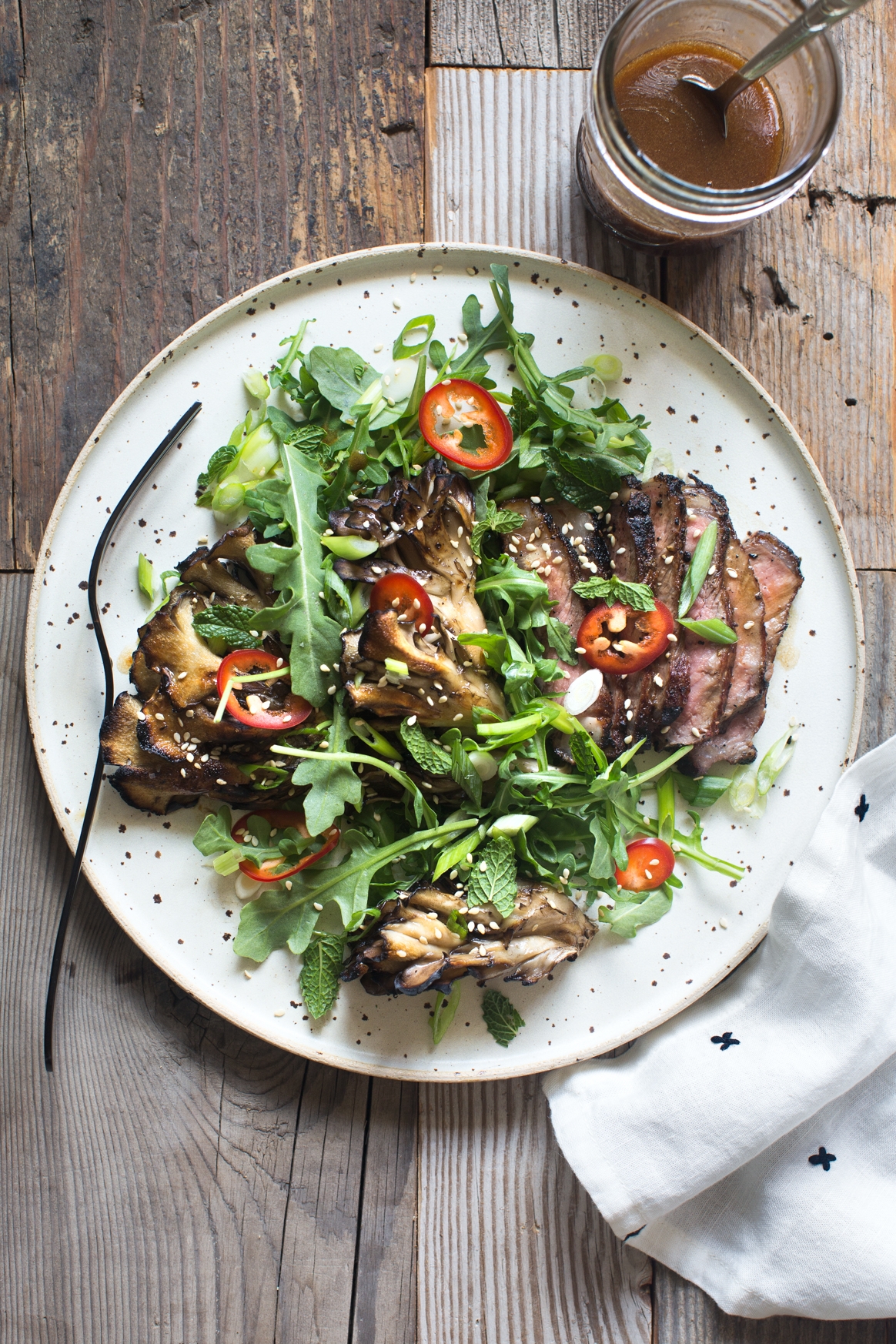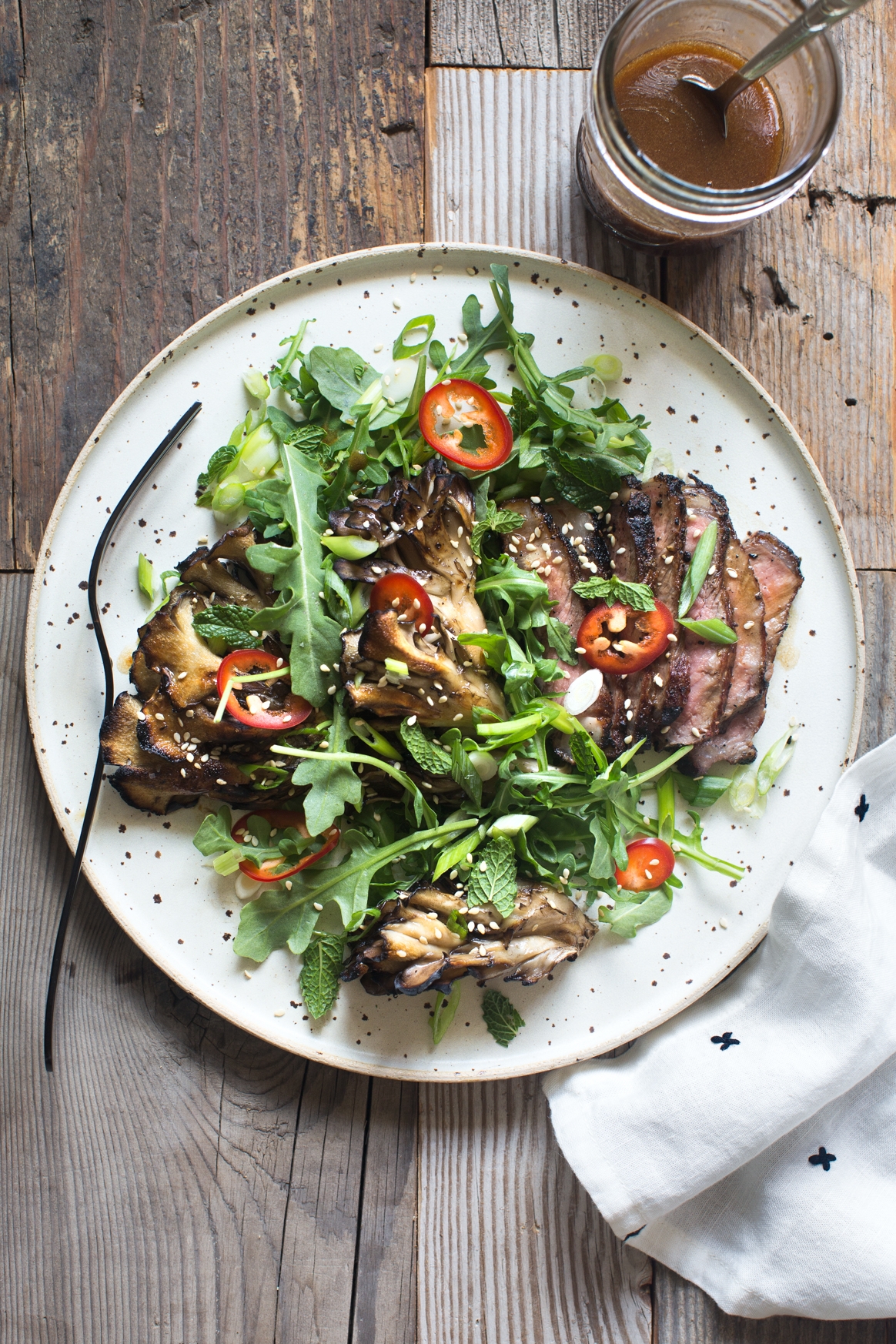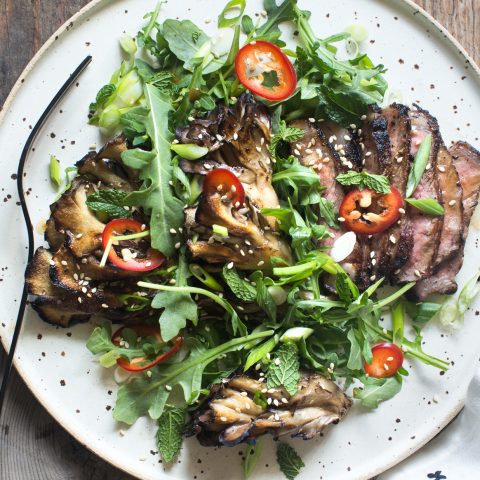 Grilled Steak & Mushroom Salad Recipe
Ingredients
For the dressing:
2

tablespoons

soy sauce

2

tablespoons

unseasoned rice wine vinegar

1

tablespoon

vegetable oil

1

tablespoon

toasted sesame oil

1

teaspoon

finely grated peeled ginger
For the salad:
14

ounces

maitake mushrooms, torn into halves or quarters

12

ounce

NY strip steak

3 to 4

tablespoons

vegetable oil, divided

Kosher salt

Freshly ground black pepper

2

cups

arugula

4

scallions, roots trimmed and thinly sliced

2

teaspoons

toasted sesame seeds

1/2

thinly sliced fresno chile (use the bottom half)

picked mint leaves

flaky sea salt
Instructions
To make the dressing, add soy sauce, vinegar, 1 tablespoon vegetable oil, sesame oil and ginger to a mason jar. Cap and shake until well combined. Set aside.

Prepare a charcoal grill to medium-high heat using Kingsford® Original Charcoal Briquets. Let the grill grate preheat for 15 minutes, and clean and oil it just before cooking. Brush mushrooms and steak with oil, then season mushrooms with salt and season both sides of the steak liberally with salt and pepper.

Grill mushrooms, turning often, until tender, golden and charred in spots (4 to 6 minutes).

Sear steak until golden and charred in spots (about 4 minutes), then flip the steak and continue to cook until the internal temperature reaches 120°F for rare, 130°F for medium-rare, and 140°F for medium ( 2 - 3 minutes more). Transfer mushrooms and steak to a plate, and let steak rest for 5 minutes before slicing.

Tear mushrooms into bite-sized pieces and slice steak against the grain. Add mushrooms, arugula and scallions to a large bowl, and toss with some of the dressing. You want the vegetables evenly coated, but not swimming in it. Divide steak and dressed salad between 2 to 4 plates, then top with toasted sesame seeds, sliced chiles, mint leaves and a sprinkling of flaky sea salt.
Tried this recipe?
Tag @brandiego on Instagram so I can check it out!
This is a sponsored conversation written by me on behalf of Kingsford Charcoal. The opinions and text are all mine.
26