Hello friends and Happy Day Before Thanksgiving!!
This post may contain affiliate links.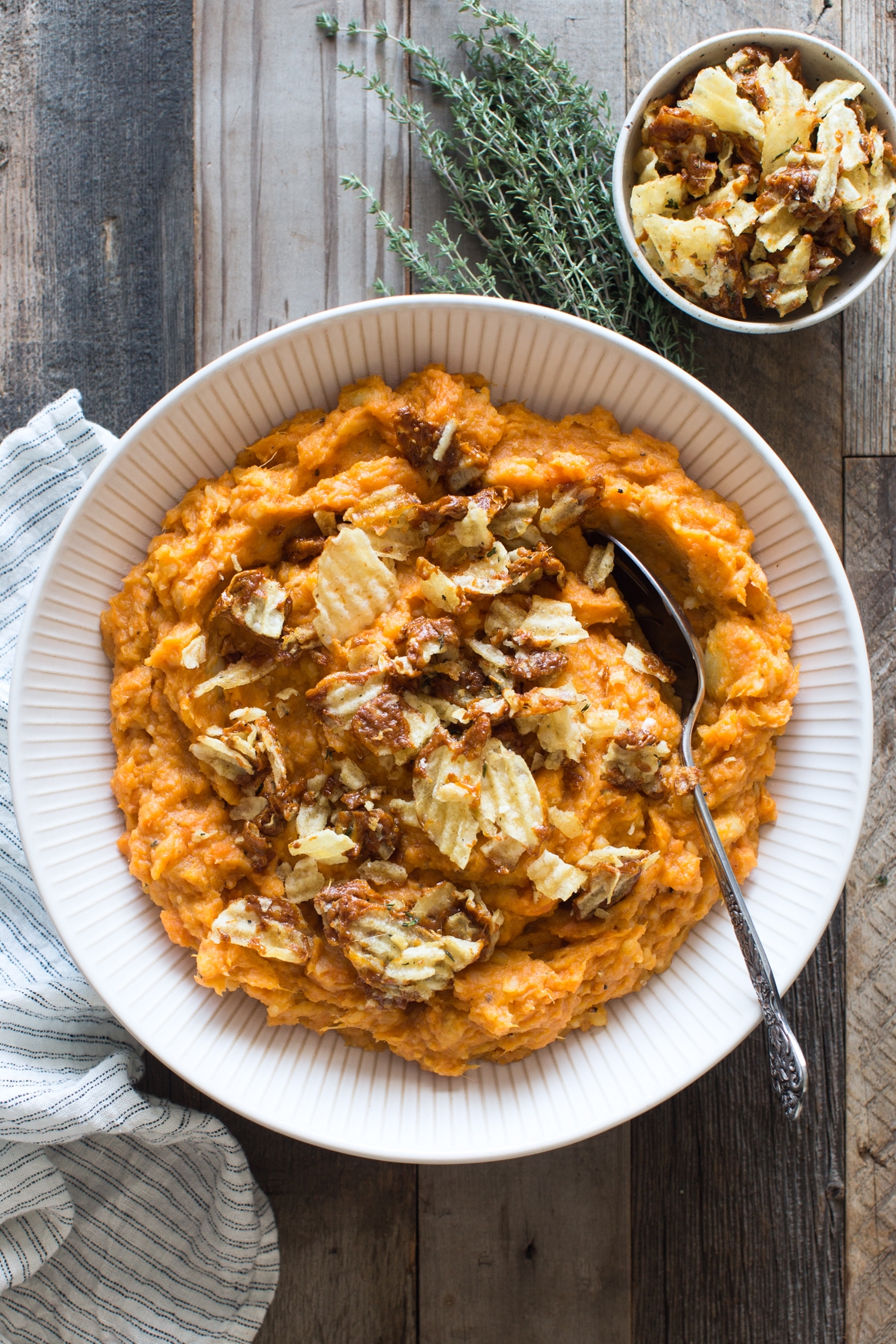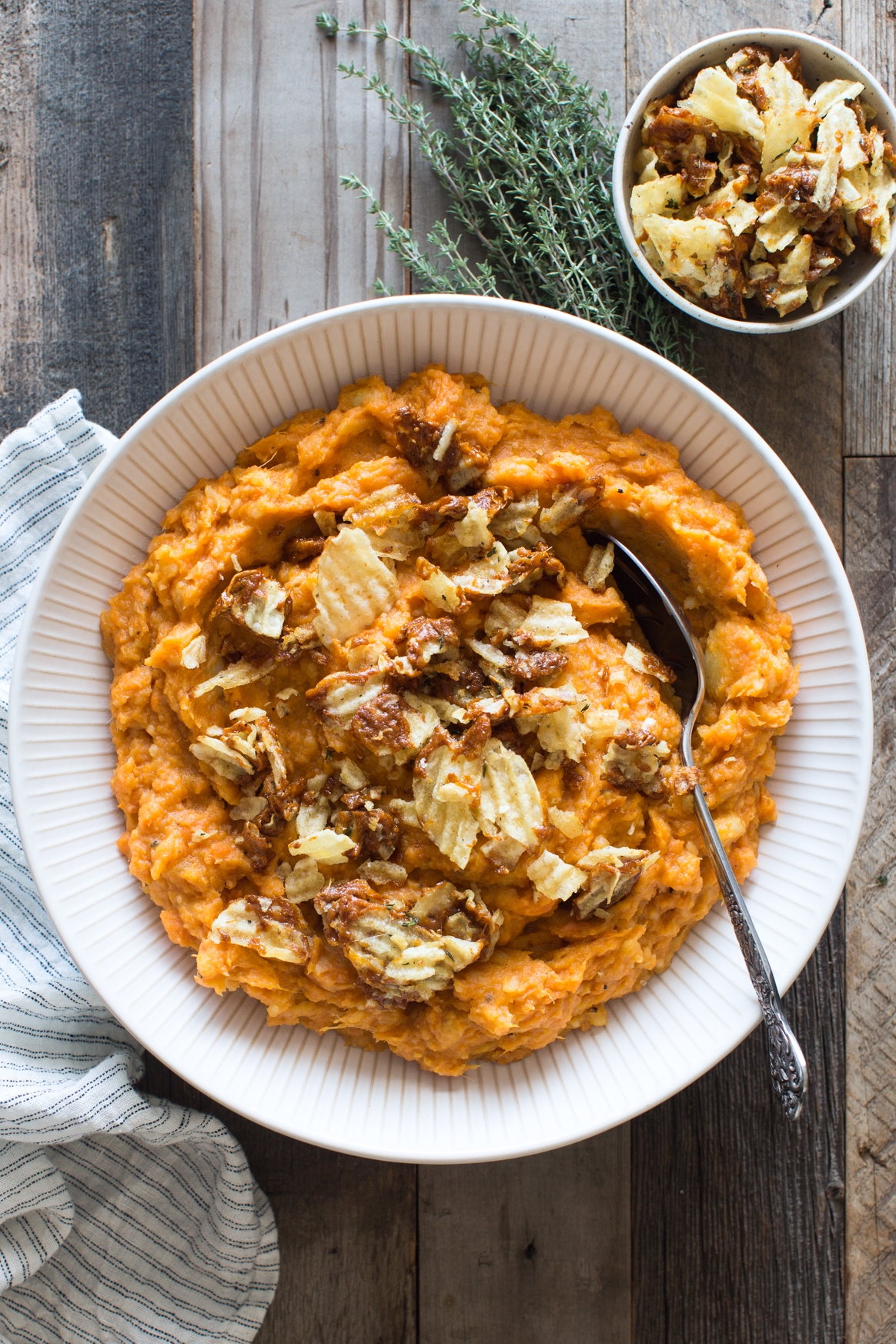 Between our recent trip to Japan and the cold I got shortly after returning, I've been a little behind the ball with Thanksgiving prep. I've gradually been feeling better this week, and with Jorge's help, I'm still on track to serve a smashing Thanksgiving dinner to a group of 18 this year!
One of the new dishes I'll be sharing at my Thanksgiving 2018 table are these Maple Mashed Sweet Potatoes with Potato Chip Crunch Topping. Sweet potatoes have always been a favorite Thanksgiving side dish of mine, so I just love coming up with different flavor variations. These sweet potatoes are roasted with butter, salt and pepper until soft and tender. Then, they get mashed up with maple syrup, cinnamon, nutmeg and orange zest. There's just enough maple syrup to get the flavor without making them too sweet.
For some textural contrast, I'm sprinkling on a sweet and salty potato chip topping made with partner Kettle Brand Krinkle Cut Salt & Fresh Ground Pepper Potato Chips. Flavored with cayenne and fresh thyme, the caramel-drizzled potato chips provide a satisfying crunch against the creaminess of the potatoes. Continue reading for the recipe.
The base of this dish is a five pound mix of sweet potatoes and yams. Sweet potatoes have pale yellow flesh while yams are orange inside. I find that with a mix of the two, you get a really wonderful flavor, color and texture in the final mash.
Both are readily available at most grocery stores. Just try to pick out sweet potatoes and yams that are the same size, so that everything cooks evenly in the oven.
You can prepare the potato chip crunch topping while the sweet potatoes are roasting in the oven. Start by making a golden caramel flavored with cayenne pepper. Then drizzle this over crushed up Kettle Brand potato chips, tossing to coat. The caramel-dotted chips are then spread out on a baking sheet and seasoned with fresh thyme.
As the caramel cools, it will harden on the chips, upping the crunch factor with some sweet heat. The caramel doesn't fully cover all the chips, so some will form clusters while others will have just a hint.
I specifically used Kettle Brand Krinkle Cut Potato Chips here, because the thicker cut chip really stands up to the caramel. With each crunchy bite, you'll get some golden potato flavor from the chips, sweet heat from the caramel, and a fresh note from the thyme.
The topping and sweet potatoes work so well together! You simply must give this a try.
Oh and I've got one last tip to make prepping these potatoes a snap on Thanksgiving. Mashed sweet potatoes can be held for up to 4 hours in a slow cooker set to low. Here's what I do:
Prepare sweet potatoes and crunch topping according to the recipe below a couple hours before guests arrive. Set crunch topping aside in a bowl and cover.
Pour a thin layer of heavy cream in the bottom of large crock pot.
Transfer mashed sweet potatoes to the crock pot, cover and set to low.
Keep potatoes warm for up to 4 hours, stirring occasionally.
That's it! Happy Thanksgiving from Brandon, Jorge, TiVo and Federico 🙂 We hope your celebrations with friends and family are filled with plenty of love, laughter and tasty bites.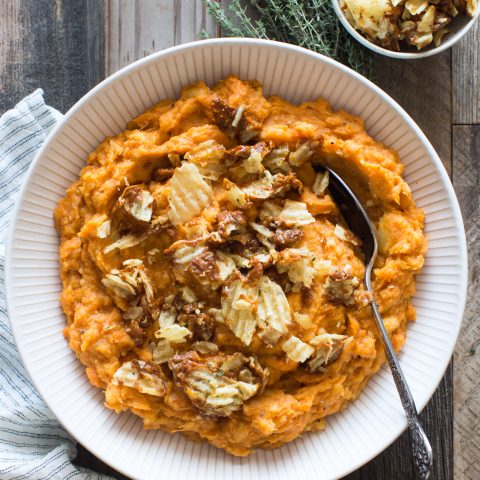 Maple Mashed Sweet Potatoes with Potato Chip Crunch Topping
Ingredients
5

pounds

sweet potatoes and yams, skins on and scrubbed

8 1/2

tablespoons

butter, divided (2 for roasting, 6 for mashing, 1/2 for the topping)

Freshly ground black pepper

4

cups (4 to 5 ounces)

Kettle Brand Krinkle Cut Salt and Fresh Ground Pepper Potato Chips

1/4

teaspoon

baking soda

1/4

teaspoon

kosher salt

1/8

teaspoon

cayenne pepper

1/2

cup

plus 2 tablespoons sugar

1

teaspoon

thyme leaves, chopped

1/4

cup

heavy cream

1/4

cup

maple syrup

1

teaspoon

ground cinnamon

1

teaspoon

grated orange zest

1/2

teaspoon

grated nutmeg
Instructions
Preheat an oven to 400°F. Place sweet potatoes and yams on a foil-lined baking sheet. Melt 2 tablespoons of butter in the microwave, and drizzle over the potatoes and yams. Sprinkle with kosher salt and freshly ground black pepper, rolling the spuds around until evenly coated. Roast until tender (about 1 hour). Let cool a bit.

While the potatoes and yams are cooking, make the topping. Lightly spray 1 large baking sheet, 2 large spoons and 1 large mixing bowl with non-stick spray. Add the potato chips to the large bowl, and set aside. Add baking soda, kosher salt and cayenne to a small bowl, and set aside.

In a medium saucepan set over medium-high heat, combine sugar, 1/2 tablespoon butter and 1/4 cup water. Clamp on a lid, bring to a boil, and cook for 7 minutes (the lid keeps sugar crystals from forming). Remove the lid, and continue to cook for 1 – 2 minutes until a golden caramel forms. Don't stir the mixture while it's cooking. Instead, occasionally gently swirl the pan to ensure even cooking. Take the mixture from the heat, and stir in the baking soda-salt-cayenne mixture. Immediately drizzle the caramel over the potato chips, using the 2 prepared spoons to toss. Transfer the topping to the prepared baking sheet, spreading it out in an even layer. Sprinkle with chopped thyme, and let cool completely before breaking into smaller pieces.

Take the skins off the sweet potatoes and yams, and discard. Transfer the flesh to a stand mixer fitted with the paddle attachment (you can also hand mash or use a hand mixer here). Warm cream and 6 tablespoons butter in the microwave in a small bowl until the butter is melted. Add butter and cream to the sweet potatoes along with maple syrup, cinnamon, orange zest and nutmeg. Beat the potatoes and yams on low speed until well-combined. Season to taste with kosher salt and freshly ground black pepper.

To serve, transfer mashed potatoes to a large bowl. Place topping in a smaller bowl, and set beside the potatoes. Let guests mix the two individually.
Tried this recipe?
Tag @brandiego on Instagram so I can check it out!
This post was written in partnership with Kettle Brand Chips. All thoughts, opinions and recipes are my own. Connect with Kettle Brand Chips on Facebook, Instagram and Twitter.
9