Jorge and I are at the tail end of our Japan trip, and we've been loving every moment!  And speaking of Japan, miso is a Japanese ingredient that I've almost always got in the fridge.  This Miso Carbonara recipe is one of my favorite ways to use it.
This post may contain affiliate links.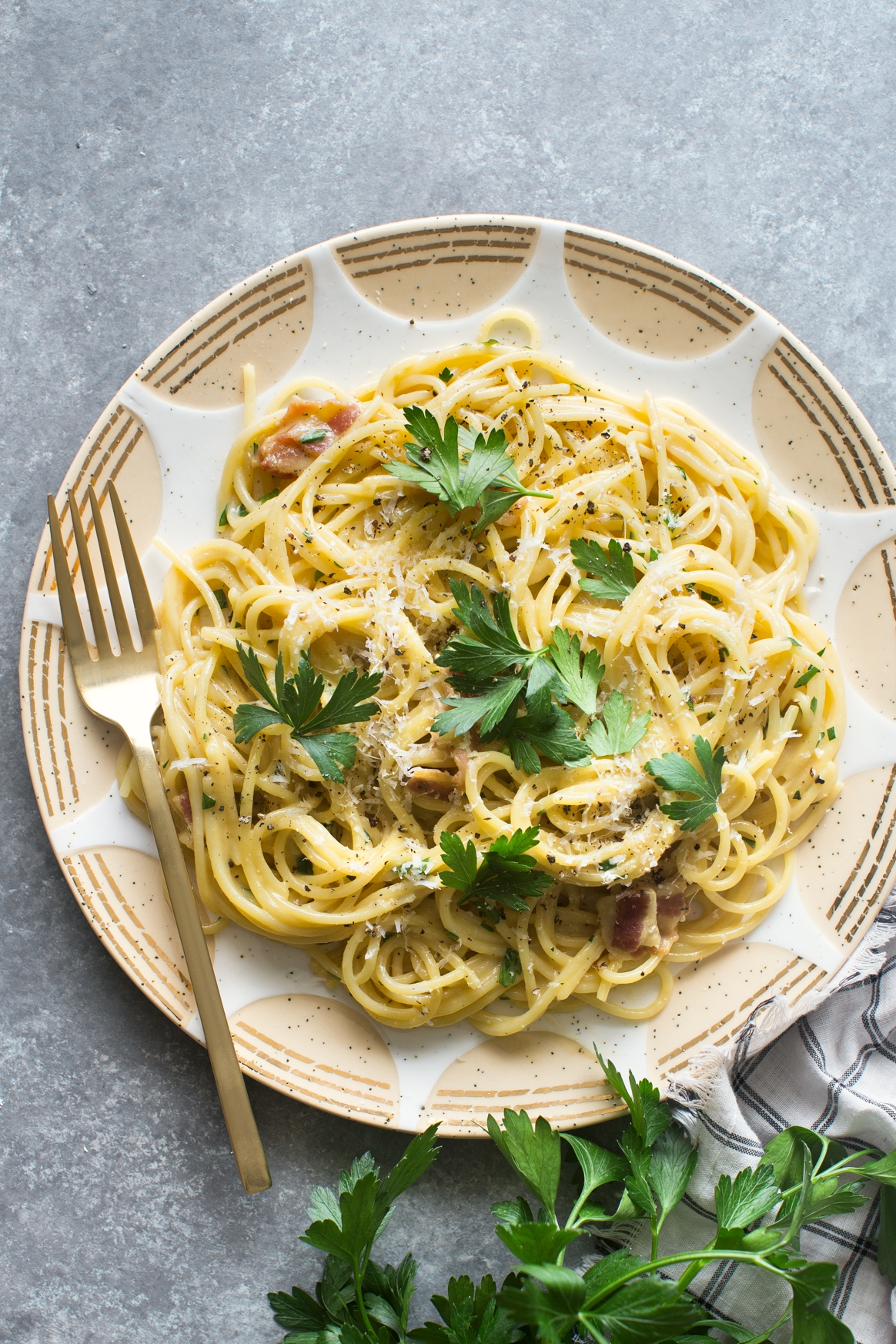 Miso is salty-savory condiment made of fermented soybeans and grains.  I like to use it to add a hit of umami to a dish.  Miso can come in three colors:  white, yellow and red.  Color is a good indicator of the potency of the miso with white being mild and red being strong.
In this recipe, I'm amping up a classic carbonara with a few spoonfuls of white miso (not familiar with carbonara? learn all about it here).  Carbonara is already rich with umami ingredients like bacon, egg yolk, Parmesan cheese, so I thought miso would be a perfect fit.  The miso isn't an upfront flavor that gets in your face.  Instead, it adds a salty and savory depth of flavor that hangs out in the background, making this carbonara recipe 100% addictive. You need to give this a try!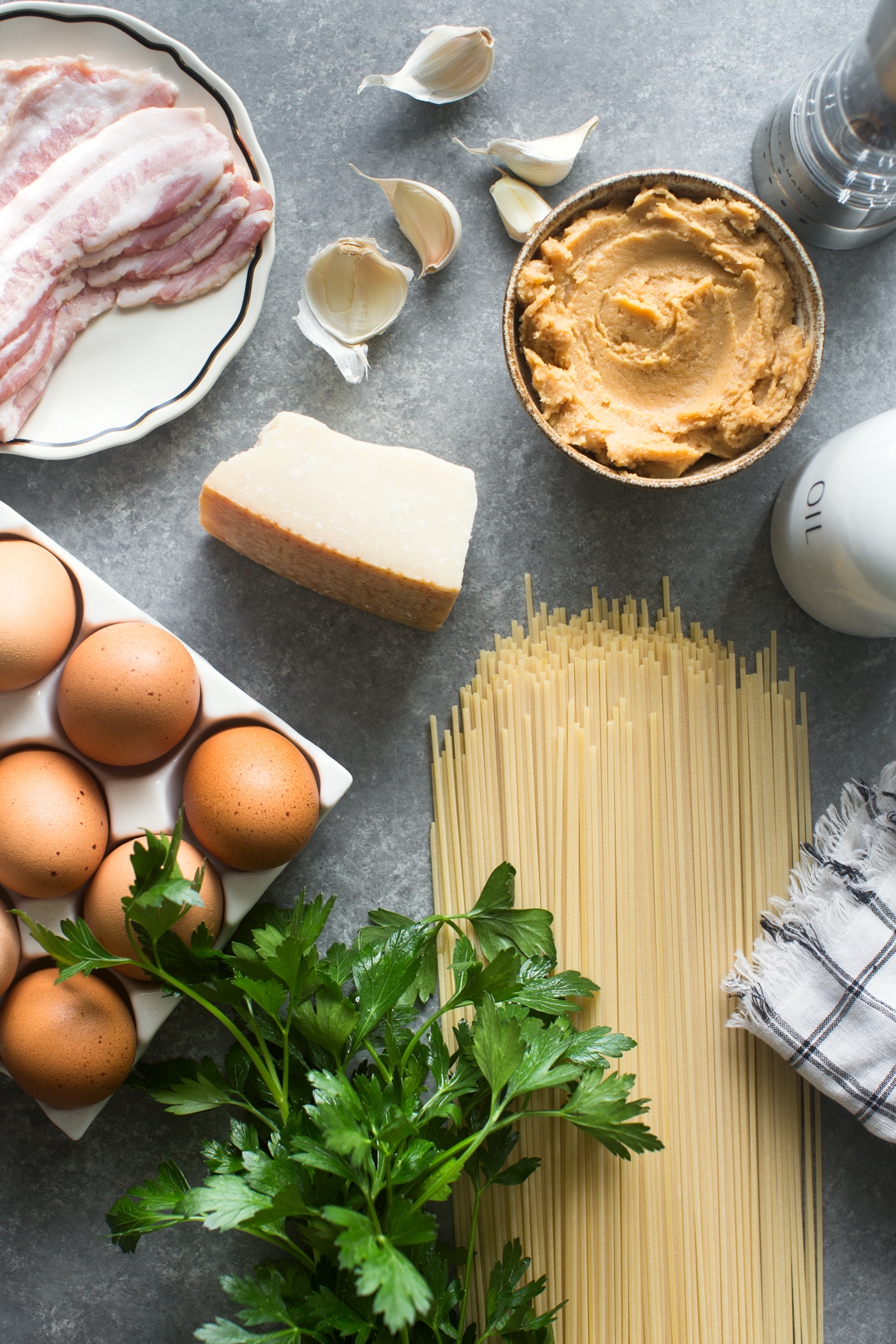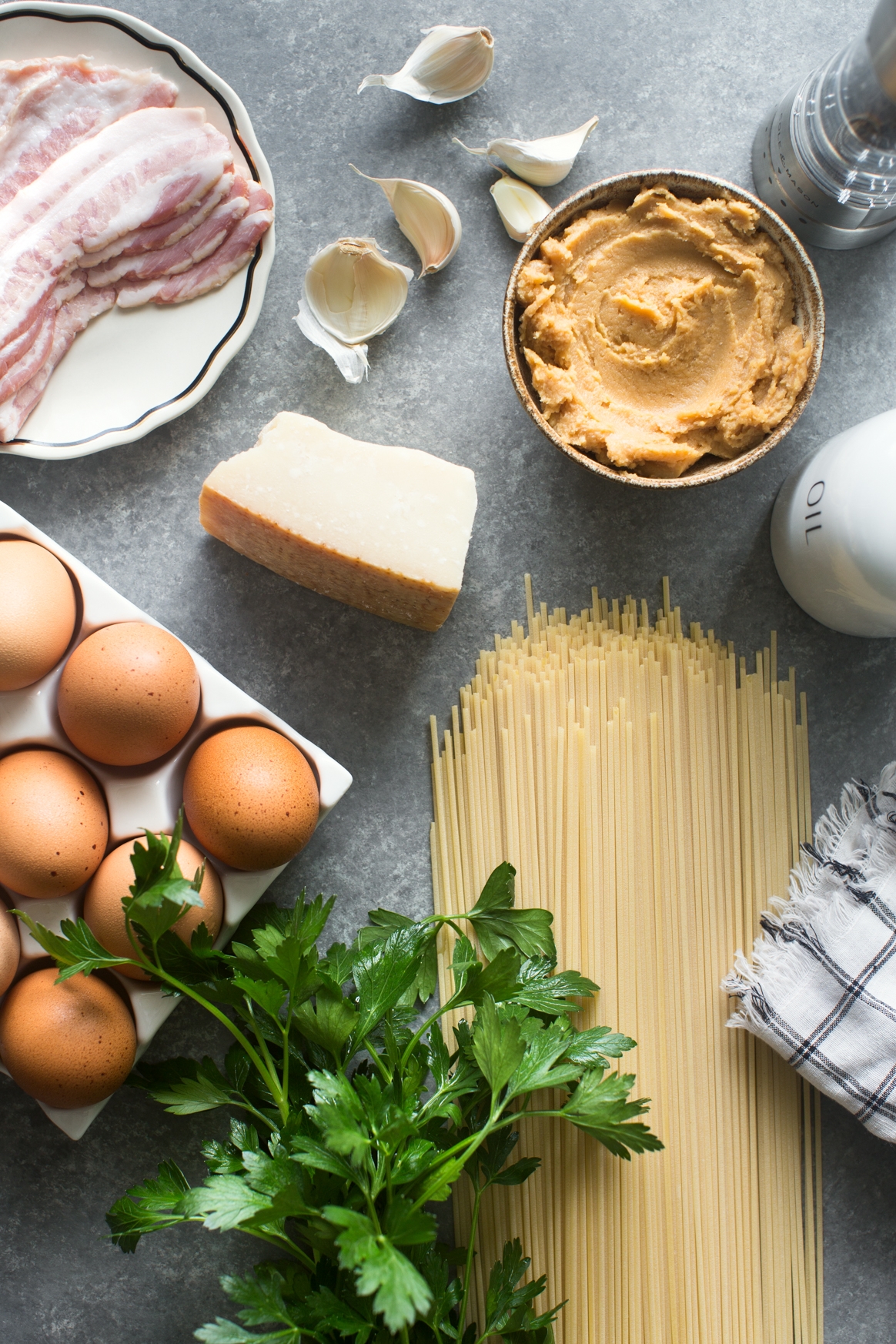 If you are new to the world of Japanese miso, then you should start by purchasing white miso.  It's mild, approachable and a perfect introduction to the flavor profile.  You can use white miso with chicken, fish and vegetables.  Spoon a bit in dips or stir into condiments (white miso + mustard is nice).  It makes a great vinaigrette.
One important thing to keep in mind when working with miso is that it is a salty ingredient, so you may not need to season as much with salt. In this recipe, there are a lot of naturally salty ingredients (miso, bacon and Parmesan), so make sure you taste first before adding more salt.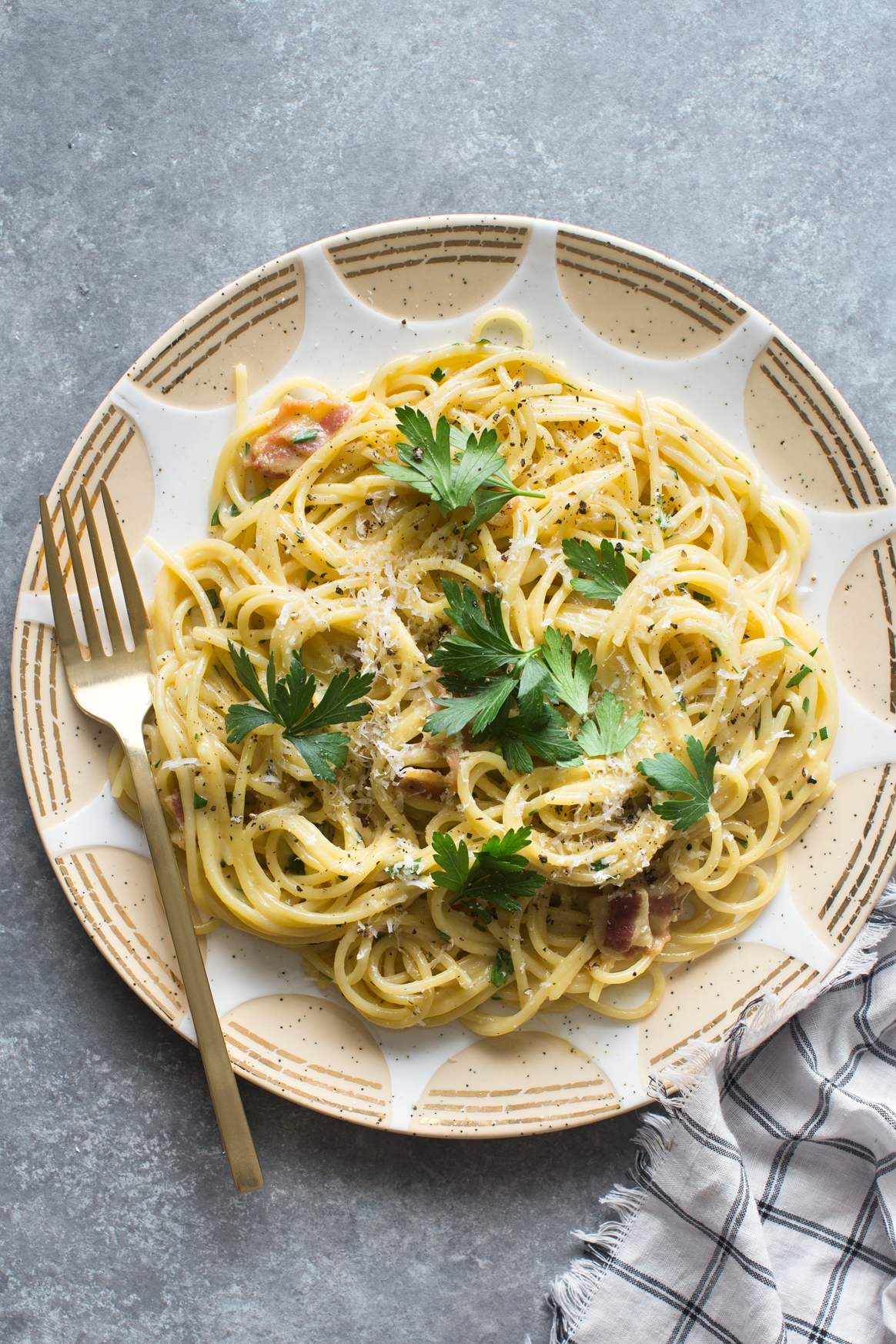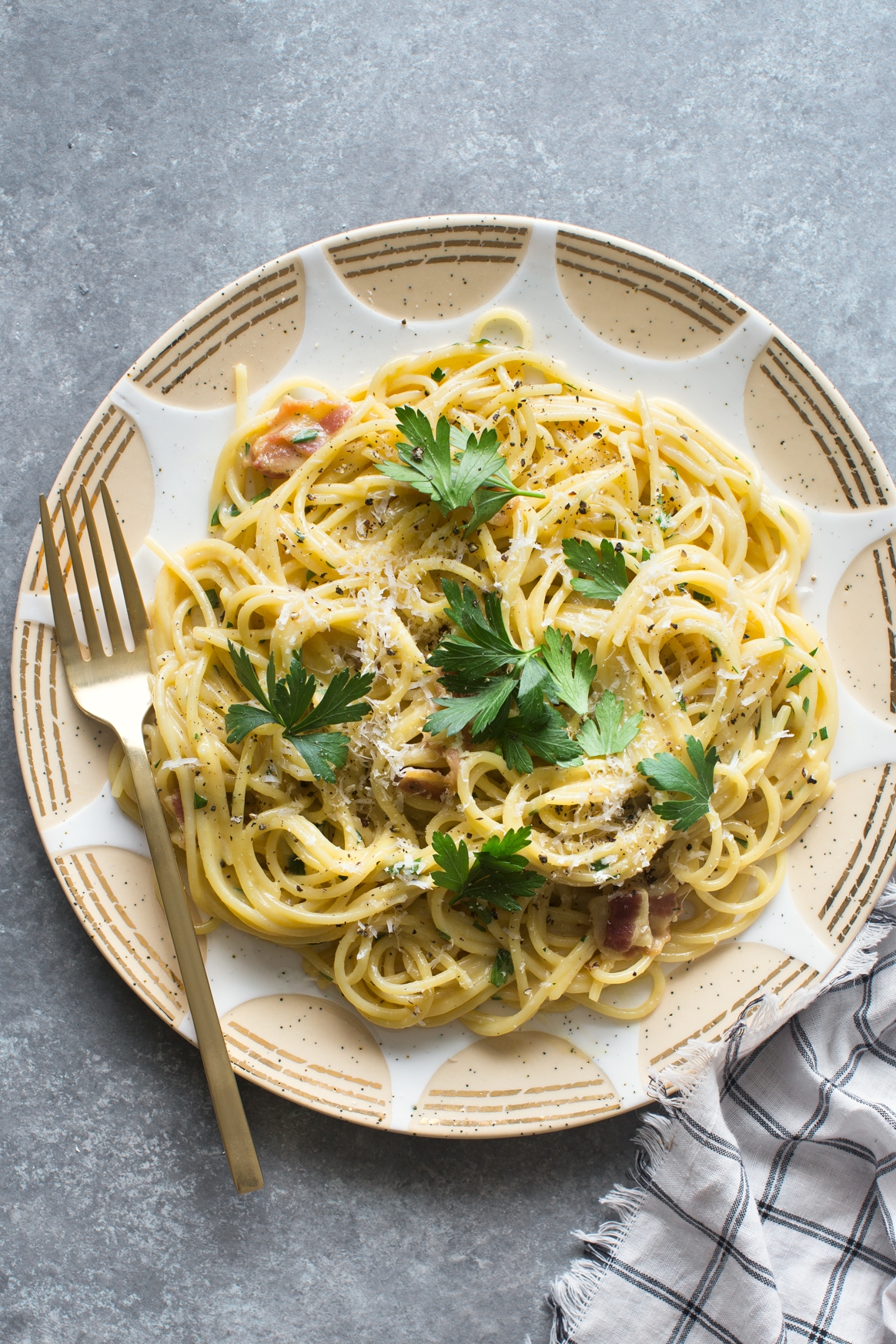 We've got a few more days left in Asia, so just a reminder that you can follow along on Instagram. I've been posting a couple of photos per day along with plenty of IG stories!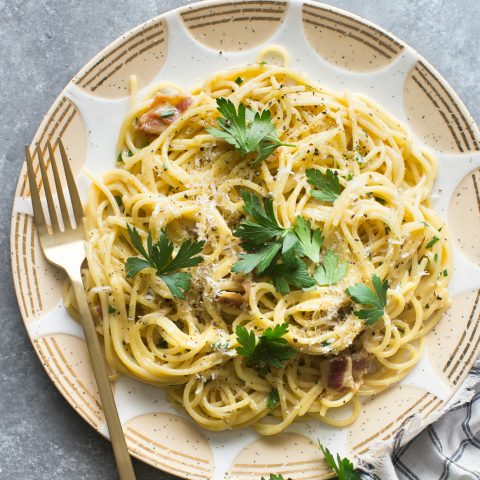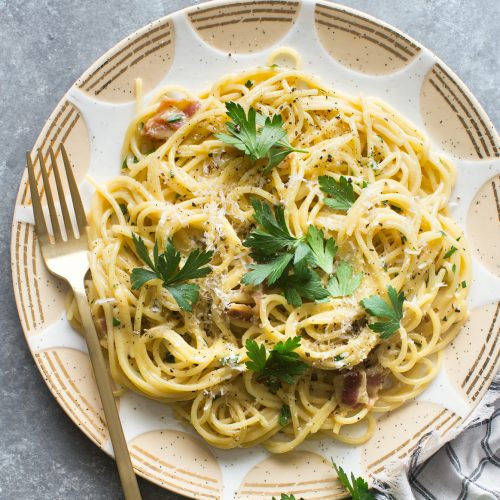 Miso Carbonara Recipe
Ingredients
3/4

pound

dry spaghetti

Kosher salt

2

eggs + 1 egg yolk

1/2

cup

grated Parmigiano-Reggiano, plus more for serving

2 1/2

tablespoons

white miso paste

Freshly ground black pepper

2

tablespoons

extra virgin olive oil

3

ounces

bacon, sliced into small strips

3

Garlic cloves, finely chopped

2

tablespoons

finely chopped parsley, plus more for serving
Instructions
Bring a large pot of salted water to a boil, add the spaghetti and cook until just al dente (about 9 minutes).

Meanwhile, prepare the sauce. Add eggs, egg yolk, cheese and miso to a large bowl, whisking to combine. Season with several turns of black pepper and pinch of salt. Set aside. Warm olive oil in a large skillet over medium heat, then add the bacon and cook until crispy (about 5 minutes). Add the garlic and cook until fragrant (about 30 seconds). At this point, if the pasta isn't done cooking, take the skillet off the heat. Return the skillet over medium heat 1 minute before the pasta is done.

Drain the pasta well, reserving 1 cup of the starchy cooking water. Add spaghetti to the skillet with the bacon and garlic, and cook for 2 minutes, tossing to coat in the bacon fat. Drizzle a little of the starchy water into bowl with the eggs, whisking to combine. This will help temper the eggs, and keep them from scrambling. Pour the contents of the skillet into the bowl with the eggs and cheese and using tongs, toss and stir to combine. The pasta will cook the egg, forming a thick sauce. Drizzle more starchy liquid in as you are stirring to thin out the sauce. The spaghetti should be evenly coated in the sauce, but you shouldn't see liquid pooling in the bottom of the bowl. Stir in chopped parsley. Season to taste with salt and pepper (this dish can take a lot of pepper, but be careful with the salt).

To serve, divide carbonara between 4 plates and top with extra parsley, Parmesan cheese and black pepper. Enjoy immediately.
Tried this recipe?
Tag @brandiego on Instagram so I can check it out!
If you want to try my classic carbonara recipe, check out this article: My Go-To Carbonara Recipe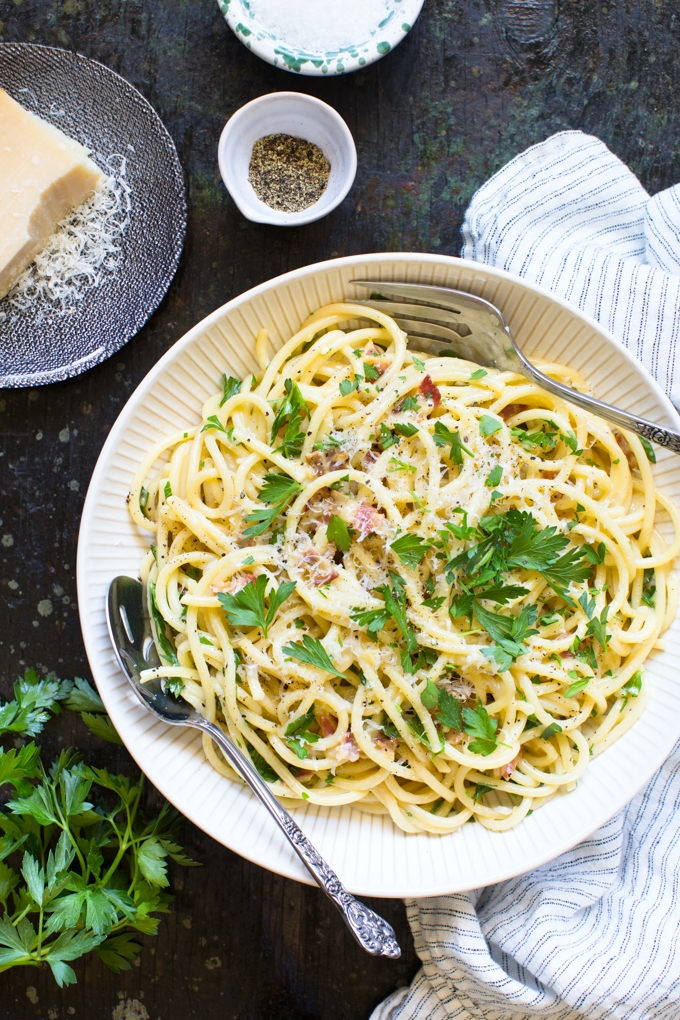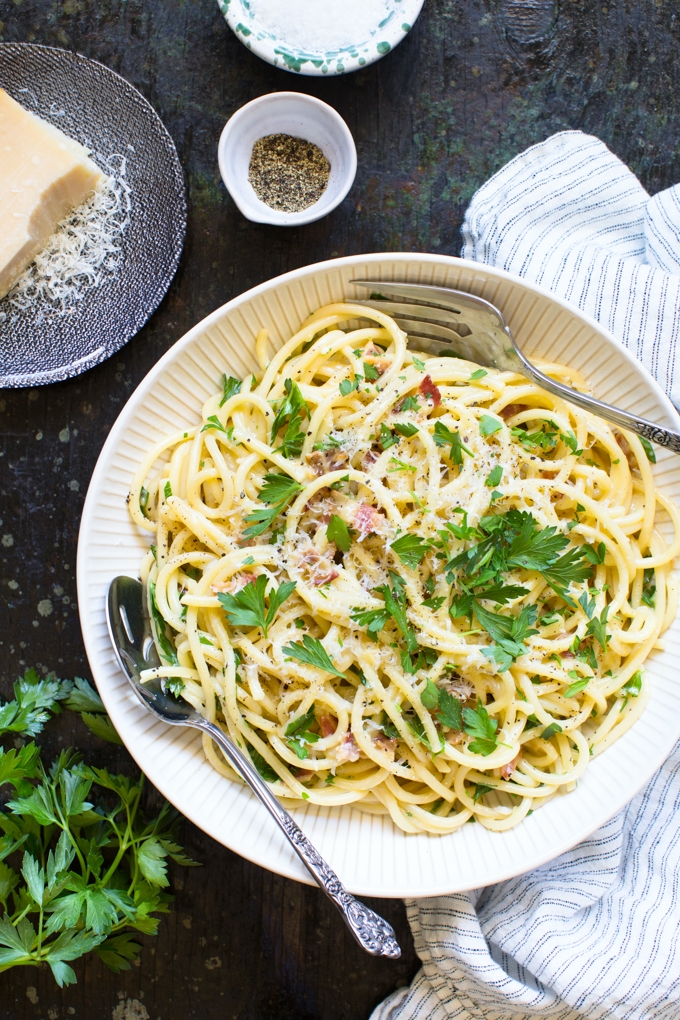 59