You guys, I can't even believe Christmas is just a few days away!!  As I'm wrapping up all of my Holiday baking, I wanted to share one final confection:  Double Chocolate Matcha Bark with Toasted Pistachios.
This post may contain affiliate links.
Earlier this week, I shared these Toasted Sesame and Kimchi Deviled Eggs, so I'm sure you're noticing a little pattern here.  Back in early November, Jorge and I took an incredible journey throughout Japan and South Korea, and my cooking over the past few months has really been influenced by the flavors we enjoyed during our trip.  In this recipe, I'm featuring matcha, a grassy Japanese green tea.
The process here is fairly simple as I do all of the chocolate melting in the microwave!  The base of this bark is a layer of bittersweet chocolate.  On top, a colorful swirl of white chocolate and more white chocolate that's flavored with matcha.  The bark is finished with chopped toasted pistachios and a sprinkling of flaky sea salt.  Each bite is rich and chocolatey with a sweet grassiness from the matcha and pistachios.  Such a treat!  Continue reading for the recipe.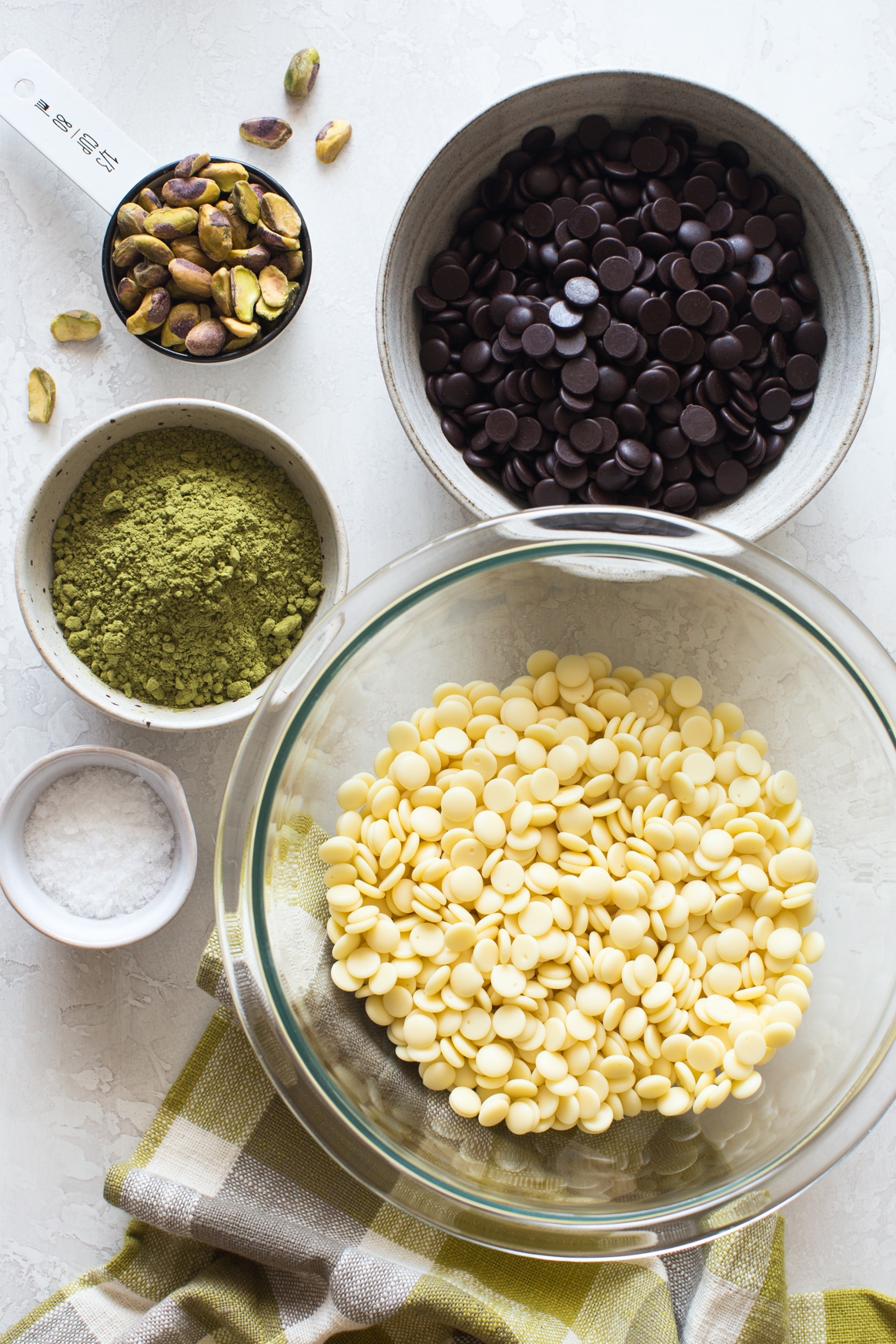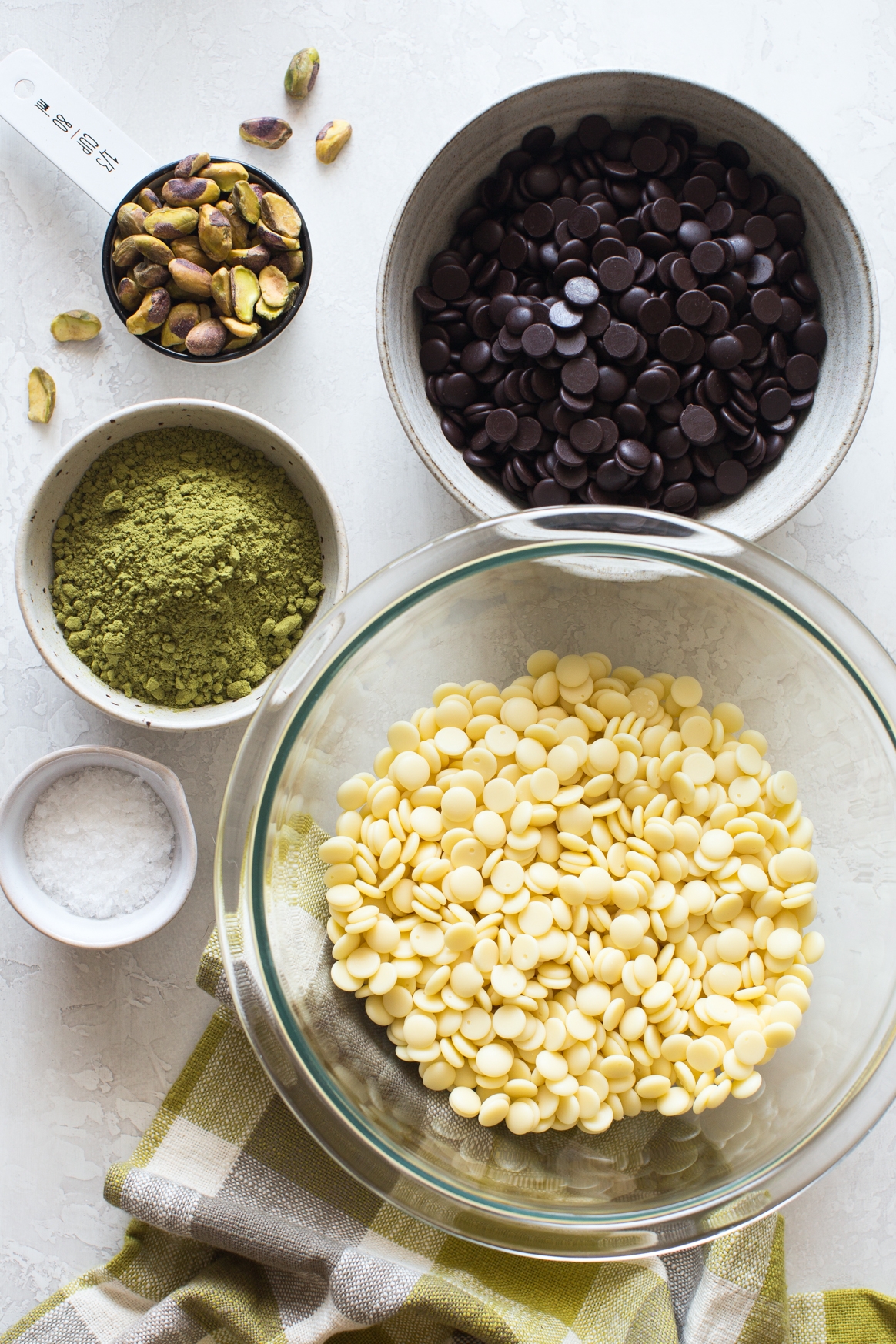 Matcha green tea is readily available here in the US.  I actually got a big bag from Costco!  I wouldn't recommend using other green teas here, because matcha has a strong, distinct flavor.
Toasted pistachios and flaky sea salt are the suggested toppings here, but you could certainly enjoy the bark without them.  You can also play around with the toppings a bit.  Try chopped macadamia nuts or almonds (toasted), sesame seeds and/or a dusting of cocoa powder or matcha.  Matcha and mint go well together, so you could even try something like this.
One important thing to consider about making chocolate bark at home, is that you should really use chopped, chocolate bars (not chocolate chips).
But Brandon, you've got chocolate chips in your photo above.  What's up with that? 
The chocolate chips shown above are from a local wholesaler called Specialty Produce, and they're pure chocolate (the same as a chocolate bar).  The chocolate chips you can get in the grocery store (Hershey's, Ghirardelli) have stabilizers in them that can mess with the melting process.  So it's best just to go with bars!
If you're still looking for some fun recipes to fill out our Holiday cookie tin, try these:
Double Chocolate Matcha Bark with Toasted Pistachios
Ingredients
12

ounces

bittersweet chocolate, chopped*

12

ounces

white chocolate, chopped

1

tablespoon

matcha powder

1/3

cup

toasted pistachios, chopped

1/2

teaspoon

flaky sea salt
Instructions
Line a baking sheet with parchment paper. Using a pencil, draw a 9″ by 10″ rectangle lengthwise in the middle of the parchment. Flip the paper over so you can see the rectangle, but the pencil won't rub off.

Place 3/4's of the bittersweet chocolate in a medium glass bowl. Microwave on high for 30 seconds, then stir the chocolate. Microwave on high again for 30 seconds, then stir the chocolate. Continue microwaving at 30 second intervals and stirring until the chocolate is just melted. Stir in the remaining bittersweet chocolate until smooth. Microwave for an additional 15 seconds on high if the chocolate isn't fully melting.

Pour the chocolate on to the prepared baking sheet, and gently smooth it out to fit the rectangle (doesn't have to be perfect). Transfer to the refrigerator and let chill for 15 minutes.

Melt white chocolate using the same method above (30 seconds of cooking, then stir). Pour 1/4 cup melted white chocolate into a measuring cup with a pour spout and set aside. Stir matcha into remaining chocolate until smooth. Pour green matcha chocolate over the dark chocolate layer, and gently smooth to evenly cover. Zigzag reserved white chocolate over the surface of the bark, then, using a skewer to toothpick, swirl the white chocolate into the green matcha chocolate. Sprinkle the surface of the chocolate evenly with toasted pistachios and sea salt, gently pressing down on the pistachios.

Let the bark sit at room temperature for at least 2 hours, so the chocolate can firm up. Using a sharp knife, carefully cut the bark into pieces. Store in an airtight container at room temperature for up to 2 weeks.
Notes
* I would highly recommend using chocolate bars for this recipe.  Regular chocolate chips at the grocery store have stabilizers in them that can mess with the melting process.  The chocolate chips in the photos above are from a local wholesaler here in San Diego, and they are pure chocolate (just like a chocolate bar).
Tried this recipe?
Tag @brandiego on Instagram so I can check it out!
6