I recently served these Toasted Sesame and Kimchi Devil Eggs—inspired by this year's trip to Japan and South Korea—at my Thanksgiving dinner, and they were such a hit.  I just had to share them with all of you 🙂
This post may contain affiliate links.
Deviled eggs are certainly delicious year-round, but I always find myself making them more during the Holiday season. They're a must-have at Thanksgiving, and I bring them frequently to Holiday parties.
These deviled eggs are flavored with mayo, green onion, toasted sesame oil, rice wine vinegar and Korean kimchi, a spicy fermented cabbage. Both the kimchi and the sesame oil pack some major flavor. The mayo adds richness, the vinegar balance and the onion some freshness. Chopped kimchi, chives and toasted sesame seeds on top amp up visual appeal. Each bite of these deviled eggs are bold and punchy with a lingering note of toasted sesame. A perfect bite to kick off any Holiday bash! Continue reading for the recipe.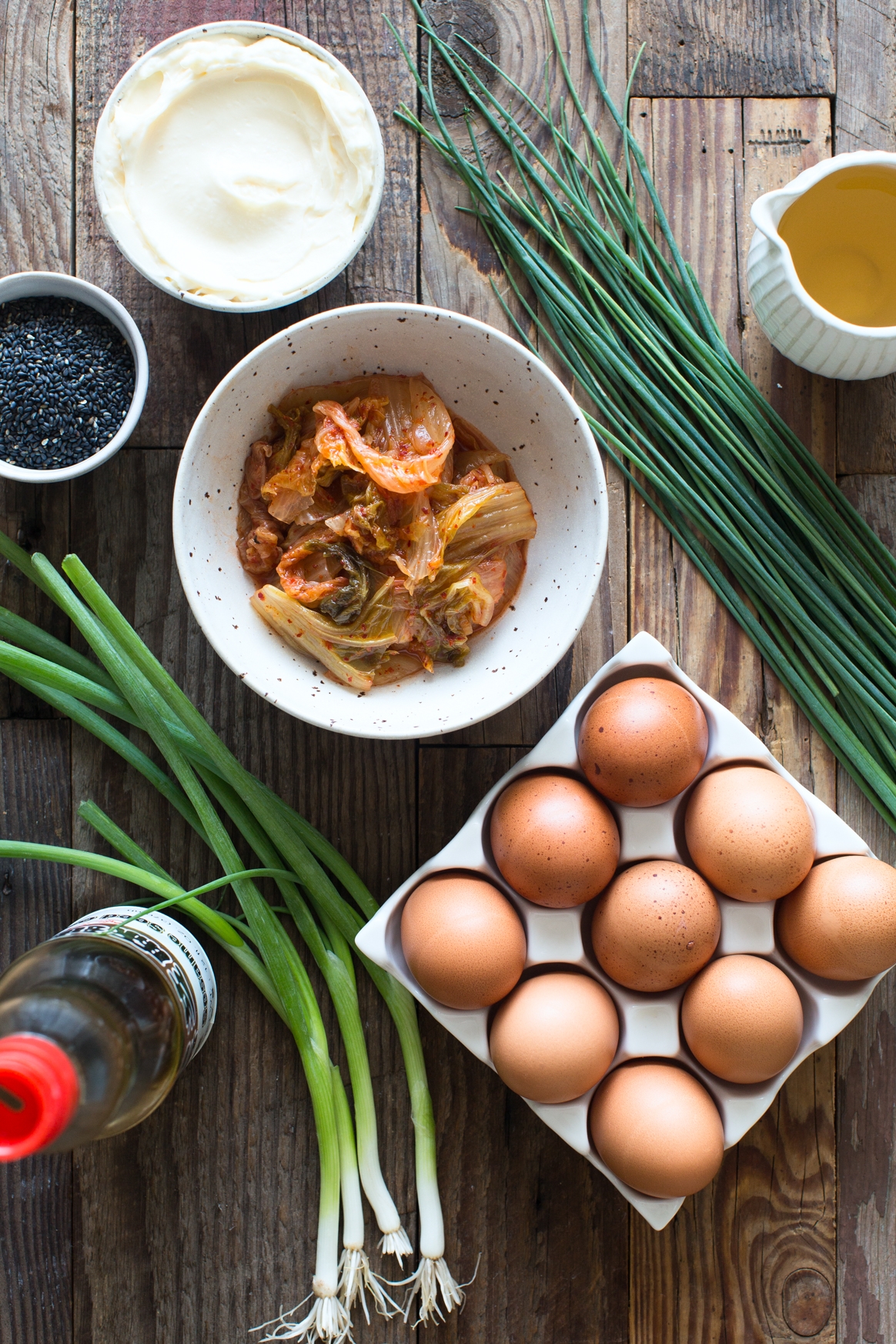 You can't go wrong with classic deviled eggs, but I like to have a little fun with mix-ins and toppings. Here are some of my past deviled egg recipes: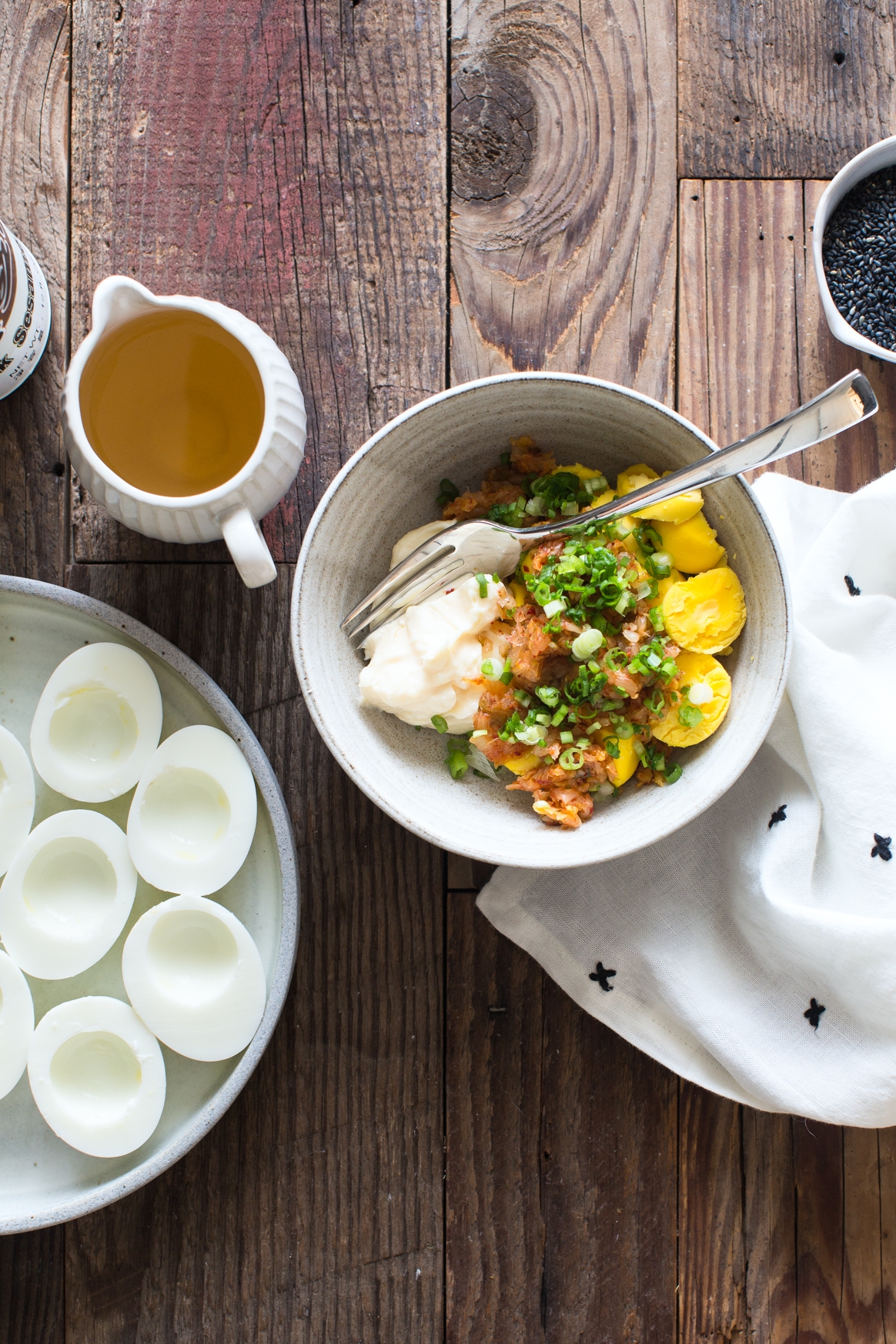 Deviled eggs can be a little tricky to make in advance, but I've got a certain game plan that I like to stick to that makes it easy. I start by hard boiling eggs earlier in the day (using a pressure cooker!). Right as they're are done, I submerge the eggs in an ice bath to stop the cooking, then I peel and halve them. I separate the whites from the yolks, arranging the whites on a serving platter. The yolks go into a bowl, and I prepare the filling according the instructions below. At this point, I cover the whites in plastic wrap and refrigerate. I then scrape the filling into a small zip-top bag and store that in the fridge as well.
30 minutes before the party starts (or before I'm heading to the party), I will snip off a bottom corner of the zip-top bag, and pipe the filling into the wells of the egg whites, then finish with garnishes/toppings. This method allows you to prep everything in advance while keeping the eggs looking nice and fresh right before you serve them.
Toasted Sesame and Kimchi Deviled Eggs Recipe
Ingredients
3

tablespoons

mayonnaise

1/4

cup

finely chopped kimchi

1

tablespoon

unseasoned rice wine vinegar

1

teaspoon

toasted sesame oil

1

green onion (white and light green part only), finely chopped

Kosher salt
Garnishes: chopped kimchi, chopped chive, black sesame seeds
Instructions
Cut each hard-boiled egg in half, and place the yolks in a medium bowl. Set the egg whites on a serving plate, cut side up.

Add mayo, kimchi, vinegar, sesame oil and green onion to the egg yolks, and using a fork, mash and mix to combine. Season to taste with salt and additional vinegar if needed. Flavors should be bright!

Transfer yolk mixture to a small zip top bag. Seal the bag, then cut off one of the bottom tips. Pipe the yolk mixture into the wells of each egg white. Finish by topping each egg with a little chopped kimchi, chive and black sesame seeds. Enjoy immediately!
Tried this recipe?
Tag @brandiego on Instagram so I can check it out!
8