Can you even believe that green color?! And I swear I haven't cranked up the saturation in Photoshop. It's really that pretty!
This post may contain affiliate links.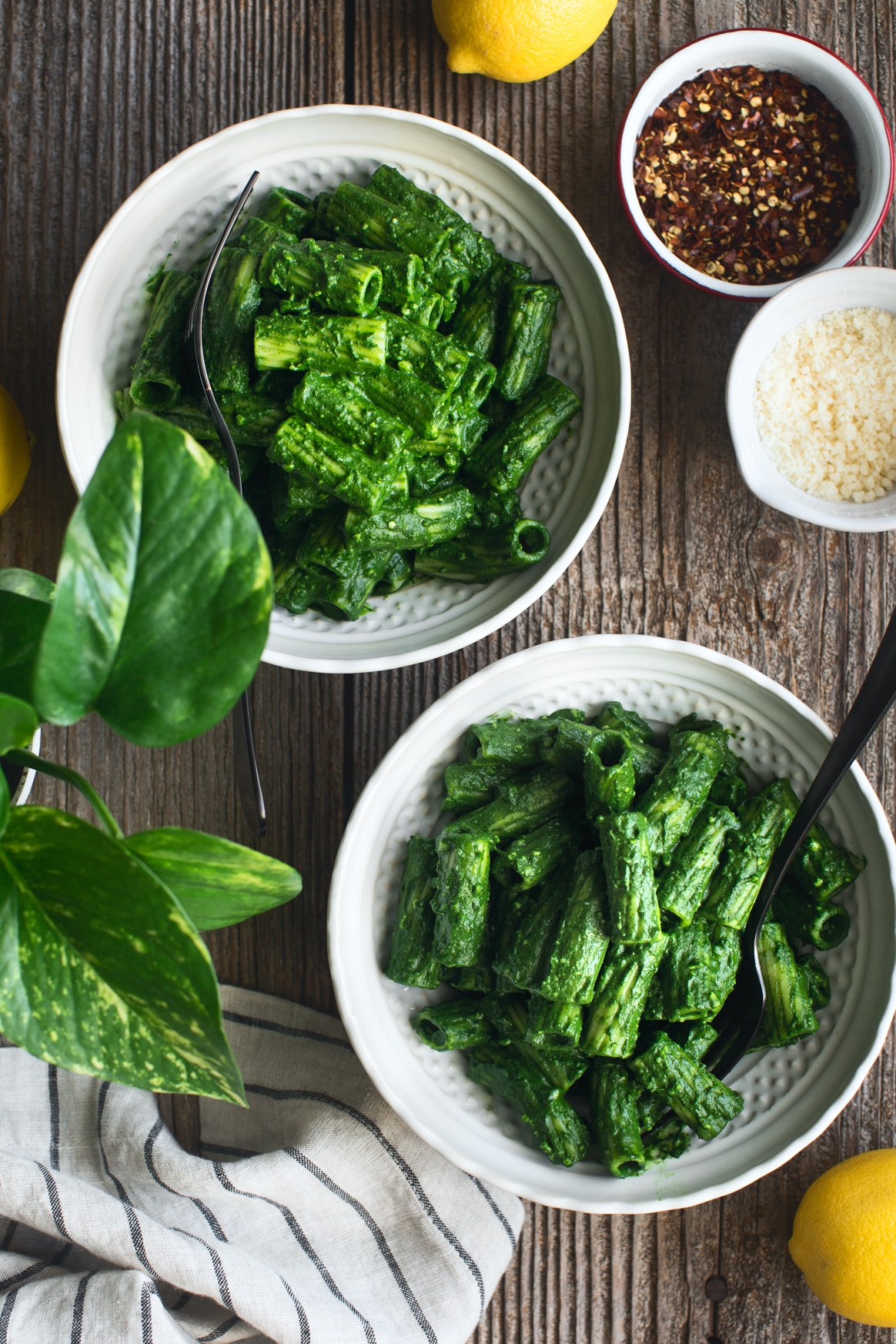 Bold in color and flavor, this Rigatoni with Easy Kale Sauce is like my favorite kale salad i pasta-form. You start with a pound of kale quickly blanched in the same pot you cook the rigatoni in. Then, the tender kale is blended up with spicy garlic oil, lemon zest, lemon juice, and some pasta cooking liquid. You finish by tossing al dente rigatoni with the vibrant green sauce and grated Parmesan cheese.
Each bite is punchy and bright with a note of golden garlic in the background. This is seriously one of the easiest and tastiest ways to down a full pound of kale. Continue reading for the recipe.
Kale is the star ingredient here, so try to buy the best kale possible. I would recommend organic lacinato kale, but I've also made this just curly kale, and it was still very tasty. You also want to make sure your kale is nice and fresh (not wilted).
I love that this Easy Kale Sauce comes together in a blender. First, you sizzle garlic cloves and red chile flakes in olive oil until the garlic is lightly golden. Then, the spicy garlic oil goes into a blender with blanched kale, lemon zest, lemon juice, and salt. You also splash in some starchy pasta cooking liquid to get everything blending nicely.
The resulting sauce is thick and smooth with a wonderful depth of flavor. Just make sure you season to taste with more salt. It will probably need it!
This rigatoni is perfect for a hurried weeknight meal. Especially if you are looking to work more vegetables into your diet!
Jorge and I have enjoyed this a number of times. If you want to take things to the next level, throw a crispy fried egg on top 😉
Rigatoni with Easy Kale Sauce
Ingredients
2

garlic cloves, peeled and smashed

1/4

cup

extra virgin olive oil

Pinch

of crushed red pepper flakes

1

pound

kale, ribs removed

3/4

pound

rigatoni (or any other pasta)

Zest of 1/2 lemon

1

teaspoon

fresh lemon juice, plus more to taste

1/2

cup

freshly grated Parmesan cheese, plus more for sprinkling

Freshly ground black pepper, for serving
Instructions
Bring a large pot of salted water to a boil.

While the water is coming to a boil, add garlic, olive oil and red pepper flakes to a small saucepan over medium heat. Once the garlic starts to sizzle, reduce the heat to medium-low, and cook until the garlic takes on a light golden color (about 5 minutes). Transfer the garlic and oil to a blender and set aside.

Add the kale to the boiling water, and cook just until tender (about 5 minutes). Using tongs, transfer the kale to the blender. It's fine if it's still wet! Add the rigatoni to the boiling water, and cook until al dente according to the package instructions. Drain the pasta, reserving 1 cup of pasta water. Return pasta back to the pot.

Add a splash of pasta water to the blender along with the lemon zest and juice, then blitz everything until smooth. Season to taste with salt, pepper and lemon juice. Flavors should be bold! Pour the kale sauce into the pot with the rigatoni, add Parmesan cheese and toss to combine. If needed, add a bit more pasta water until a creamy sauce forms.

To serve, divide pasta between 4 bowls and top with additional Parmesan cheese and black pepper.
Tried this recipe?
Tag @brandiego on Instagram so I can check it out!
49