Horchata is a sweet Mexican beverage that's flavored with almond, rice, and cinnamon. Granita is an Italian shaved ice dessert. When you put the two together, you get Horchata Granita! Sponsored by Silk®, this playful dessert is creamy, flaky and couldn't be easier to make!
This post may contain affiliate links.
Prepared in partnership with Vons and Silk®, this recipe starts by making horchata from scratch. Toasted almonds, white rice, and Mexican cinnamon are soaked overnight, then blended until smooth. Silk Almondmilk is then blended in to provide some dairy-free body while reinforcing the almond flavor. After sweetening the horchata to taste, you then freeze and scrape it into a flaky granita. This simple dessert is finished with a flurry of grated cinnamon and chopped strawberries. So yum!! Continue reading for the recipe.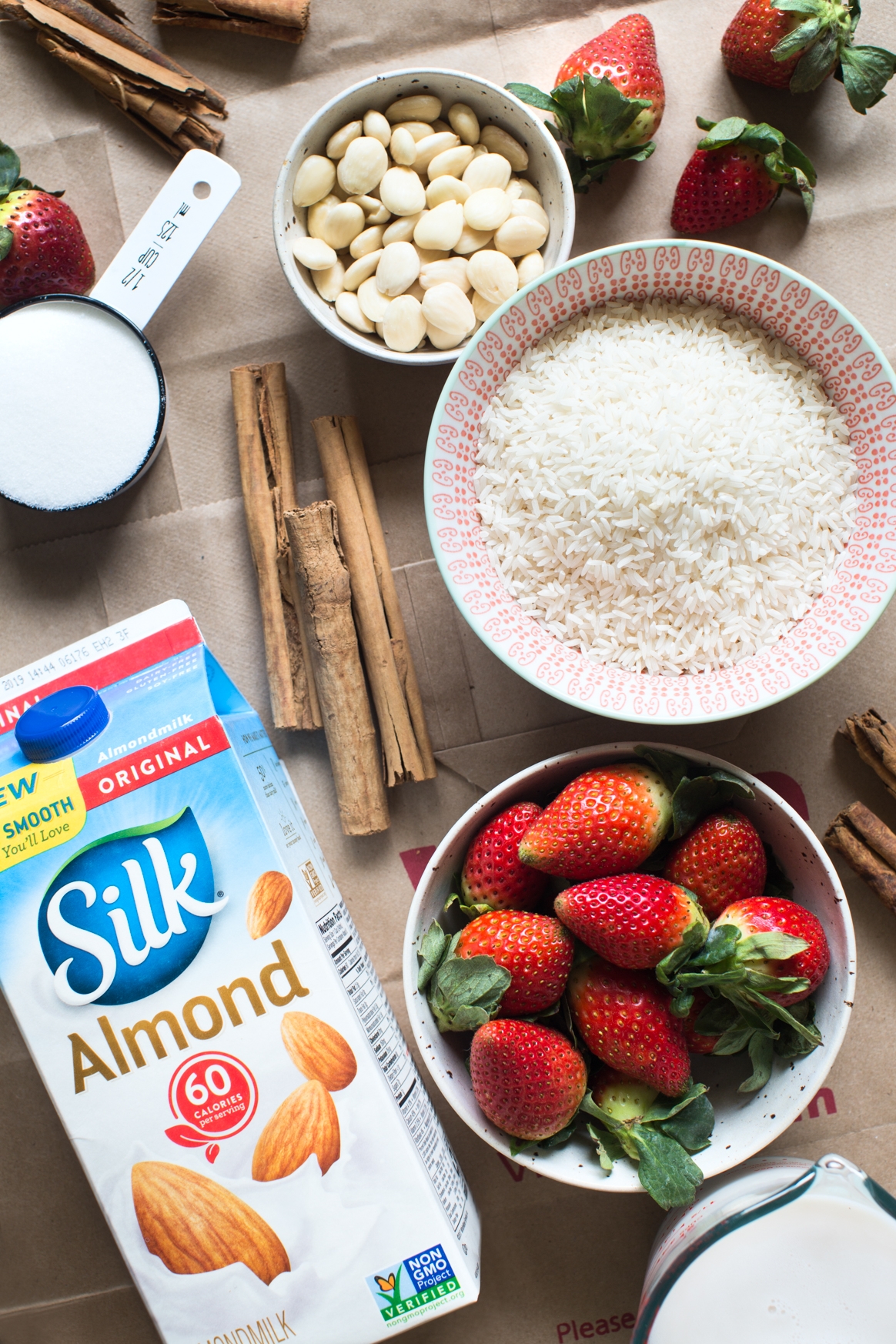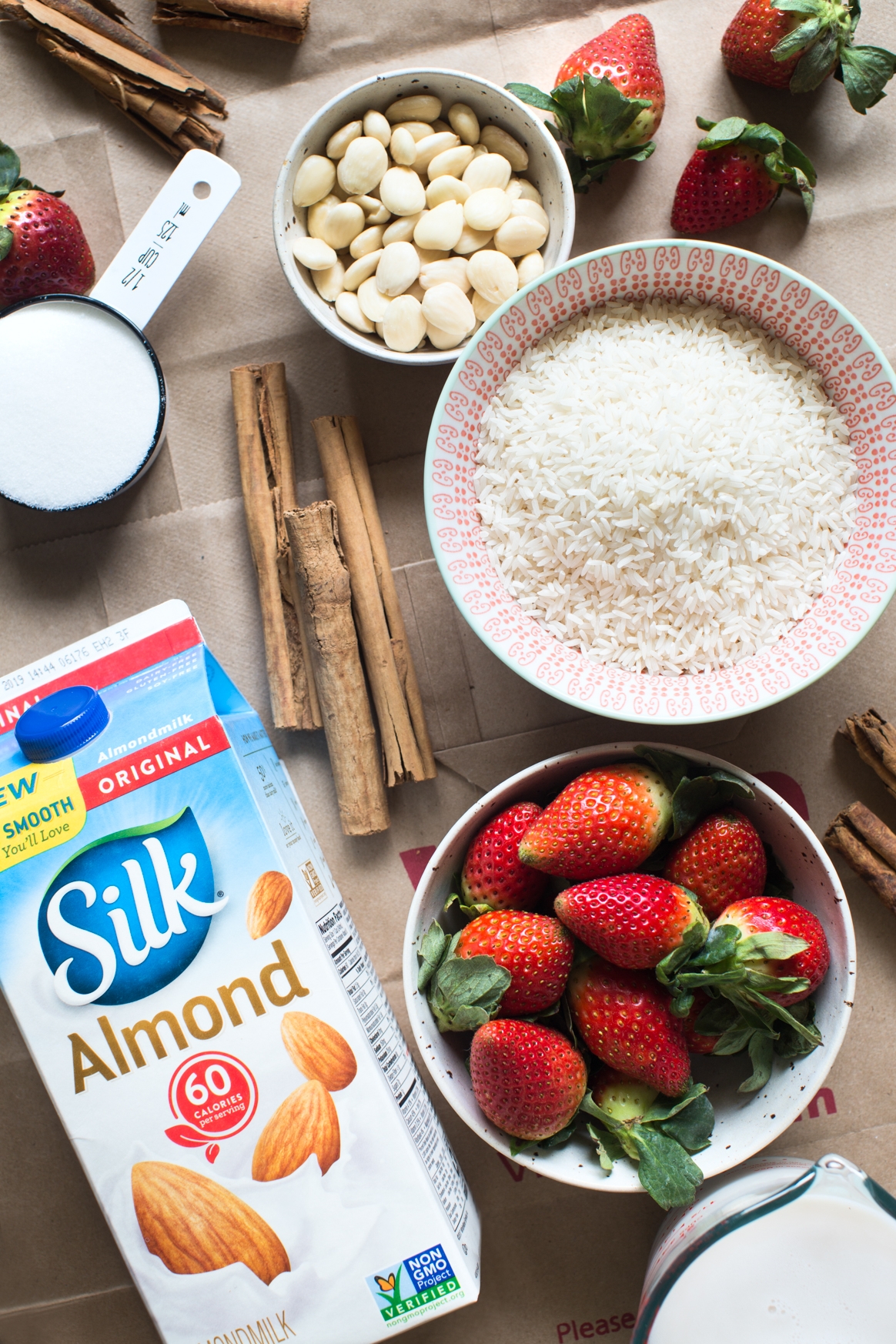 I picked up the Silk Almondmilk for this recipe in the refrigerated coolers at my local Vons where they've got such a great selection of Silk products!  Jorge and I always love to keep Silk on hand for our morning oatmeal, so we stocked up big time!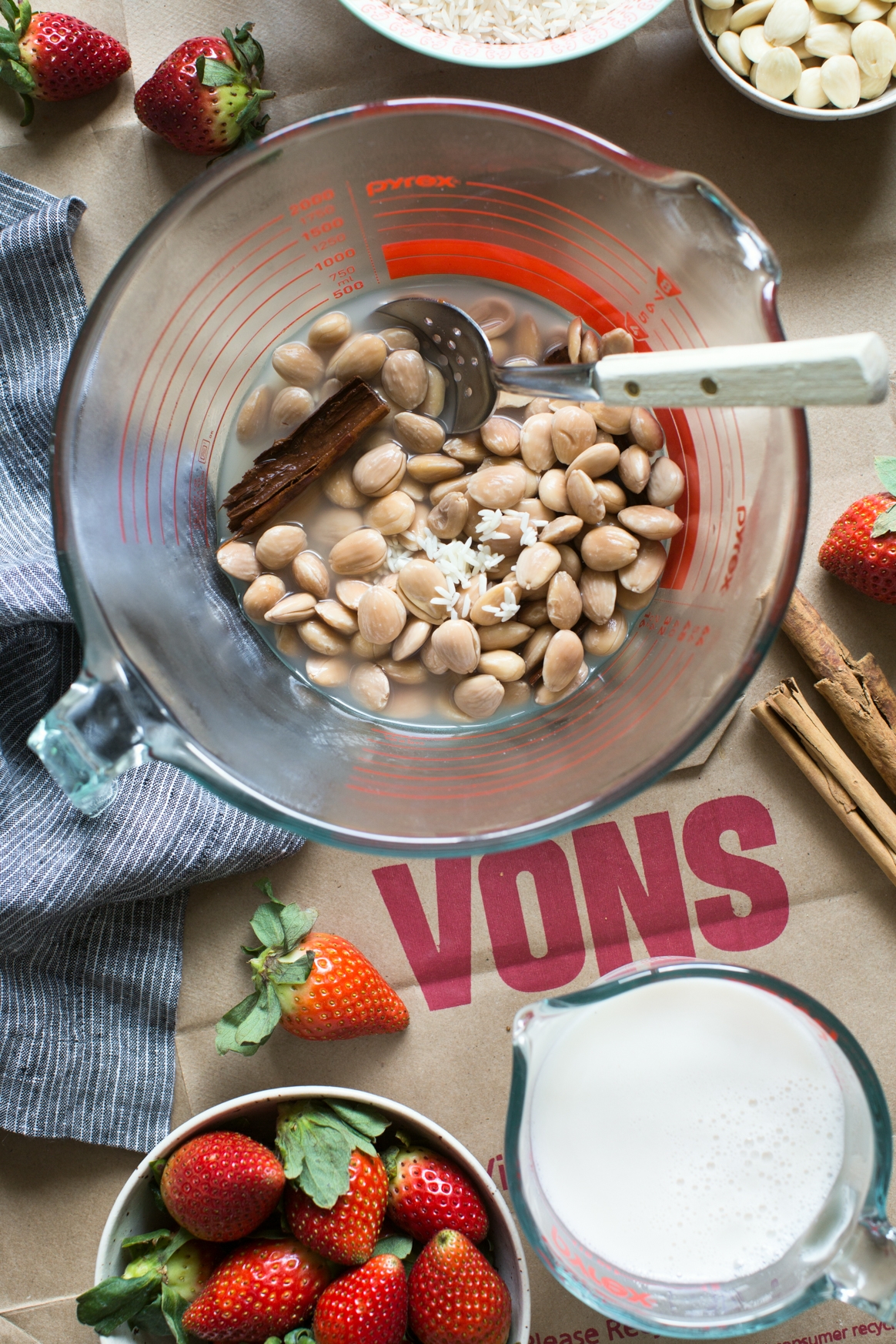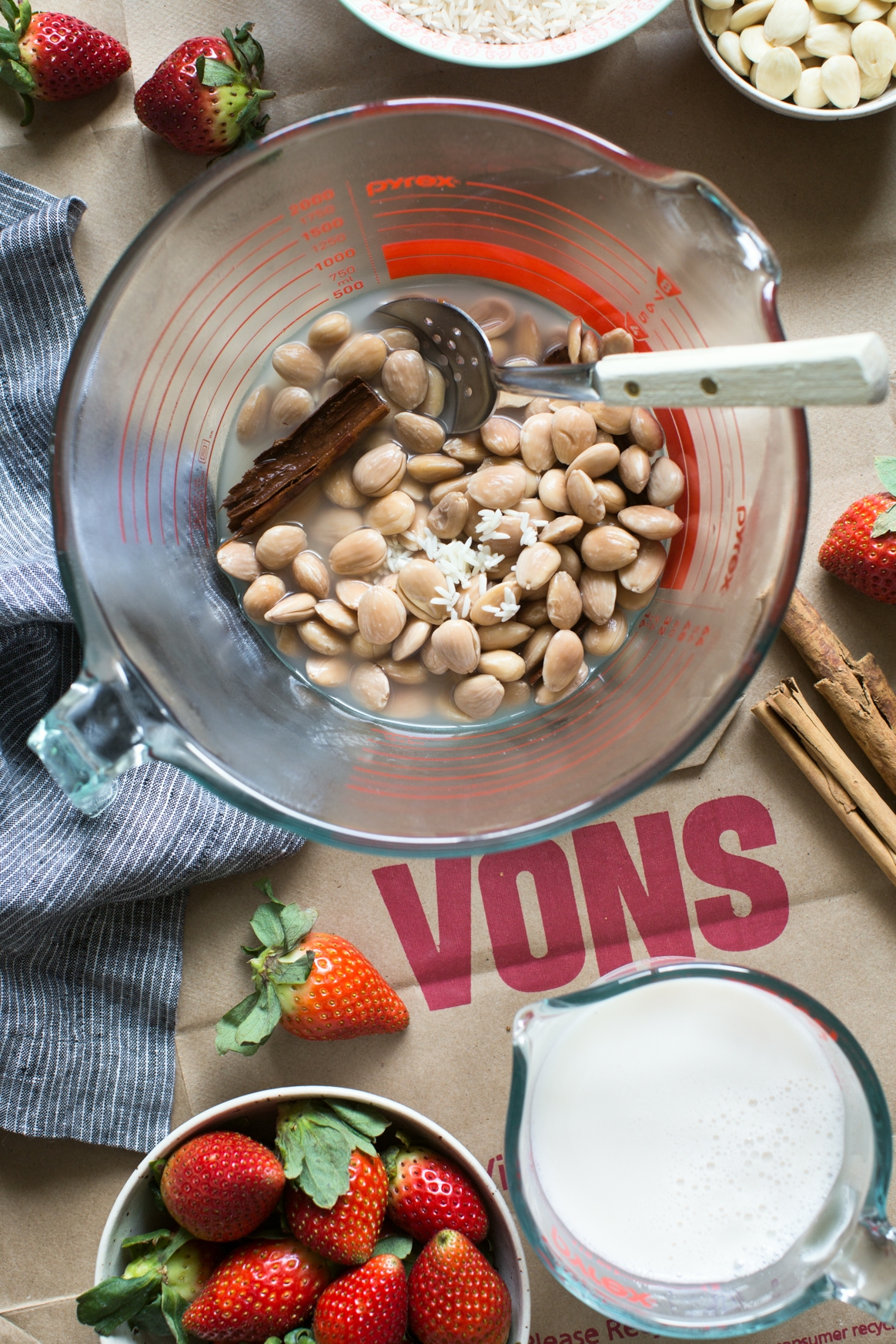 This horchata recipe is a plant-based version of my Almond Horchata. Also, to amp up almond flavors here, I've toasted the almonds before soaking and used Silk Almondmilk as the body of the drink (instead of water and evaporated milk). The resulting Horchata has a smooth taste that's rich with dairy-free deliciousness. It's great as a drink over ice or transformed into a granita.

If you've never made granita before, then I really urge you to give this a try. It's such an easy frozen dessert to prepare. No special equipment needed! You just pour the horchata into a baking dish and freeze for an hour and a half. Then, using a fork, you scrape the ice that forms at the edges into the middle of the dish. Repeat this every 30 minutes until you've got a baking dish filled with a flavorful shaved ice!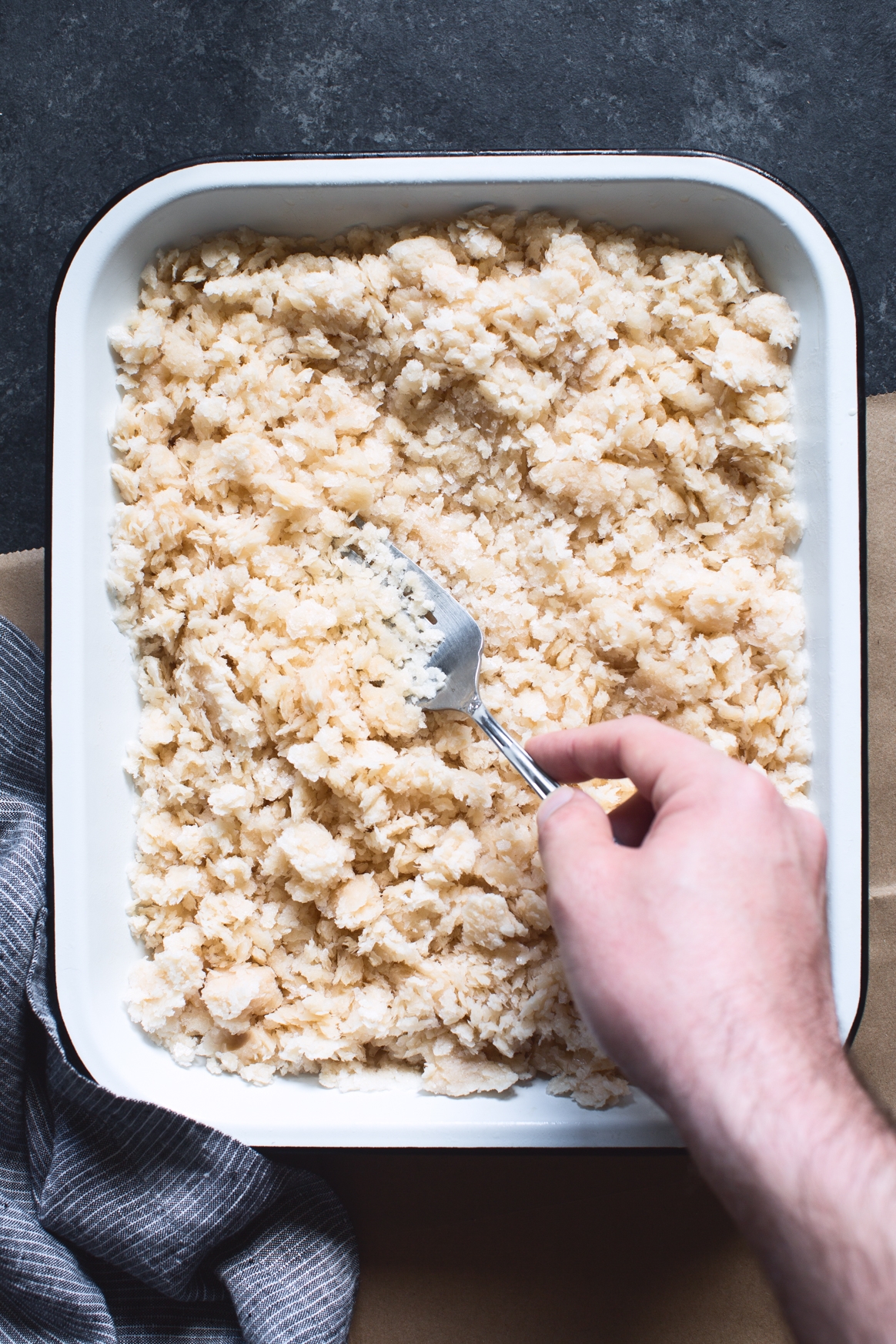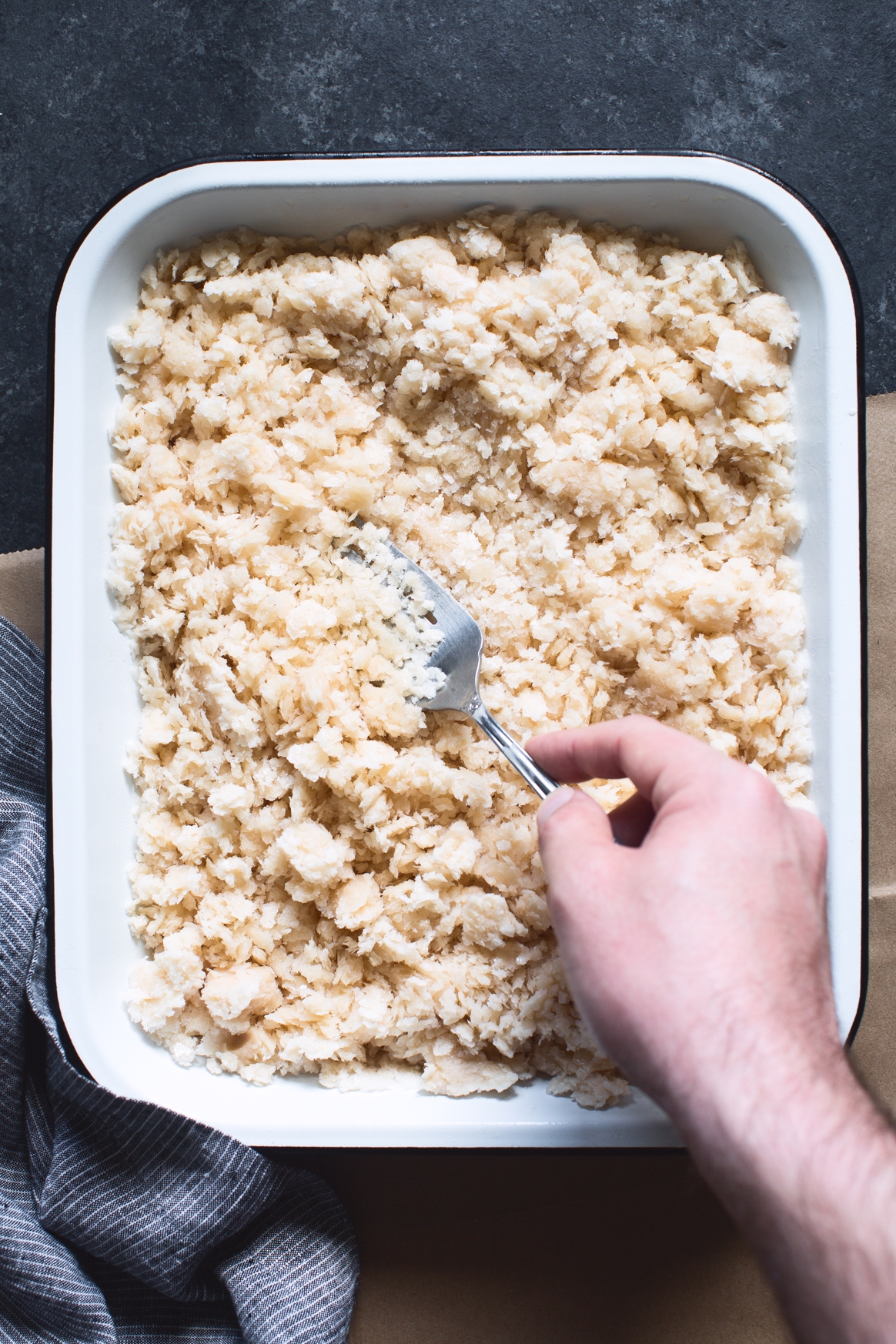 One thing to consider when making this recipe is that the flavors need to be pretty bold before they go into the freezer. You want the horchata to be almost too sweet as flavors will dampen once frozen.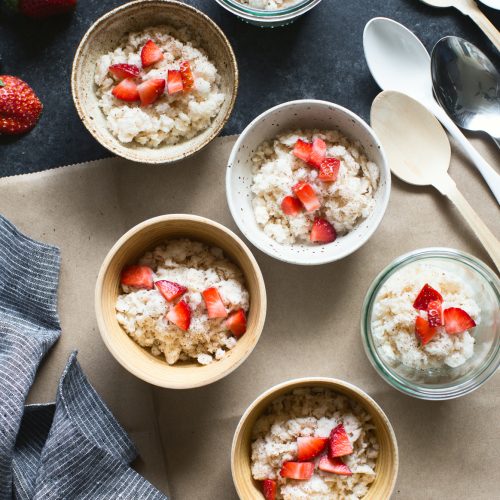 Horchata Granita Recipe
Ingredients
6

ounces

blanched almonds, toasted

6

tablespoons

white rice (just plain rice, nothing fancy here)

A 2-inch long cinnamon stick (Mexican canela works best here if you can find it)

2 1/2

cups

water

2

cups

Silk® Original Almondmilk

White sugar, to taste

Freshly grated cinnamon, for serving

Chopped strawberries, for serving
Instructions
To a medium bowl, add toasted almonds, rice, cinnamon, and water, stirring to combine. Cover with plastic wrap and let stand overnight (at least 8 hours).

Transfer the contents of the bowl (water included) to a blender and process until the mixture is smooth and the grit is fairly small (2 to 3 minutes). To test, rub a small drop between your fingers. If it feels very gritty, continue blending for another minute or two. Add 2 cups of almond milk, then blend for a minute more. If your blender isn't big enough to accommodate all of the liquid, work in batches.

Strain the almond-rice mixture through a nut milk bag (or basket strainer lined with 2 layers of dampened cheesecloth) into a large clean bowl. Squeeze the nut milk bag to extract any remaining liquid. Discard the solids. If using cheesecloth, you may need to strain twice to remove all of the grit. Stir in sugar to taste (I started with a 1/4 cup, tasted, then added an additional 1/4 cup). At this point, you've got horchata! Enjoy as-is over ice or continue on to make granita.

Pour horchata into a baking dish. Cover the baking dish with plastic wrap and freeze mixture for 1 1/2 hours. Take the dish out of the freezer and scrape the icy bits from the edges to the center. Repeat this scraping process every 30 minutes until the entire mixture is frozen and flaky.

To serve, spoon granita in small bowls and top with freshly grated cinnamon and chopped strawberries.
Tried this recipe?
Tag @brandiego on Instagram so I can check it out!
This is a sponsored conversation written by me on behalf of Silk®. The opinions and text are all mine.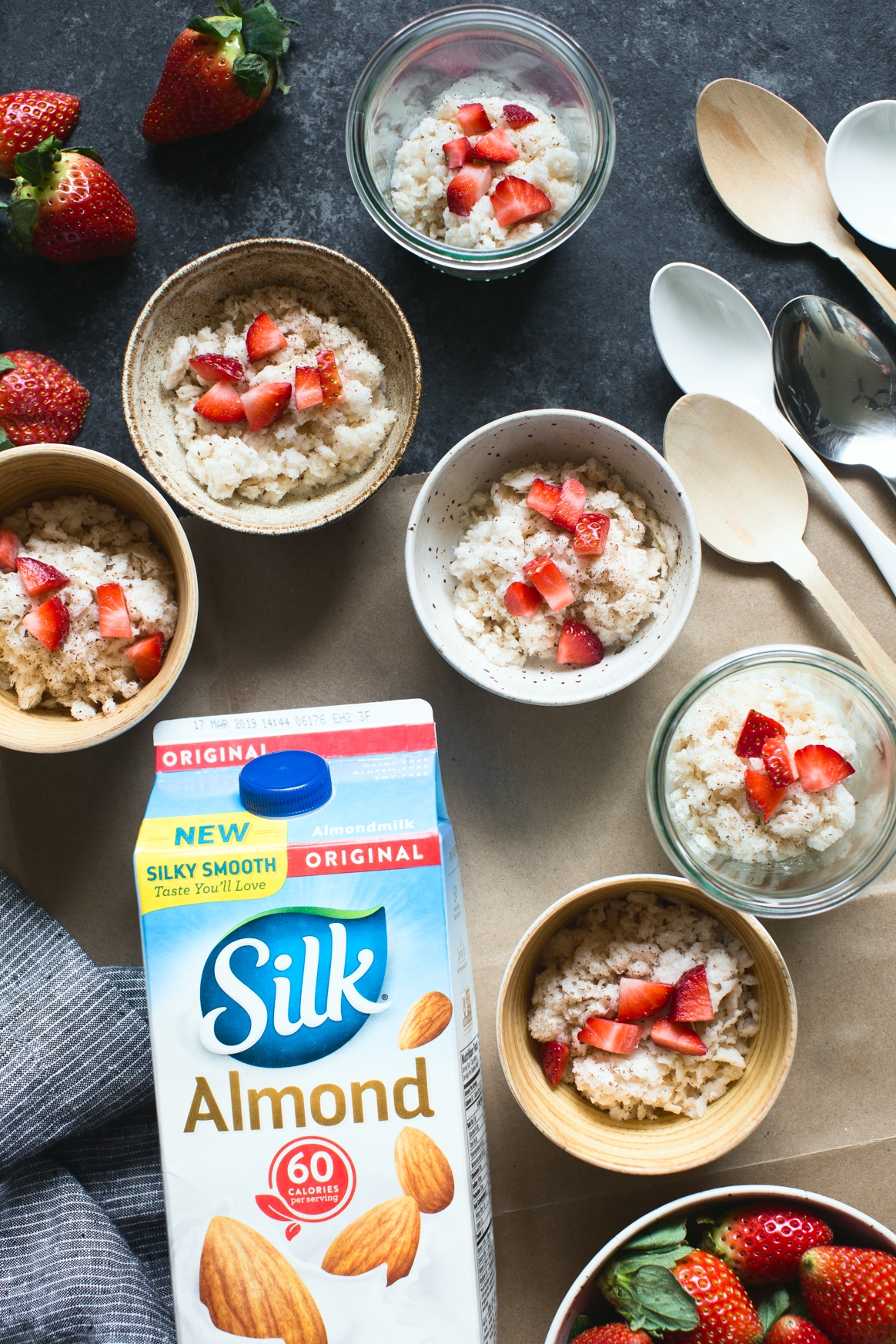 24