Spring is here and I am ready for all the vibrant produce that comes along with it. Topped with crispy prosciutto, peppery arugula, and shreds of salty, aged Parmesan, this pizza recipe—sponsored by Sargento—is one of my springtime favorites.
This post may contain affiliate links.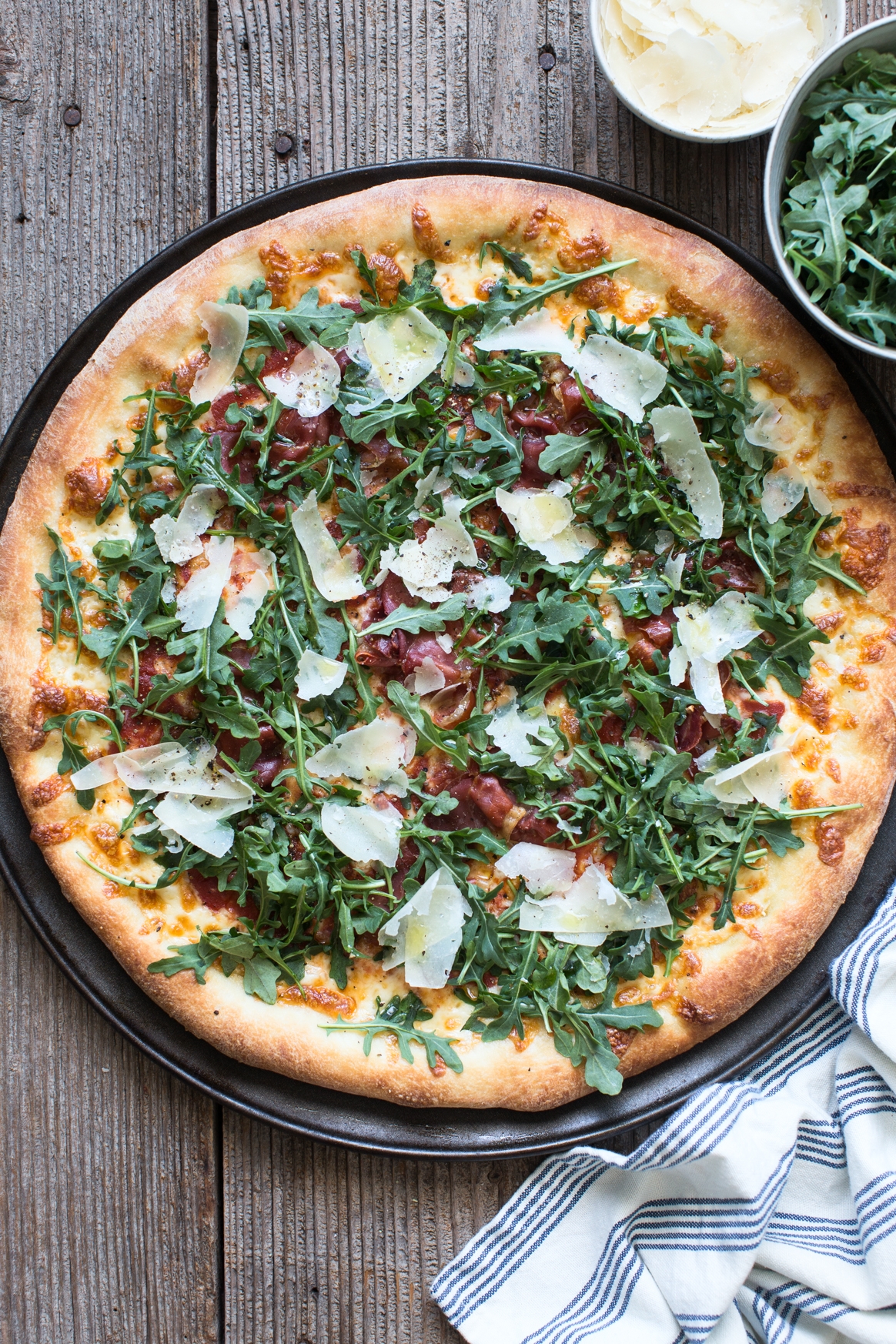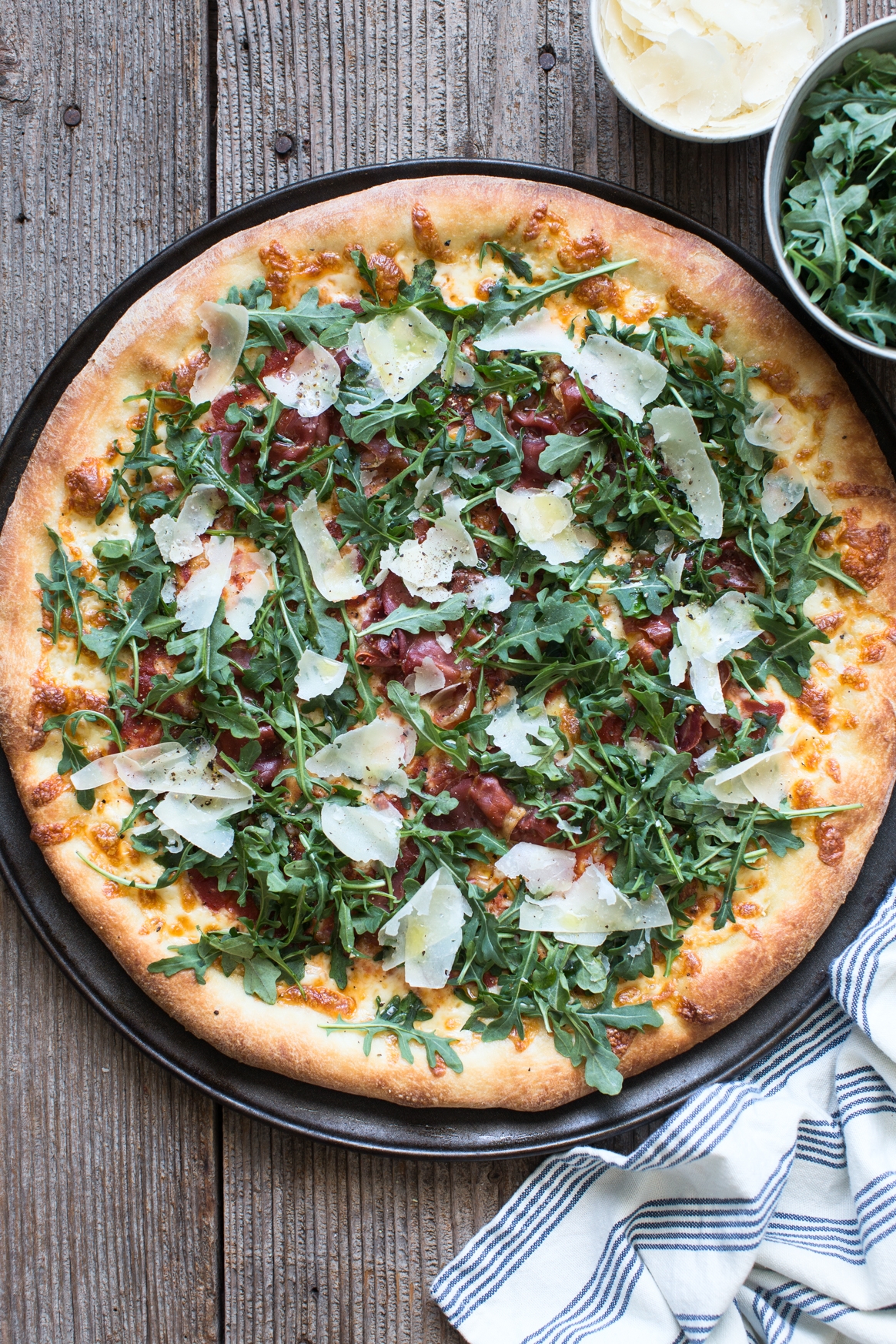 Often during the warmer months, I like to throw some fresh greens on top of my pizzas. It's like a pizza and salad all in one! Prepared in partnership with Sargento and Albertsons, this recipe stacks up as follows:
I just love the contrast of the salty prosciutto and Parmesan against the richness of the mozzarella and the peppery freshness of arugula. This pizza is casual enough for an all-in-one weeknight meal, but special enough to serve at a Spring soiree. Continue reading for the recipe.
I found these new Sargento Shreds in the deli section of my local Albertsons and I have to say, I'm loving the convenience factor. These Parmesan shreds are paper thin and packed with flavor because they're aged for 14 months. I've been scattering them on salads, pasta and of course, pizza.
Right now, you can buy 2 Sargento Shredded Cheese products and get a carton of Albertsons Eggs for free. Grab the coupon below (offer valid 4/24–5/7). And P.S. you could totally throw a fried egg or two on this pizza and it would be 100% delish.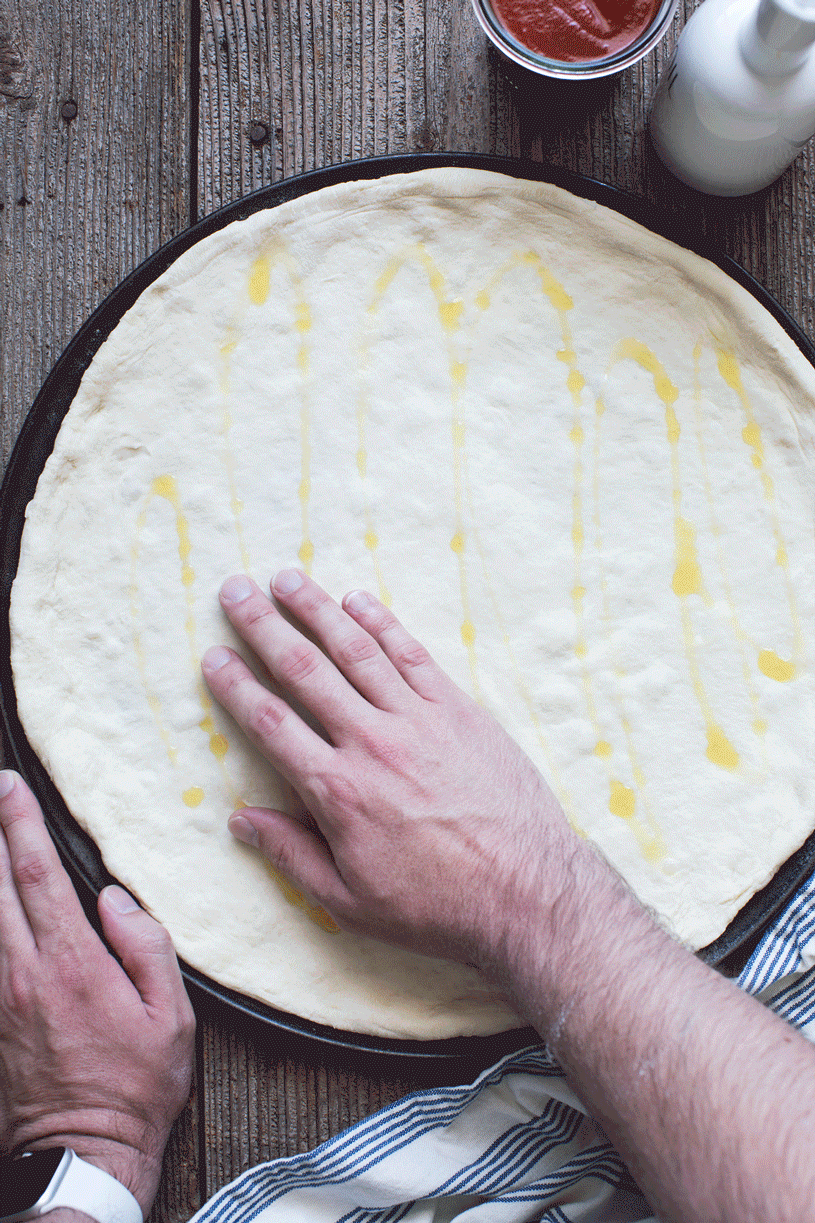 The gif above shows how I like to top my pizzas. It's a pretty easy process, but I'll call out a few things. First, I like to oil and salt my pizza dough before adding toppings. The oil helps to get that golden crust in the end, and salting in layers ensures a tasty finished pizza. Next, I like to use low-moisture mozzarella to make sure the toppings don't get too watery. The final thing I'll mention is that I sauce my pizza in a few rings rather than full coverage. I find that when I spread sauce over the whole pie, it's too heavy and wet in the end.
Arugula and Parmesan cheese is such a delicious combination. Arugula is fresh, bitter and peppery while Parmesan is rich, sharp and salty. The two balance each other perfectly.
In addition to this pizza recipe, I just love pairing arugula and Parmesan with pasta, white beans, and breaded chicken cutlets. Just add a squeeze of lemon and some evoo and you're ready to go!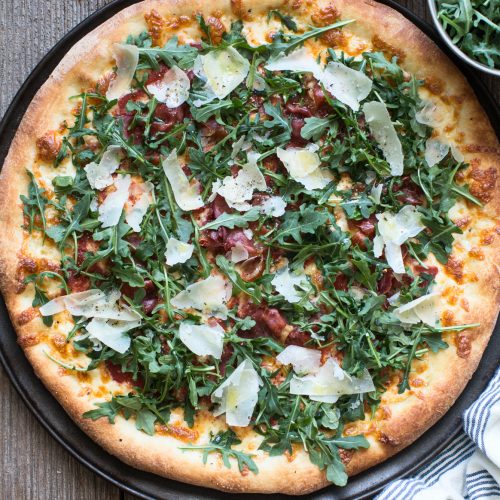 Arugula and Prosciutto Pizza Recipe
Ingredients
1

ball of pizza dough

Extra virgin olive oil

Kosher salt

10

ounces

Sargento Shredded Mozzarella

3/4

cup

canned tomato sauce

6

slices

(about 3 ounces) prosciutto

Freshly ground black pepper

2

cups

fresh arugula
Instructions
Preheat an oven to 500°F, and set an oven rack in the lowest possible position. Lightly coat a pizza pan with nonstick cooking spray.

Stretch pizza dough into a round large enough to fit the pizza pan. Very lightly drizzle the dough with olive oil, using your hands to evenly spread the oil around. Sprinkle dough with a small pinch of kosher salt. Top pizza evenly with grated mozzarella cheese, then spread the sauce over the cheese in 2 concentric circles (see animation above). It may seem like it's not enough sauce but trust me, it is. Season with a sprinkling of kosher salt. Drape prosciutto slices around the surface of the pizza. Finish with several grinds of black pepper.

Transfer pizza to the oven on the lowest rack and cook until the crust is golden brown (bottom and crust) and the cheese is nice and bubbly (9 – 11 minutes).

To serve, top pizza evenly with arugula, shredded Parmesan, a drizzle of olive oil and a few grinds of black pepper. Cut into 8 slices and enjoy immediately!
Tried this recipe?
Tag @brandiego on Instagram so I can check it out!
Just a reminder, you can buy 2 Sargento Shredded Cheese products and get a carton of Albertsons Eggs for free. See coupon above (offer valid 4/24–5/7)! This is a sponsored conversation written by me on behalf of Sargento. The opinions and text are all mine.
45