Last month, I shared these Cola and Kimchi Glazed Ribs, a mouthwatering dish perfect for football season. Today, I've got some more Game Day grub for you in the form of a BBQ Chicken Pizza topped with Cola Braised Chicken, sponsored by The Coca-Cola® Company and SheSpeaks.
This post may contain affiliate links.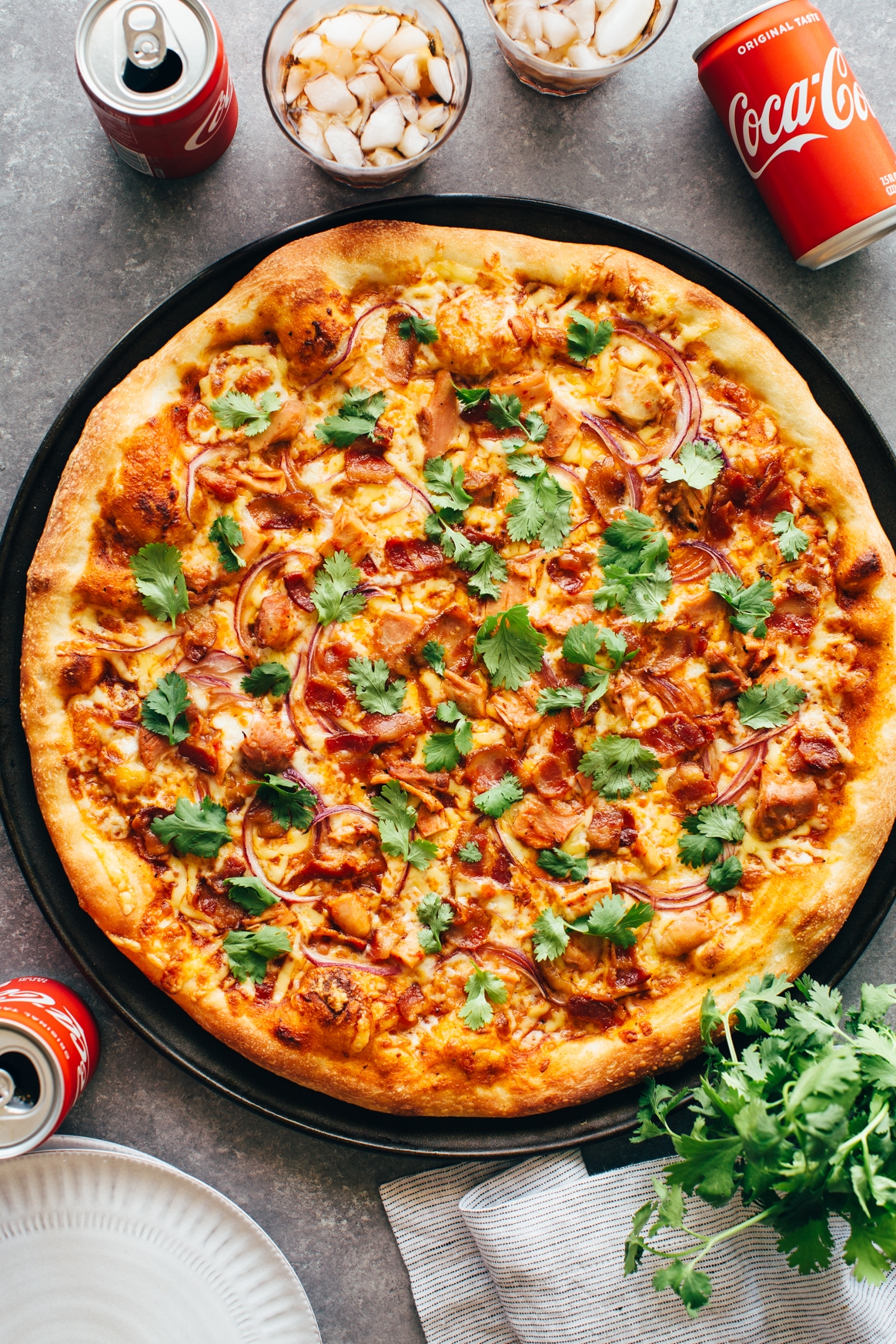 BBQ Chicken Pizza has always been a favorite of mine, but the one topping that's usually lacking is the chicken. Sometimes it's dry. Sometimes it's flavorless. This recipe features Cola Braised Chicken that's tender, moist and infused with flavors of garlic, chipotle, lime and Coca-Cola® Classic. So delish!!
In addition to the chicken, this pizza is topped with bottled barbecue sauce, mozzarella, gouda, red onion, cilantro and bacon. Each bite is rich and smoky with pops of freshness from the onion and cilantro. If you love BBQ Chicken Pizza, then you must give my version a try! Continue reading for the recipe.
BBQ Chicken Pizza is usually made with breast meat, but here I'm using chicken thighs. Given that the chicken gets cooked twice, I find that thigh meat comes out juicer in the end. Chicken thighs are one thing I like to stock up on at Sam's Club, especially if I'm serving a chicken dish at a party. They've got so many great entertaining items like meats, cheeses, drinks, snacks, disposable servingware, and of course, Coca-Cola® Mini-Cans.
You'll need just one Coca-Cola® Mini-Can for this recipe, but you can use more to make these ribs. Serve the rest chilled in a big bucket of ice!
To make Cola Braised Chicken, start by cooking some chopped garlic in olive oil. Then, stir in fire roasted tomatoes, chopped chipotle chiles and a mini can of Coca-Cola® Classic. After the mixture comes to a boil, you nestle chicken thighs and lime slices into the flavorful-packed liquid. The chicken is gently braised in the oven until tender and cooked through. To finish, you pull the chicken off the bone and return it to the pot to cool in the sauce.
As it sits, the chicken will soak up savory notes of garlic and chipotle with lime and cola in the background. At this point, the chicken is ready to use for the pizza. You'll have enough chicken for two pizzas, or you can enjoy the extra chicken in a salad or paired with rice and roasted veggies.
I know that two of the toppings here can be very polarizing: red onion and cilantro. However, I honestly don't think there are good substitutions for either ingredient. Also, both are needed to help balance the richness of the meats, cheeses and barbecue sauce. If you are a red onion- and/or cilantro-hater, you may want to try one of my other pizza recipes.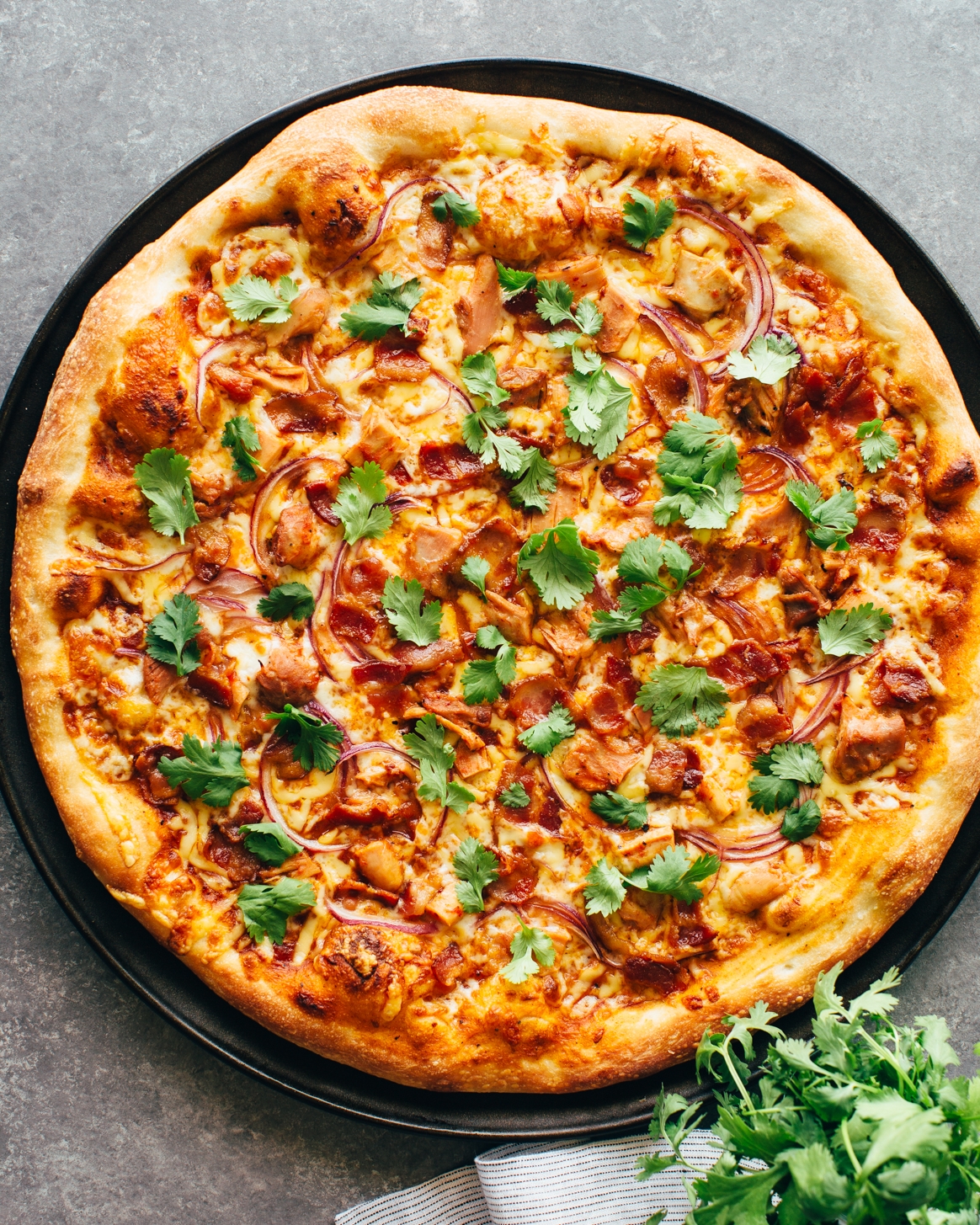 BBQ Chicken Pizza + Cola Braised Chicken Recipe
Ingredients
For the cola braised chicken:
4

chicken thighs (about 1 1/2 pounds), excess skin trimmed

Kosher salt

Freshly ground black pepper

1

tablespoon

olive oil

3

garlic cloves, chopped

1

(14.5 ounce )can fire roasted diced tomatoes

7.5

ounces

(1 mini can) Coca-Cola

2

canned chipotle chiles in adobo, finely chopped

5 to 6

slices

of lime (from 1 small lime)
For the bbq chicken pizza
1

ball pizza dough

Kosher salt

Olive oil

1/3

cup

barbecue sauce

4.5

ounces

shredded low moisture mozzarella

4.5

ounces

shredded gouda

1/4

red onion, thinly sliced

1

cup

cola braised chicken

4

strips bacon, sliced and cooked until crispy

Handful of cilantro leaves, for sprinkling
Instructions
To make the cola braised chicken, start by seasoning chicken thighs on both sides with salt and pepper. Let sit at room while you prepare the sauce. Also, preheat an oven to 325°F.

Over medium heat, warm olive oil in a medium saucepan that can also go in the oven. Add garlic and cook, stirring occasionally, until the edges start turning golden brown (about 2 minutes). Stir in the fire roasted tomatoes, cola, chipotle chiles and 1 1/2 teaspoons salt. Bring mixture to a boil, take off the heat, then add chicken in an even layer. The liquid won't completely cover the chicken. Tuck lime slices into the sauce, then braise, uncovered, in the oven until the chicken is cooked through (35 to 40 minutes).

Remove chicken from the sauce, then season sauce to taste with salt. Once cool enough to handle, remove skin and pull chicken off the bone into bite-sized pieces. Return chicken to the sauce and let sit for at least 15 minutes before using as a pizza topping (it gets tastier the longer it sits in the sauce). Transfer to the fridge if letting sit longer than 15 minutes. You'll have enough chicken for 2 pizzas.

To make the bbq chicken pizza, preheat an oven to 500°F, and set an oven rack in the lowest possible position. Lightly coat a pizza pan with nonstick cooking spray.

Stretch pizza dough into a round large enough to fit the pizza pan. Very lightly drizzle the dough with olive oil, using your hands to evenly spread the oil around. Sprinkle dough with a small pinch of kosher salt. Top pizza evenly with bbq sauce and grated cheese, then scatter sliced onion, chicken and bacon over top. Finish with a sprinkling of kosher salt.

Transfer pizza to the oven on the lowest rack and cook until the crust is golden brown (bottom and crusand the cheese is nice and bubbly (9 – 11 minutes). Finish the pizza with a sprinkling of cilantro leaves.
Tried this recipe?
Tag @brandiego on Instagram so I can check it out!
This post has been sponsored by The Coca-Cola® Company and SheSpeaks. All thoughts, opinions and recipes are my own.
27