It's that time of the year when markets are stocked with ALL of the winter squash, and I am living for it. This Butternut Squash and Bacon Hash recipe—sponsored by Morton Salt, Inc—is one of my favorite ways to use these seasonal beauties.
This post may contain affiliate links.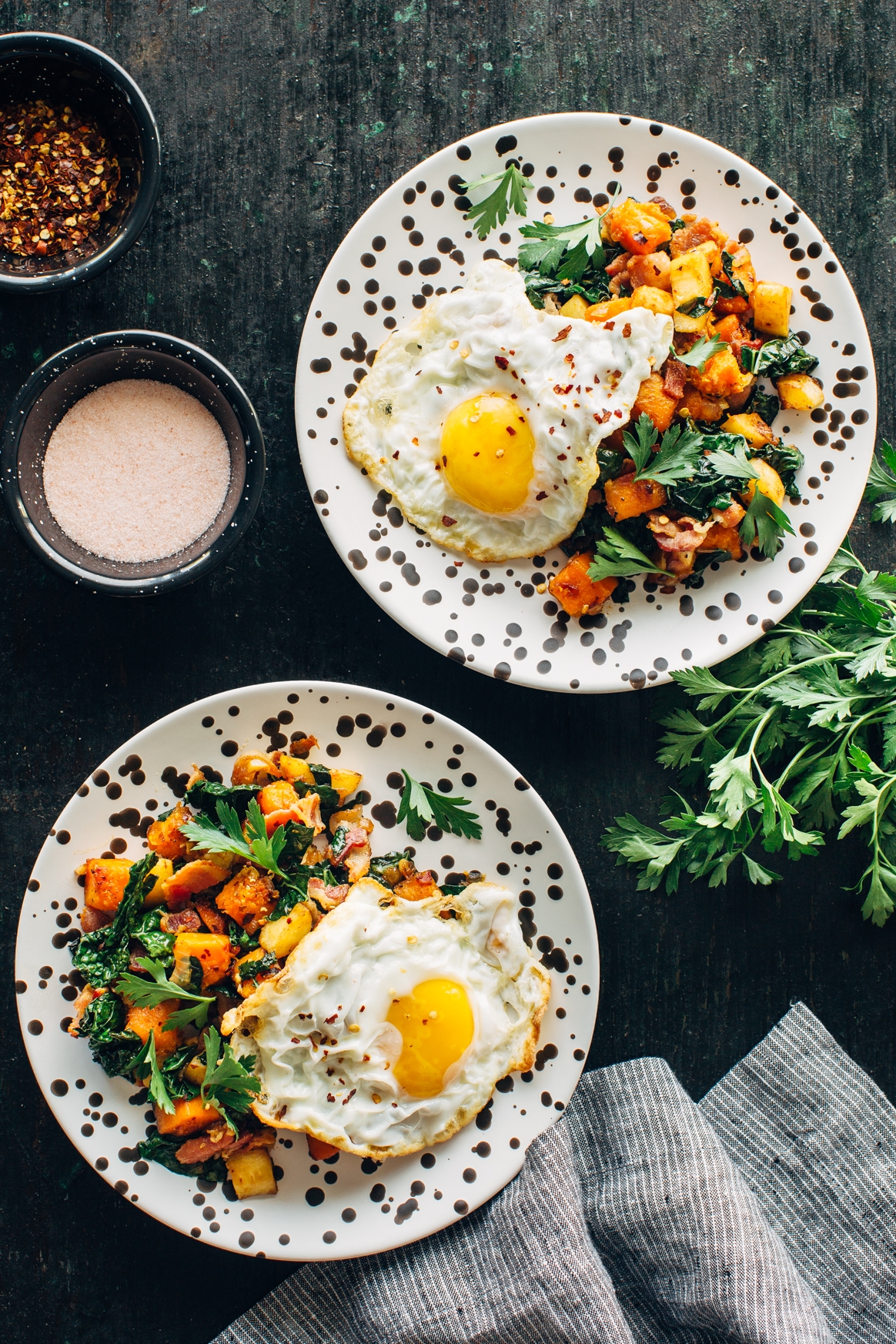 Making a hash at home can be a daunting task because usually it requires you to parcook a starchy vegetable (like potatoes) before it can hit the skillet. And who wants to be boiling or roasting so early in the morning? Luckily, I've got a little trick to make this process so simple. The key? A microwave.
This hash recipe starts with cubed butternut squash and parsnips on a plate in an even layer. They're then cooked in a microwave for 5 minutes until warmed through but still firm to the touch. At this point, they're ready to go into the skillet. The microwave parcook allows you to get the perfect texture in the end: golden and crispy on the outside while tender and melting within. This trick can be used with all types of hash ingredients: potatoes, sweet potatoes, squash, cauliflower, and broccoli to name just a few! Continue reading for the recipe.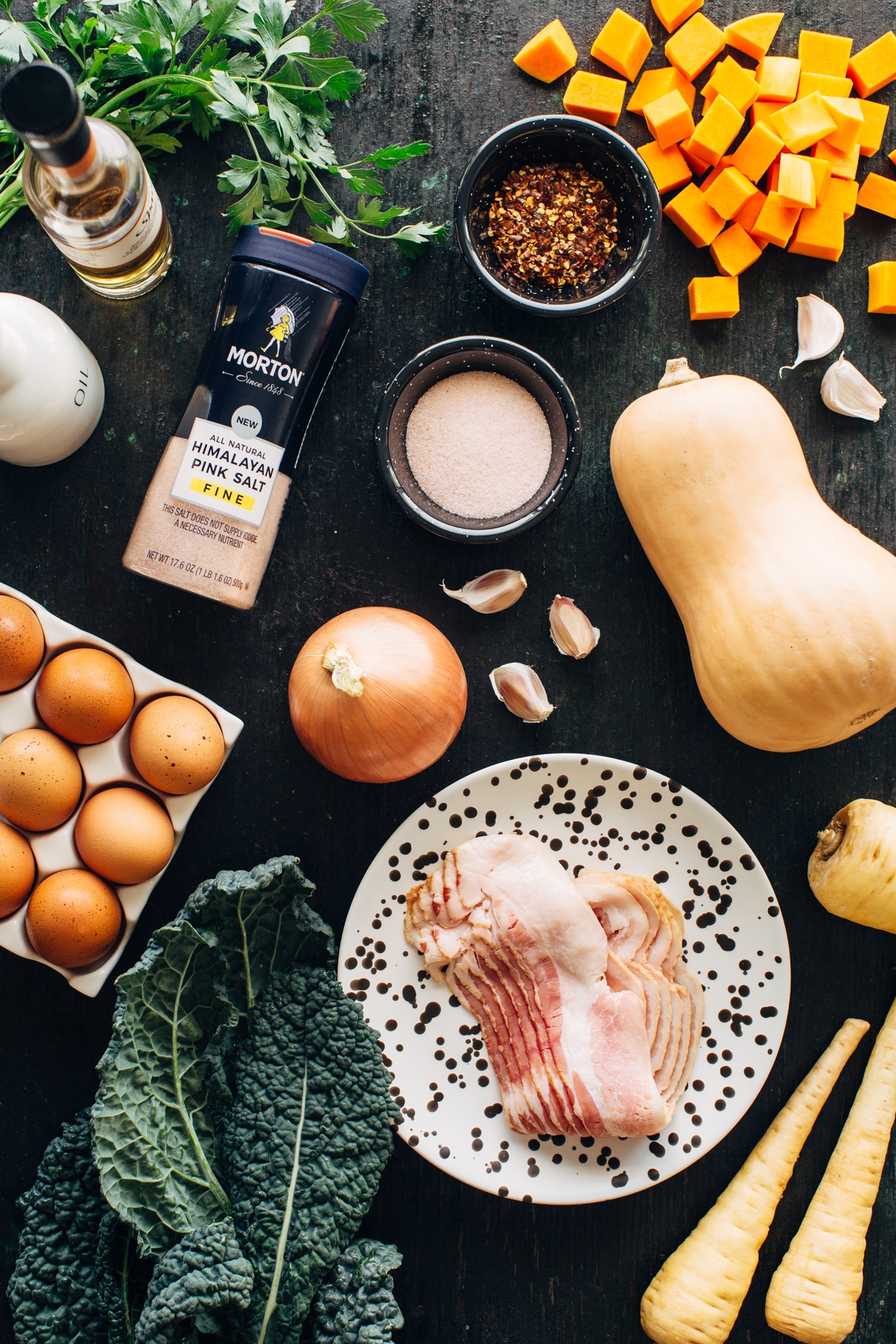 Morton Salt, a staple at our house, recently released a couple of fun new products:
The coarse salt is perfect for topping and finishing because it adds some vibrant pink texture to the finished dish. The fine salt is great for baking and blending because it dissolves quickly. I used Morton Fine Himalayan Pink Salt in this recipe to season this dish in layers. Salt is added in various stages of the recipe to make sure the entire dish is well-seasoned in the end!
I found these salts at my local Vons in the spice isle. Vons has such a fantastic selection of salts and spices. It's seriously one of my favorite aisles in the whole store! You can find a coupon for Morton Fine Himalayan Pink Salt along with plenty of fantastic deals on the Vons app.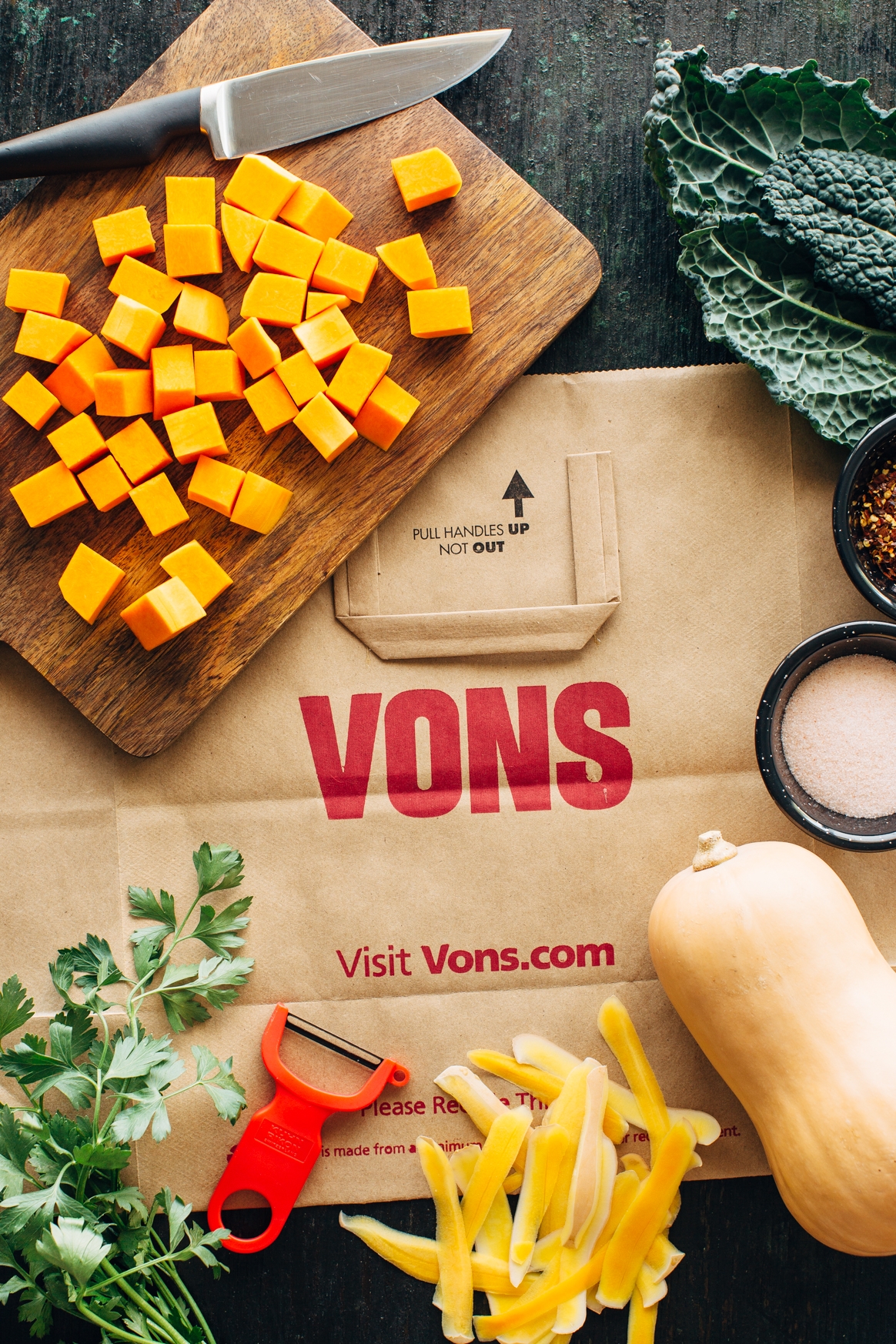 The base of this hash is made with butternut squash, parsnip, onion and garlic.  I love the combination of butternut squash and parsnips, but you can certainly use 100% butternut squash here if parsnips aren't your thing.
Bacon is the protein of choice here because its salty, smoky, porkiness helps to balance the sweetness of the squash.  Kale is tossed in at the end for a little bitterness and nutrients. And it goes really well with bacon! The finishing touches include crushed red pepper flakes for heat, sherry vinegar for tang, and some torn parsley for freshness.  Topped with a fried egg, this Butternut Squash and Bacon Hash is such a satisfying breakfast. Be sure to sprinkle with with Morton Fine Himalayan Pink Salt for the perfect final touch!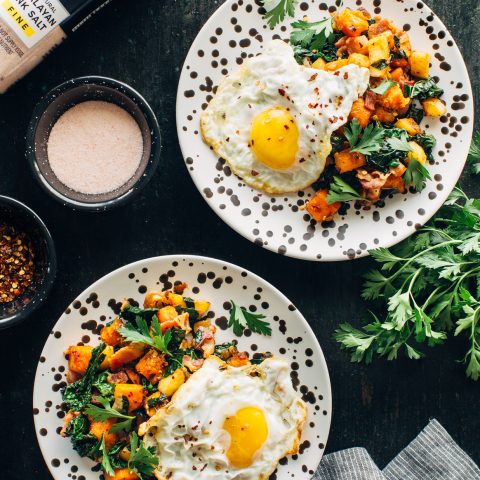 Butternut Squash and Bacon Hash Recipe
Ingredients
3/4

pound

peeled butternut squash, cut into 1/2-inch dice

1/2

pound

peeled parsnip, cut into 1/2-inch dice (or use all butternut squash)

8

slices

bacon, cut crosswise into thick slices

1/2

small onion, chopped

Freshly ground black pepper

2

garlic cloves, chopped

1/4

teaspoon

crushed red pepper flakes

2

tablespoons

olive oil

6

ounces

(1 small bunch) kale, stems removed and leaves sliced thin

1

teaspoon

sherry vinegar
Torn parsley leaves, for serving
Instructions
Place chopped squash and parsnip in an even layer on a microwave safe plate, and cook on high in the microwave until heated through, but still firm to the touch (5 minutes).

Cook bacon over medium heat in a large cast-iron (or nonstick) skillet until crispy (10 – 12 minutes). Lower the heat if needed to keep the bacon from burning. Using a slotted spoon, transfer bacon to a paper towel-lined plate. Pour off all but 2 tablespoons of bacon fat from the skillet.

Return the skillet to medium-high heat. Add the squash and parsnips to the skillet along with a pinch of salt and cook, stirring occasionally, until golden on most sides (5 to 6 minutes). You'll want to let the veggies cook undisturbed for 1 – 2 minutes, then toss, stir, and repeat. Avoid moving the veggies around too much in the pan.

Add the onion to the skillet, season with salt and pepper, and cook, stirring occasionally until tender (about 3 minutes). Stir in the garlic and red pepper flakes, and cook until fragrant (30 seconds). Move the veggies to one half of the skillet. Place olive oil in the other half of the skillet. Let the oil warm for a moment, then add the sliced kale and a small pinch of salt—stirring to combine. Cook, stirring occasionally, until the greens wilt (2 to 3 minutes). Take the skillet off the heat, stir in the vinegar and cooked bacon, and season to taste with additional salt and pepper.

To serve, divide hash between 4 small plates and top each with a fried egg and a scattering of torn parsley leaves.
Tried this recipe?
Tag @brandiego on Instagram so I can check it out!
This post has been sponsored by Morton Salt, Inc. All thoughts and opinions are my own.
25