The big game is just a few weeks away, so today, I'm sharing this recipe for Buffalo Chicken Dip with Caramelized Shallots and Blue Cheese—sponsored by Castello and Town House—that's perfect for a game day bash. Let's dig in.
This post may contain affiliate links.
I'm a big fan of buffalo chicken dip. Buffalo anything, really. And while the original recipe is certainly delicious, I like to mix things up from time to time to keep my appetizer spread exciting.
In this recipe, you start by cooking shallots in butter until melted and golden. You then fold these wisps of sweet and savory deliciousness into a creamy mix of cream cheese, labneh, ranch powder, shredded chicken, hot sauce and Castello® Traditional Danish Blue Cheese. The dip is baked until hot and bubbly, and finished with more blue cheese and chives. Scooped up with Town House® Original Crackers, carrots, and celery, each bite of this dip is spicy, tangy, and oh-so decadent. Continue reading for the recipe.
I grabbed all the supplies needed to make this fabulous dip at my local Vons!  One convenient item that I love to pick up at Vons is a rotisserie chicken. I can shred up the chicken breasts for this recipe, and then enjoy the thigh meat in a salad or mixed into a soup.  Right now, you can save $3.00 on a rotisserie chicken when you buy Castello Traditional Danish Blue Cheese and Town House Original Crackers!
The cheese that I'm featuring in this recipe is Castello® Traditional Danish Blue Cheese—a unique, PGI-protected product. Marbled with blue mold, this opulent cheese is bold and smoky with a sharp aroma. Full of character, this Danish blue works well with the spiciness of the hot sauce and the sweetness of the shallots. This is definitely a buffalo chicken dip for blue cheese-lovers.
To me, dip accoutrements are just as important as the dip itself. Here, the crackers of choice are Town House® Original Crackers. Their buttery flavor and crispy texture complements the dip without overwhelming it. For something fresh, I like the classic buffalo chicken stalwarts: celery and carrot sticks.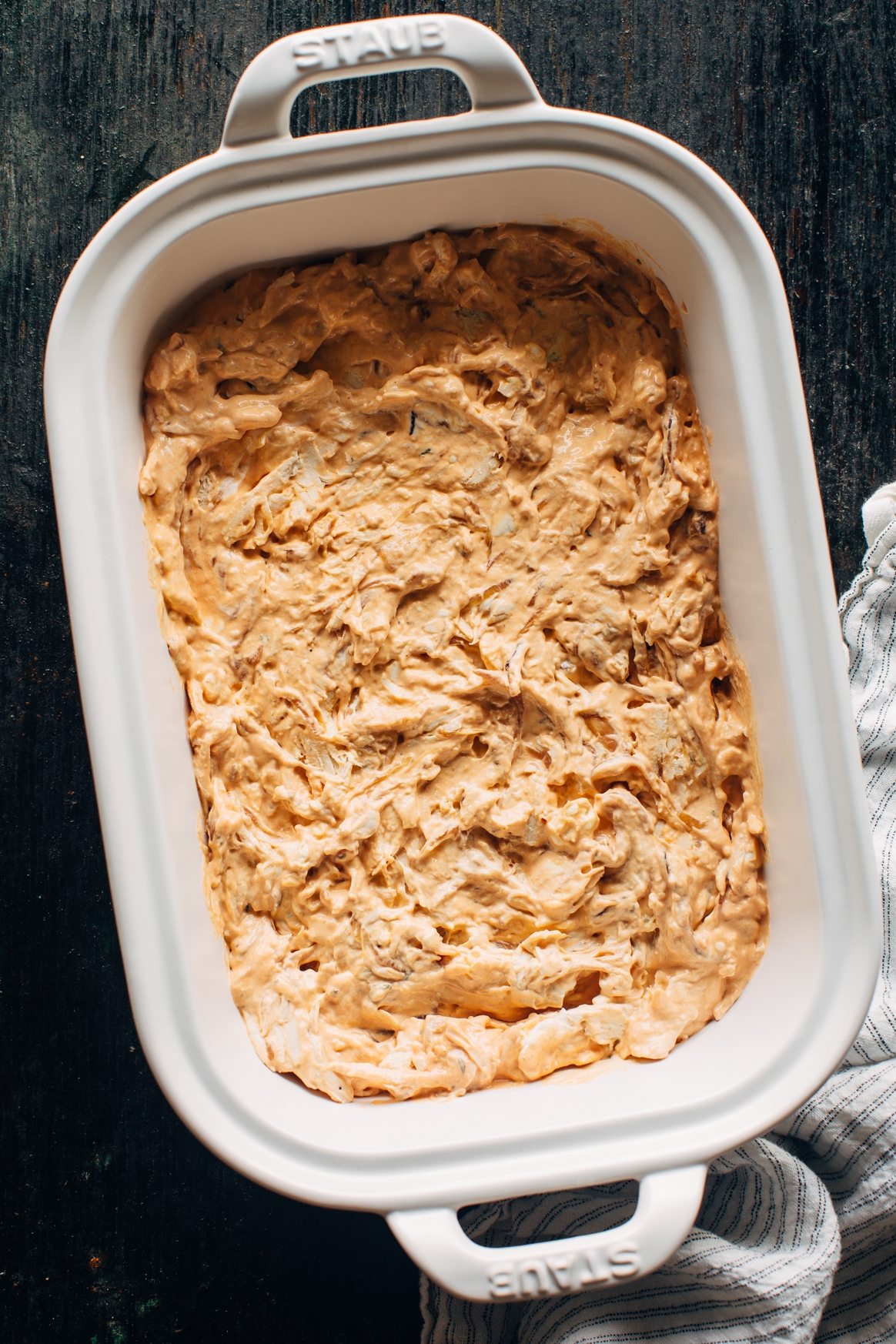 This dip is best enjoyed warm, so if you are serving it at a game day party—I would recommend preparing it in advance but baking it just before guests arrive. You may even want to make a double batch because this dip will definitely go quickly!!
Buffalo Chicken Dip with Caramelized Shallots and Blue Cheese
Ingredients
For the shallots:
1

tablespoon

unsalted butter

6

shallots, thinly sliced

Kosher salt

Freshly ground black pepper

1

teaspoon

apple cider vinegar
Instructions
Warm butter in a medium, heavy bottom saucepan over medium-high heat. Add sliced shallots and cook, stirring occasionally, until shallots start to develop some golden spots (about 5 minutes). Reduce heat to medium-low and stir in a couple pinches of salt. Continue to cook shallots, stirring occasionally (but more frequently as they develop color), until caramelized (about 15 to 20 minutes more). Stir in vinegar, and season to taste with salt and pepper. Measure out 1/2 cup caramelized shallots, and save the rest for another use (they're tasty in morning eggs!).

Preheat an oven to 350°F, and place a rack in the middle position.

Add cream cheese, labneh, ranch dressing powder, and 1/4 cup crumbled blue cheese to a large bowl, stirring to combine. Fold in shredded chicken, 1/2 cup caramelized shallots, and hot sauce. Mix until evenly combined.

Transfer chicken mixture to a small baking dish, and bake for 20 minutes until mixture is warm and the edges start to bubble. As soon as the mixture comes out of the oven, top with remaining 1/4 cup crumbled blue cheese.

Right before serving, sprinkle the dip evenly with sliced chives. Serve with Town House Original Crackers, celery sticks, and carrot sticks.
Tried this recipe?
Tag @brandiego on Instagram so I can check it out!
This post was written in partnership with Castello and Town House. All thoughts, opinions and recipes are my own.
22