Hello friends and Happy Friday!! It's been a little quiet over here this month, and I'll share why below along with a new favorite recipe for Roasted Broccoli and Cauliflower!
This post may contain affiliate links.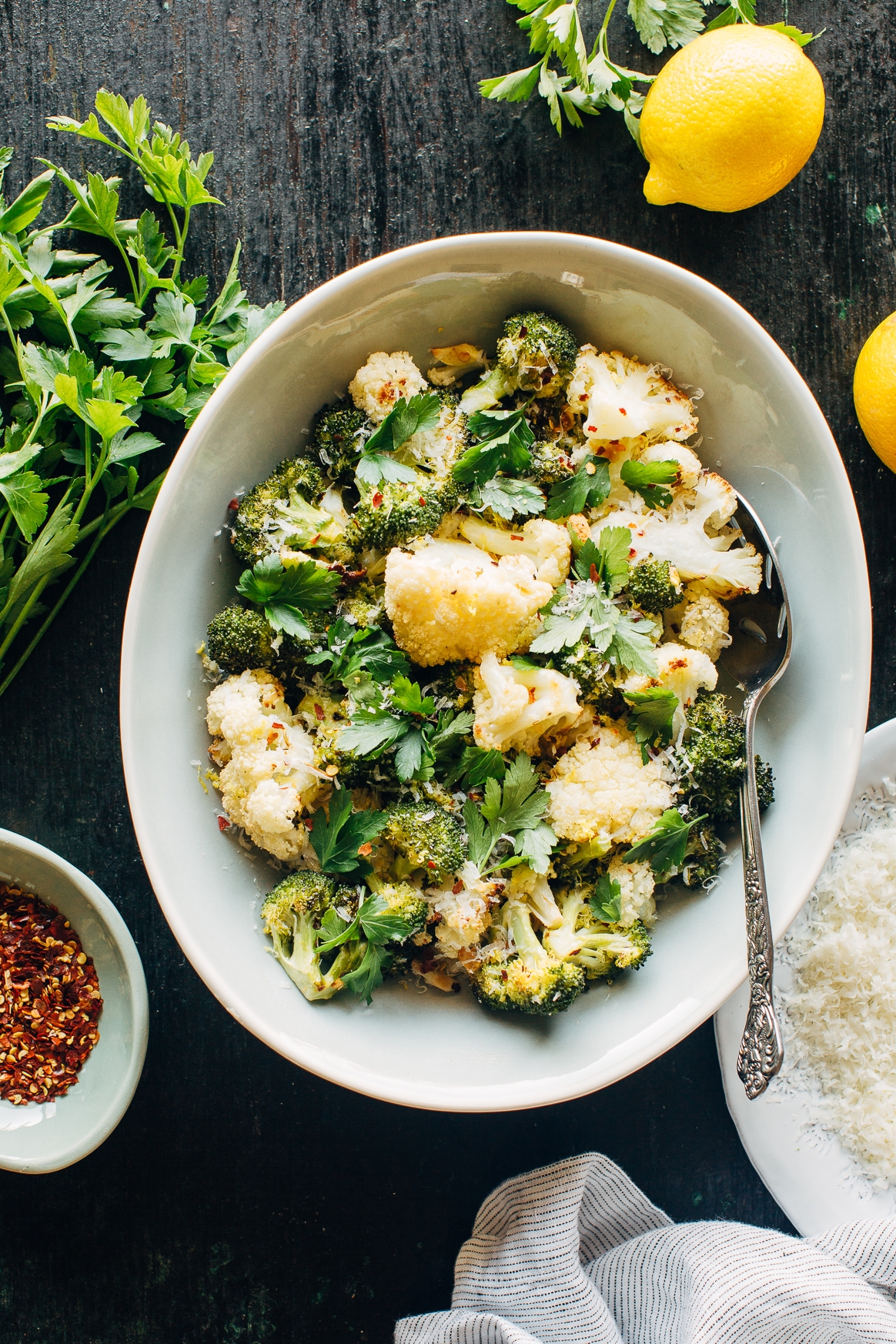 Over the past several weeks, I've been very focused on my own health and fitness (with some major tunnel vision!). This is something I've struggled with over the years, so when I get a spark of motivation, I try to run with it.
Earlier this month, I started intermittent fasting. Given that food is so important to my profession and who I am as a person, I find it very hard to stick to a specific diet (paleo, keto, whole30, etc.). So instead of limiting what I eat, I wanted to try limiting when I eat! Between the hours of 12 – 8PM, I am able to eat whatever I want, and for the rest of the time, there's no food allowed. I can still sip on black coffee and green tea, but that's it!
I've been fasting for almost three weeks now, and so far, I've lost three pounds and I'm feeling great! KK won't be turning into an intermittent fasting blog, but I just wanted to share my experiences today along with one of the healthier recipes I've been making on the regular. Continue reading for more details!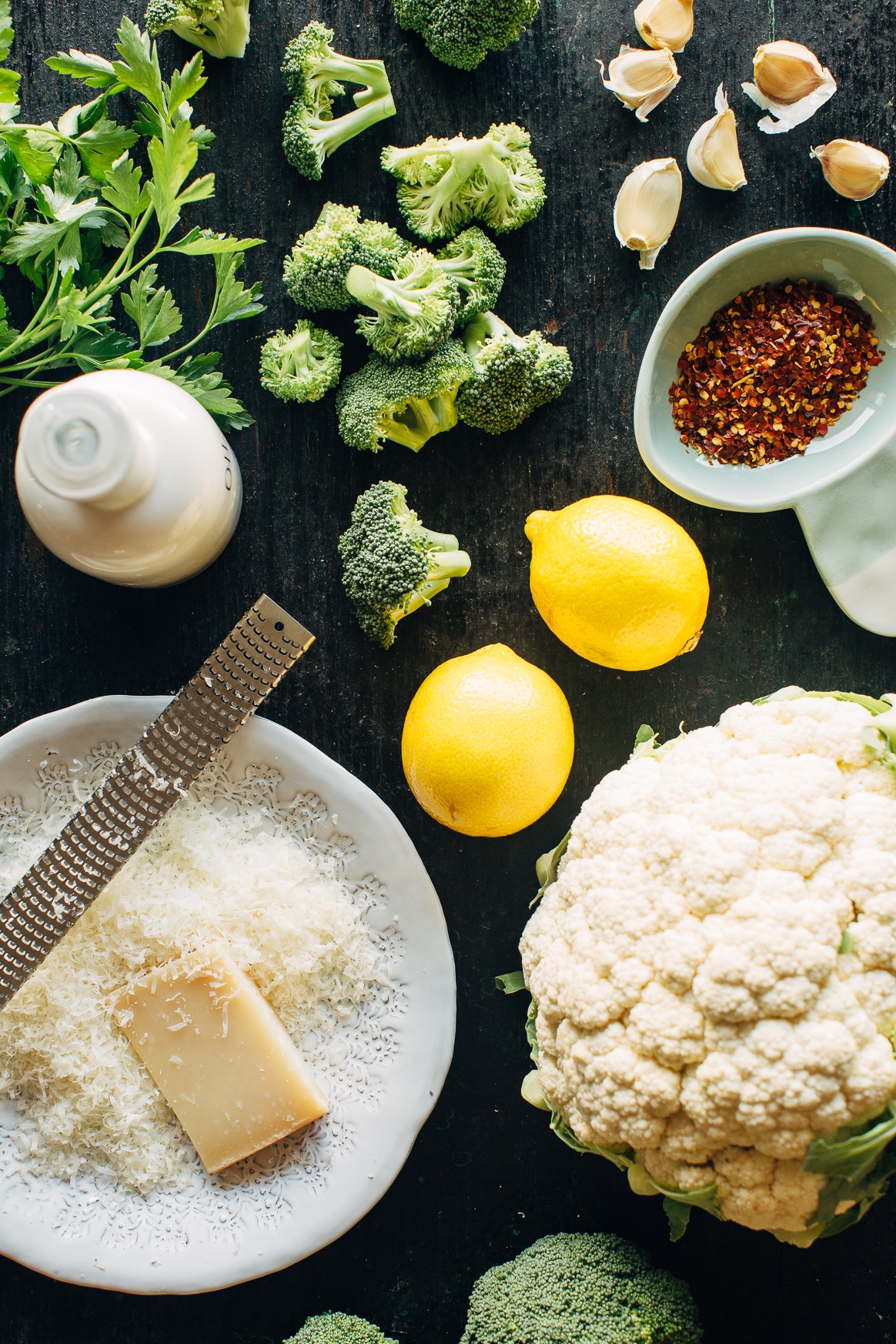 Not gonna lie, the first week of fasting was rough. Luckily, Jorge was traveling that week, so I was able to be hangry in solitude. However, as the days went on, my body got used to the new eating schedule, and now, it's become second nature!
In addition to fasting, I've been going to the gym regularly during my fasting hours. You can actually burn more fat and build more muscle working out while fasted! This was a challenge at first, because my energy felt low, but now I find it totally doable.
One thing that I love about fasting, is that there's some flexibility with eating. I wasn't counting calories at first, but now I am using MyFitnessPal. On days when I work out, I like to fulfill any dining out cravings (ramen, burgers, tacos, etc.). On days when I'm not working out, I try to eat healthy, cutting out as many carbs as possible.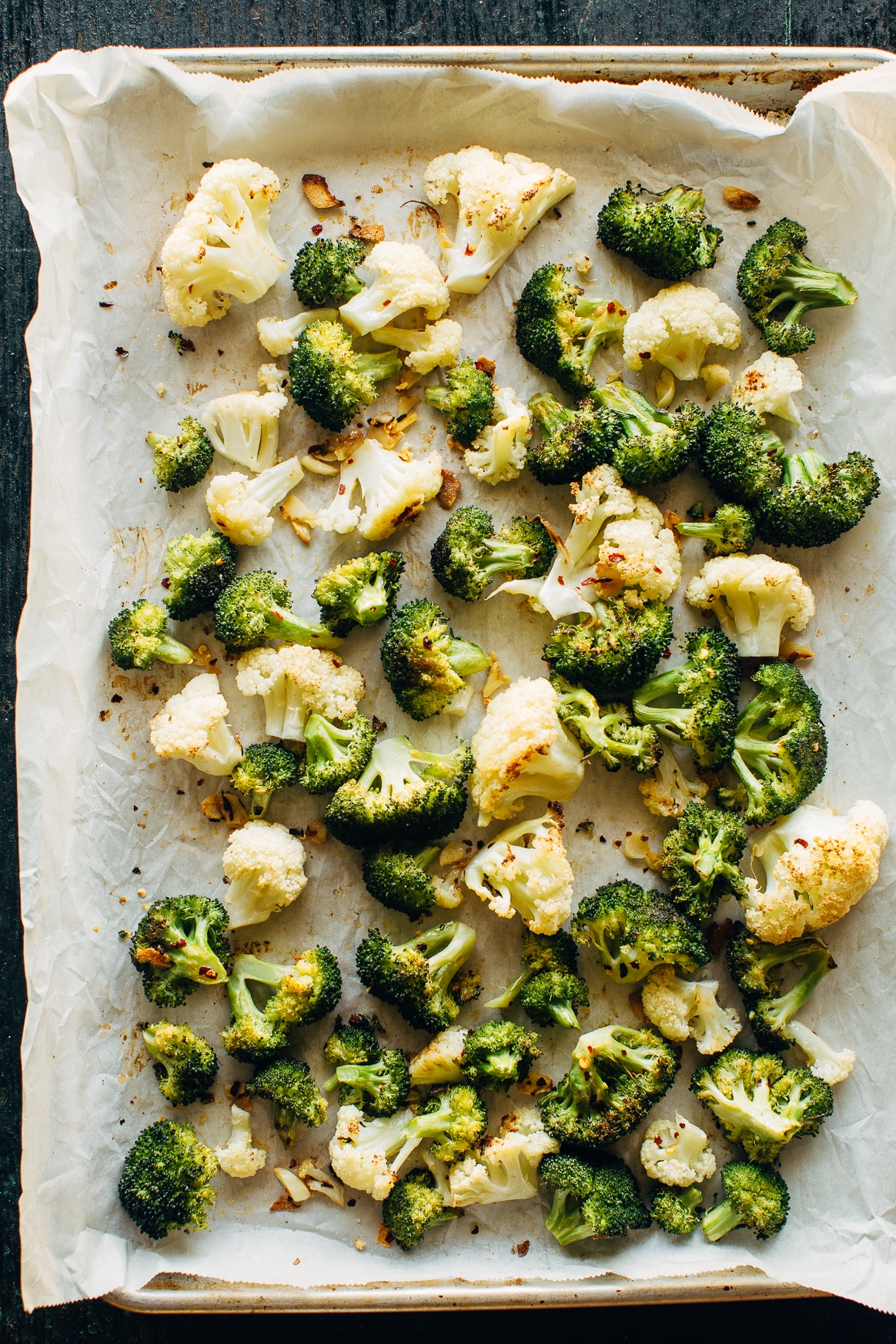 Broccoli and cauliflower have been staples in my weekly diet, because they're low-carb, nutritional power houses. And that brings us to today's recipe!
Florets of broccoli and cauliflower are tossed with olive oil, sliced garlic, salt and crushed red pepper flakes, then roasted until tender and golden. The mixed crucifers are then finished with lemon juice, lemon zest, parsley and grated Parmesan cheese. Each bite is bright and savory with intense little moments from the garlic and chile flakes. So delish.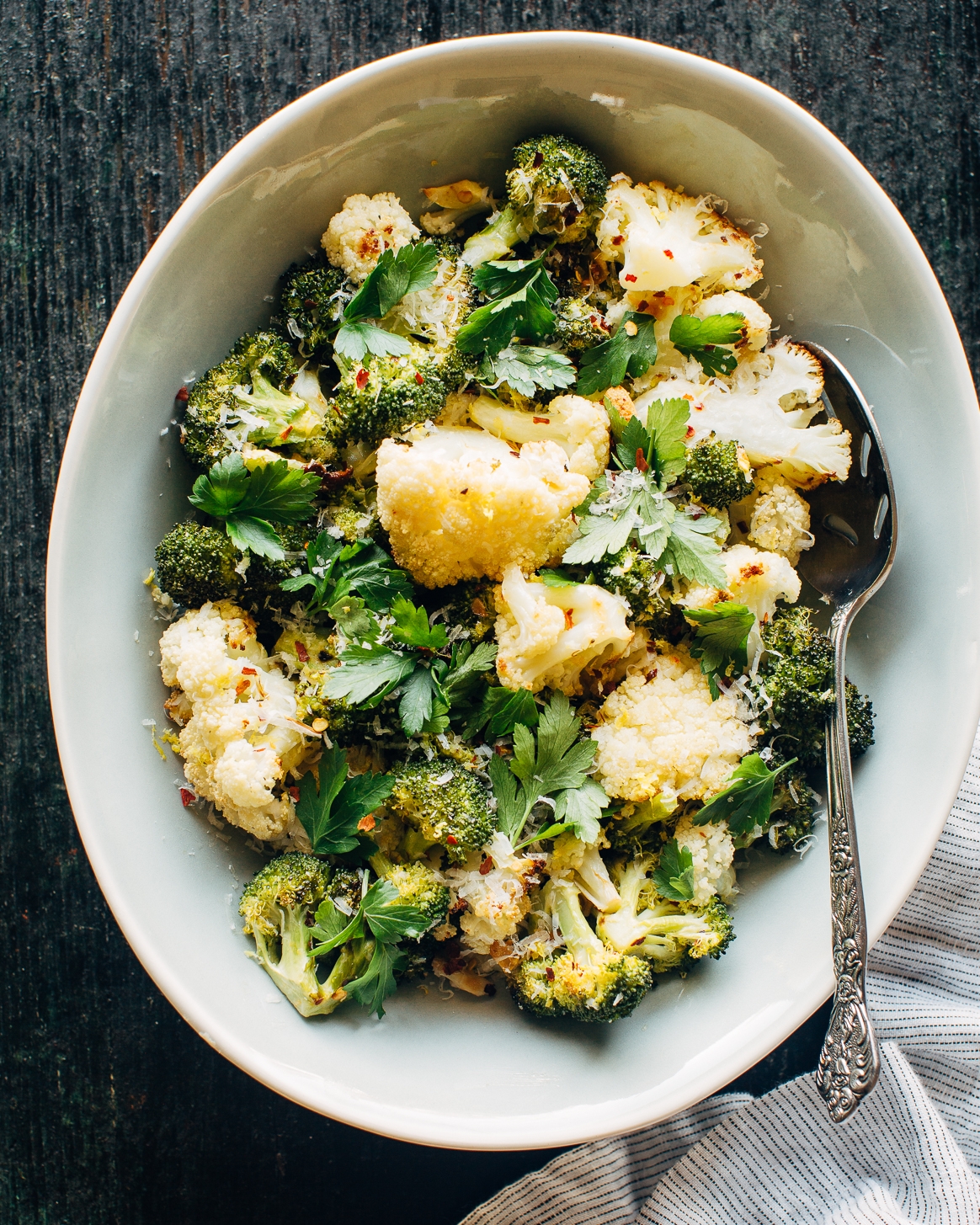 Roasted Broccoli and Cauliflower is a fantastic side dish for any meal. I've enjoyed it with roasted chicken, steak and salmon; however, you could even have it as is with a couple fried eggs on top!
Expect more recipes in the upcoming weeks as I learned to balance all of this fasting/dieting with recipe development. And thanks so much for your patience!! Are any of you intermittent fasting right now? If so, I'd love to hear from you in the comments below (experiences, recipes, advice, etc.)!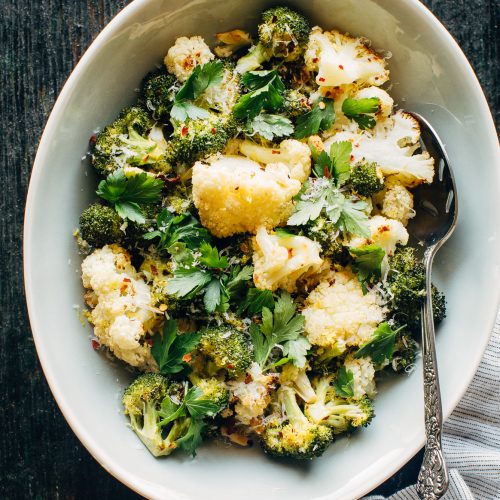 Roasted Broccoli and Cauliflower
I like the combination of broccoli and cauliflower here; however, you could certainly make this recipe with just broccoli or just cauliflower.
Ingredients
1 1/2

pounds

broccoli and cauliflower florets

3

tablespoons

olive oil

2

garlic cloves, thinly sliced

1/2

teaspoon

crushed red pepper flakes

Kosher salt

3/4

teaspoon

lemon zest

2

teaspoons

lemon juice, plus more to taste

3

tablespoons

grated Parmesan

Chopped Italian parsley, for sprinkling
Instructions
Preheat an oven to 425°F. Place florets on a parchment-lined baking sheet, and toss with olive oil, garlic, red chile flakes, and a couple pinches of salt. Roast, tossing occasionally, until tender and golden (about 20 – 25 minutes).

Transfer to a bowl and toss with lemon zest, lemon juice and Parmesan. Season to taste with additional salt and lemon juice. Finish with a sprinkling of chopped parsley.
Tried this recipe?
Tag @brandiego on Instagram so I can check it out!
89