Earlier this week, I shared an easy recipe for Truffle Aioli, and today I've got the perfect recipe pairing: Steak Frites.
This post may contain affiliate links.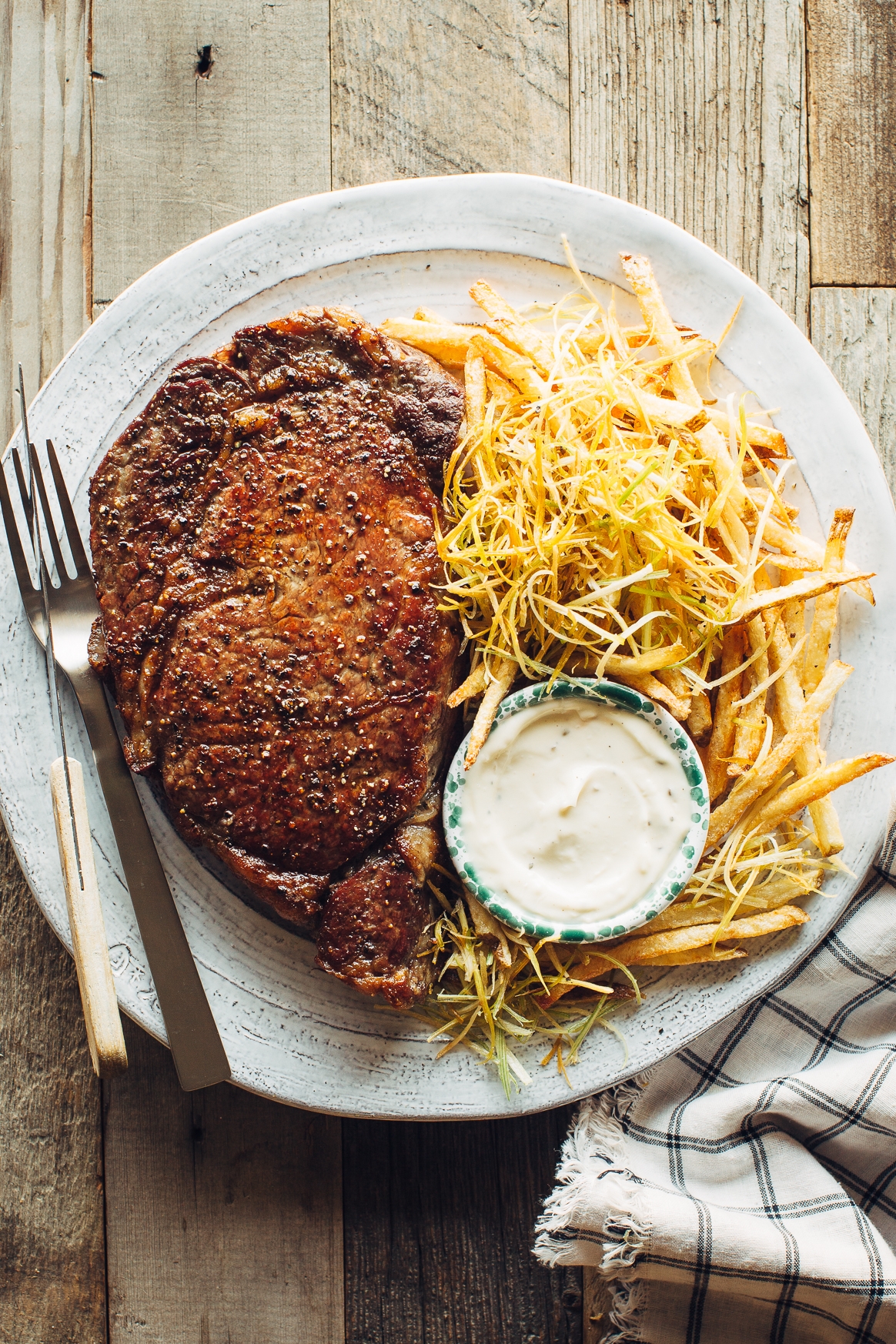 Steak Frites is a classic French bistro dish of steak and french fries. Here, I've got a luscious ribeye steak beside crispy homemade fries topped with a nest of frizzled leeks. The ribeye is cooked using my reverse seared steak method, and the fries are prepared using the cold oil method. Truffle aioli is a delicious pairing here, because the earthiness of the sauce goes well with both the fries and the steak.
Valentine's Day is just a week away and Steak Frites would be a really special dish to make for a loved one. Splurge on a couple of fat ribeye steaks and a nice bottle of red wine (Zinfandel, Cab or Syrah) or rosé! Continue reading for the recipe.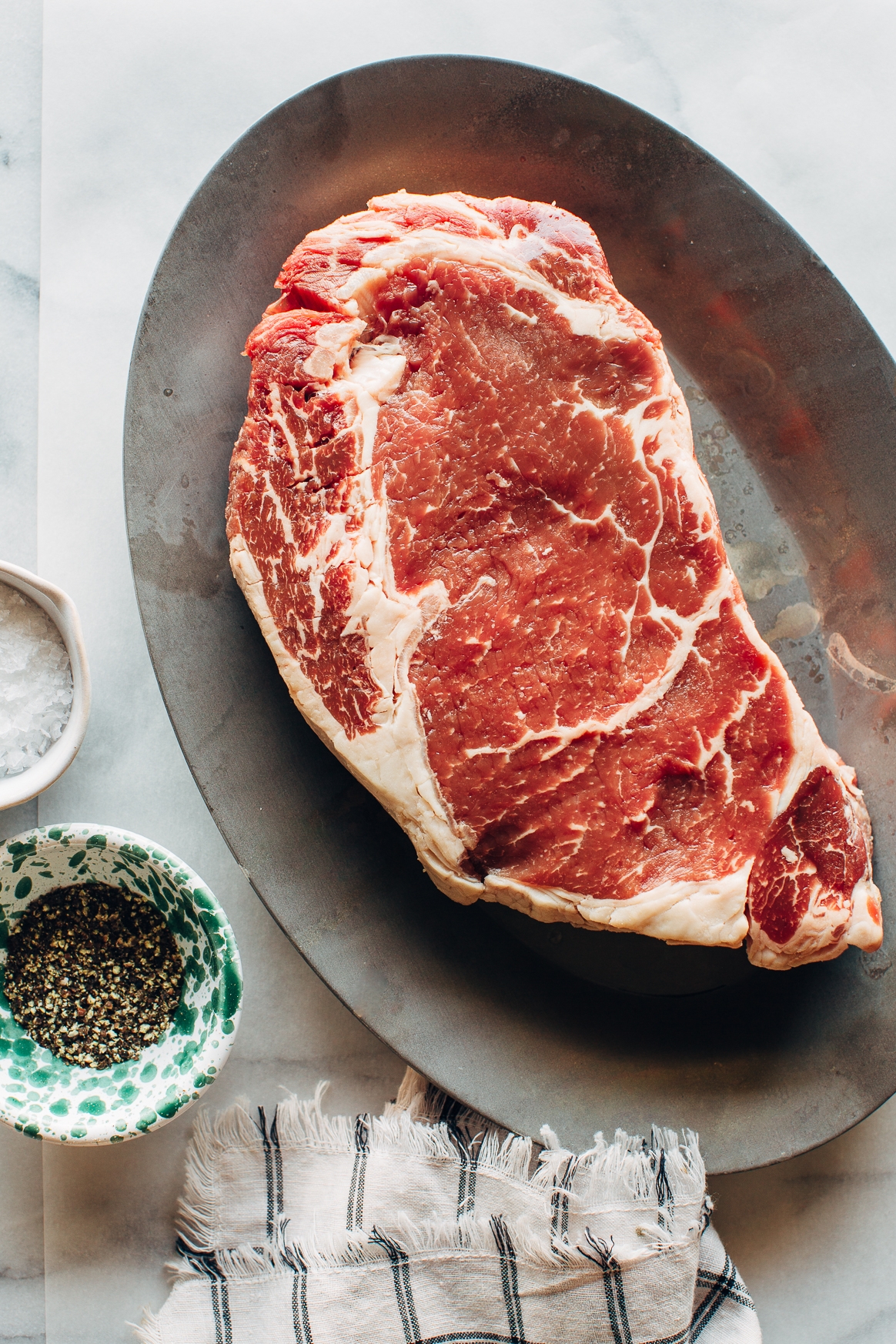 Ribeye is one of my favorite cuts of steak, because the fattiness adds a lot of flavor. However, if ribeyes aren't your thing, you could certainly cook up a filet or New York strip instead. Just make sure the steak is at least 1 1/2 inches thick, so that you can get a nice sear on the outside without overcooking the inside.
My preferred method for cooking steak is the reverse sear. You place seasoned steaks on a rack-lined baking sheet, and cook in a low oven until the internal temperature reaches 125°F. The steaks rest for 5 minutes, and then you sear them in a screaming hot cast iron skillet until perfectly golden brown.
By cooking the steaks in the oven first, you ensure that the center is medium-rare while drying out the surface of the steak. The dry surface allows you quickly and evenly sear the steak (just 45 seconds per side). This is seriously the easiest and most consistent way to get a perfect steak every time.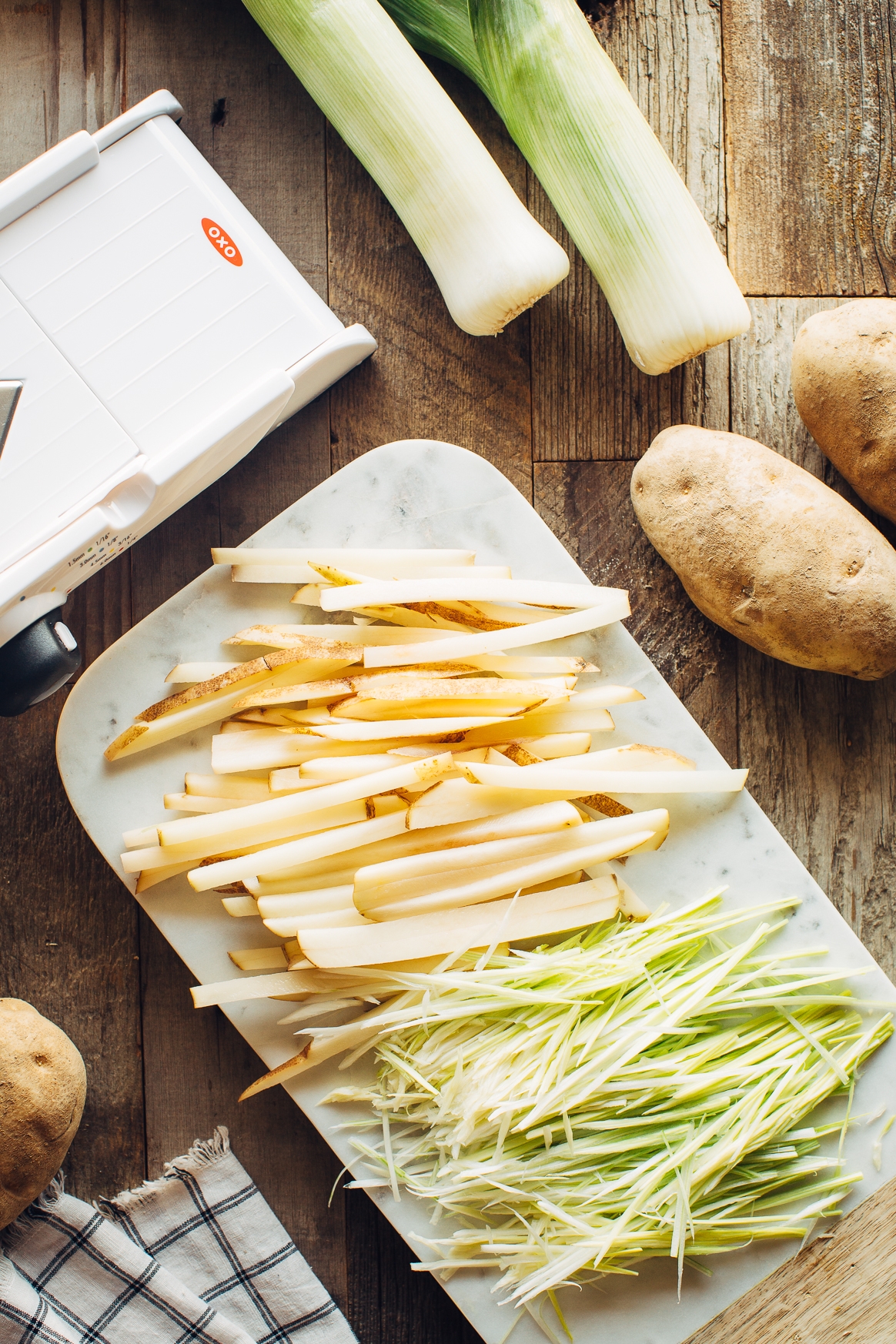 Aside from the truffle aioli, I've added another little special touch to this dish, inspired by a former French restaurant here in San Diego, Cafe Chloe. Frizzled leeks are thinly sliced leeks that have been fried until crispy. These savory whisps add a wonderful golden oniony flavor to the dish. And if you've already got a pot of oil going for the fries, you might as well make a batch of these frizzled leeks too!
One piece of equipment that makes homemade french fries and frizzled leeks a simple task is a mandoline slicer. I've got this one by Oxo (affiliate link), and it slices up the potatoes and leeks in a matter of seconds! Just make sure you use the hand guard to avoid any accidents. These slicers are sharp.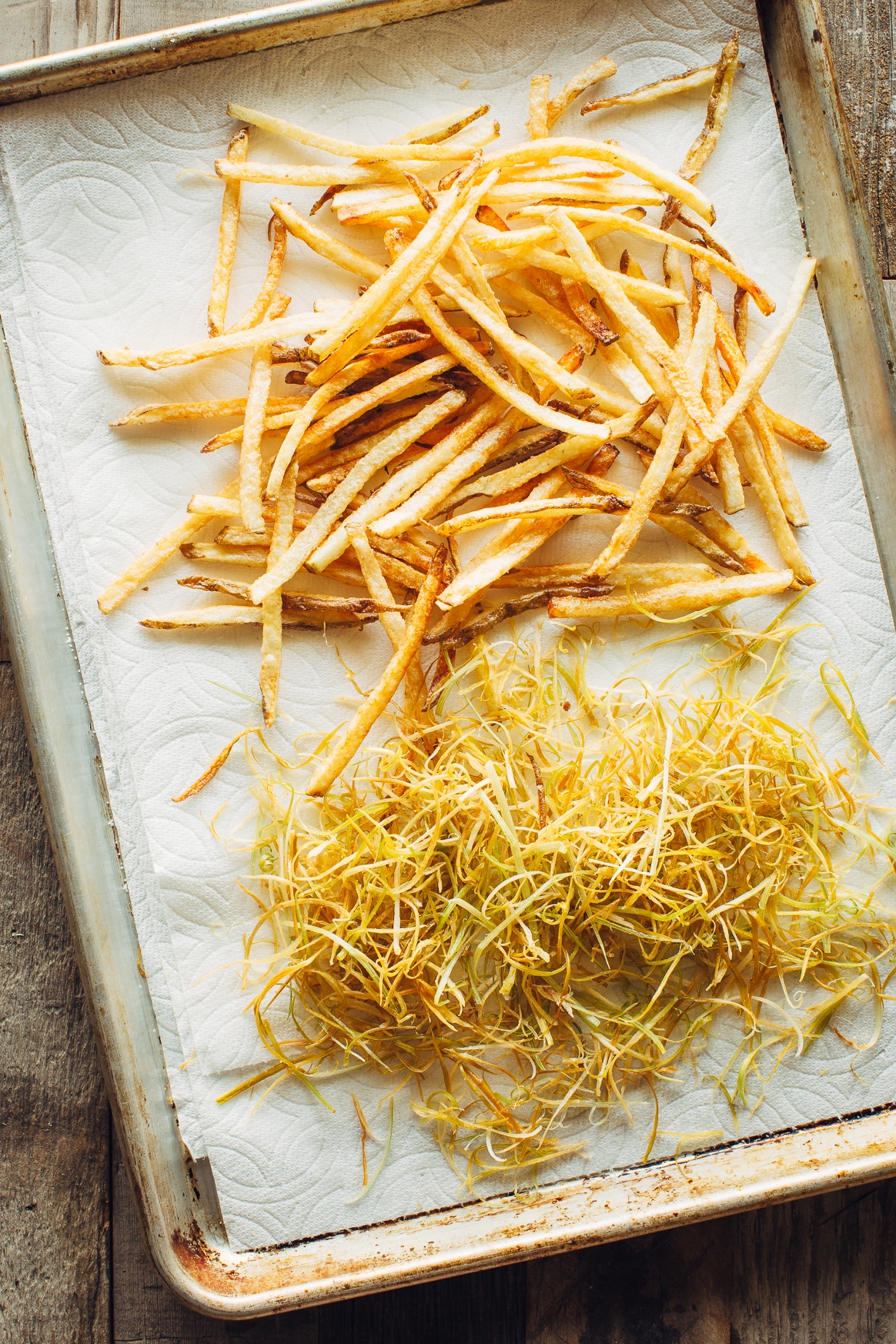 There are many ways you can prepare french fries for this dish, so I would recommend going with whatever method you're comfortable with. Just avoid the oven, since the steaks need to cook in a low oven for about 45 minutes.
I've been loving the cold oil method for cooking french Fries. You place cut potatoes in large pot and cover with oil by about an inch. You then bring the oil to a boil, and cook, without stirring, for 15 minutes. At this point, you can stir and then continue to cook until the fries are crispy and golden (5 to 10 minutes more).
What I love most about this method is that you don't have to cook the fries twice! You also don't have to worry about measuring oil temperature, and it requires minimal attention.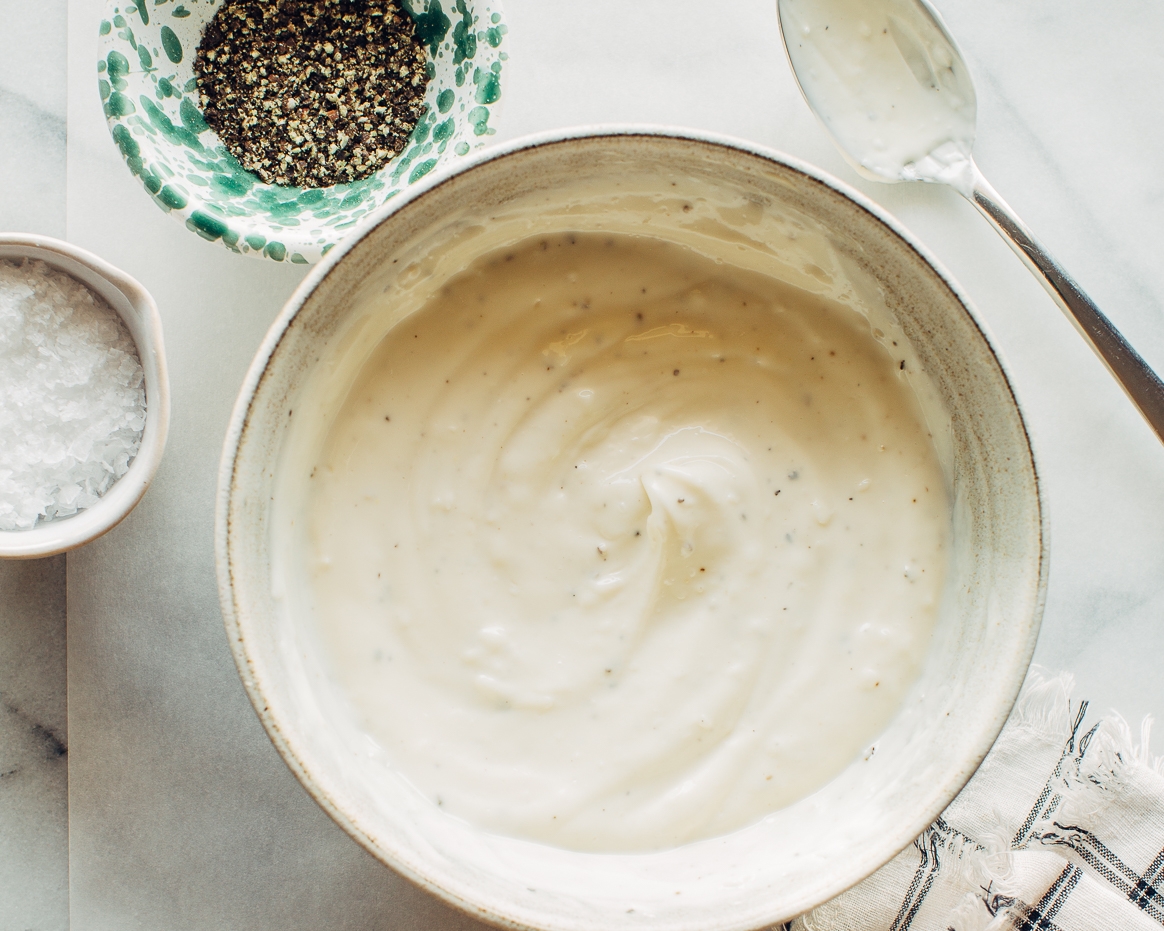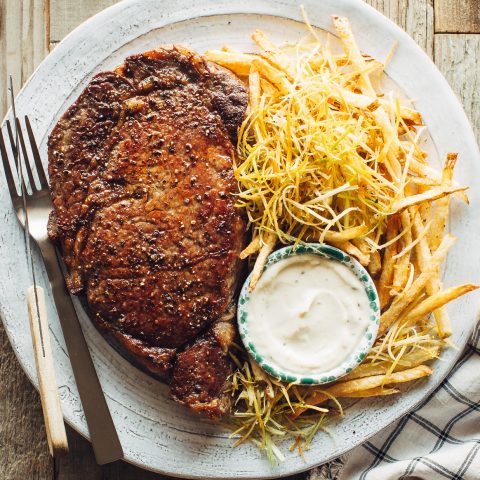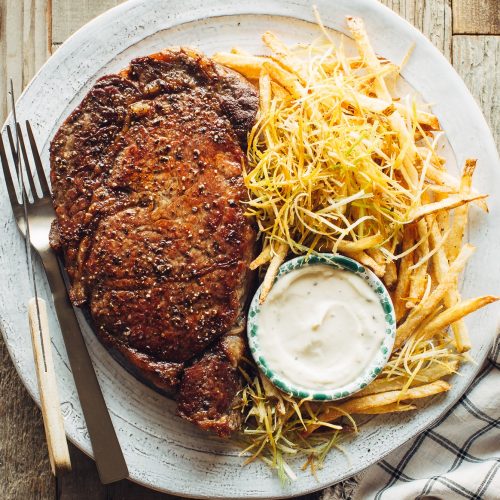 Steak Frites with Truffle Aioli
Fries method adapted from here.
Ingredients
For the steaks:
2

(1 1/2-inch thick) boneless ribeye steaks

Kosher salt

Freshly ground black pepper
For the fried things:
1

pound

russet potatoes, scrubbed

1

leek, white and light green part

Canola oil, for frying

Kosher salt
Instructions
Preheat an oven to 250°F. Season steaks generously with kosher salt and black pepper, then place on a baking sheet fitted with a rack. Roast in the oven until an instant-read thermometer reads 125°F for medium rare (45 – 55 minutes). Let rest for 5 minutes.

Preheat a cast iron skillet over medium-high heat while the steaks rests. The skillet should be smoking hot. Sear the steaks in the hot skillet until deeply golden on both sides (about 45 seconds per side). Let rest for 10 minutes.

Meanwhile, prepare the fries and frizzle leeks. Using a mandoline slicer, carefully cut potatoes into fries and julienne leek lengthwise.

Place fries into a large dutch oven (4 to 5 quart), then cover with oil by about an inch.* Place pot over high heat, bring oil to a boil and cook, without stirring, for 15 minutes. At this point, you can use a slotted spoon to stir the fries and gently release any that may be stuck to the bottom. Continue cooking until the fries are crispy and golden (5 to 10 minutes more). Transfer fries to a paper towel-lined baking sheet and immediately season well with salt.

Carefully drop the sliced leeks into the hot oil, and cook until golden and crispy (2 to 3 minutes). Transfer leeks to the same lined baking sheet and immediately season with salt.

To serve, plate up each steak with a serving of fries and top with frizzle leaks. Serve plenty of truffle aioli on the side for dipping.
Notes
* You can certainly cook french fries using whatever method you are most comfortable with.  Just don't plan on using the oven, because the steaks will be cooking in the oven while you are preparing the fries.  An airfyer would be a great option here!
Tried this recipe?
Tag @brandiego on Instagram so I can check it out!
32