So how's everyone holding up? We're doing pretty well over here, and I hope you are too. I've been baking a lot. Particularly bread baking. This Garden Focaccia recipe is something I've been making on the regular, so I thought I'd share it!
This post may contain affiliate links.
A Garden Focaccia is simply focaccia bread that's been decorated with various different herbs and vegetables. Here, I'm starting with Bon Appetit's Shockingly Easy No-Knead Focaccia (more about this below). After the dough has proofed in the fridge over night, and then for a few hours in the sheet pan, I decorate the top with a mix of kale, Italian parsley and sliced red chiles.
It's during this step that I really like to get creative. First, I figure out if I want the scene to be portrait or landscape. Then, I work from top to bottom, building a wild, natural garden. The focaccia is then finished with olive oil and sea salt, and baked until airy and golden. Each bite is so beautiful and delicious! Continue reading for the recipe.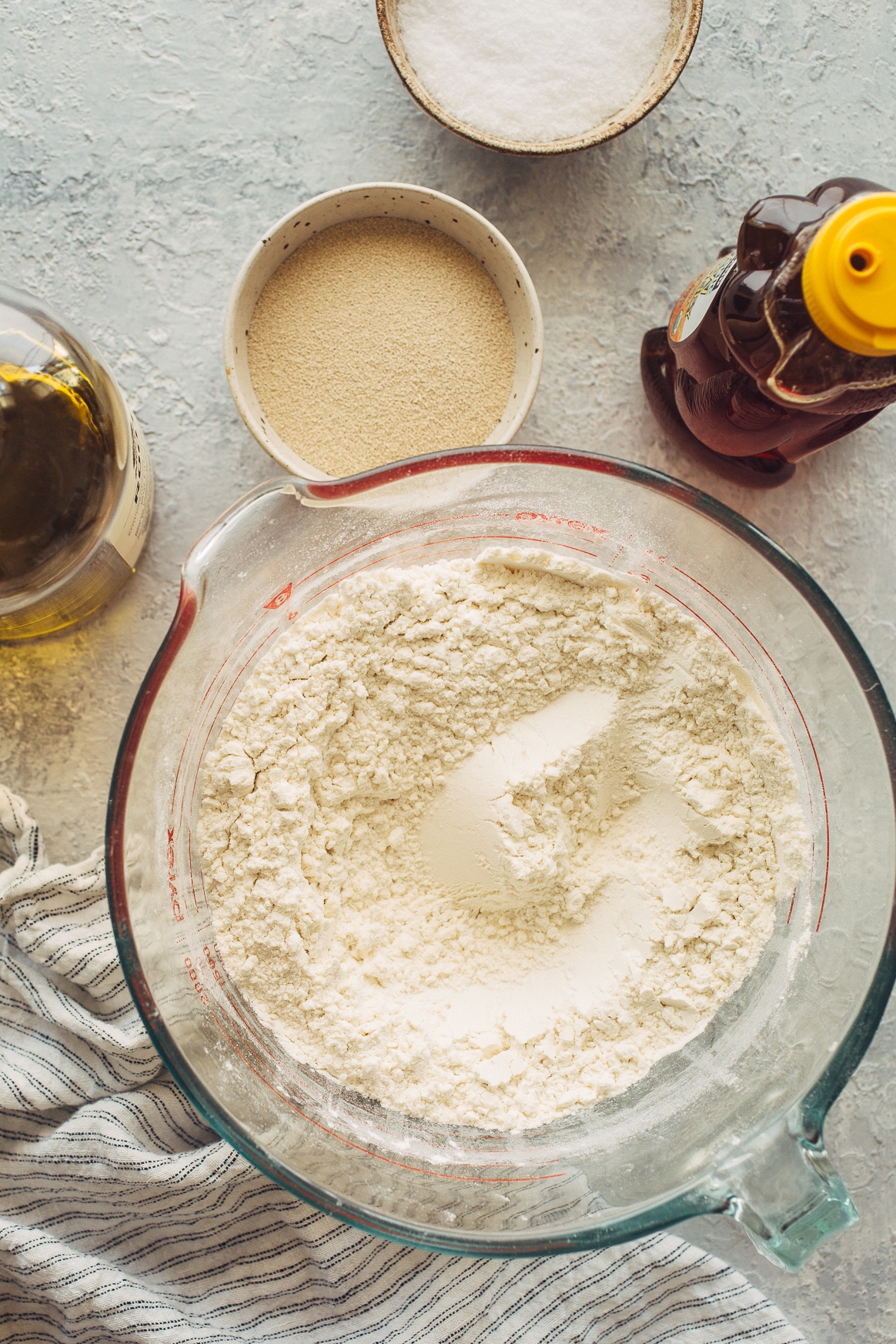 First, let's chat about focaccia. I'm featuring the Bon Appetit focaccia recipe here, because it's a little different than the one I've already got on Kitchen Konfidence. The BA recipe takes about 24 hours to make, and the resulting bread is bubbly and airy. My recipe comes together in a couple of hours, and the finished bread is very delicious, but not as airy as the BA recipe.
Either recipe can be used as the base of this Garden Focaccia, so just pick one depending on how much time you want to dedicate to the project.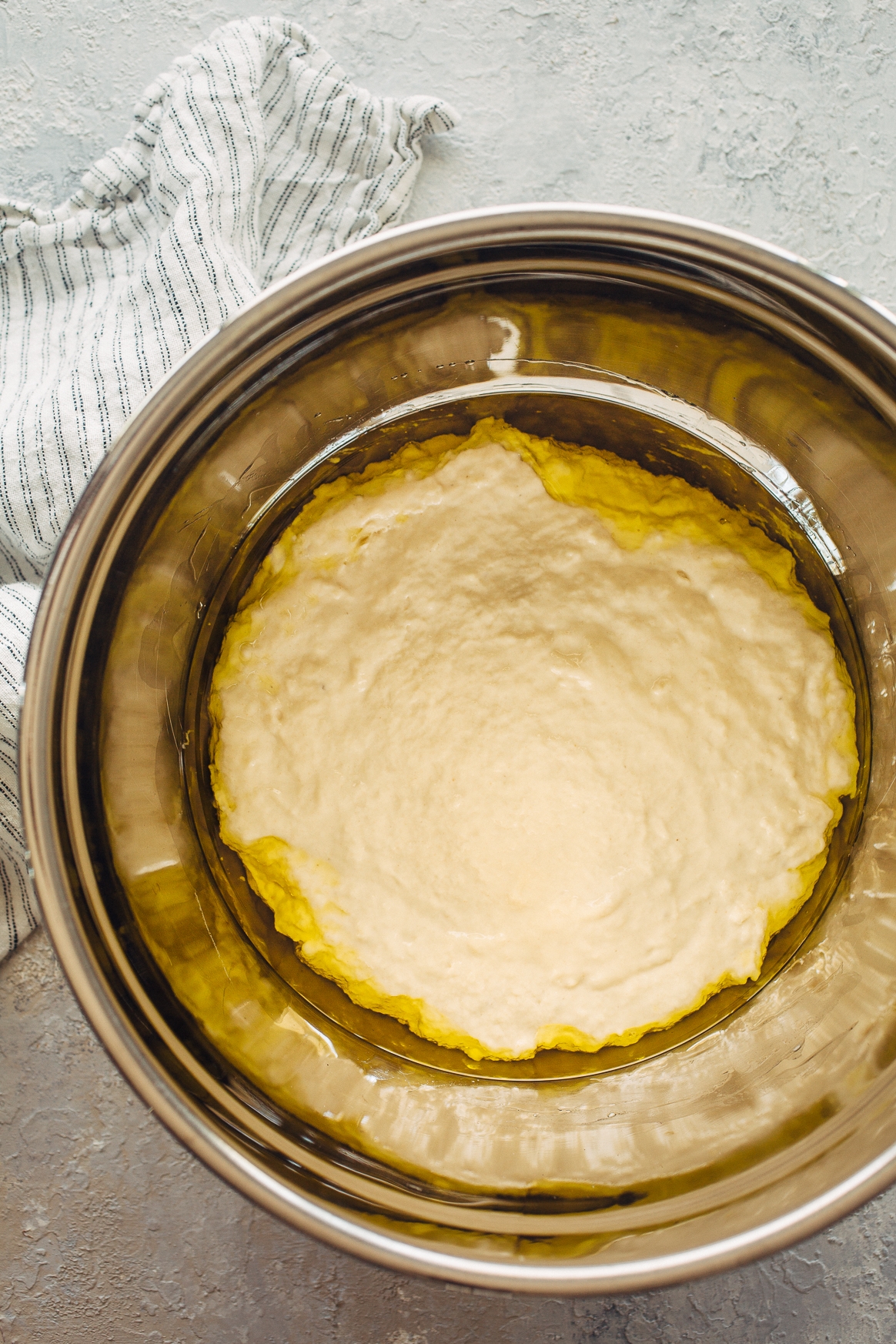 Next, let's talk toppings.
I've topped the focaccia pictured here with some gorgeous farmer's market kale, Italian parsley and sliced fresno chiles. This combination has a number of different colors, flavors, shapes and textures. You could certainly try to recreate this, but I would urge you to use whatever veggies and herbs you have on hand.
If you'd like to start simple, try just using soft herbs like parsley, cilantro, basil, chives or dill. You can use thyme and rosemary, but don't use as much and don't include the stems.
For a more intricate presentation, add any of the following:
Sliced garlic, shallot and/or red onion
Green onion stalks
Halved asparagus
Brussels sprout or kale leaves
Sliced chiles (include the seeds if you want some spicy bites!)
Cauliflower or broccoli in small pieces
Sliced bell peppers
You want to avoid adding vegetables that are very wet (though halved cherry tomatoes can work) or very tough (like potatoes). Also, be sure not to cover the entire focaccia with decorations. The exposed parts of the dough will take on a beautiful golden color and flavor while the parts hidden beneath veggies won't brown. Finally, try to gently press any leaves on the surface of the focaccia, because any bits that are sticking up will burn. A few burned bits are fine, but you don't want too much.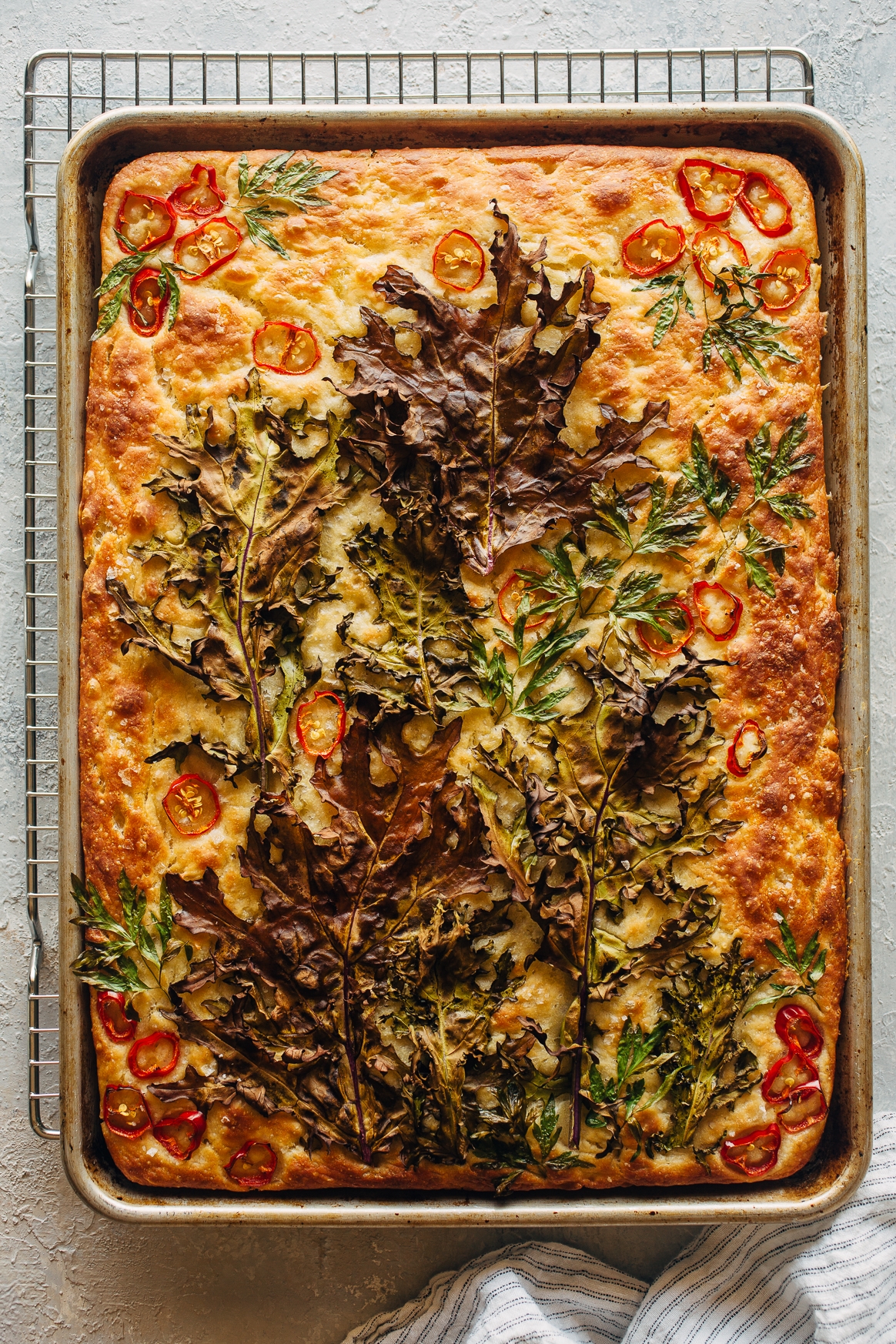 Here's the baked Garden Focaccia, and as you can see, it's not as vibrant as the unbaked version. I like to bake my focaccia until deeply golden, so the veggies and herbs really crisp up. Some people like to under-bake their Garden Focaccia's to keep the colors more vibrant, but I don't think that's a good idea. For me, flavor comes first and then prettiness. And I think it's pretty in its own way 🙂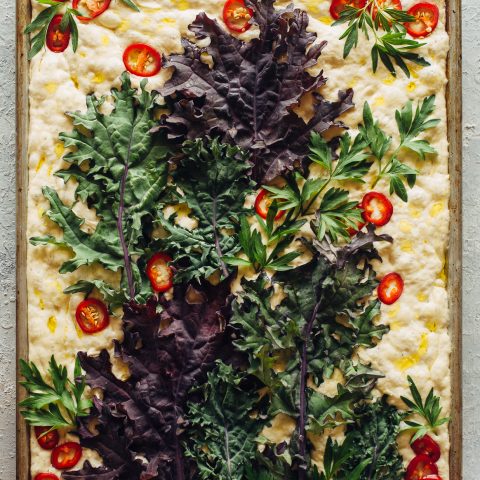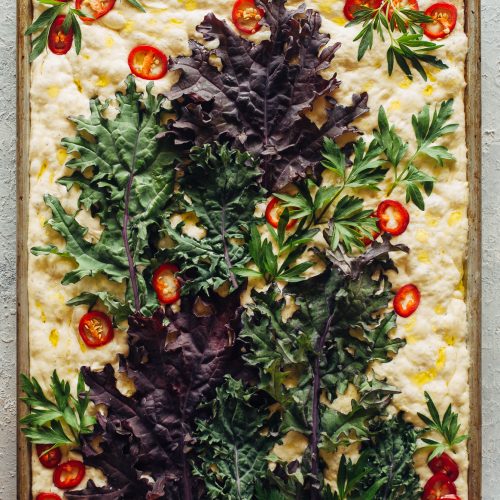 Garden Focaccia
Ingredients
2 1/4

teaspoons

active dry yeast (I used SAF yeast)

2

teaspoons

honey

2 1/2

cups

lukewarm water (between 95°F and 105°F)

5

cups

(625 grams) all purpose flour

5

teaspoons

kosher salt

5 to 6

tablespoons

extra virgin olive oil

Unsalted butter, for greasing the pan

Flaky sea salt, for topping
Garden Toppings: Kale leaves (no thick stems), parsley leaves, sliced fresno chiles
Instructions
Add yeast, honey and water to a medium bowl, whisking to combine. Let sit for 5 minutes. Add flour and salt, then mix using a rubber spatula until a shaggy dough forms. Pour 4 tablespoons olive oil in a large bowl, then scrape the dough into the center of the bowl. Cover and let rest in the fridge for 24 hours.

Generously butter a baking sheet, then brush 1 tablespoon olive oil around the pan. Keeping the dough in the bowl, fold the furthest edge of the dough to the center. Turn the bowl 1/4 and then fold the next edge to the center. Repeat this 2 more times (so 4 folds total). Flip the dough over in the bowl (so the seam side is down), then transfer to the center of the prepared baking sheet (don't stretch it at this point). Pour any excess oil over the dough. Let the dough rise, uncovered, until doubled in size (2 to 3 hours). While the dough is rising a second time, prepare any toppings (cut the kale, pick the parsley leaves, slice the chiles).

Preheat an oven to 450°F and place a rack in the middle setting. Lightly oil your hands and dimple the focaccia all over using your finger tips. If the dough has not expanded to the edges of the baking sheet, coax it to the edges while you are dimpling. Sprinkle the top evenly with sea salt.

To decorate, arrange various veggies and herbs on the surface of the focaccia. Make sure any leaves are sticking to the surface (if not they'll burn). You don't want to cover the entire surface, so make sure you leave some areas blank. Work carefully and quickly while doing this. Drizzle a little olive oil over any of the blank spots (where just the dough is showing).

Bake until the focaccia is puffed and golden (20 – 30 minutes). Transfer to a cooling rack and let sit for 5 minutes. This focaccia is best enjoyed warm on the day you bake it (depending on toppings). Wrap any leftovers in parchment and store at room temperature for up to 3 days. Toppings like kale leaves and herbs will get soft over time, so warm up the focaccia in an oven before serving.
Tried this recipe?
Tag @brandiego on Instagram so I can check it out!
54