I am living for summer fruit desserts right now, because all of the berries and stone fruit I've been finding at the market are just so darn good. One of my favorite classic Kitchen Konfidence recipes is my Peach Brown Butter Buckle. And a new favorite is this vibrant Blueberry Pie!
This post may contain affiliate links.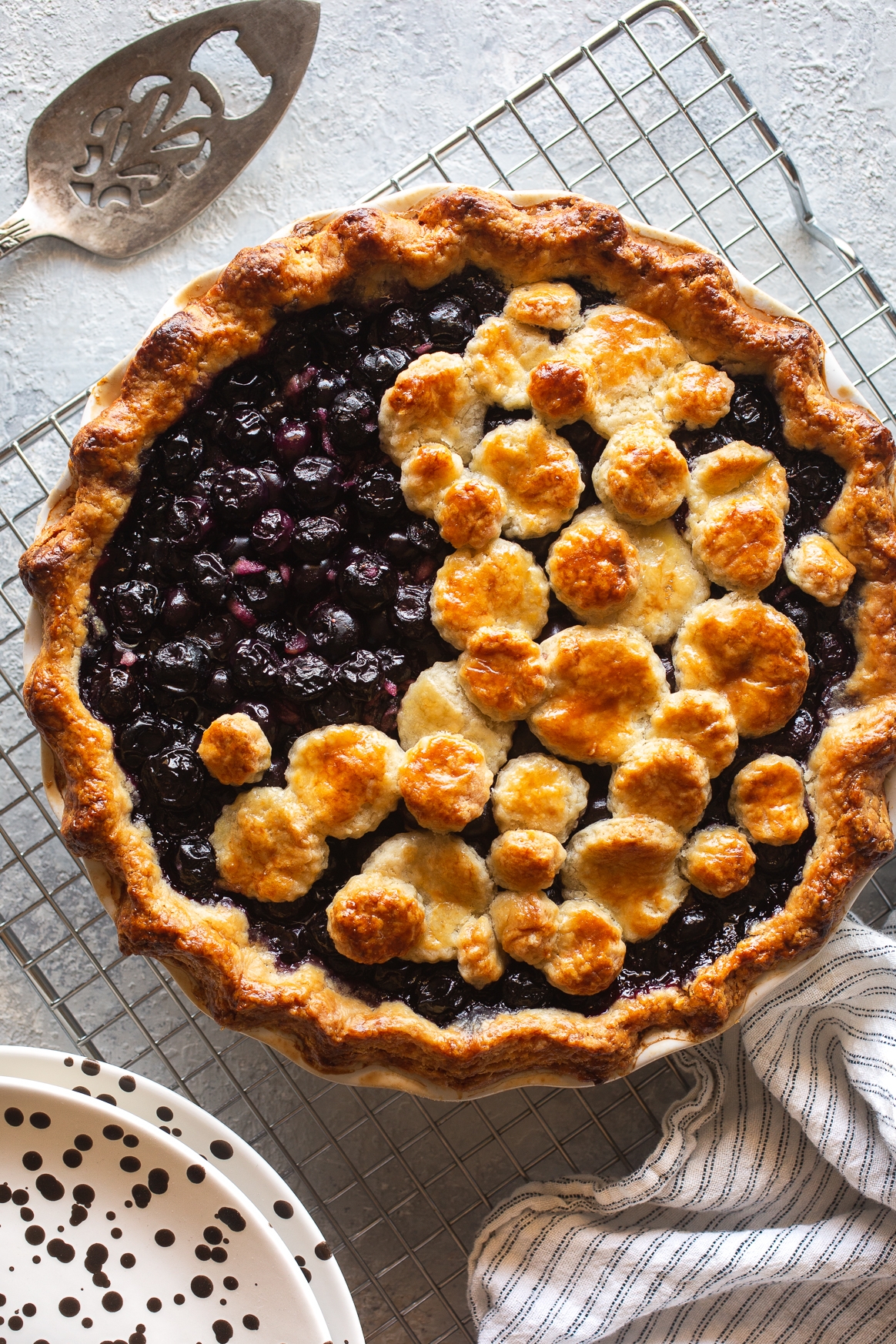 This recipe is adapted from one found in an awesome cookbook, The New Pie. Jorge and I have made a number of pies from the book, including:
Here, I've paired my all-butter, flaky pie crust with their maple-infused blueberry filling. The combination of the two is a juicy slice of summer. I'll take mine with a scoop of vanilla ice cream on top! Continue reading for the recipe.
The key to making a delicious blueberry pie is to start out with tasty blueberries! They're in season right now, so you should be able to find blueberries with a sweet, floral flavor.
Maple syrup, cinnamon, lemon juice and shredded green apple are added to the mix to compliment and amplify the essence of blueberry. I mean this filling is so delish.
One unique aspect of this recipe is that the blueberry filling is cooked sous vide (using an immersion circulator) before being baked in the crust in the oven!
To make a sous vide fruit pie filling, you start by freezing fresh blueberries until solid (a couple of hours). The berries then go into a vacuum sealable bag along with the rest of the flavorings and a thickener. Here, I'm using instant tapioca that's been ground to a fine powder.
The bag is then sealed and cooked sous vide for 1 hour at 150°F. Making the filling this way allows you to cook the berries while keeping their structure intact. They'll lose that raw flavor while still holding their shape. If you look at the photo below, you can see the blueberries are fully cooked, but they haven't turned into jam!
This process also pre-thickens the juices, so the pie will always hold together when it's done baking. No need to worry that the pie is going to fall apart after you pull the first slice out!
Cooking fruit pie filling sous vide may seem a bit fussy, but if you've got an immersion circulator gathering dust in your cabinet, I'd highly recommend you pull it out and give this a try. It really takes a lot of the guesswork out of fruit pie baking.
Blueberry Pie Recipe
Ingredients
1

batch

Flaky Pie Crust

6

cups

(907 grams) blueberries, frozen in an even layer on a baking sheet for at least 2 hours

1

Granny Smith apple

2

heaping tablespoons

(24 grams) finely ground minute tapioca*

1/4

cup + 3 tablespoons

(85 grams) sugar

1/4

cup + 2 teaspoons

(100 grams) maple syrup

1

tablespoon

lemon juice

1

teaspoon

vanilla extract

1/4

teaspoon

ground cinnamon

1/8

teaspoon

fine grain sea salt, plus more for sprinkling

1

egg yolk

1

tablespoon

heavy cream (or whole milk)
Instructions
On a lightly floured work surface, roll out dough to a 15-inch round. Transfer crust to a 9-inch, deep dish pie plate. Trim any excess dough (but save the scraps), then crimp the edges. Transfer to the freezer and let chill while you prepare the rest of the pie (at least 30 minutes). Reroll any scraps and using a fluted cookie cutter (in various sizes), cut out little rounds of pie dough. Place rounds on a parchment-lined baking sheet and transfer to the freezer as well.

Set up a water bath using an immersion circulator with the temperature set to 150°F. Peel and grate apple using the large holes on a box grater, and squeeze out as much liquid as possible. Place frozen blueberries and grated apple in a vacuum sealable bag, tossing with your hand to evenly distribute. Add tapioca, sugar, maple syrup, lemon juice, vanilla, cinnamon and salt to the bag, then gently shake the contents around to mix everything up. Seal the bag, then cook (completely submerged) in the water bath for 1 hour.

Remove the bag from the bath and let cool for 5 minutes before opening. Cut open the bag and pour the filling into the chilled pie crust (it will still be warm). If you see any big pockets of grated apple on top, us a spoon or small spatula to gently mix it around a bit. Decorate the top of the pie with the cutouts. Place the pie back in the freezer and let chill for 30 minutes.

Preheat an oven to 425°F and set an oven rack to the middle position. In a small bow, whisk together egg yolk, cream and a small pinch of salt. Transfer the pie from the freezer to a rimmed baking sheet. Brush the egg wash all over the top surface of the pie crust (sides and all the cutouts). Place the pie in the oven, then immediately turn the heat down to 400°F. Bake until the crust is deeply golden and the filling is just barely bubbling at the edges (55 – 60 minutes). Rotate the pie halfway two times as it cooks.

Transfer the pie to a wire rack and let cool completely before slicing. Serve with vanilla ice cream if that's your thing! Store leftovers covered at room temperature for up to 3 days.
Notes
* I originally tested this recipe with tapioca starch and it didn't thicken properly. Instant tapioca definitely works better! Look for Minute Tapioca at the grocery store and grind it to a fine texture using a coffee/spice grinder or high powered blender. The fine texture will ensure that the tapioca won't be visible in the finished pie.
Tried this recipe?
Tag @brandiego on Instagram so I can check it out!
18