This Instant Pot Carnitas has become a staple at our house, and Jorge gives it the Mexican stamp of approval! It's so delicious and so easy to make in the Instant Pot.
This post may contain affiliate links.
Carnitas is a Mexican braised pork dish where traditionally, the meat is simmered in lard until tender and then deep fried until golden and crispy. Carnitas is typically served in a corn tortilla topped with onion, cilantro and a squeeze of lime.
In this recipe, cubes of fatty pork shoulder are cooked in an Instant Pot along with garlic, jalapeños, cumin, coriander, orange and Mexican oregano. After 45 minutes under high pressure, the pork comes out tender and juicy. You finish the carnitas in a skillet over high heat, cooking undisturbed until the bottom takes on a deep golden crust. Each bite is rich, salty and savory with the flavors of garlic, jalapeño and orange on the forefront. Continue reading for the recipe.
The ingredient list is fairly simple here, but there are a few things to keep in mind. First, make sure you use a fatty cut of pork like pork shoulder, pork butt, or boneless country pork ribs. These cuts of pork will stay tender and juicy even after spending 45 minutes in the Instant Pot. Leaner cuts will definitely dry out.
Next, the spices. This recipe calls for cumin, coriander and oregano. I prefer to buy whole cumin and coriander, and grind them fresh when needed, but feel free to use the pre ground stuff here.
Also, I would highly encourage that you use Mexican oregano for this recipe. It has a very distinct flavor and aroma compared to Greek or Italian oregano. Check out the Mexican section in your local grocery store for Mexican oregano. You can often find little packets of spices there.
With Mexican oregano, you want to rub the leaves between your fingers to crumble them into smaller pieces. I measure first, then crumble.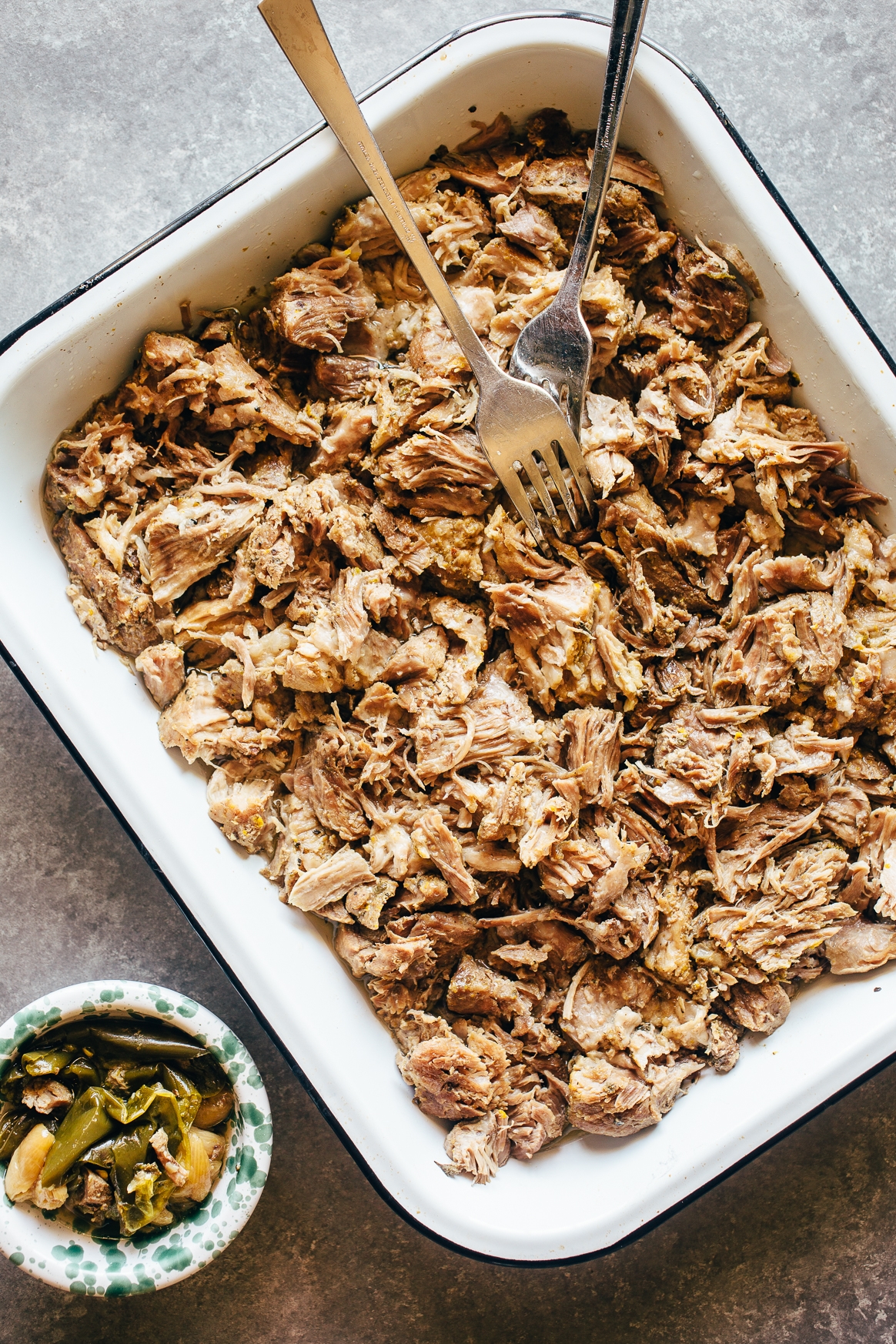 If we've got corn tortillas in the house, we'll make tacos with this pork Carnitas. Some simple toppings include chopped onion, cilantro, lime, salsa and pickled red onions. This Carnitas is also delicious scattered over nachos or rolled into a burrito.
We also love to make pork bowls for lunch, pairing the Carnitas with rice, black beans and sliced avocado. Sometimes we'll take it in more of an Asian direction, and serve it with rice and sriracha or chili crisp. It's a very versatile protein!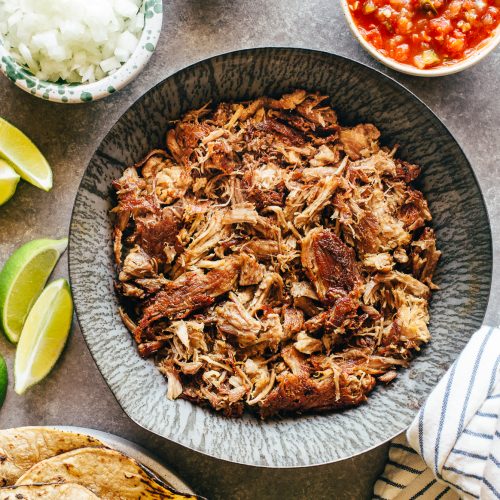 Instant Pot Carnitas Recipe
Ingredients
2

teaspoons

kosher salt (I used Mortons here), plus more to taste

1 1/2

teaspoons

dried Mexican oregano, rubbed between your fingers to break into smaller bits

1 1/2

teaspoons

ground coriander

1 1/2

teaspoons

ground cumin

1 1/2

teaspoons

freshly ground black pepper

4 1/2

pounds

boneless pork shoulder, cut into 2" pieces

3

jalapeños, halved lengthwise

6

garlic cloves, peeled but left whole

Zest of 1 orange

Juice of 1 orange
Instructions
Add salt, oregano, coriander and cumin to a small bowl, stirring to combine.

Place about half of the pork in the bottom of an Instant Pot and season each piece with the spice mixture. Scatter half of the jalapeños, garlic cloves and orange zest on top. Top with remaining pork, then season those pieces with the remaining spice mixture (you'll use all of it). Top with remaining jalapeños, garlic cloves and orange zest. Pour orange juice down the side of the Instant Pot, so it reaches the bottom of the pot without disturbing all the spices.

Seal the lid and cook on high pressure for 45 minutes. Release the pressure manually, and using a slotted spoon, transfer pork to a large container. Shred meat using two forks, then season to taste with salt. Transfer cooking liquid to a fat separator, then pour some of the liquid back over the meat. You want to moisten the meat, but it shouldn't be covered or drowning in the liquids.

Working in batches, transfer the carnitas to large nonstick skillet set over high heat*. Cook, undisturbed until the bottom develops a golden crust (5 to 7 minutes). I like to brown just 1 side, so you get that golden flavor without drying the pork out too much. At this point, the carnitas is ready for tacos, nachos, burritos or bowls.
Notes
* If you're not planning on serving all of the carnitas in 1 meal, then I would recommend only cooking portions of the carnitas in the skillet as needed.  The carnitas is best when browned in the skillet fresh.  Store any leftover carnitas covered in the fridge.
Tried this recipe?
Tag @brandiego on Instagram so I can check it out!
25