Since we've been cooking at home a lot this year, I've really been trying to switch up flavor profiles to keep things interesting. So when an Indian food craving strikes, this easy Instant Pot Chicken Curry really hits the spot.
This post may contain affiliate links.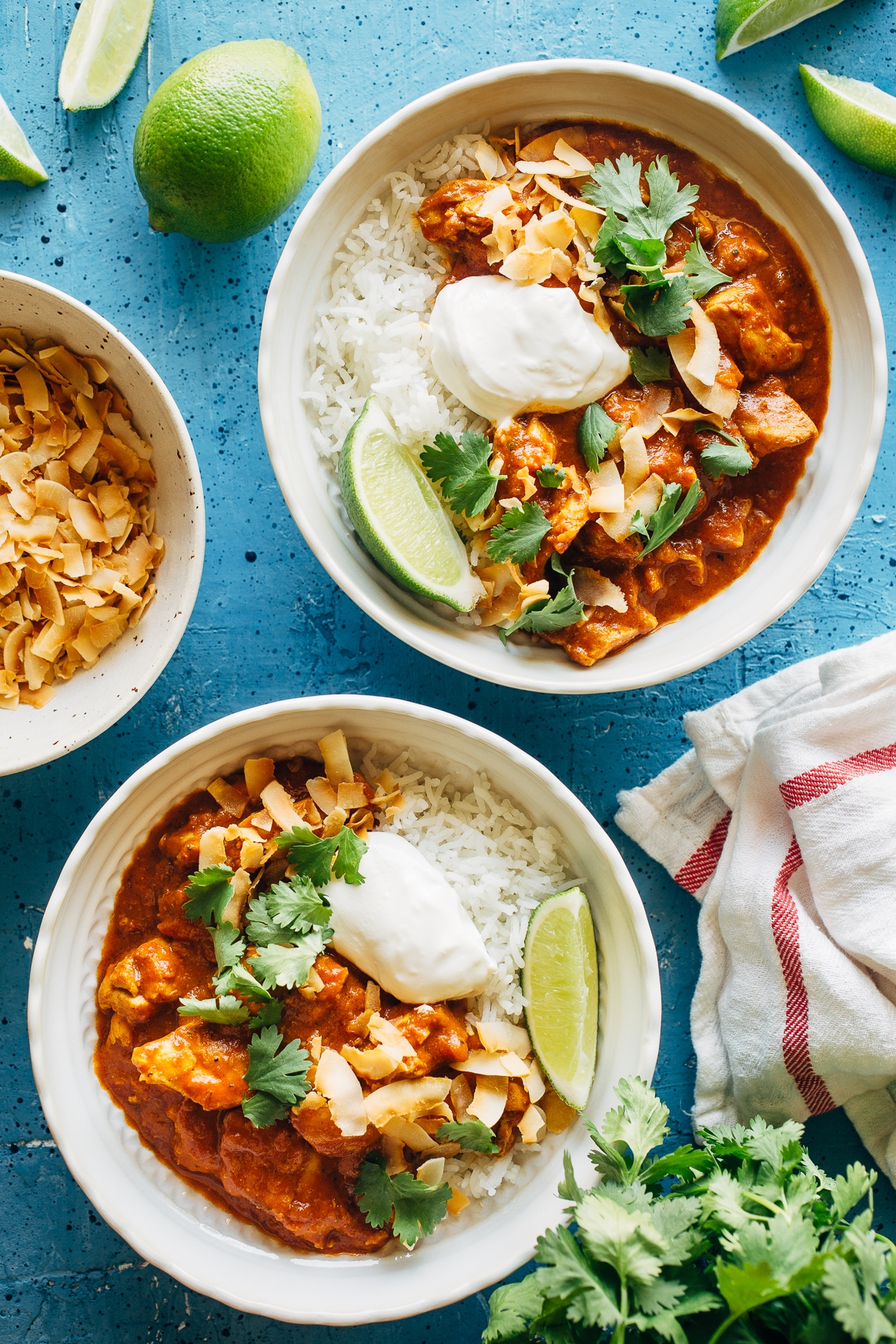 Indian cuisine is not something that I cook often, but love to eat. We're barely dining out these days, so to get my Indian fix, I've started working some Indian flavors into my home cooking!
This chicken curry, prepared in an Instant Pot (or similar device), has a tomato and coconut based sauce infused with a heady mix of dried spices. The curry cooks for just 4 minutes on low pressure, resulting in tender pieces of chicken thigh enrobed in a savory, complex sauce. It's so satisfying. Continue reading for the recipe.
How to Make Chicken Curry in an Instant Pot?
To make chicken curry in an Instant Pot, you start by cooking a chopped onion in butter and coconut oil until tender and golden. Then, you stir in garlic and ginger, and cook until fragrant.
Next, you add a potent blend of ground spices to the pot, including coriander, cumin, cardamom, turmeric, cinnamon and red chile flakes. Finally, pieces of chicken thighs are adding to the pot along with a can of crushed tomato.
At this point, you seal the Instant Pot and cook the chicken on low pressure for just 4 minutes. Let the pressure release naturally (up to 10 minutes), then finish the curry with coconut milk and garam masala. I like to let the curry sit on warm for an additional 20 minutes to let the flavors mix and mingle some more.
Once you're ready to serve, scoop the curry into a bowl with cooked basmati and top with yogurt, cilantro, toasted coconut and a squeeze of lime!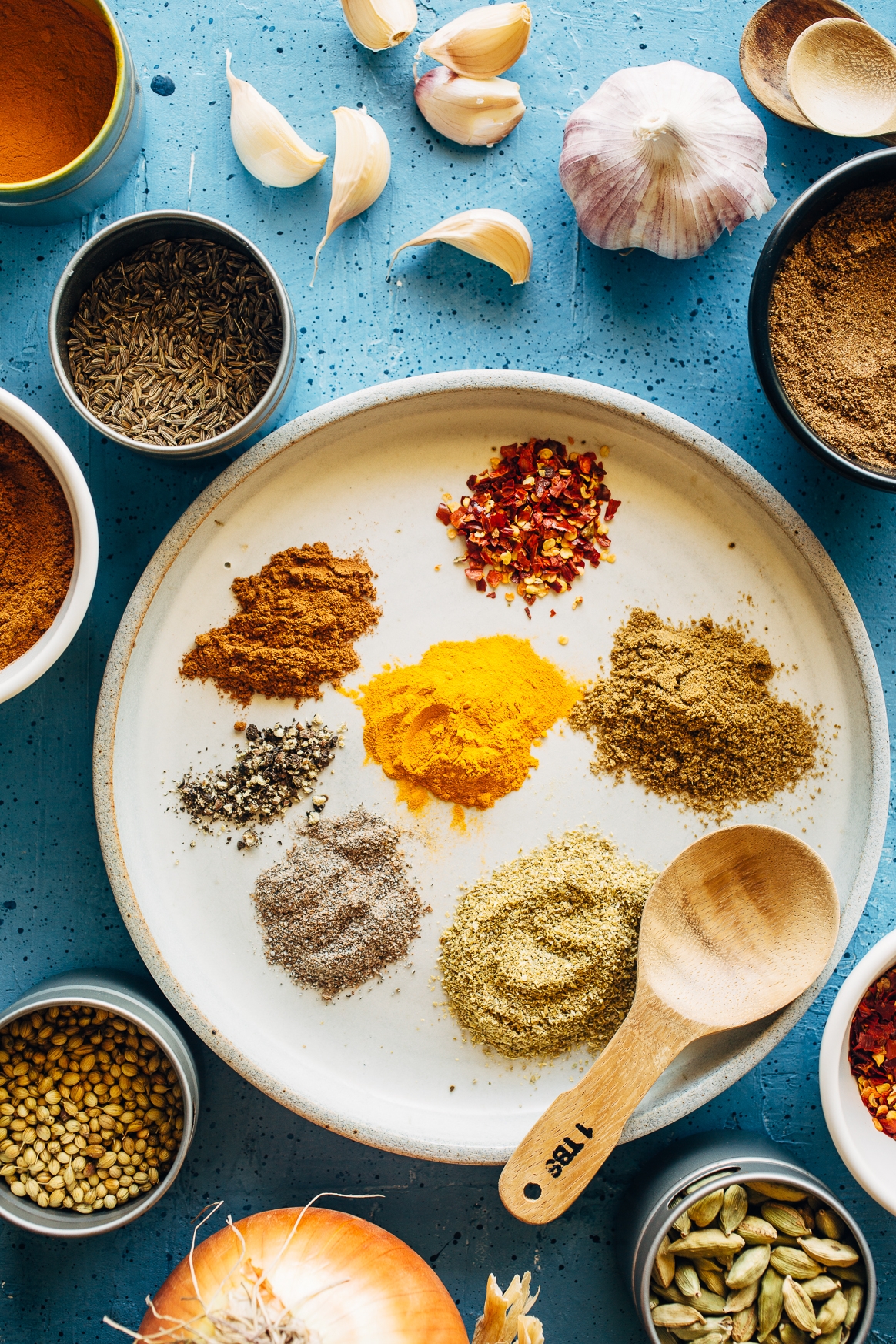 How to Fry Spices for Curry?
Let's chat spices for a bit. There are a total of eight spices needed for this curry, and you've probably got most of them in your pantry already.
Personally, I prefer to start with as many whole spices as possible and grind them fresh. I did that here with the cumin, coriander, cardamom and black pepper. But only do this if you've got the time and energy. If not, pre ground spices are totally fine.
The important step in this recipe when it comes to spices is to stir them into the hot oil along with the onion, garlic and ginger. Frying the spices in the oil like this helps to unlock their flavor. This is especially important if you've got pre ground spices.
You want to cook them in the oil until they become fragrant, stirring to make sure they don't burn (1 to 2 minutes). It's a simple step that really amps up flavors.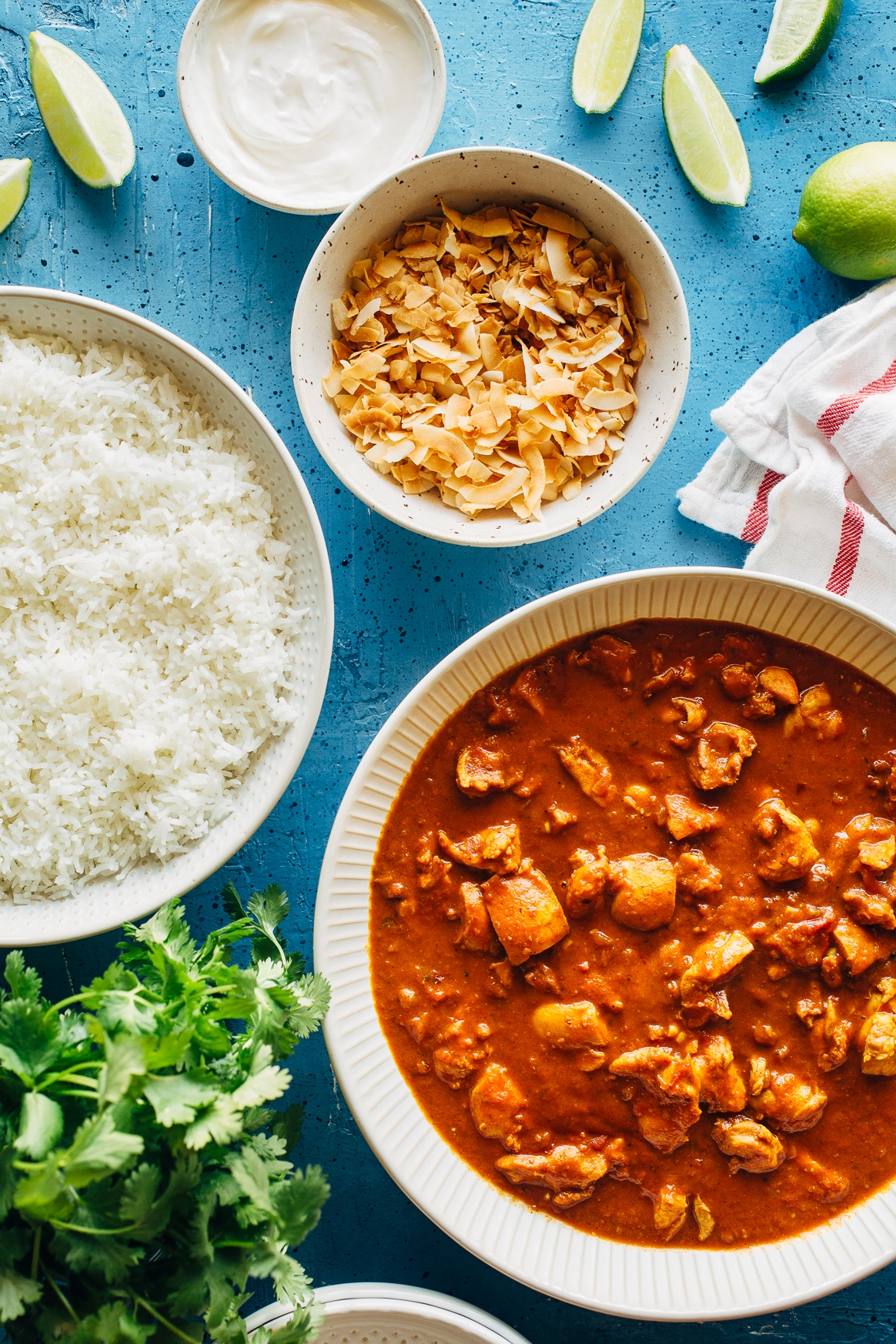 You could certainly enjoy this chicken curry with just a bowl of fluffy basmati rice, but I really do love adding some fun toppings. A dollop of yogurt (or labneh) will add a cooling tanginess to the dish while chopped cilantro leaves provide some freshness. I also like to sprinkle some toasted unsweetened coconut flakes on top for crunch (toasted cashews or almonds would be nice too).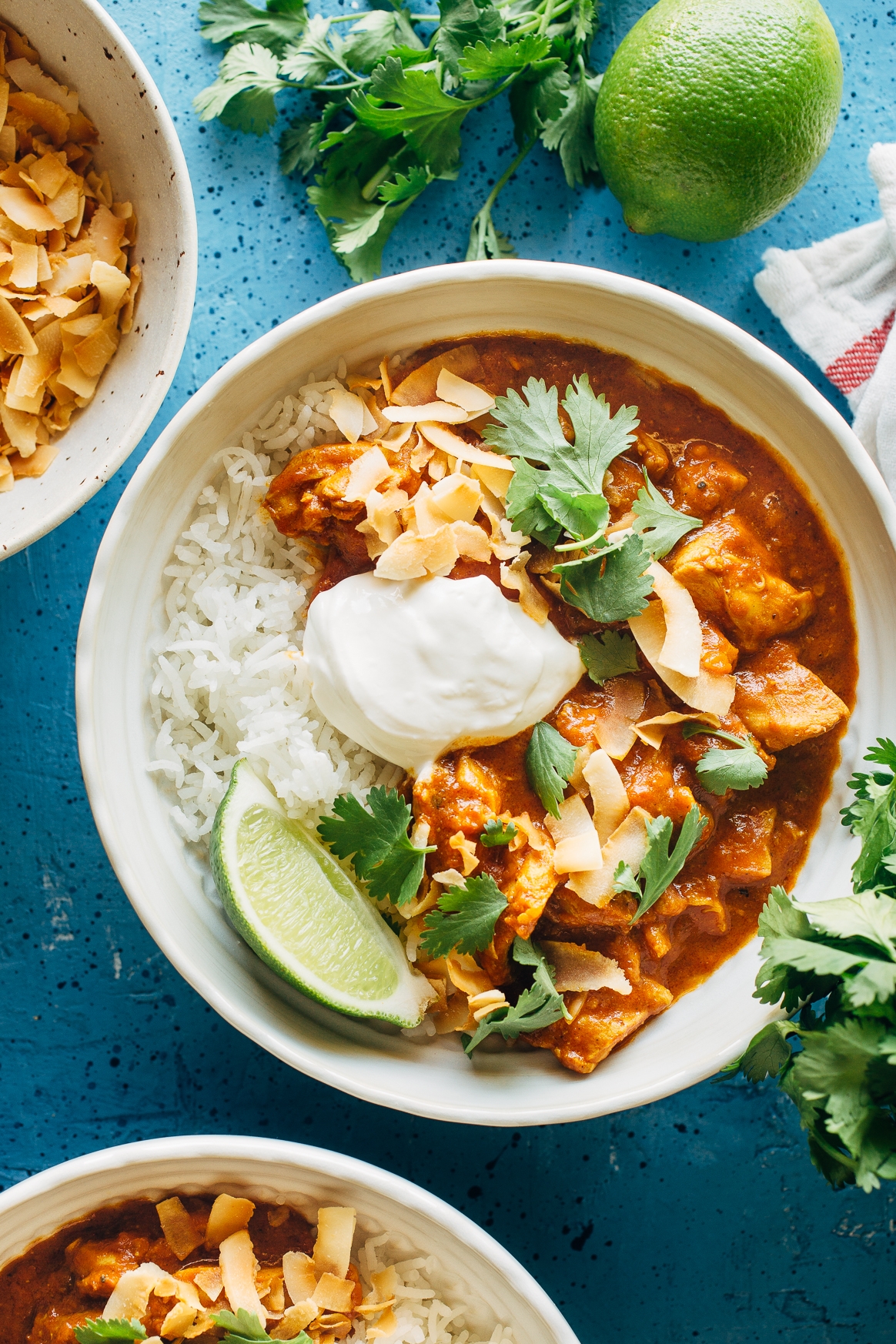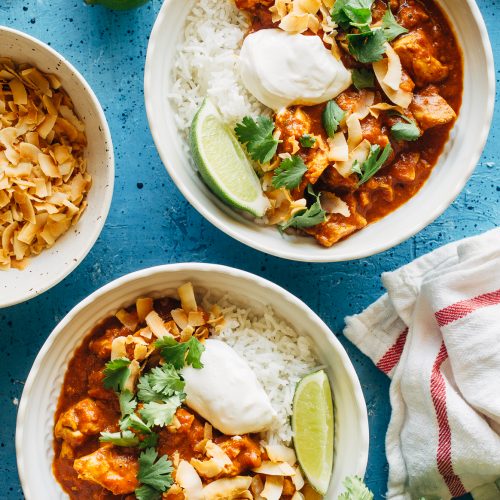 Instant Pot Chicken Curry
Ingredients
3

tablespoons

unsalted butter

3

tablespoons

coconut oil

1

large onion, finely chopped

6

garlic cloves, finely chopped

2

tablespoons

grated peeled ginger

2

teaspoons

ground coriander

1 1/2

teaspoons

ground cumin

1

teaspoon

ground cardamom

1

teaspoon

ground turmeric

1/2

teaspoon

ground cinnamon

1/2

teaspoons

red chile flakes

1

can

(28-ounces) crushed tomato

3

pounds

boneless skinless chicken thighs, cut into 1-inch pieces

1

tablespoon

kosher salt

1/4

teaspoon

black pepper

1/2

cup

canned coconut milk

2

teaspoons

garam masala
For serving: basmati rice, chopped cilantro, yogurt, toasted coconut flakes, lime wedges
Instructions
Using the saute function, warm butter and coconut oil on high in an Instant Pot. When it's hot, stir in onion and cook, stirring occasionally, until tender and slightly golden (12 to 15 minutes). Stir in garlic and ginger and cook for 2 minutes, then add coriander, cumin, cardamom, turmeric, cinnamon and red chile flakes. Cook spices, stirring frequently, until aromatic (1 to 2 minutes).

Add crushed tomato, chicken, salt and pepper to the Instant Pot, stirring to combine. Cover and cook on low* pressure for 4 minutes. Allow the pressure to release naturally (up to 10 minutes), then keep the pot on warm. Stir in the coconut milk and garam masala, and let the curry sit for 20 minutes before serving. Season to taste with salt.

To serve, ladle curry into a bowl over rice, then top with yogurt, cilantro, toasted coconut flakes and a squeeze of lime.
Notes
* Instant Pot recipes usually call for cooking on high pressure, so make sure you switch from high to low before setting the time.
Tried this recipe?
Tag @brandiego on Instagram so I can check it out!
30