Is it an elegant Mediterranean sauce, a trendy burger topping or just flavored mayo? Mayo's fancier cousin perhaps? I like to think it's all of the above! More about this below plus a series of my favorite aioli recipes.
This post may contain affiliate links.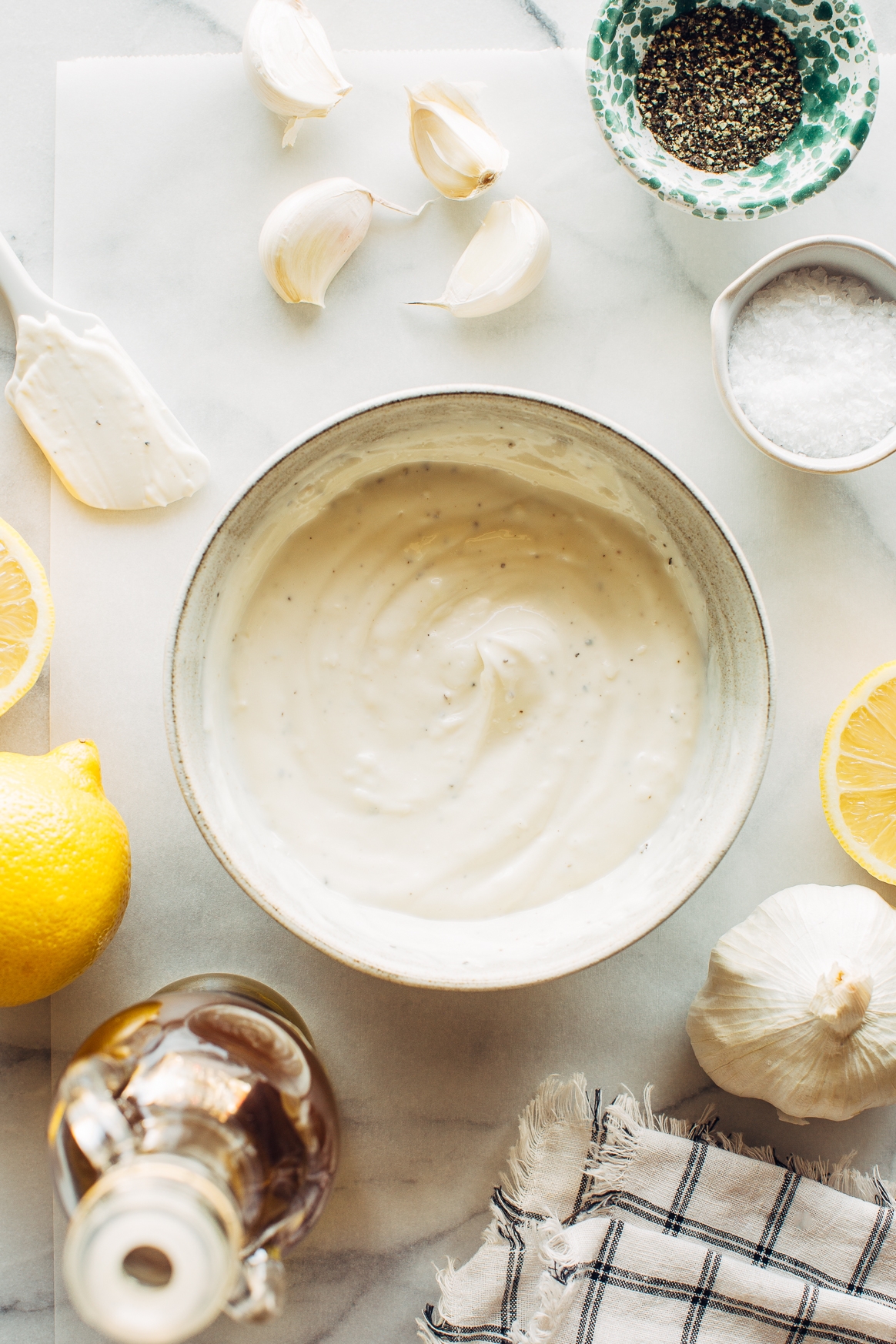 I've been posting a number of aioli recipes over the past year, so I thought I'd share this little article to tie everything together! First, let's get into aioli's backstory.
Aioli comes from Mediterranean regions of Europe with Spain, France and Italy all having their own versions of aioli. In Spain, aioli is typically an emulsion of pounded garlic, salt and olive oil. You take a bunch of garlic and pound it into a paste with salt using a mortar and pestle. Then you slowly mix in olive oil until you've got a fluffy, garlicky sauce.
In other Mediterranean regions, eggs, lemon and mustard can also be added to aioli, making it more similar to mayonnaise. In America, aioli is considered to be just mayo that's been flavored with garlic (and/or plenty of other ingredients).
So as you can see, aioli can be a number of different things. In most cases, it's just garlic-flavored mayo. Here, I'll be focusing on the American version, because I find it to be very delicious and easy to prepare. Continue reading for more info!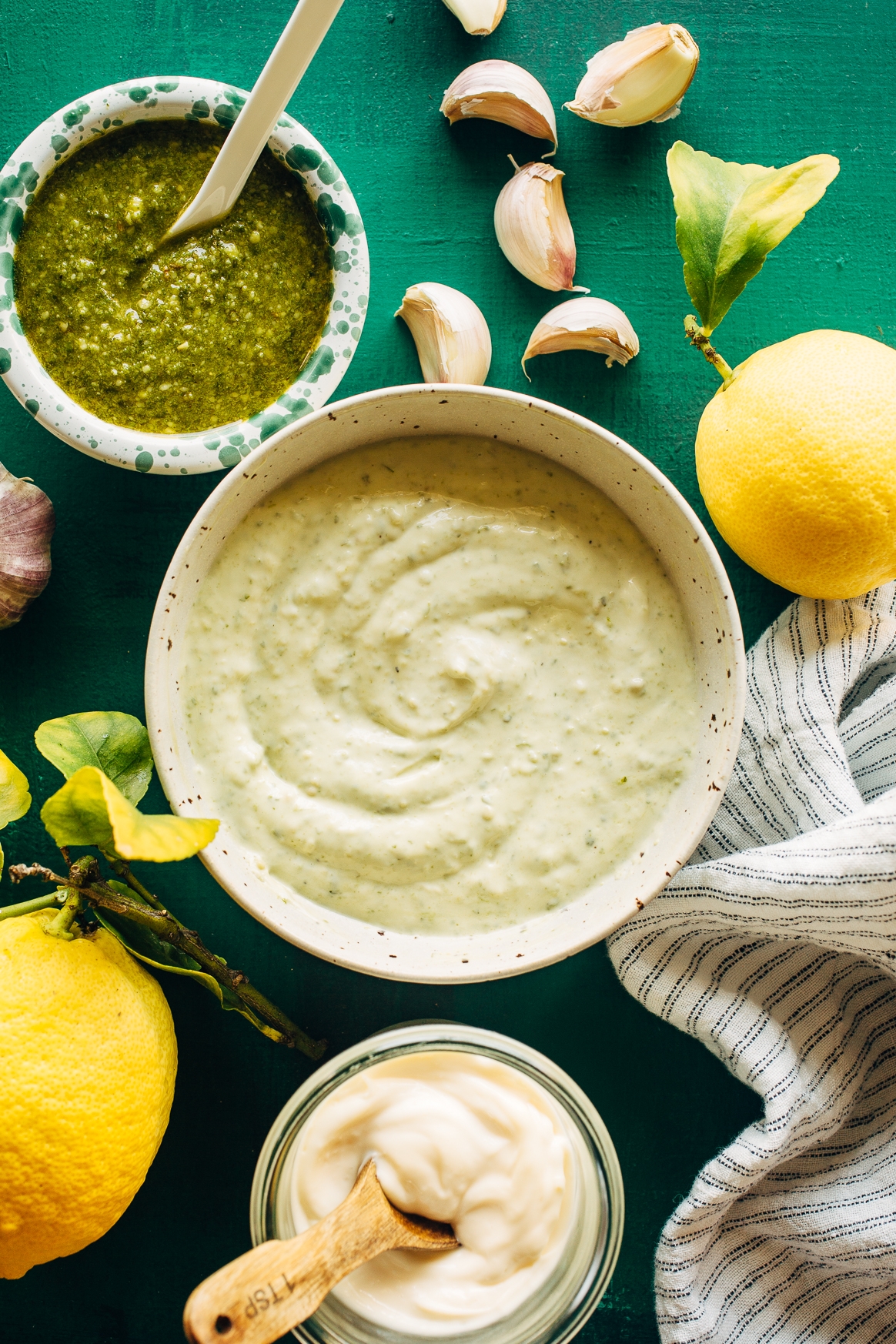 What is garlic aioli?
So let's start with the basics. Garlic Aioli is a sauce made with mayonnaise, garlic, and salt. You add 1 cup of mayo to a small bowl, then stir in grated garlic and salt to taste. I would recommend starting with 2 garlic cloves, and then add more if you are a garlic fan.
You can use either store bought mayo or something homemade. Given that there are just 3 ingredients here, I'd recommend using the best ingredients possible. Make sure it's a delicious mayo (I like Best Foods Mayo), fresh garlic (not jarred or dried) and good kosher or sea salt. For all of my aioli recipes, I like to finely grate the garlic on a microplane. This allows you to make a "paste" without having to pull out the mortar and pestle!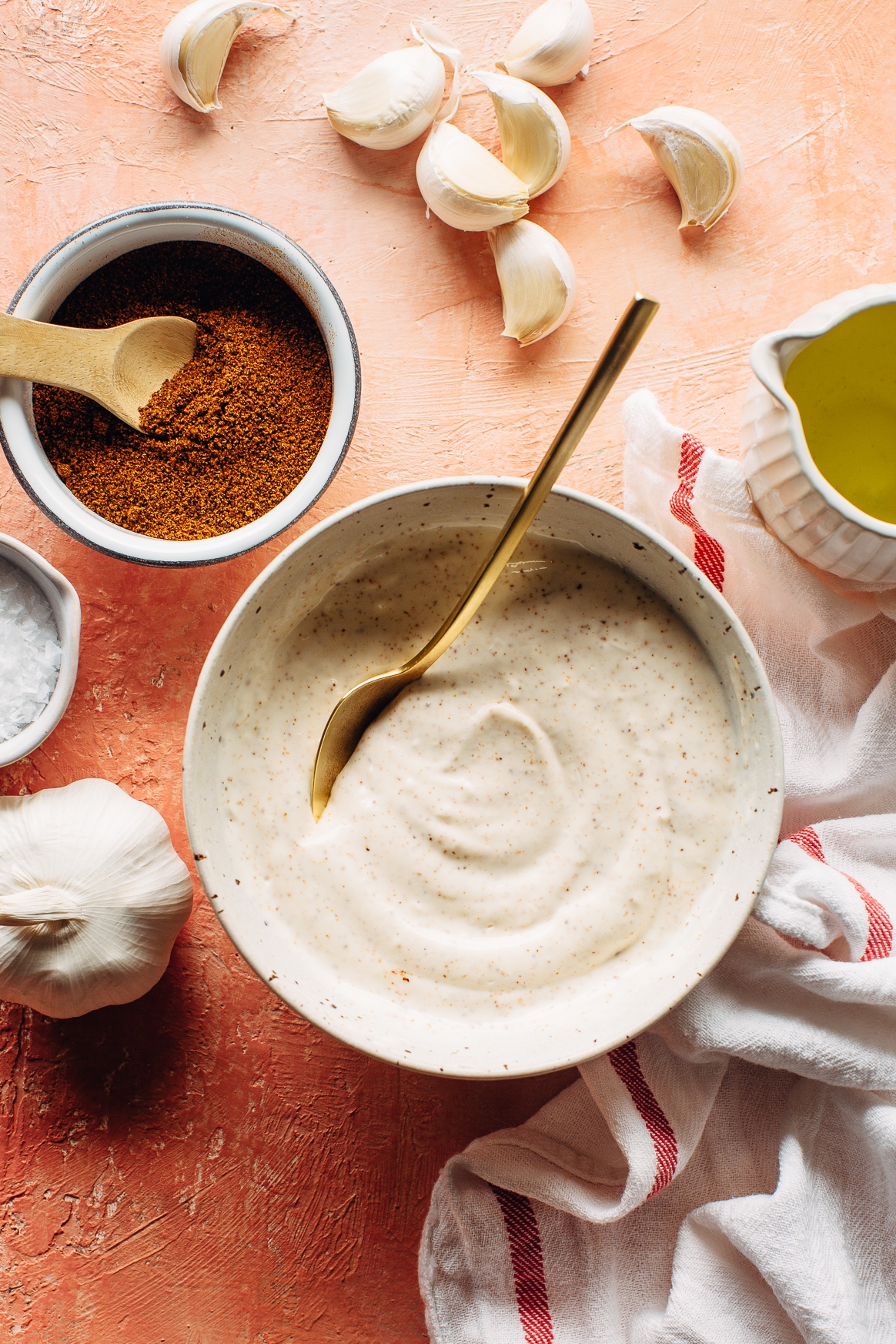 What is the difference between mayo and aioli?
The short answer is: garlic. Both mayo and aioli are emulsified sauces, but aioli is flavored with garlic.
But wait… what is an emulsion? An emulsion is when you mix two ingredients that don't normally want to be mixed together. Usually this refers to mixing oil with an ingredient that's water-based. To achieve an emulsion, you need to break the oil up into tiny little droplets as you are mixing. This is why you slowly whisk in oil while you are making mayonnaise or aioli from scratch.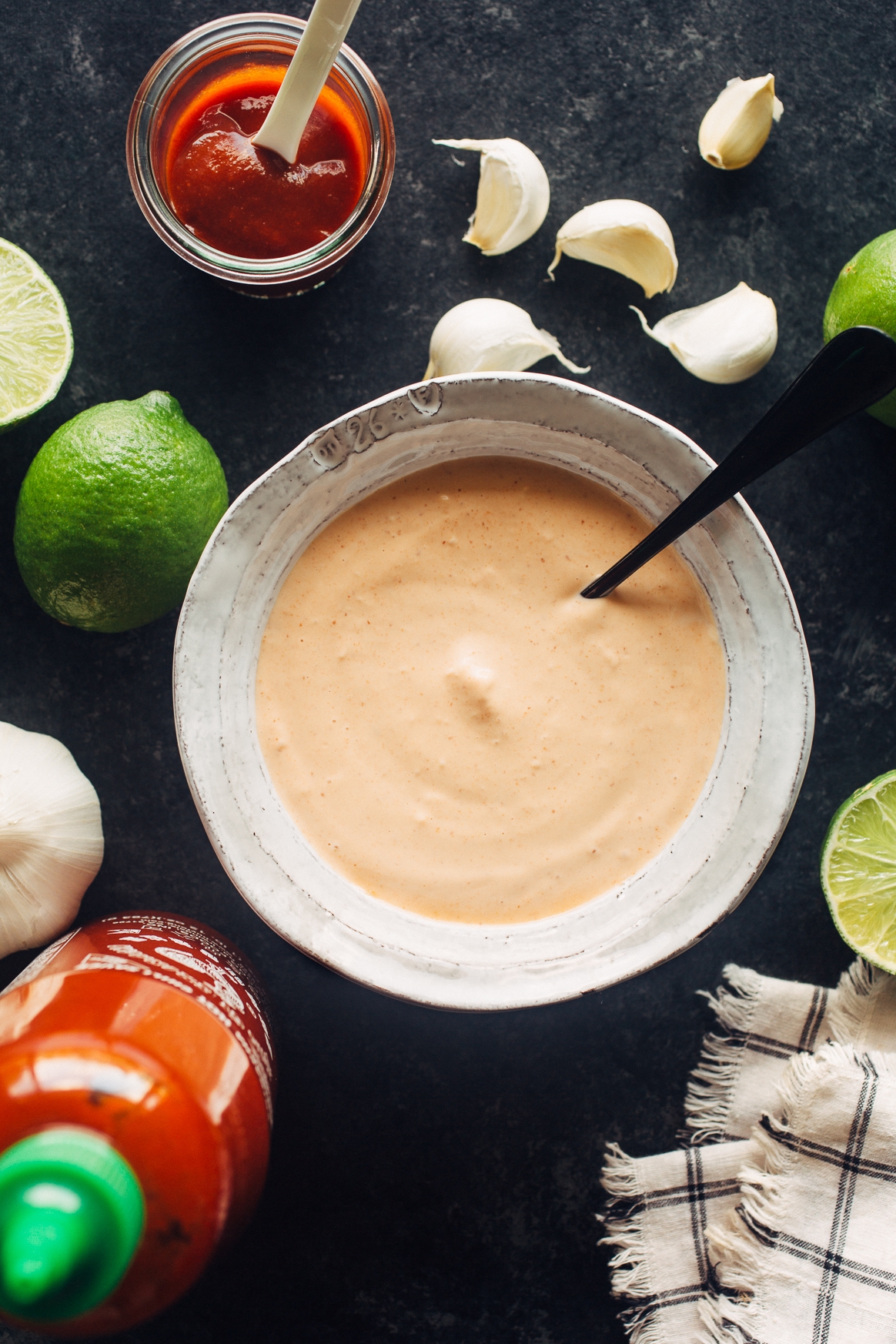 What is aioli used for?
I'm sure you've seen aioli on plenty of menus when dining out, because it's a versatile sauce that pairs with many different dishes. Here are some examples of how you can use aioli:
Spread it on any sandwich.
Slather it on a burger.
Serve with with roast chicken or a seared steak.
Use it as a dipping sauce for fries or fried foods.
Drizzle it on tacos, nachos or on various bowls (grain bowls, rice bowls, poke bowls).
Aioli is often presented as a fancy or trendy ingredient, but as you can see, it's just flavored mayo! It's a casual sauce that easy to prepare and delicious with almost anything.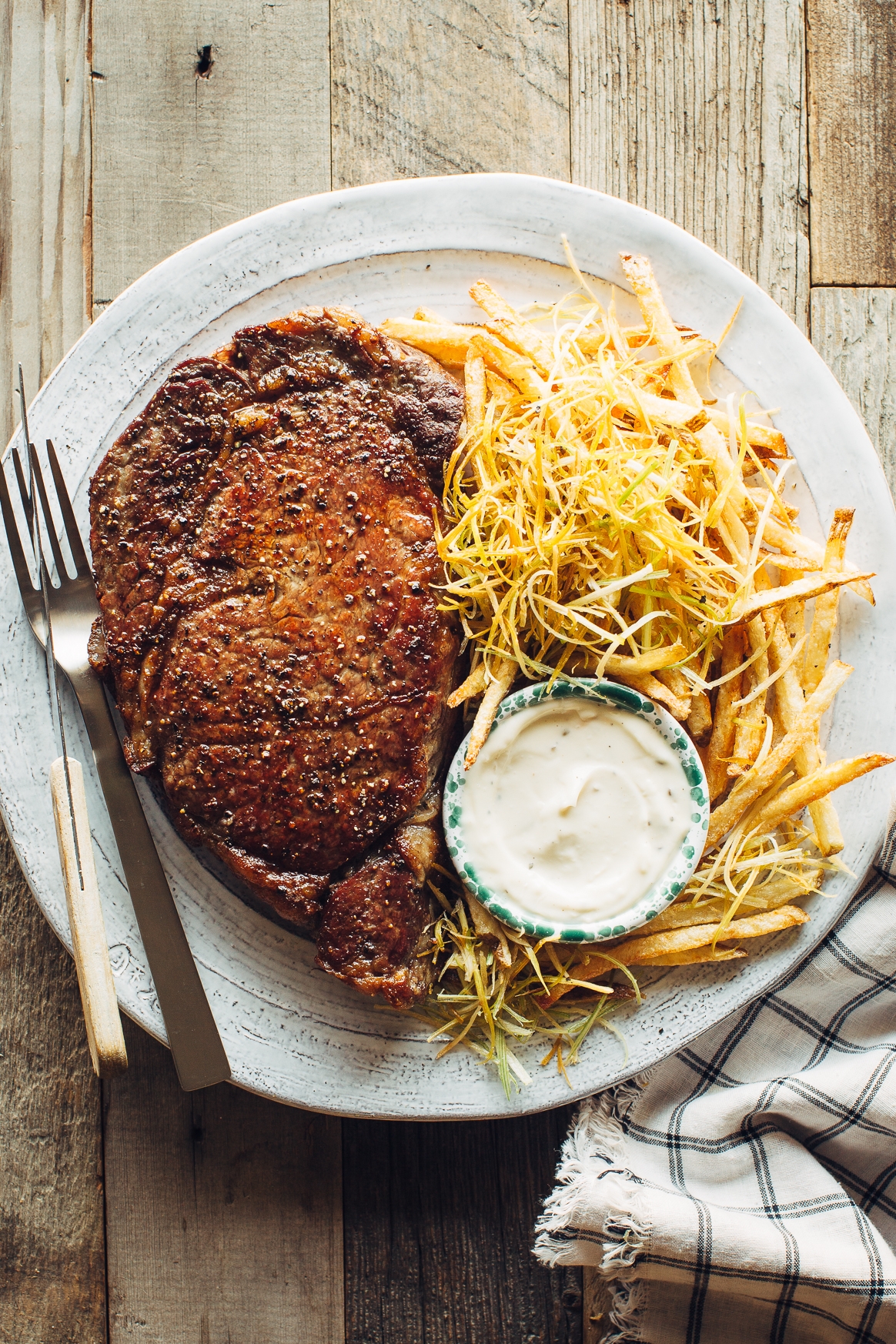 My Favorite Aioli Recipes
Here are my favorite aioli recipes all on Kitchen Konfidence:
The base of each of these recipes is store-bought mayo, but if you'd prefer to use homemade mayo instead, try this recipe for Homemade Olive Oil Mayonnaise.
So, are you an aioli fan? If so, please let me know in the comments below! Also, did I leave off any valuable aioli info here? If I did, send me a note and I can add it to the article.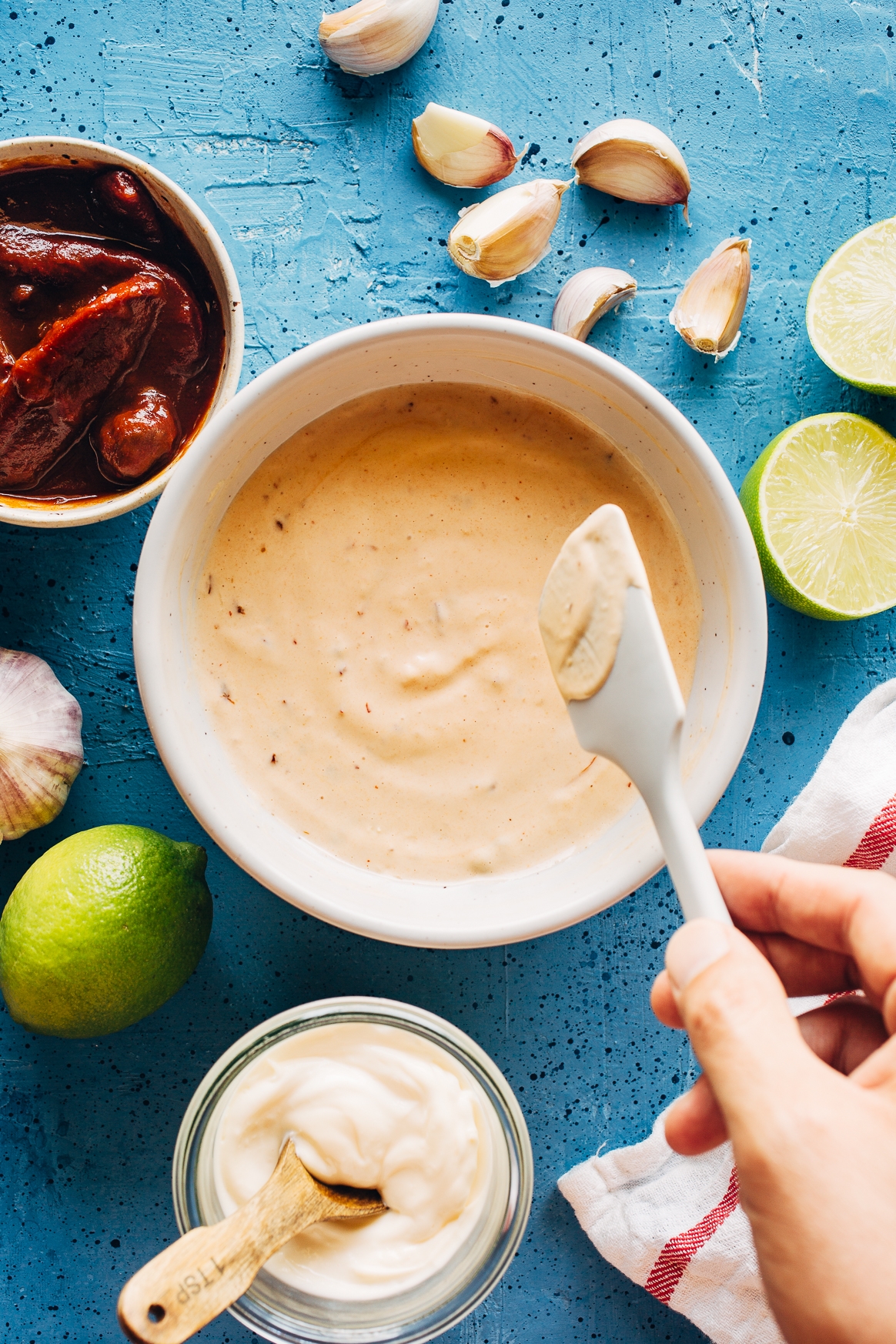 8