Grab a spoon and get cozy, because this Instant Pot Chicken Chili is pure comfort in a bowl.
This post may contain affiliate links.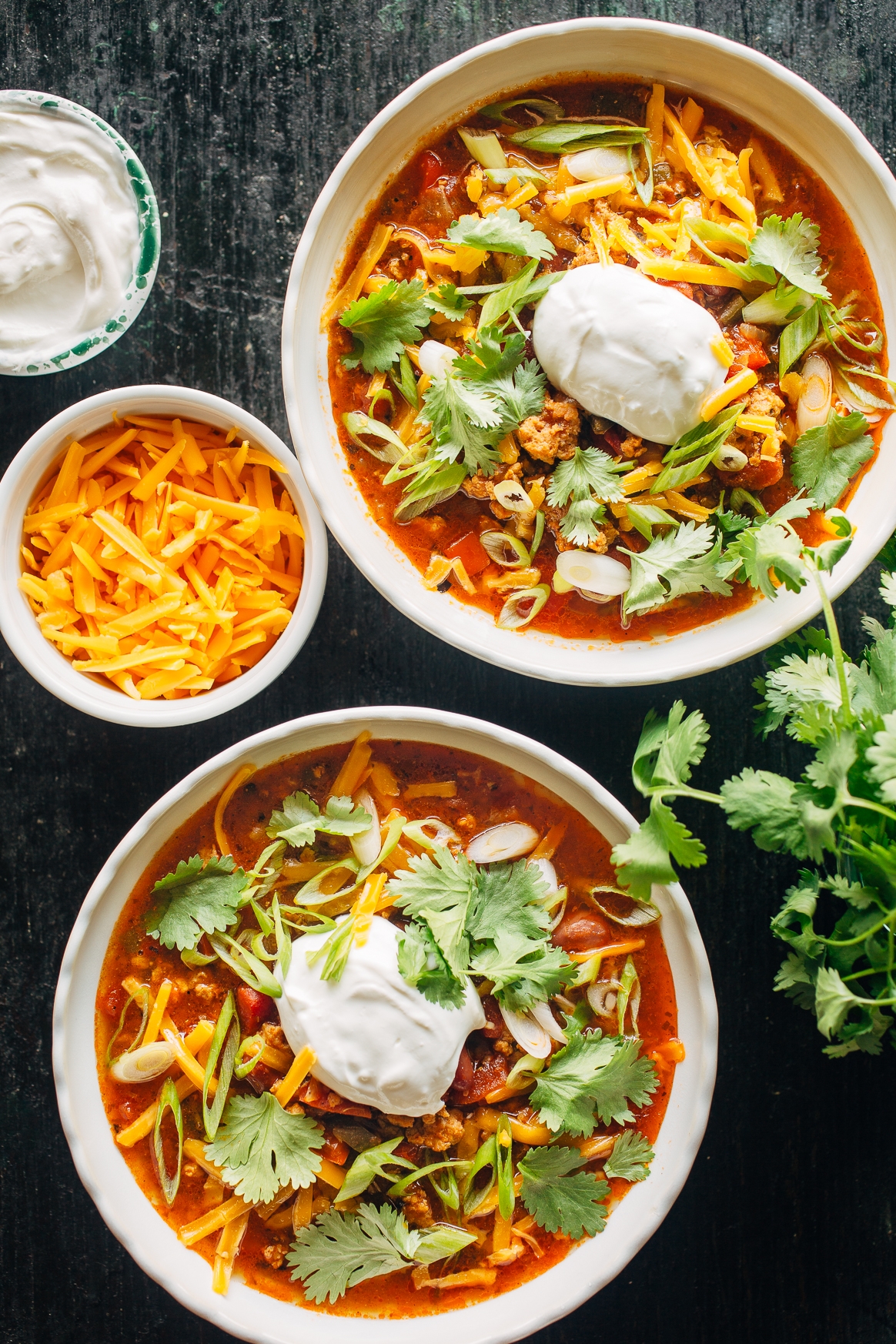 It's finally starting to cool down here in San Diego, and I am ready for soups, stews and chilis. Prepared in an Instant Pot, this chicken chili is packed with beans, veggies, spices and tender bits of ground chicken thigh. It's seemingly light, but still very satisfying.
And I don't know about you, but I absolutely love chili toppings. To me, they're just as important as the chili itself! Here, I'm topping this chicken chili with cilantro, scallions, sour cream and smoked cheddar. These accoutrements add a little excitement to each bite. Continue reading for the recipe.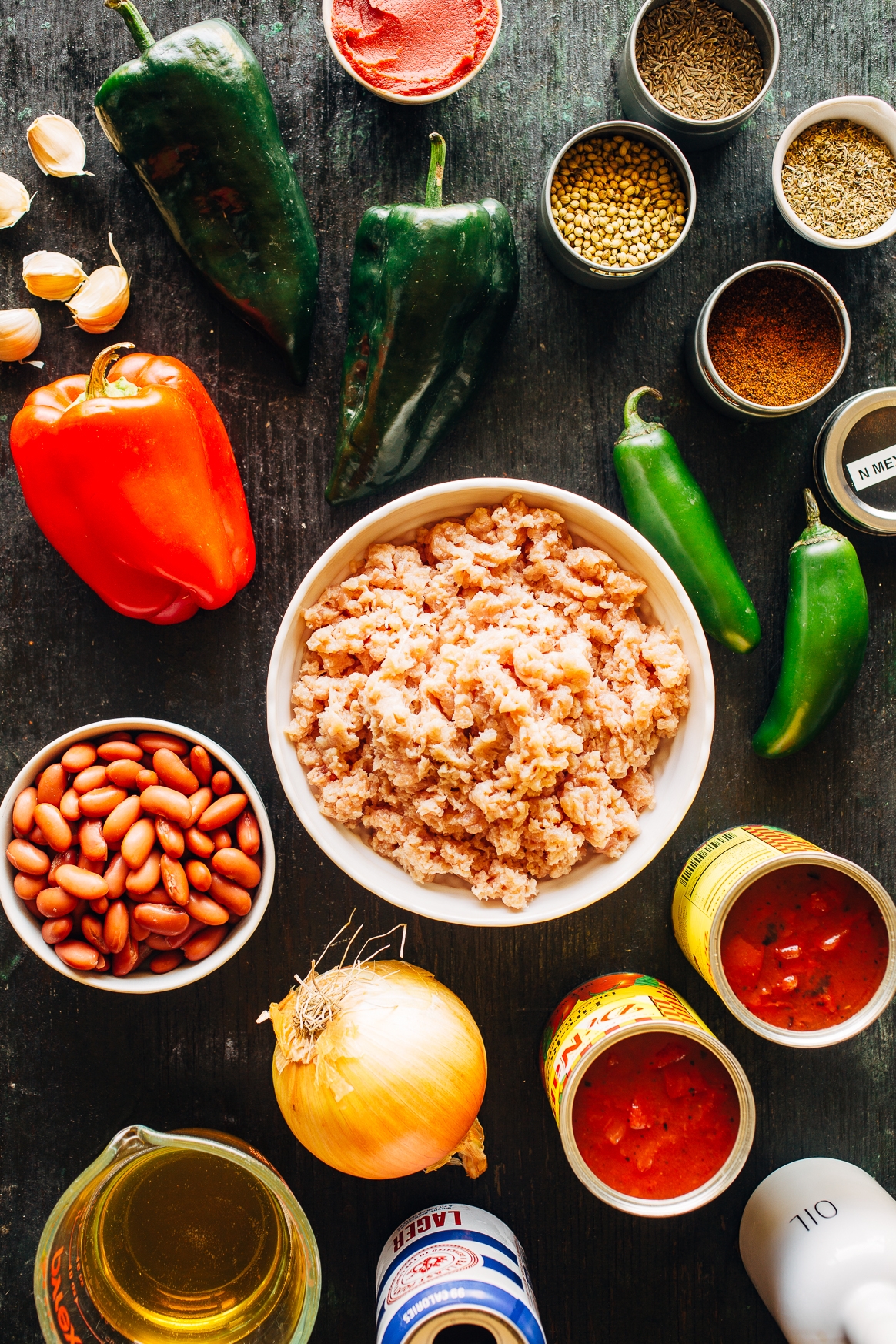 How to Cook Chicken Chili in an Instant Pot?
To make chicken chili in an Instant Pot, you start by cooking onion, poblano chile, red bell pepper, garlic and jalapeno in olive oil using the sauté function. Then you take the veggies out of the IP and brown the chicken in more olive oil.
To the chicken, you add chile powder, cumin and coriander, cooking just until the spices are fragrant. You also stir in some tomato paste and cook that for bit. Cooking the spices and tomato paste like this really helps to unlock their flavor! Next you deglaze the pot with beer, then stir in canned tomatoes, kidney beans, water, salt, pepper, oregano and the cooked veggies.
At this point you would seal the Instant Pot and cook the chili on high pressure for 20 minutes. Let the pressure release naturally (up to 10 minutes), and the chili is done!
What are good toppings for chili?
Like I mentioned above, I am all about chili toppings. Here's how I like to approach them:
Something fresh: Chopped herbs (like cilantro, parsley or chive), sliced scallions, and/or chopped red onion.
Something creamy: Sour cream, unsweetened yogurt, Labneh or crema.
Something cheesy: Sharp cheddar, smoked cheddar, Monterrey jack, pepper jack or smoked mozzarella.
You can also throw something crunchy in the mix (like fritos, corn nuts or crushed tortilla chips), but that's not something I paired specifically with this recipe.
Instant Pot Chicken Chili
Ingredients
3

tablespoons

olive oil, divided

1

medium onion, diced

1

poblano chile, seeded and diced

1/2

red bell pepper, seeded and diced

1 – 1.5

pounds

ground chicken*

3

garlic cloves, chopped

1

jalapeno, seeded and minced

2

tablespoons

New Mexico chile powder**

1

teaspoon

ground cumin

1/2

teaspoon

ground coriander

2

tablespoons

tomato paste

1/4

cup

beer (or chicken stock)

2

14 ounce cans fire roasted diced tomatoes

1

can kidney beans, drained

2

teaspoons

kosher salt

1

teaspoon

dried oregano

1/2

teaspoon

black pepper
For serving: chopped cilantro, sliced scallion, sour cream, grated cheddar
Instructions
Using the saute function, warm 2 tablespoons olive oil on high in an Instant Pot. When it's hot, stir in onion, poblano chile, red bell pepper, garlic and jalapeno, and cook, stirring occasionally, until tender (5 to 7 minutes). Transfer cooked veggies to a bowl and return the pot to high heat.

Add remaining 1 tablespoon olive oil to the pot, then add the ground chicken. Cook the meat, stirring occasionally, until evenly browned (6 to 7 minutes). I like to let the chicken sit for a little bit to develop some deeper golden color, and then stir.

Stir in chile powder, cumin and coriander, and cook, stirring frequently, until aromatic (about 1 minute). Stir in tomato paste and cook, stirring occasionally, for 2 minutes. Deglaze the pan with the beer, scraping up any brown bits off the bottom of the pan.

Add diced tomatoes, beans, salt, oregano, pepper, 1 cup of water and cooked veggies to the Instant Pot, stirring to combine. Cover and cook on high pressure for 20 minutes. Allow the pressure to release naturally (up to 10 minutes). Season to taste with salt.

To serve, ladle chili into a bowl, then top with sour cream, cilantro, sliced scallions and grated cheddar cheese.
Notes
* You can use between 1 and 1.5 pounds of ground chicken here, depending on what you can find in the store (package sizing can vary when it comes to ground chicken and turkey).  Personally, I love to grind my own chicken, using this method.  Here I ground up some chicken thighs, so the meat was nice and tender in the finished chili.
** Chile powder is different than chili powder. Chile powder is just ground up dried chiles. Chili powder is a spice blend that includes chile powder (and other spices). I would recommend just using chile powder here (New Mexico, Ancho, Guajillo are all good options), but if you've only got chili powder, you can use that instead!
Tried this recipe?
Tag @brandiego on Instagram so I can check it out!
14