Normally, I would prepare this smoked turkey for Thanksgiving, but that recipe makes enough turkey for a party of 20! When I want to make turkey for a smaller amount of people (1 to 4), I go for this juicy Herb-Roasted Turkey Breast.
This post may contain affiliate links.
This recipe is adapted from Ina Garten's Herb-Roasted Turkey Breast. The big difference here is that I prefer to brine my turkey in advance to help infuse it with seasonings and protect against drying out while it cooks in the oven.
To make this Herb-Roasted Turkey Breast, you start by rubbing a bone-in turkey breast with dry brine, and letting it sit in the fridge for about eight hours. You then rinse off the brine, dry the turkey and slather it with a garlic and herb-infused butter. The turkey roasts in the oven for about 1 1/2 hours until golden and juicy.
This recipe is so simple and the finished turkey is incredibly moist and flavorful. If you're hosting a small Thanksgiving this year, you need to give this recipe a try!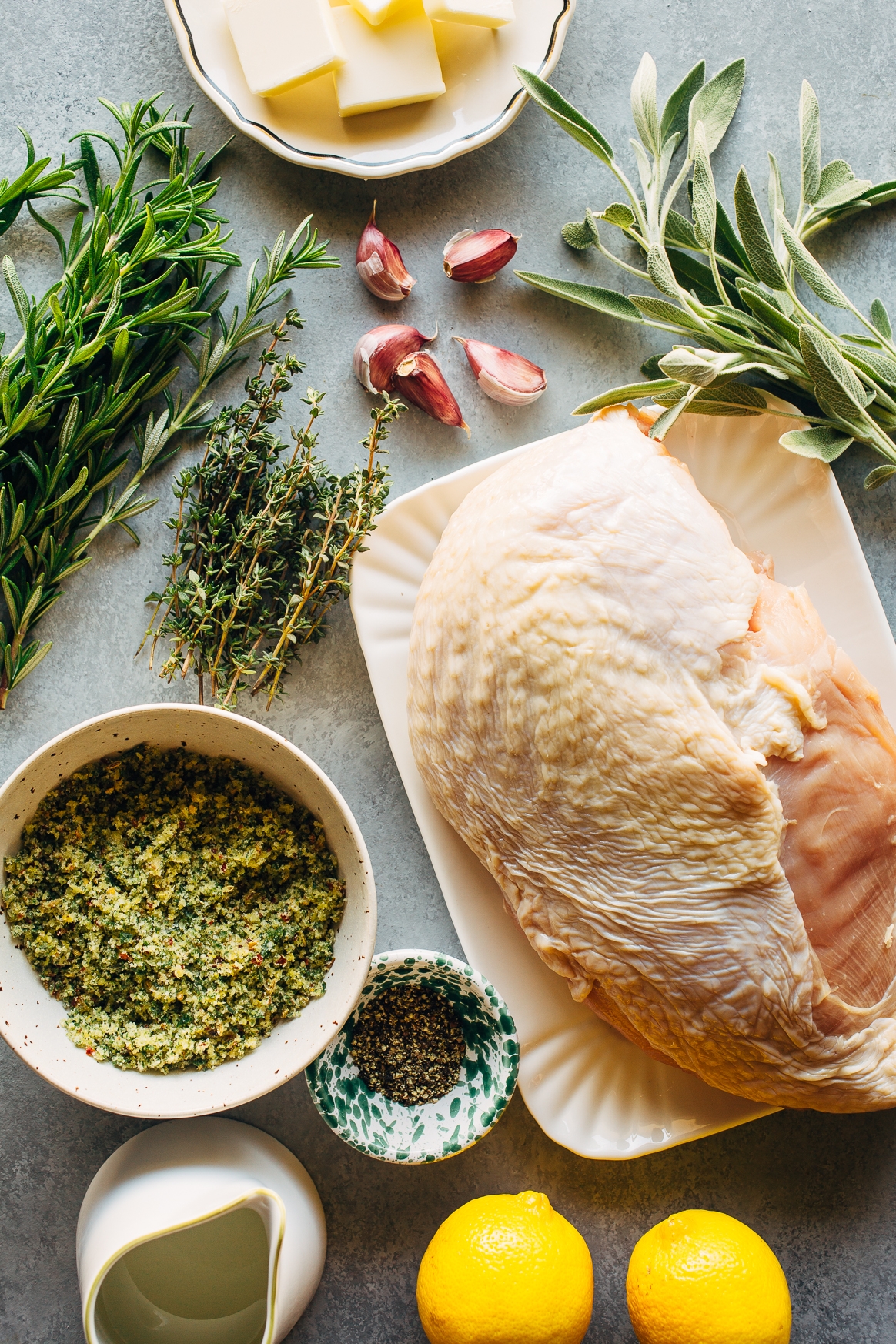 First, let's talk turkey. Here, I am using a bone-in turkey breast that still has the skin on it. It's just one breast, weighing in at about 3.75 pounds. The bones and skin help to flavor the turkey as it cooks, and keep the meat nice and juicy.
One breast is enough to feed one to four people. If your gathering is a little bigger, you can purchase a a double breast (six to seven pounds) or two single breasts. You can easily double recipe ingredients for a larger cut of turkey.
Next, the brine. A brine is simply a salt-based seasoning blend that you apply to the turkey in advance to infuse it with flavor. Brines can either be dry or wet. I prefer using a dry brine, because it's easier and doesn't mess with the texture of the turkey.
In particular, I like to use this Garlic Herb Dry Brine. I rub it on in the morning (8AM ish) and then let the turkey sit in the fridge throughout the day. Around 4PM, I take the turkey out of the fridge, rinse off the brine and proceed with the rest of the recipe. The turkey is ready and on the table by 6PM!
As the turkey sits in the fridge, the flavors of the brine infuse into the meat. The finished turkey is so delicious and perfectly seasoned.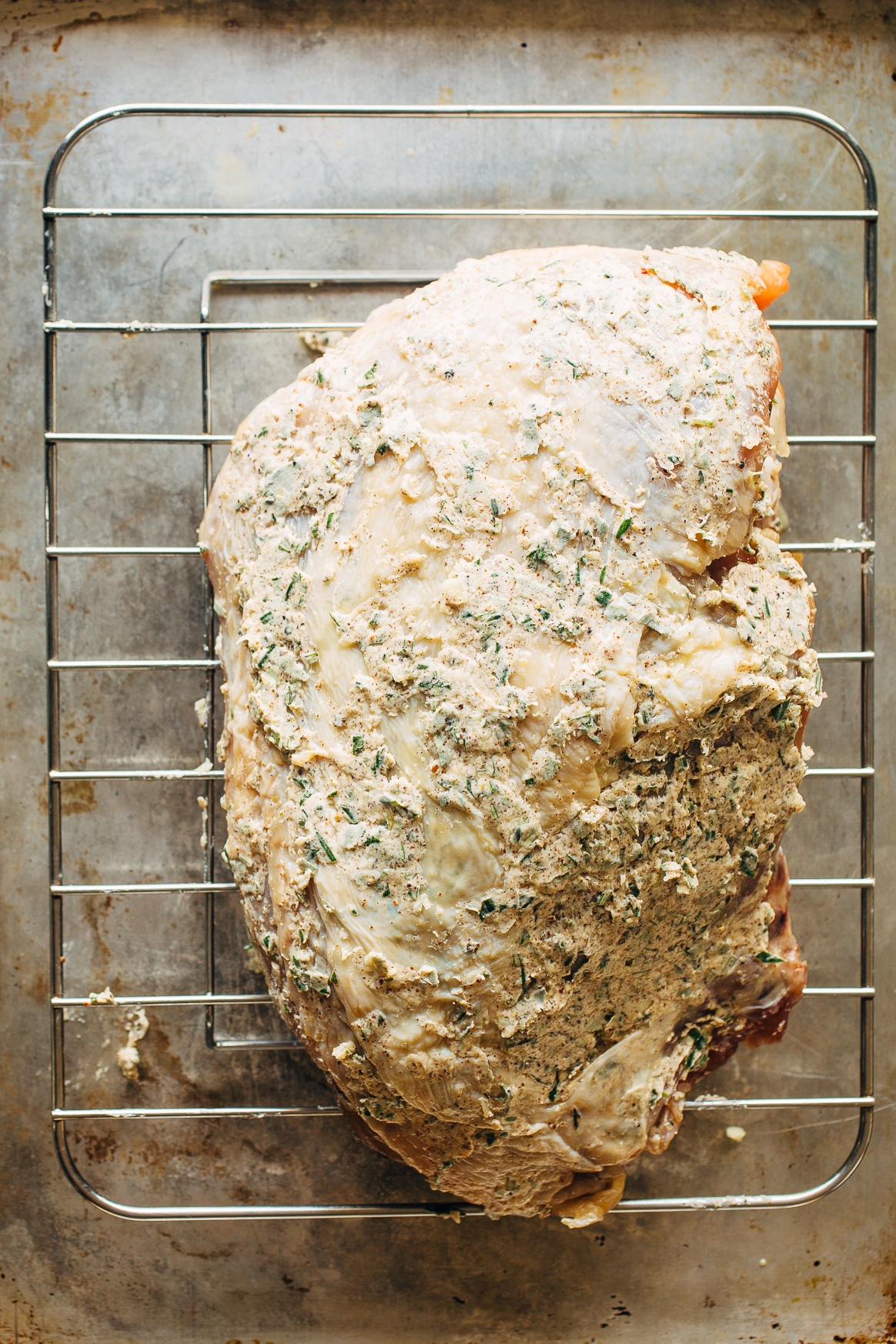 You don't have to use my Garlic-Herb Dry Brine here. Simply use whatever brine you are comfortable with (dry or wet). Just make sure you don't brine the turkey breast for too long! I've found up to 12 hours is fine.
Herb-Roasted Turkey Breast
Ingredients
1

bone-in turkey breast (3 to 4 pounds)

2

tablespoons

unsalted butter, at room temperature

1 1/2

tablespoons

lemon juice

2

teaspoons

dry mustard

2

fat garlic cloves, finely grated or minced

1

tablespoon

chopped rosemary

1

tablespoon

chopped sage

1

teaspoon

chopped thyme

1

teaspoon

freshly ground black pepper

1 – 2

cups

dry white wine (like Sauvignon Blanc)
Instructions
Rub the Garlic-Herb Dry Brine all over the turkey (top and bottom), and chill uncovered in the refrigerator for at least 6 hours (or up to 12 hours). Save remaining brine for another use.

30 minutes before roasting, take the turkey from the fridge, and rinse all the dry brine off under cold, running water. Pat the turkey dry, then place on a wire rack set over a rimmed baking sheet or roasting pan.

Add butter, lemon juice and dry mustard to a small bowl, whisking until smooth and combined. Whisk in garlic, rosemary, sage, thyme and black pepper. Spread the herb butter all over the top of the turkey and under the skin.

Preheat an oven to 325°F and set an oven rack to the middle position. Transfer turkey to the oven, then carefully pour 1 cup of wine in the bottom of the baking sheet or roasting pan. Roast the turkey breast until the internal temperature reaches 165°F (1 1/2 to 2 hours). As the turkey cooks, the wine will burn off, so add more wine as needed to keep the bottom of the pan filled.

Transfer turkey breast to a cutting board, and let rest for 15 minutes before slicing.
Notes
* If you don't want to make my Garlic-Herb Dry Brine, you can use any brine you'd like here. I prefer a dry brine, but you could also do a wet brine if that's your thing. Just keep in mind that you won't have to brine a turkey breast for as long as you would brine a whole turkey. And actually, the turkey breast will take on a cured texture if you brine it for too long, so I would recommend only brining for up to 12 hours.
Tried this recipe?
Tag @brandiego on Instagram so I can check it out!
18