Can you even believe that Thanksgiving is next week?? Jorge and I aren't doing our big Thanksgiving dinner this year, but I still want to bring some new dishes to the small celebration that we're having with just the two of us. These Instant Pot Mashed Potatoes are simple, delicious and come together in about 20 minutes!
This post may contain affiliate links.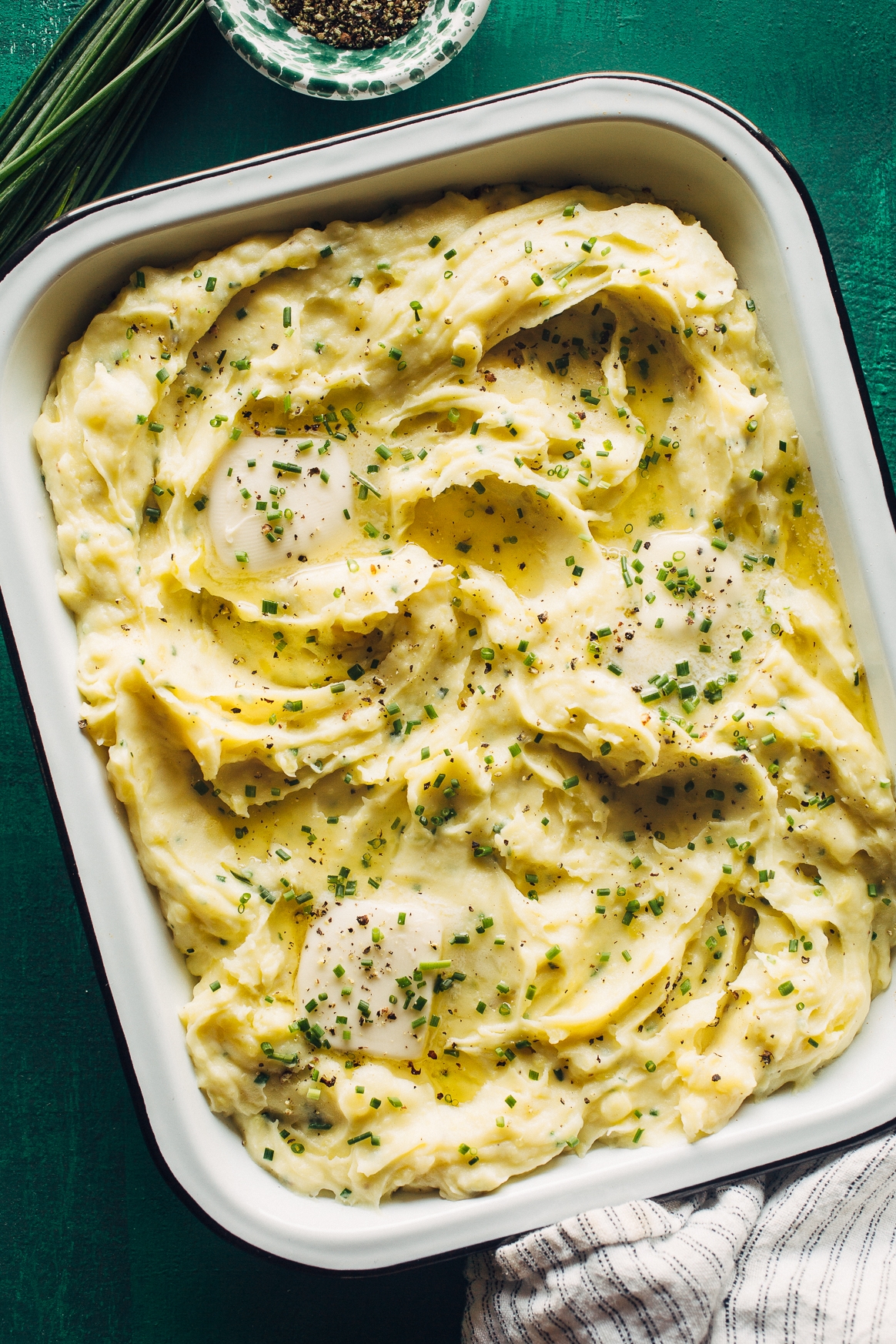 Mashed regular potatoes are not something that I usually prepare for my Thanksgiving dinner table. Typically, I make some sort of mashed sweet potato, and one of my guests will bring the mashed regular potatoes. Since we're not having guests this year, I need to make both!
For me, this has been the year of the Instant Pot, so I thought I'd take my mashed potatoes in that direction. You start by cooking peeled and diced Yukon Gold potatoes in an Instant Pot for just 10 minutes. The tender potatoes are then mashed with garlic-infused cream, butter, black pepper, sour cream and chives.
This finished mashed potatoes are light, creamy and packed with flavor. The garlic and chive are present without overpowering while the sour cream adds a pleasant tang. Continue reading for the recipe.
The tuber of choice here is a Yukon Gold potato, because of its smooth, creamy texture that mashes up like a dream. The potatoes cook in a steamer basket in an Instant Pot until tender but not falling apart, so when you mash them, they'll be silky with just a little texture throughout.
I prefer peeled potatoes for this recipe, but you could certainly try leaving the skins on if you want some extra texture.
Next, let's talk flavorings. I love pairing potatoes with garlic, chives and sour cream. Also, I find the combination of butter and cream to be optimal for mashed potatoes. Butter adds richness and flavor while the cream thins out the consistency of the mash.
In this recipe, three garlic cloves are simmered in heavy cream until the cream thickens a bit. The warm cream is then mashed into the potatoes along with room temperature sour cream, butter, chives and black pepper. Mashed potatoes usually need a lot of salt, so make sure you taste and season accordingly.
You can keep the potatoes warm in the Instant Pot until ready to serve. Just thin them out with some warm cream if needed.
Instant Pot Mashed Potatoes Recipe
Ingredients
Kosher salt

3

pounds

Yukon Gold potatoes, peeled and cut into 1-inch pieces

1

cup

heavy cream

3

whole garlic cloves, peeled

Freshly ground black pepper

1/2

cup

sour cream, at room temperature

3

tablespoons

unsalted butter, at room temperature

3

tablespoons

finely chopped fresh chives, plus more for sprinkling
Instructions
Place 1 cup water and 1 tablespoon salt in the Instant Pot, stirring to dissolve. Place potatoes in a steamer basket in the Instant Pot. Cover and cook on high for 10 minutes. Release pressure manually.

While the potatoes are cooking, bring cream and garlic to a simmer in a small saucepan over medium heat. Reduce heat to maintain a simmer, and cook until the cream has thickened a bit (about 10 minutes), stirring occasionally. Keep a watchful eye here, because the cream can boil over. Fish out the garlic, then season to taste with salt and a lot of black pepper. Take the cream off the heat and set aside. Rewarm before adding to the potatoes if needed.

Rinse out and dry the Instant Pot, then add the potatoes, warm cream mixture, sour cream and butter. Using a fork or potato masher, mash everything together until smooth and well-combined. Stir the chives, then season to taste with salt and pepper.

Keep the mashed potatoes on the warm setting until ready to serve. If holding for a while, you may need to stir in a little more warm cream to loosen up the mash. When ready to serve, transfer potatoes to a serving bowl and top with a sprinkling of chives.
Tried this recipe?
Tag @brandiego on Instagram so I can check it out!
Looking for some other Thanksgiving side dishes? Try these recipes on Kitchen Konfidence: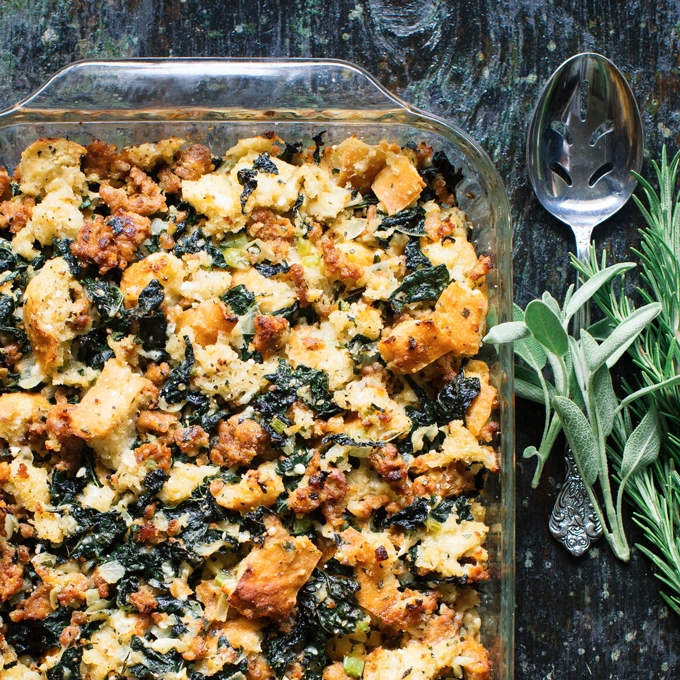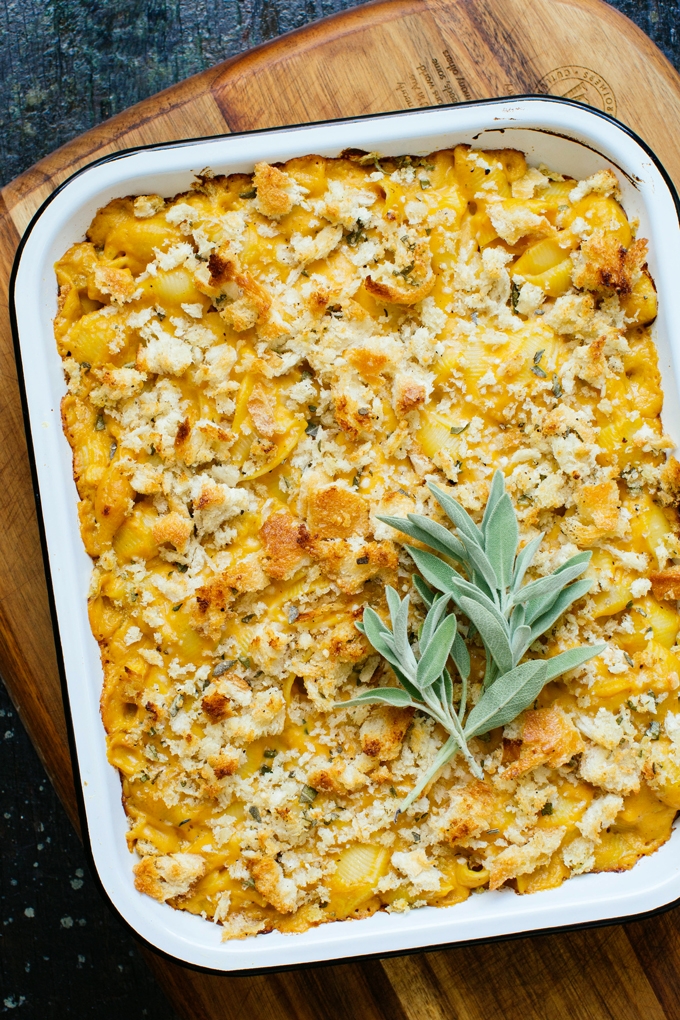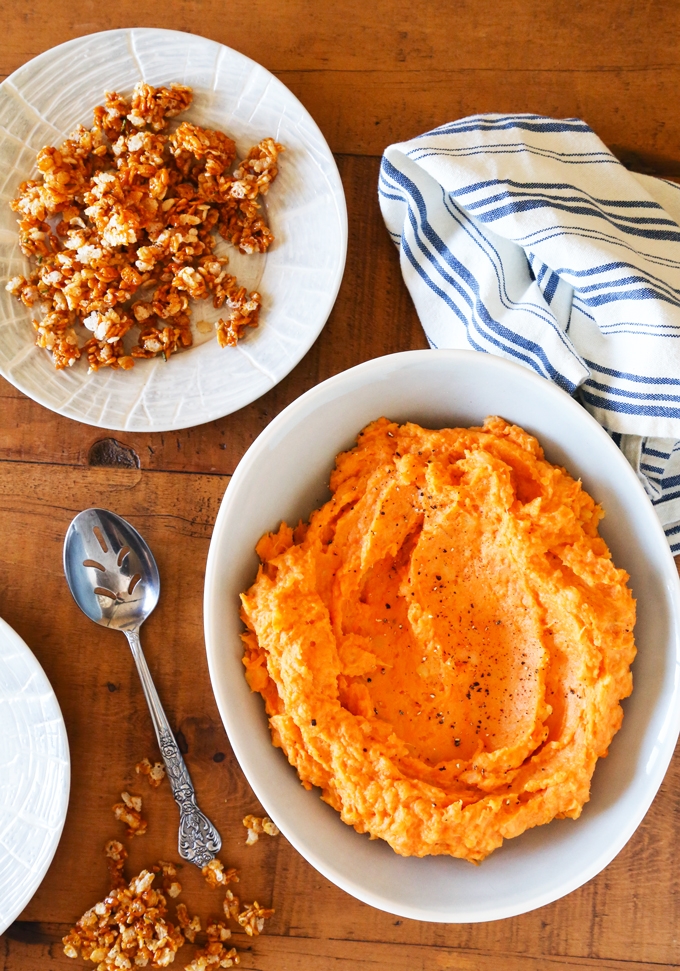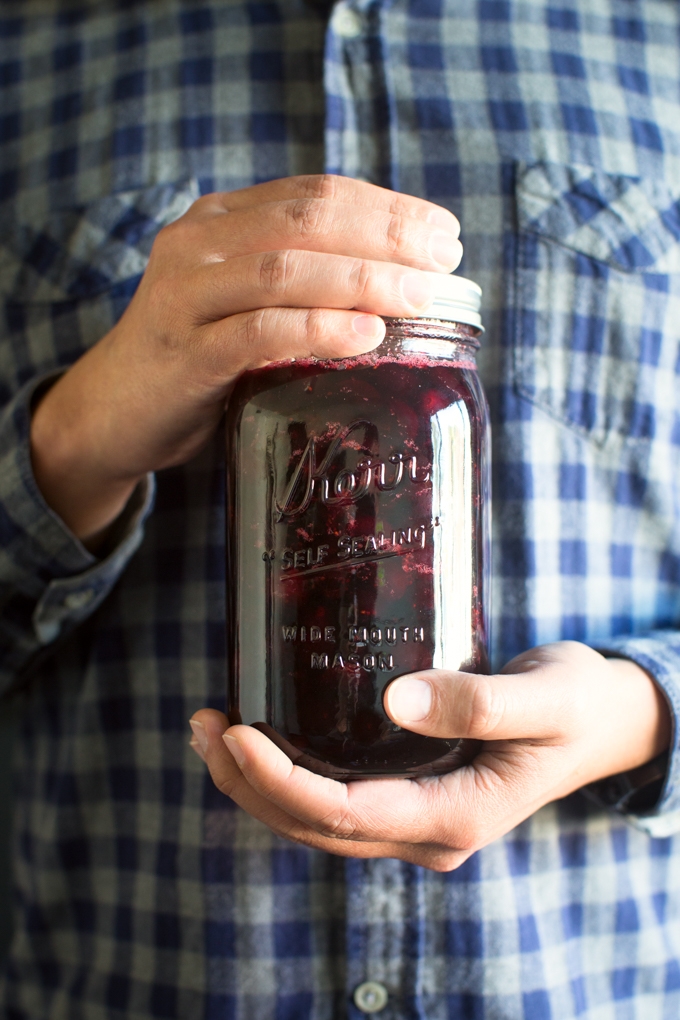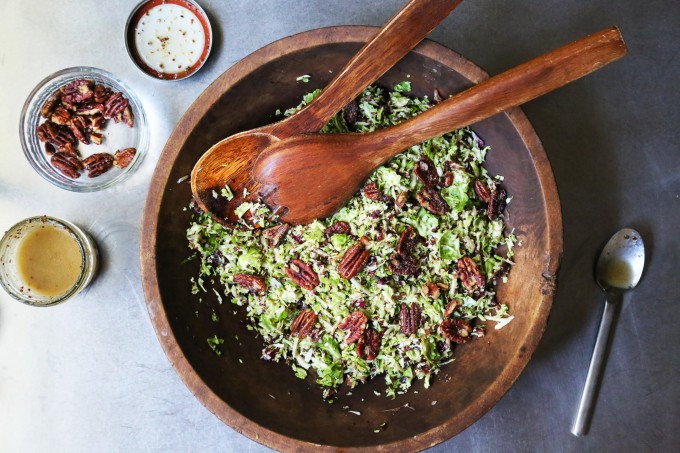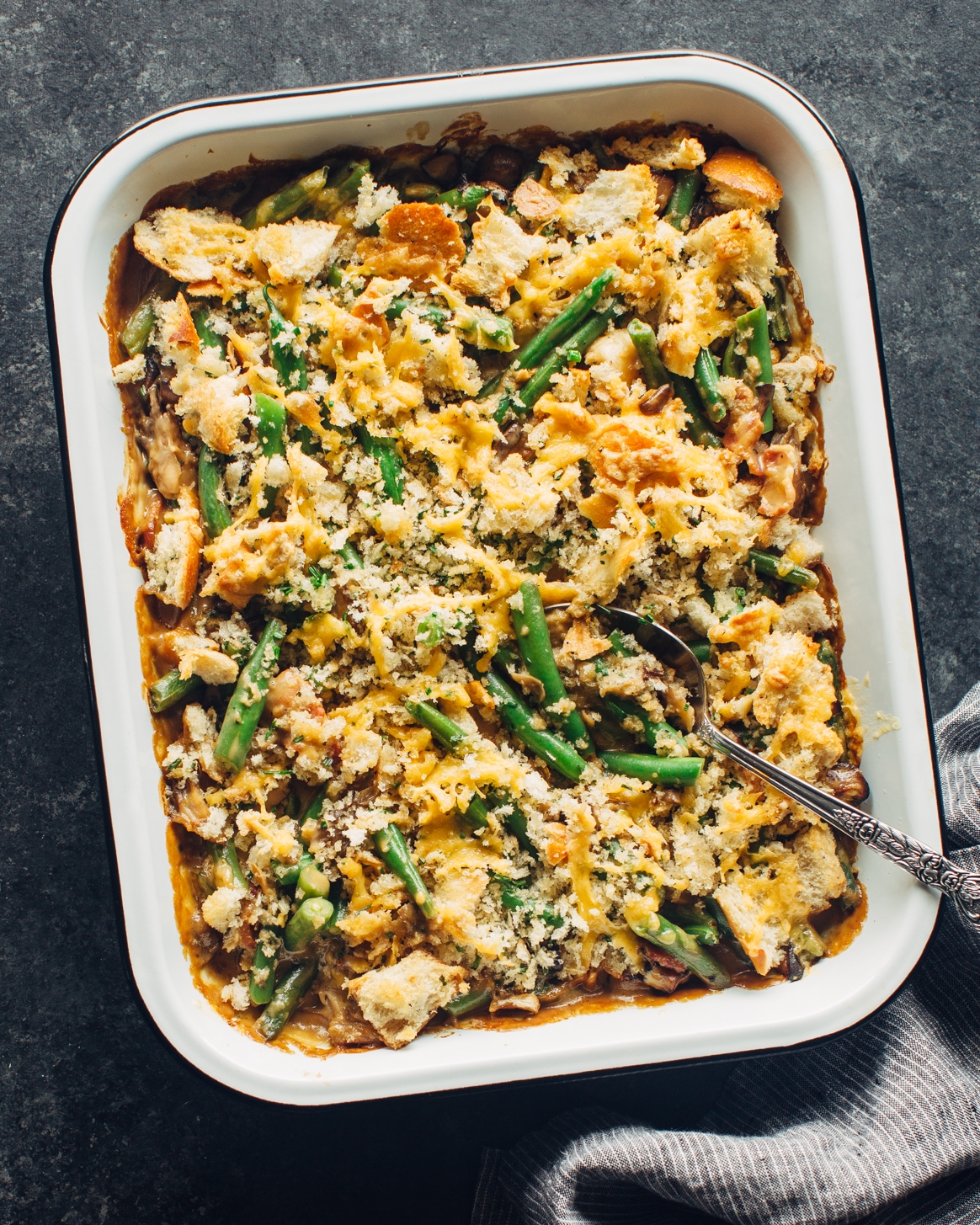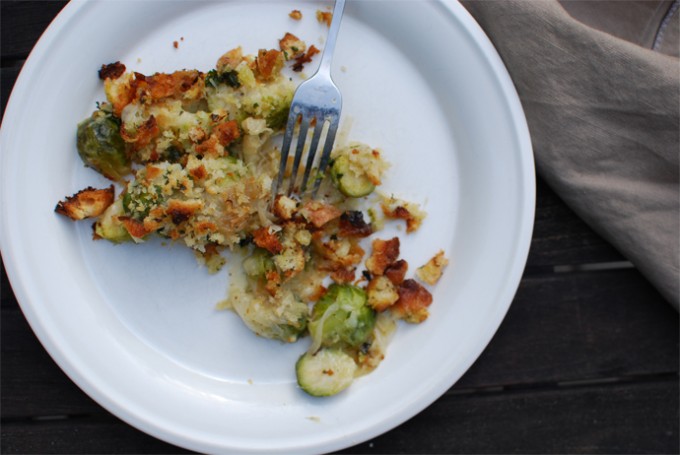 12