In years past, I've focused on more creative and unique versions of Thanksgiving classics, but this year, I'm going pure comfort. Over the past week, I've shared Herb-Roasted Turkey Breast along with Instant Pot Mashed Potatoes. Today, I've got a rich and savory Make-Ahead Turkey Gravy that brings it all together.
This post may contain affiliate links.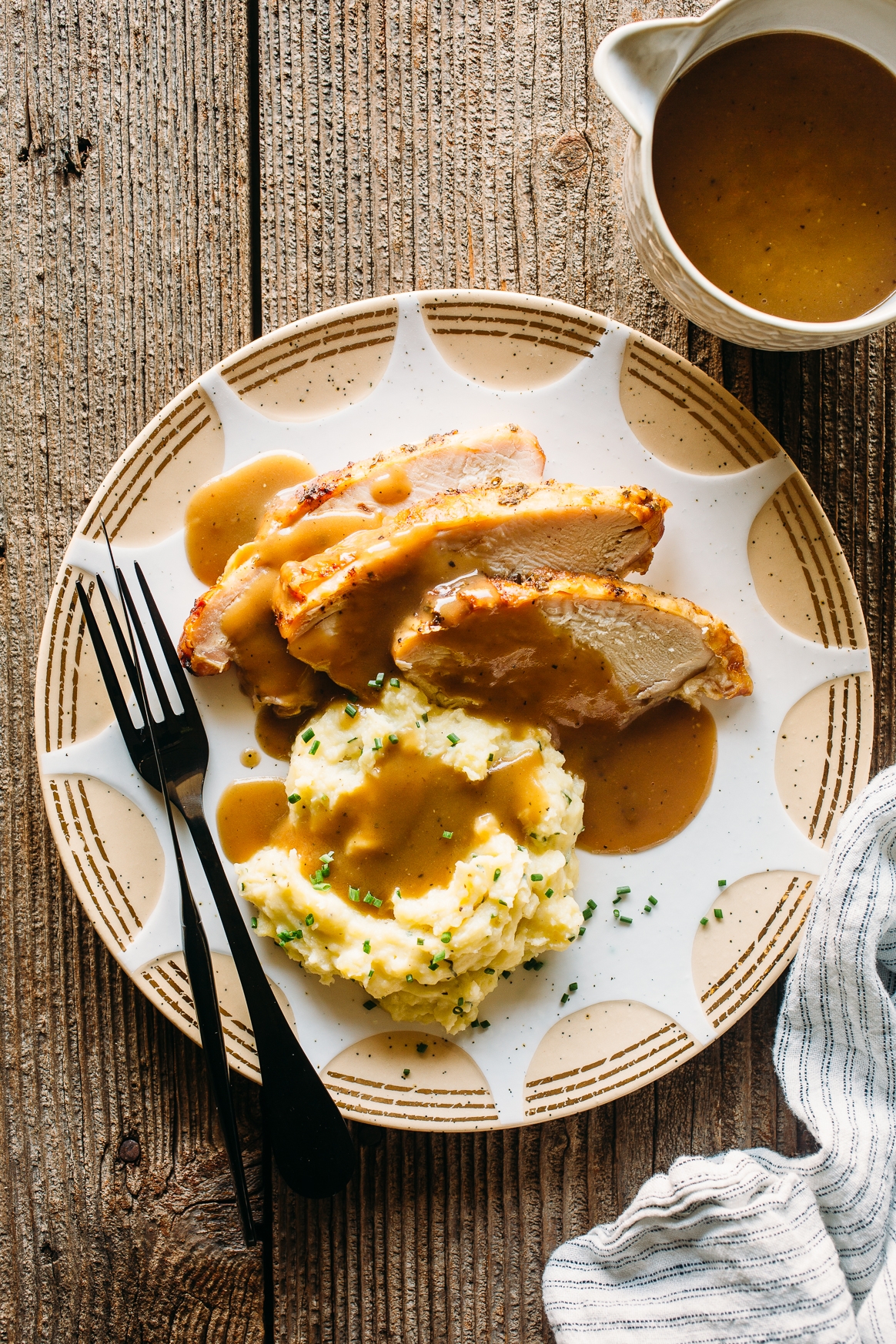 Gravy is one Thanksgiving item that I've neglected over the years. We smoke our turkey, so there are never pan drippings around, and I also don't like the idea of having to make a major element of Thanksgiving dinner in such a short period of time. While guests are around. After I've had several cocktails.
So, I would just get some gravy from Costco and rewarm it while the turkey was resting. But last year, I made this Make-Ahead Turkey Gravy and it was a smash hit. Like shockingly delicious. And I was able to prepare it the day before Thanksgiving! Continue reading for the recipe.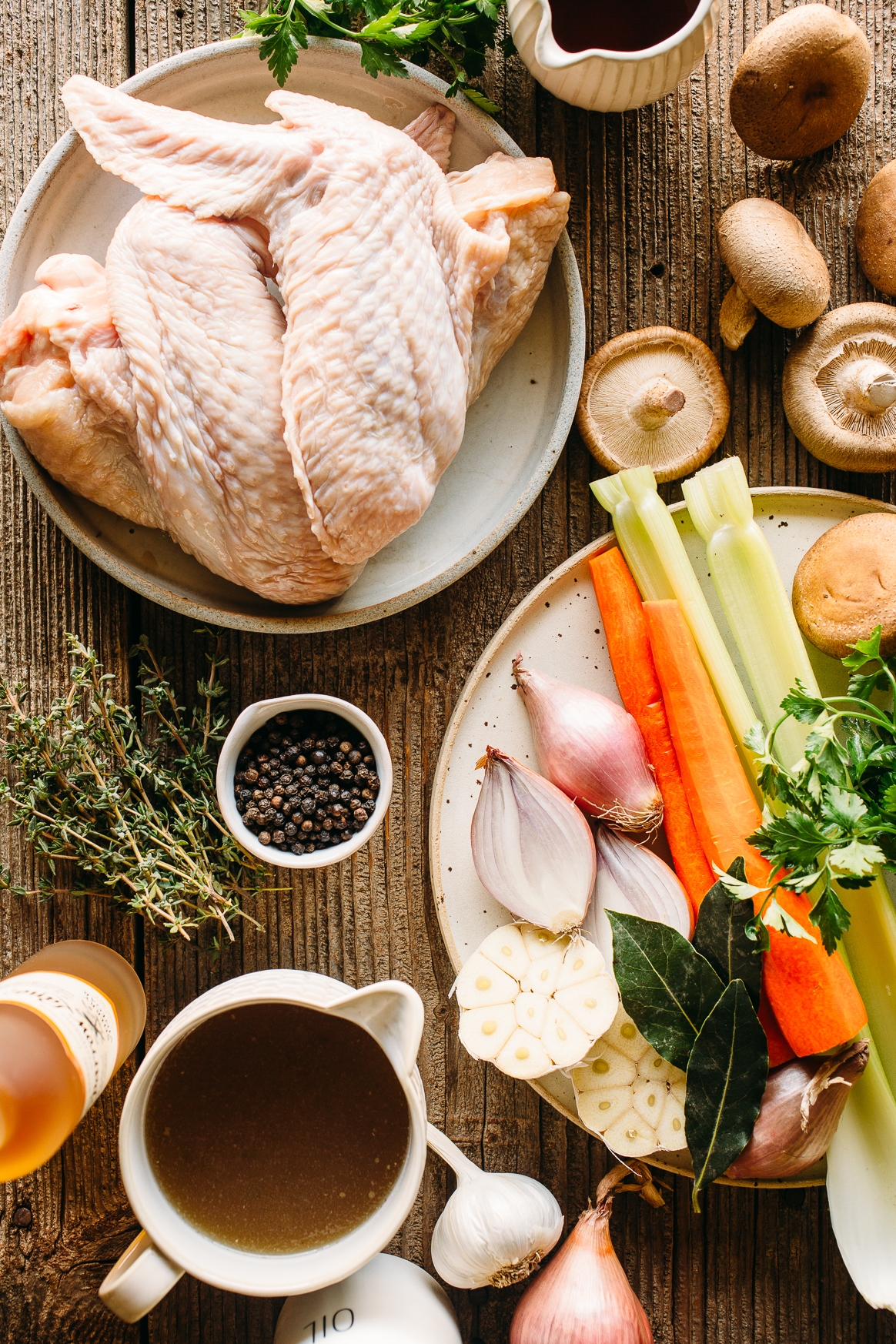 To make turkey gravy, you start by roasting turkey wings in a cast iron skillet until golden brown. Turkey wings are cheap and will infuse the gravy with plenty of turkey flavor. Then, you toss in the aromatics: shallot, garlic, carrot, celery, black pepper and shiitake mushrooms. Everything continues to roast until deeply golden.
At this point, you transfer the wings to a stock pot and then deglaze the skillet with amontillado sherry. Now, I know that sounds fancy, but I got a bottle for $5 at Trader Joe's and it's pretty darn good. Amontillado sherry has an intense flavor that helps add some backbone to the sauce.
If you can't find amontillado sherry, then just deglaze with a dry sherry or dry white wine instead. Deglazing is important, because it pulls up all of the flavorful bits that are stuck to the bottom of the pan.
Next, you scrape everything from the pan into the stock pot with the turkey, and add chicken stock, thyme, parsley and a bay leaf. Everything is simmered until the liquid is reduced by 1/3. Basically we're making turkey stock here.
In the final steps, you strain the stock and set it back over medium heat. The stock is thickened with a mixture of butter and flour, then seasoned with salt, pepper, sherry vinegar and MSG.
Hold up… MSG!? Yes, MSG. It's a completely safe product to use in moderation, and it really takes this turkey gravy to the next level by amping up savoriness.
Be sure to taste the gravy before and after you add the MSG, and you'll understand how it affects the flavor. It's a real ah ha moment! I got my MSG on Amazon by the way.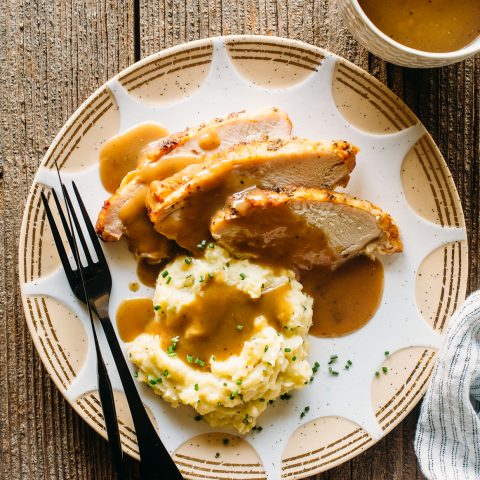 Make-Ahead Turkey Gravy Recipe
Ingredients
3

pounds

turkey wings, flats and drumettes separated

4

tablespoons

olive oil, divided

2

heads of garlic, cut in half crosswise (you can leave the skins on)

2

shallots, halved (you can leave the skins on)

2

stalks celery, cut into big pieces

2

carrots, peeled and cut into big pieces

4

ounces

shiitake mushrooms, torn into large pieces (stems included)

2

teaspoons

black peppercorns, lightly crushed

1/2

cup

amontillado sherry (or dry sherry or dry white wine)

6

sprigs parsley

3

sprigs thyme

1

bay leaf

6

tablespoons

all purpose flour

4

tablespoons

unsalted butter, room temperature

Kosher salt

Freshly ground black pepper

2

teaspoons

sherry vinegar (or red wine vinegar)

1

teaspoon

MSG
Instructions
Preheat an oven to 450°F. Add wings to a large cast iron skillet and toss with 2 tablespoons olive oil. Roast on the bottom rack, flipping halfway through, until golden brown and crispy in spots (30 – 35 minutes).

Add garlic, shallots, celery, carrots and mushrooms to a medium bowl and toss with remaining olive oil. Take the skillet from the oven, then scrape all the vegetables on top. Add the peppercorns and carefully toss everything together. Return the skillet to the oven and roast until everything is deeply golden brown (35 to 40 minutes). Halfway through cooking, I like to flip the wings again and move around any veggies that aren't getting golden.

Transfer the skillet from the oven to the stovetop, then transfer the wings to a large pot (you can leave the veggies in the skillet). Place the skillet over medium-high heat, add sherry and scrape up any brown bits stuck to the bottom of the skillet. Continue to cook until the sherry is almost completely reduced (about 2 mins).

Scrape everything from the skillet into the pot with the turkey, then add stock, parsley, thyme and bay. Bring to a gentle simmer over medium-high heat, reduce heat to medium-low and continue to simmer until the stock is reduced by 1/3 (about 35 to 40 minutes). While the stock is simmering, you'll want to turn the wings occasionally as they poke up above the surface. Also, skim off any excess fat that pools on the surface.

While the stock is simmering, add flour and butter to a small bowl and mash together with a fork until combined. Set aside.

Using a slotted spoon, remove big solids from the stock and discard. Pour the stock through a fine-mesh strainer into a large bowl or measuring cup. Discard any solids. Rinse out the pot and return the turkey stock back in. Bring to a simmer over medium heat, then whisk in the flour-butter mixture until smooth. Continue to simmer until the gravy is thick enough to coat the back of a spoon (about 6 to 8 minutes).

Take the gravy off the heat and season to taste with salt and pepper. If you are making this gravy up to 5 days in advance, then stop here, transfer to a container and store in the fridge. When you are ready to serve, rewarm the gravy on the stovetop over medium heat, then stir in vinegar and MSG*. Taste for seasoning one last time.
Notes
* Vinegar and MSG can break down flavor compounds in the gravy if added too far in advance. If you plan on making this gravy on Thanksgiving, then go ahead and add the vinegar and MSG right away. If you are making this gravy in advance (up to 5 days), then add the vinegar and MSG when you are reheating the gravy for Thanksgiving dinner.
Tried this recipe?
Tag @brandiego on Instagram so I can check it out!
17