This Small Batch Chocolate Chip Cookie recipe is for when a cookie craving strikes, but you don't quite have the energy to whip up a full batch. I've been there plenty of times throughout this year, and I can truly say that this recipe easily satisfies my sweet tooth.
This post may contain affiliate links.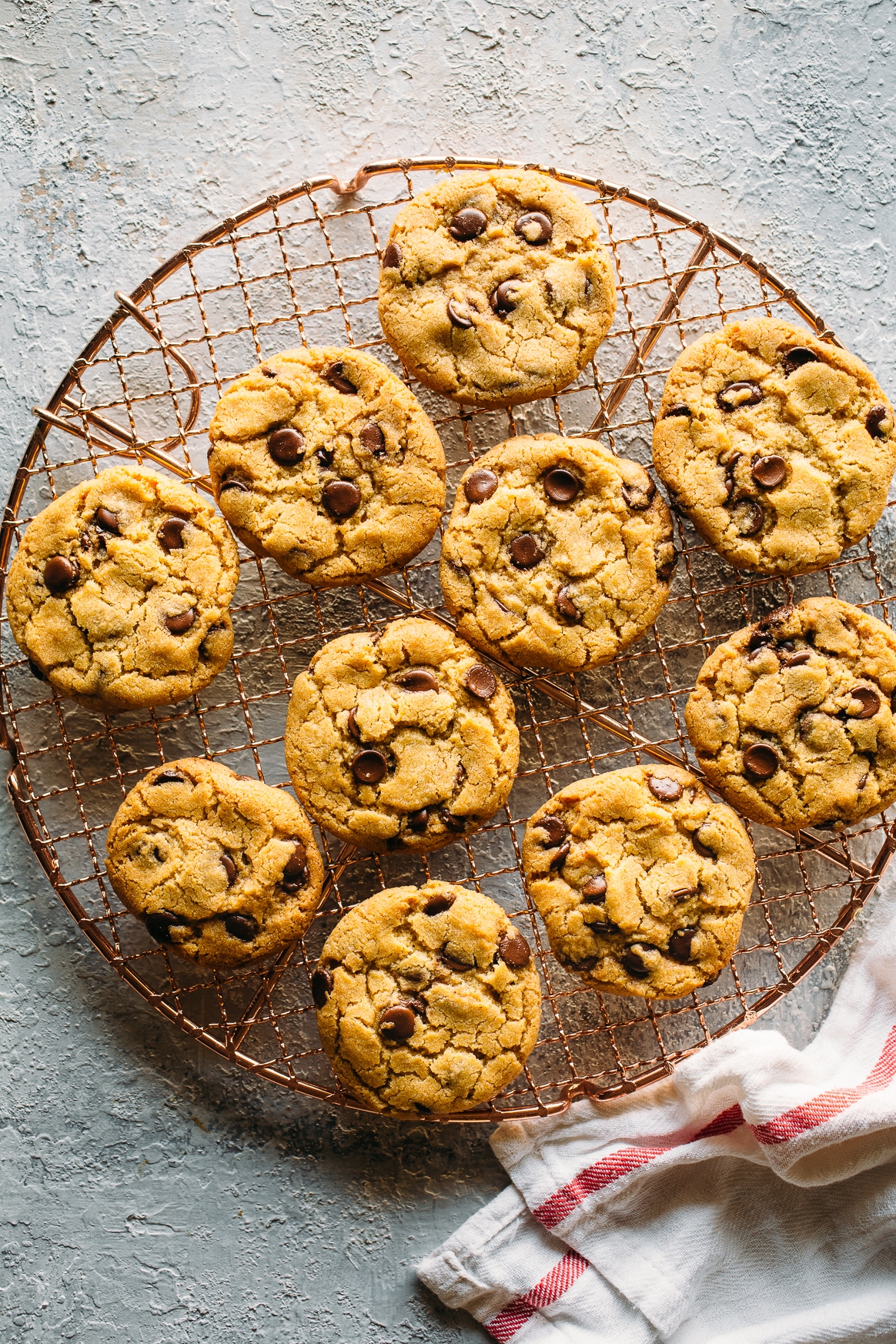 Since we've been staying home for most of this year, we've been baking a lot. These weekly sweets keep our meal plan interesting and satisfying. For us, baked goods are now that "treat yo self" moment rather than dining out.
Over the weekends, we tend to prepare more elaborate desserts like pie or cake, but during the week, it has to be easy. For a little while, I was making individual desserts like chocolate chip cookies for two and mug cakes. I'm still a fan of mug cakes, but the individual cookies are too inconsistent. Sometimes they bake up perfectly and other times they're a mess.
These struggles eventually lead me to this Small Batch Chocolate Cookie recipe. It's easy, doesn't require special equipment, and makes just ten cookies. AND they're consistently delish. Continue reading for the recipe.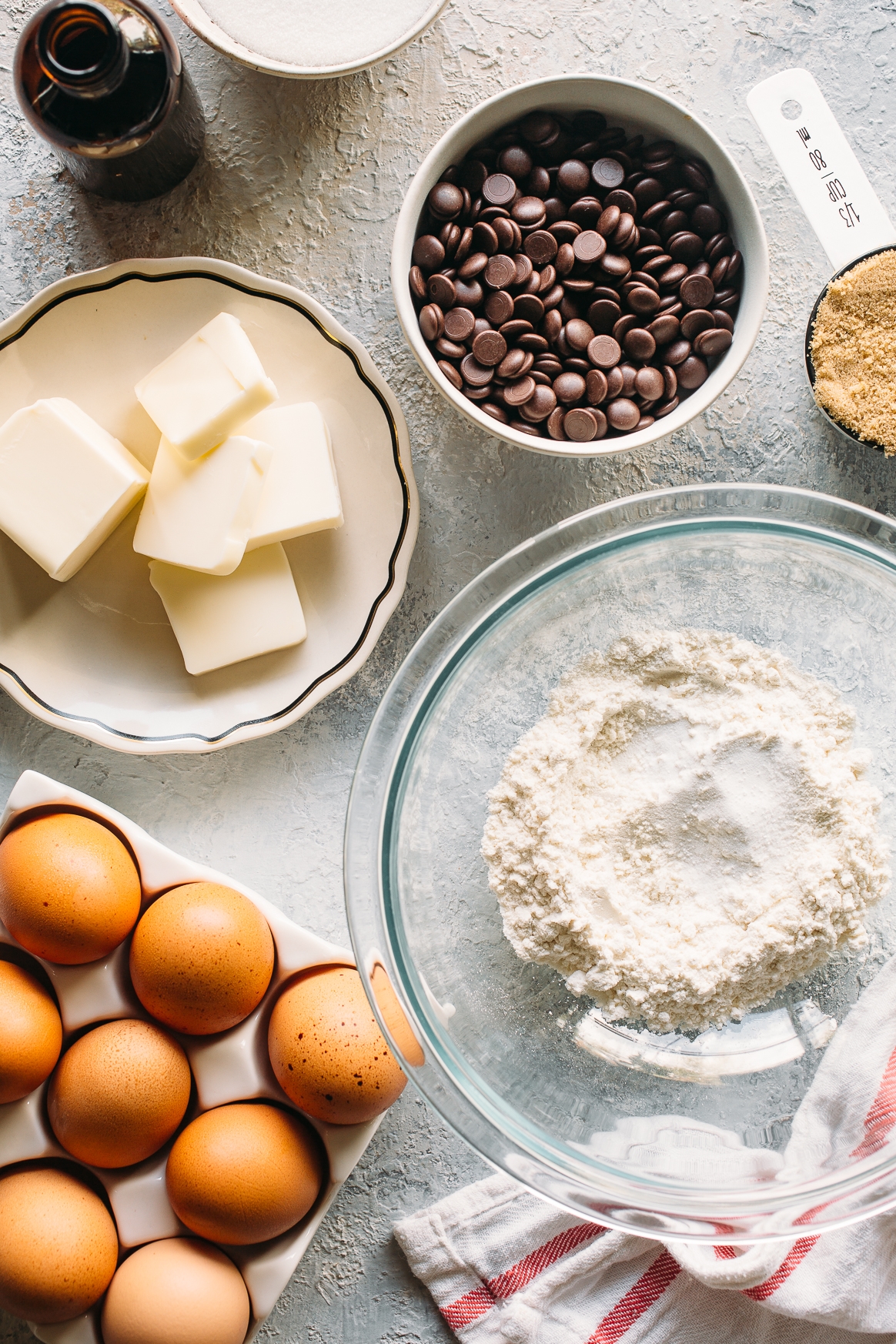 Aside from chocolate, the main flavorings in these cookies are dark brown sugar, brown butter and vanilla. Each bite is warm and toasty with plenty of molasses/butterscotchy notes from the brown sugar. There's also enough salt in the dough that additional salt is not needed on top.
I like to use dark or semisweet chocolate here, but you could certainly use milk chocolate if that's all you have available.
To make these Small Batch Chocolate Chip Cookies you start by browning butter in a small saucepan. Just warm the butter over medium heat, and cook until all of the water evaporates and the milk solids start to brown.
The key to easily making brown butter is to use your ears! As the butter cooks, you'll hear a lot of bubbling and sputtering. Eventually the pot will go quiet. It's at this point that the water has fully evaporated and the milk solids will start to brown. So once the pot goes quiet, let the butter cook for a few moments longer and it's done!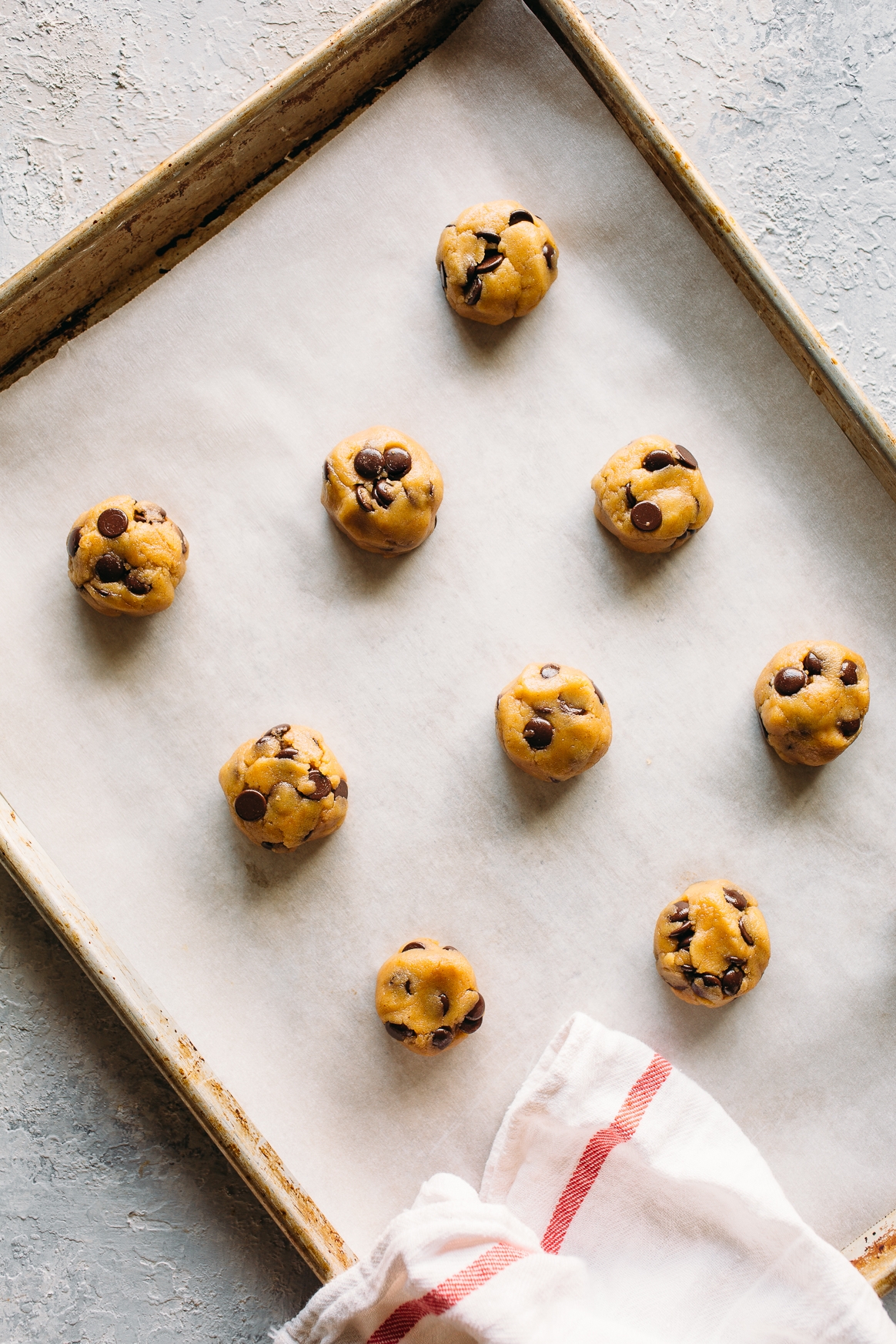 To the brown butter, you whisk in dark brown sugar and white sugar, then you whisk in an egg yolk. Next you fold in dry ingredients and chocolate chips. You then portion out the dough onto a cookie sheet and bake until golden brown and delicious.
These cookies come together in just 1 pot and 2 bowls. No electric or stand mixers needed!
I should mention that this dough is on the wet side. As you are forming the dough balls, your hands will feel a bit greasy. No worries though, these beauties will bake up perfectly each time!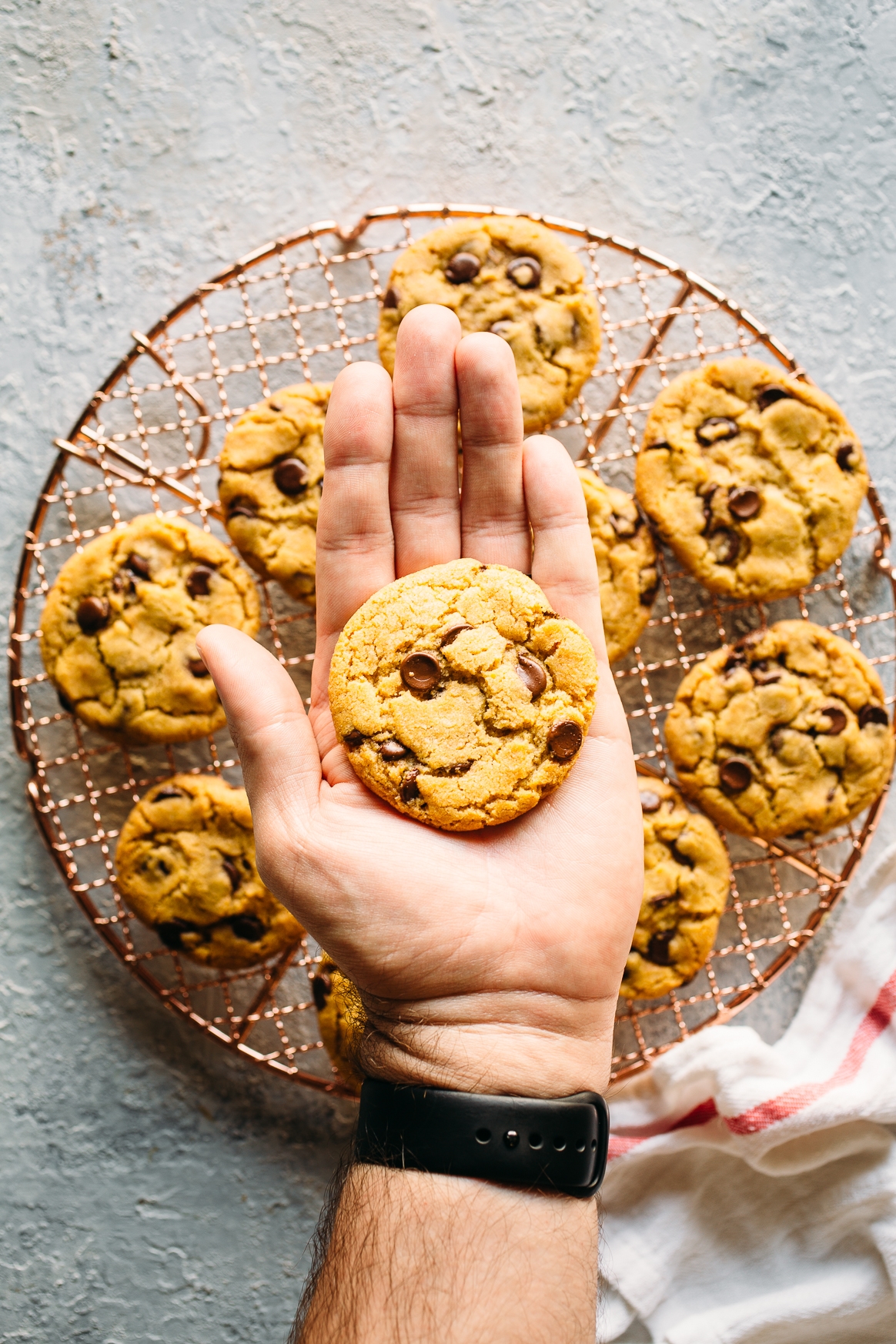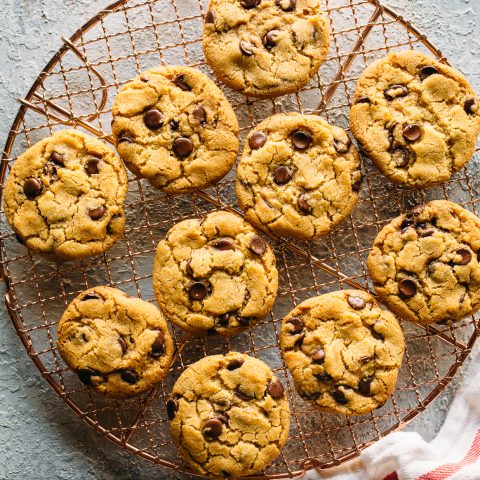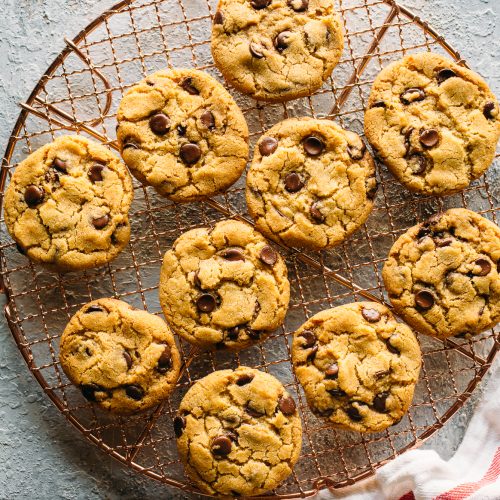 Small Batch Chocolate Chip Cookies
Ingredients
1/4

cup

(1/2 stick) unsalted butter

1/2

cup

(67 grams) all purpose flour

1/4

teaspoon

fine grain sea salt

1/4

teaspoon

baking soda

1/3

cup

(64 grams) packed dark brown sugar

1

tablespoon

+ 1 teaspoon (19 grams) sugar

1

egg yolk

3/4

teaspoon

vanilla extract

2

ounces

(60 grams) dark or semisweet chocolate chips
Instructions
Preheat to 375°F. Set an oven rack to the middle position. Line a baking sheet with parchment paper and set aside.

Warm butter in a small saucepan over medium heat. The butter will melt, then foam and bubble, then start to brown. You will notice little brown bits forming at the bottom of the pan. Stir frequently during this process and keep your attention on the pot (read about listening cues above). You will know the butter is done when it gives off a nutty aroma and turns a golden brown (about 4 to 5 minutes). Transfer butter to a medium bowl and let cool for 5 minutes.

Meanwhile, add flour, salt and baking soda to a small bowl, whisking to combine.

To the bowl with the brown butter, add both sugars and whisk until the sugar is incorporated. The mixture will look like wet sand. Add the egg yolk and whisk until the mixture is smooth (about 30 seconds). Whisk in vanilla. Add dry ingredients to the bowl, and using a spatula, fold the dry ingredients in the wet until no dry spots remain. Fold in the chocolate chips. The dough will look wet and may feel a bit greasy.

Using your hands or an ice cream scoop, portion out 9 to 10 1-ounce balls, and place 1-inch apart on the prepared baking sheet. Bake until the cookies are golden brown and firm around the edges (8 to 10 minutes). Let cool for 5 minutes on the baking sheet, then transfer to a wire rack.
Tried this recipe?
Tag @brandiego on Instagram so I can check it out!
35