Cacio e Pepe, Italian for cheese and pepper, is a classic pasta dish that originated in Rome. I've been making Cacio e Pepe for years, but my love for it was recently rekindled after watching Stanley Tucci's Searching Italy (how great is that show?).
This post may contain affiliate links.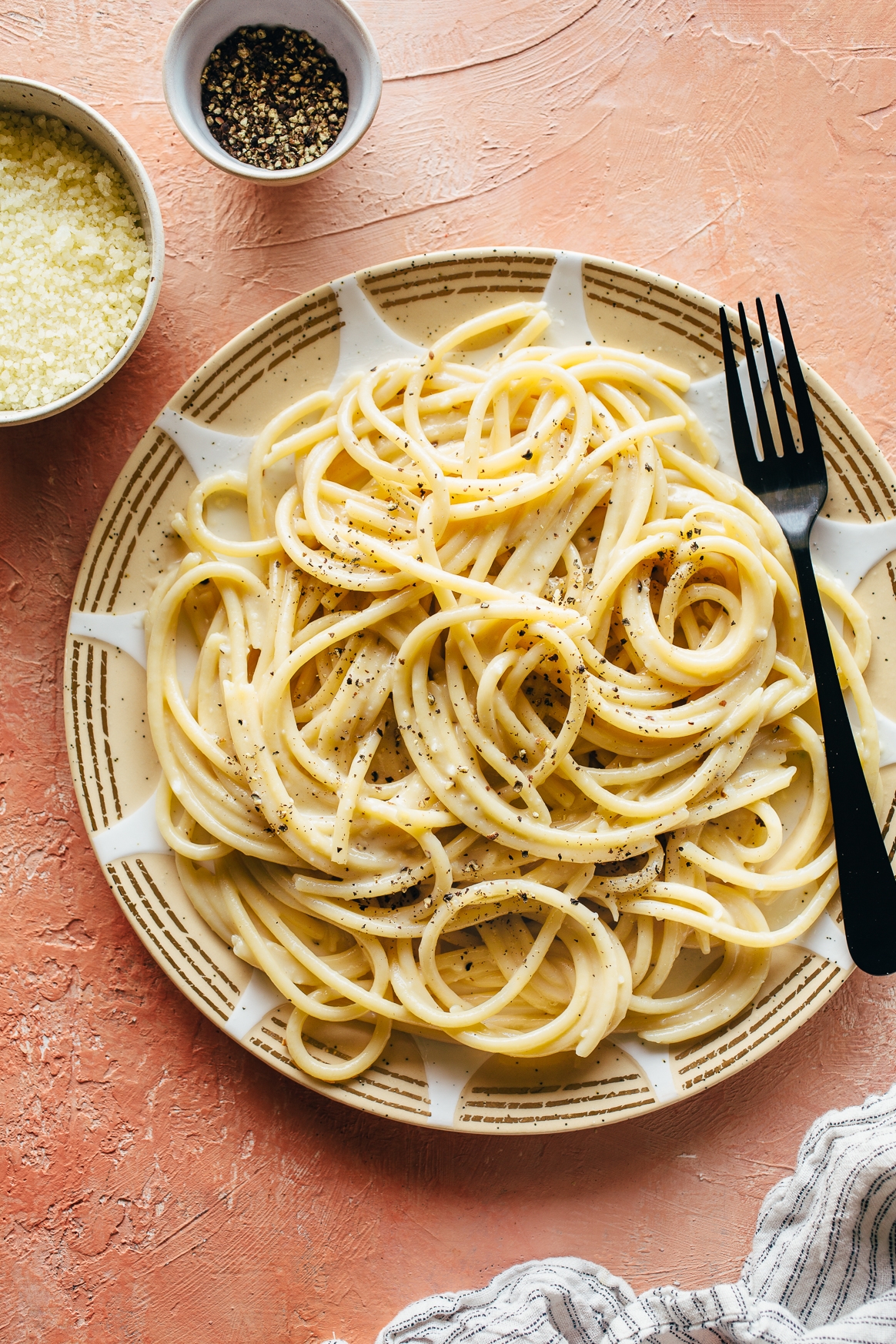 Authentic Cacio e Pepe is made by mixing cooked pasta (spaghetti, bucatini, tonnarelli) with black pepper, grated Pecorino Romano and hot pasta cooking liquid until a creamy sauce forms.
The beauty of this recipe is that no cream or butter is needed to make the sauce creamy! The heat from the cooking liquid melts the cheese while the starch thickens the sauce.
My version is not 100% traditional, because I like to add some grated Parmesan to the mix. But the method is the same, and the finish pasta is so delish. Continue reading for the recipe.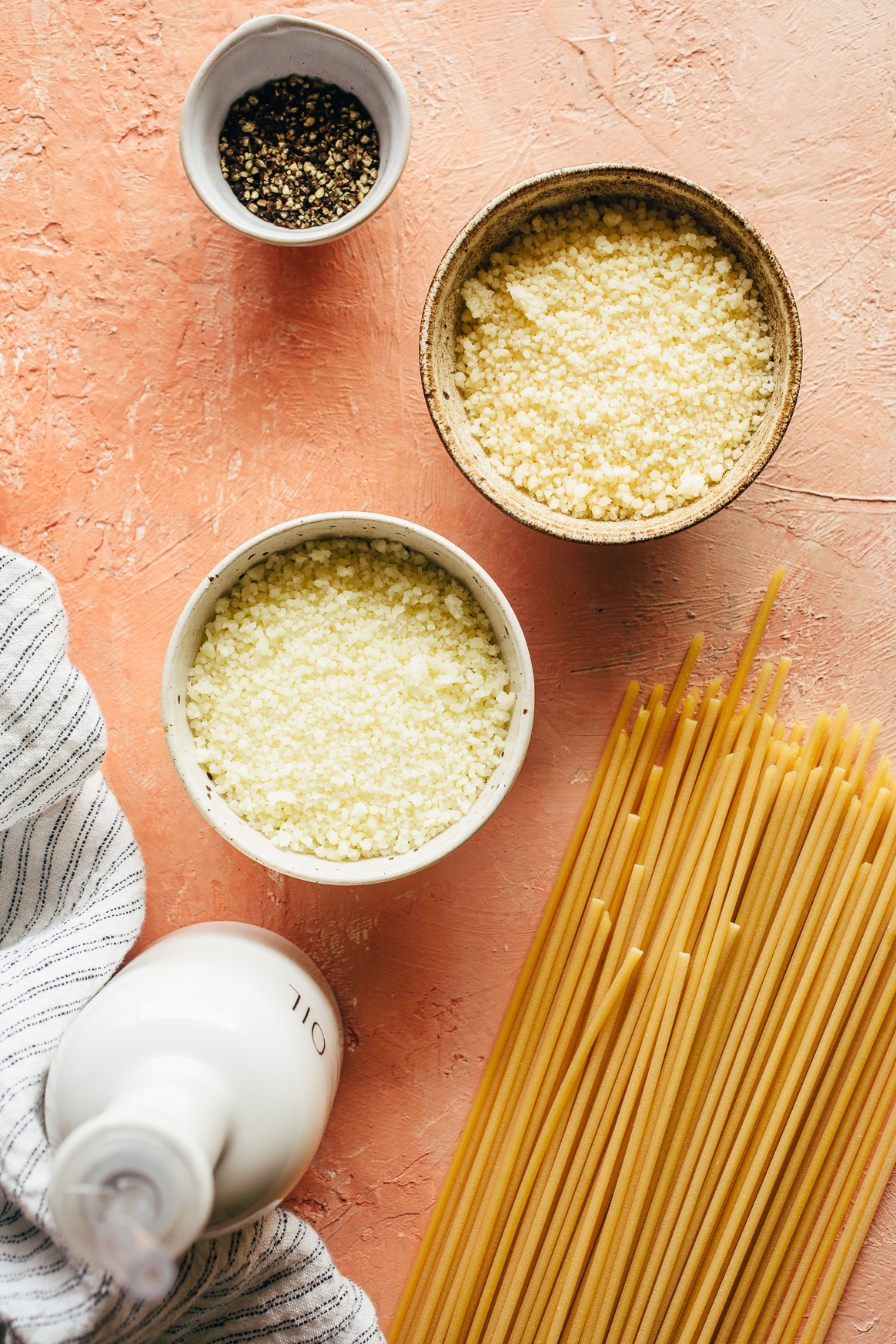 This Cacio e Pepe recipe requires just 5 ingredients: pasta, extra virgin olive oil, black pepper, Pecorino Romano and Parmesan cheese. Because there are so few ingredients here, you really want to make sure they're all good quality. Both the cheeses and pepper should be freshly grated, and make sure your olive oil isn't 10 years old!
I like to grind up hard cheeses in my food processor, and that's what I've used here. This texture doesn't fully melt into the sauce (you can see just a few bits of cheese in the photos), but the finished sauce is still pretty creamy and I don't mind the little bits. If you want a 100% silky sauce, then use a microplane to grate your Pecorino and Parmesan.
How to make Cacio e Pepe
To make Cacio e Pepe, you start by cooking bucatini (or a similar pasta shape) in pot of salted water. While the pasta is cooking, you sizzle some ground black pepper in skillet with olive oil until fragrant.
When the bucatini is just al dente, you drain the pasta (reserving 1 cup of the cooking liquid) and transfer to the skillet with the black pepper and oil. Next, add some of the cooking liquid to the skillet and gradually mix in grated Pecorino Romano and Parmesan.
I like to do the mixing with tongs, so I can easily toss and mix as I'm adding cheese. Eventually, a creamy sauce will form that clings to the pasta. Finish by seasoning with salt and pepper.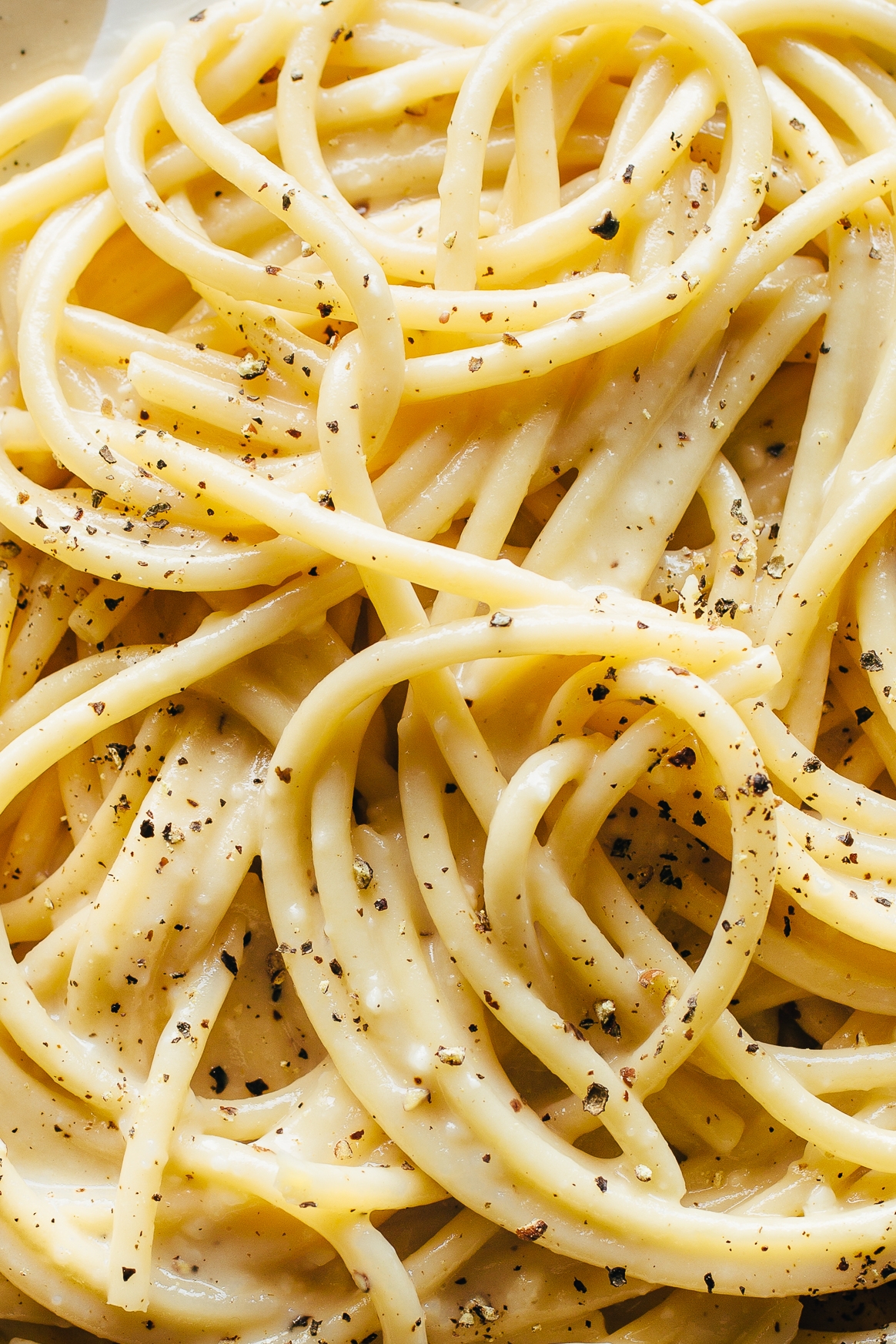 You may be wondering why this recipe only uses 8 ounces of bucatini? Because the sauce comes together in a skillet, I find it challenging to make a full pound of pasta. If you decide to double the recipe, you may want to try stirring and tossing it all up in a big bowl instead of a skillet.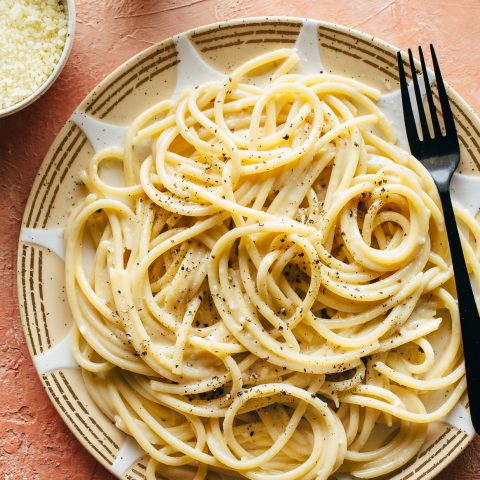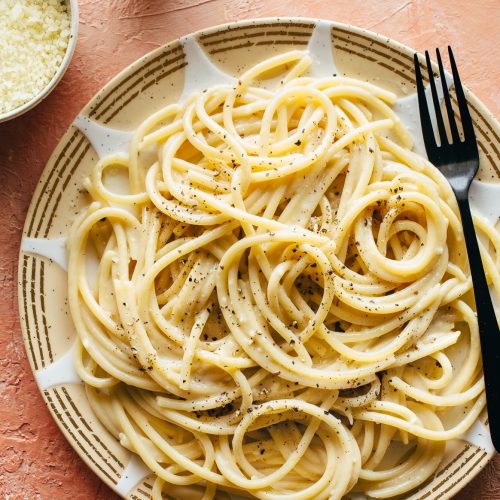 Cacio e Pepe Recipe
Ingredients
8

ounces

dry bucatini, spaghetti, tagliatelle or other thick, long pasta

Kosher salt, to taste

2

tablespoons

extra virgin olive oil

1

teaspoon

freshly ground black pepper, plus more to taste (preferably coarsely ground)

1 1/2

ounces

Pecorino Romano, finely grated

1/2

ounce

Parmesan, finely grated
Toppings: Grated Pecorino Romano, freshly grated black pepper
Instructions
Bring a large pot of salted water to a boil, add the bucatini and cook until just al dente (about 8 minutes).

Meanwhile, prepare the sauce. Warm olive oil in a large skillet over medium-low heat, then add the black pepper and cook until it just starts to sizzle (about 1 minutes). Take the skillet off the heat. Return the skillet over medium heat 1 minute before the pasta is done.

Drain the pasta well, reserving 1 cup of the starchy pasta water. Add bucatini to the skillet with the black pepper, and cook for 1 minute, tossing to coat in the oil. Reduce heat to medium-low, add 1/2 cup of the pasta cooking liquid, then gradually mix in the cheeses. Using tongs, stir and toss until the cheese melts and a sauce forms. Drizzle more starchy liquid in as you are stirring to thin out the sauce if needed. The bucatini should be evenly coated in the sauce, but you shouldn't see liquid pooling in the bottom of the skillet. Season to taste with salt.

To serve, divide cacio e pepe between 2 plates and top extra Pecorino Romano and black pepper. Enjoy immediately.
Tried this recipe?
Tag @brandiego on Instagram so I can check it out!
48