These Caprese Skewers are that classic Italian salad made into beautiful, bite-size treats. I like to drizzle mine with pesto, but Balsamic vinegar works here too.
This post may contain affiliate links.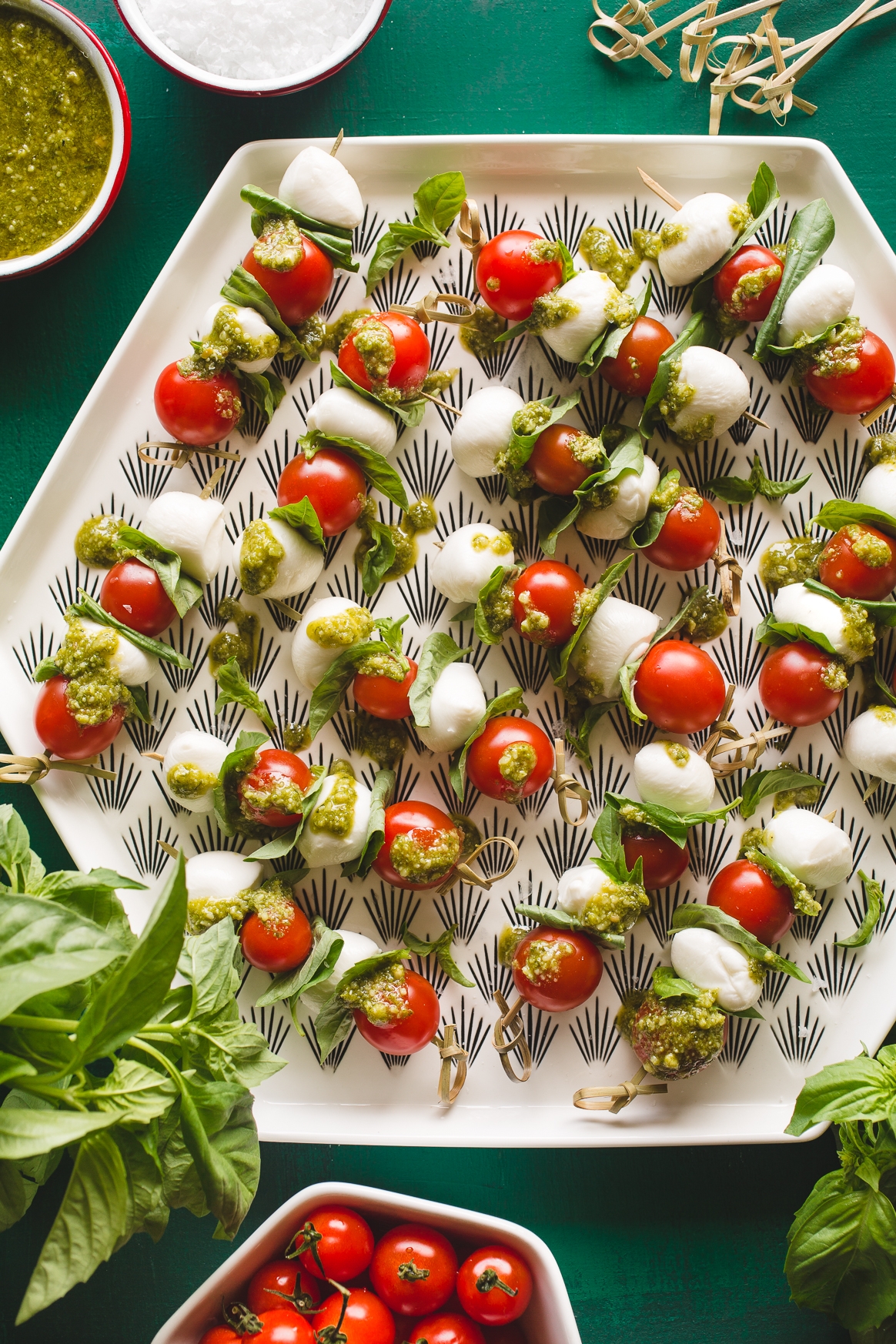 Caprese salad is a well-known dish made with ripe tomato, fresh mozzarella and basil leaves. This vibrant salad features the colors of the Italian flag: green, white and red.
I love a good Caprese during the summer months. The sweet acidity of tomato contrasts the rich milkiness of the mozz while basil adds a pop of freshness.
These caprese salad skewers capture all of those delicious flavors in a format perfect for snacking or sharing. Continue reading for the recipe.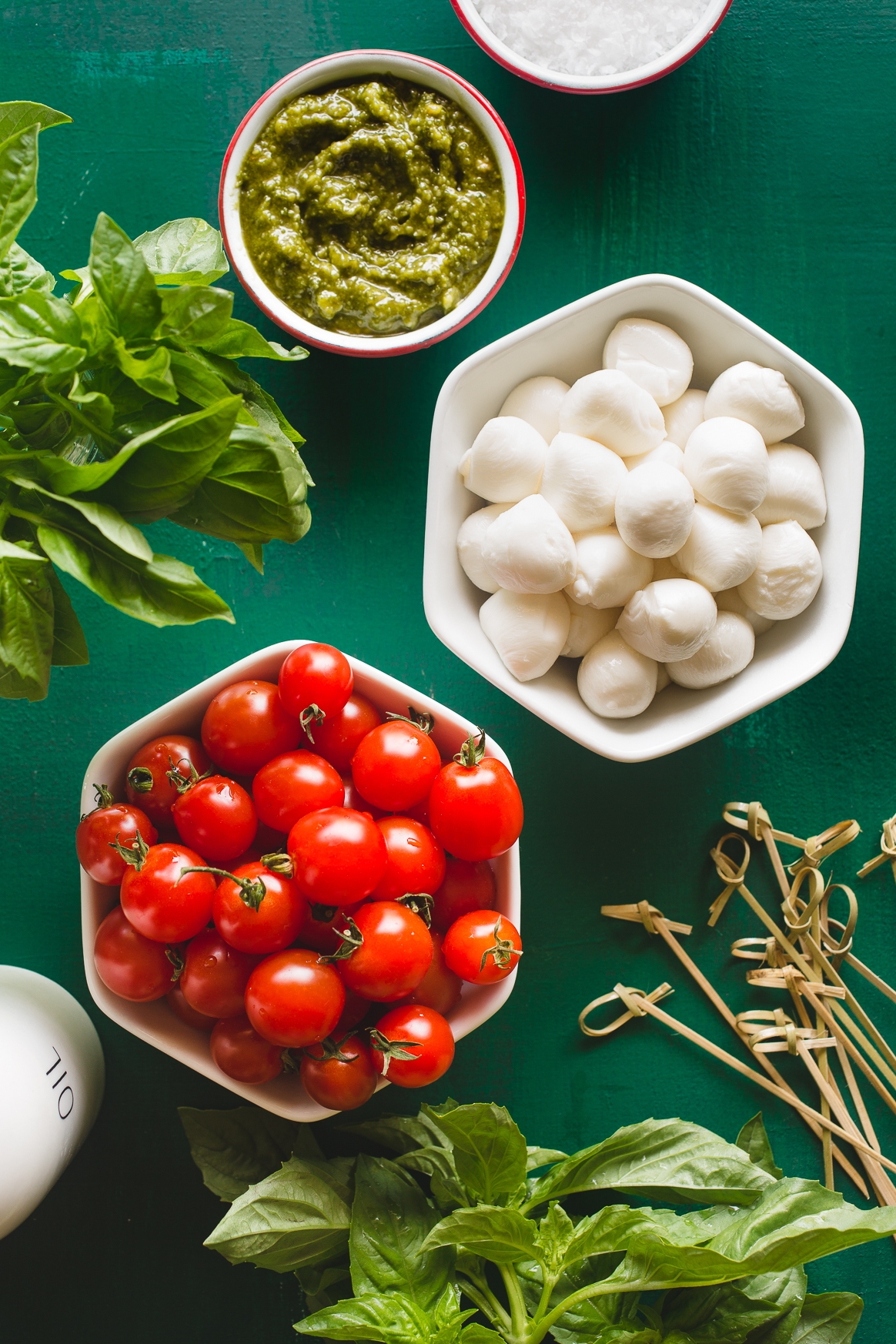 Summer is almost here, and I've been noticing that the cherry tomatoes at the market are getting better and better. I love to make these Caprese Skewers when I've some really sweet and tangy cherry tomatoes. Given that there are not many ingredients in this recipe, you really want to make sure they're top-notch quality!
This is also a great recipe to use up basil from the garden. Just make sure the leaves are fresh and perky. You can thread smaller leaves on the skewers whole, but bigger leaves should be torn or folded.
There are various types of mozzarella balls available at the store. Try to find ones that are the same size as a cherry tomato.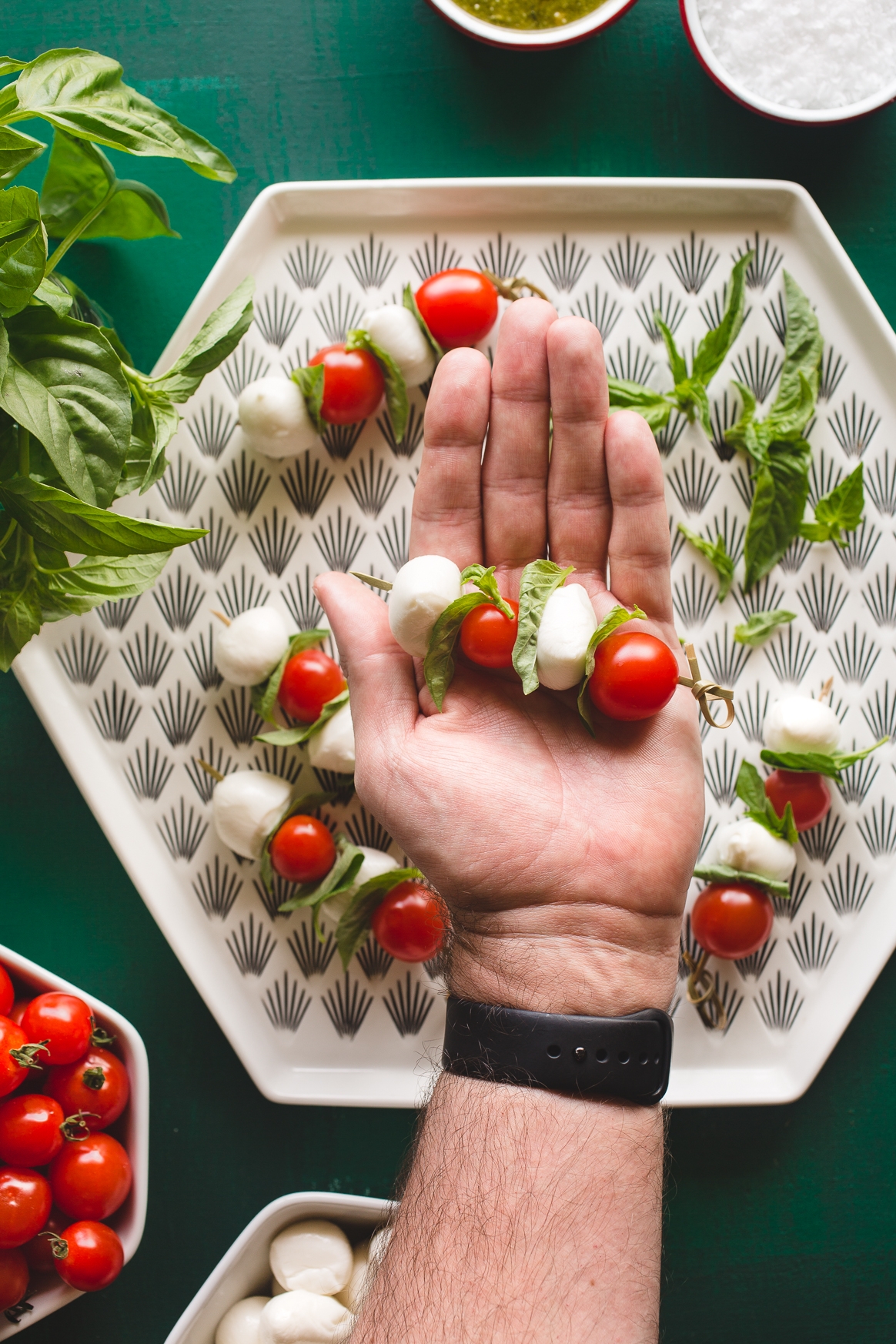 How to make Caprese Skewers
The process for making Caprese Skewers is a simple one! Grab a toothpick and skewer ingredients in the following order: cherry tomato, basil leaf, mozzarella ball. If you are using a smaller toothpick, you can stop there. If you are using a longer pick, you can add another cherry tomato and mozzarella ball, placing a basil leaf in between each.
You can season these skewers with a number of things, including salt, olive oil and/or Balsamic vinegar. I love to drizzle them with fresh pesto. You need to make sure the pesto is a pourable consistency, so thin it out with olive oil as needed.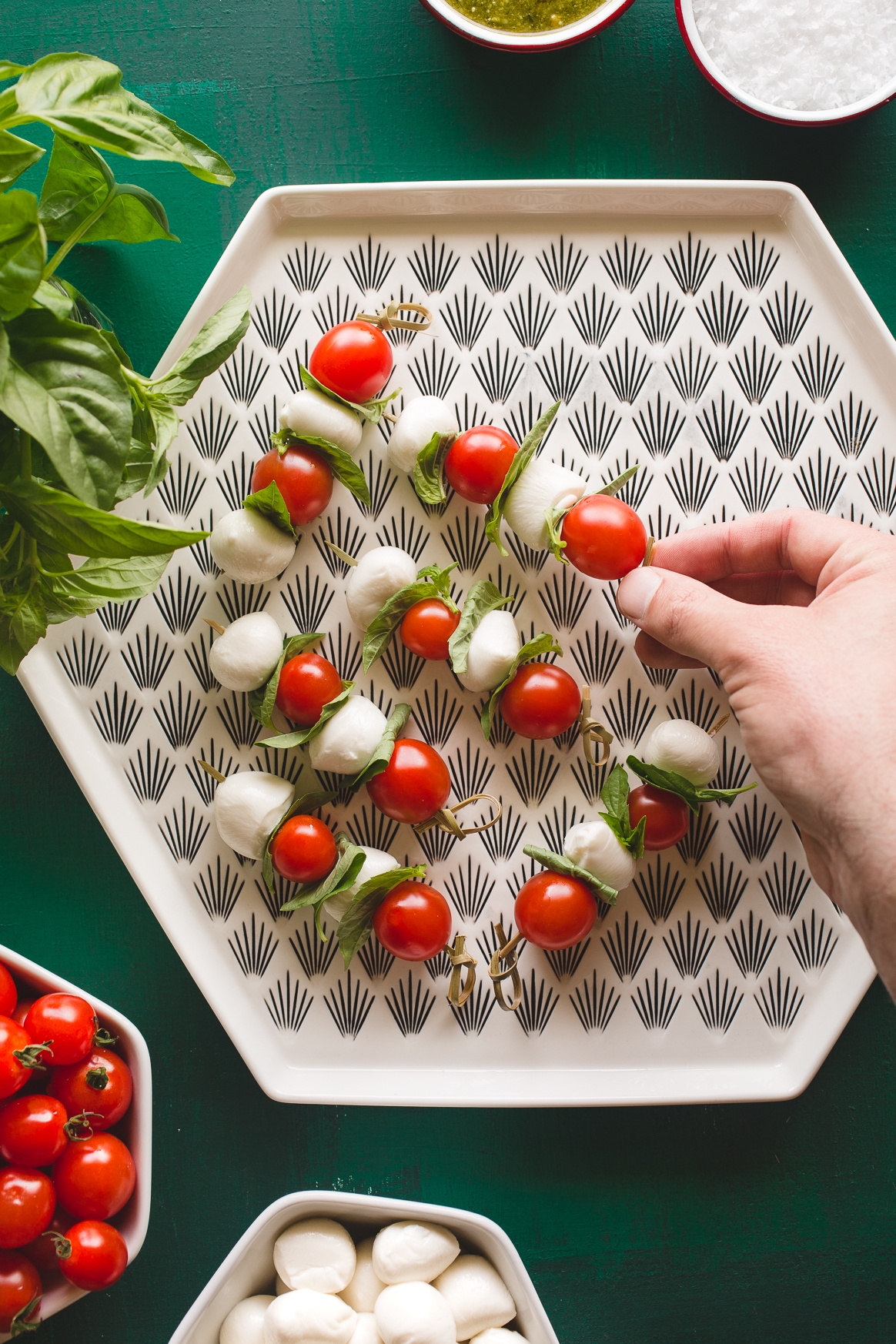 Can you make caprese skewers ahead of time?
I would not recommend making these Caprese Skewers too far in advance. Mozzarella should be refrigerated and tomatoes should stay at room temp, so you can see the challenge of storing these properly!
You can store these Caprese Skewers for a few hours in the fridge with minimal loss of flavor, but don't let them sit overnight! Drizzle on the pesto just before serving.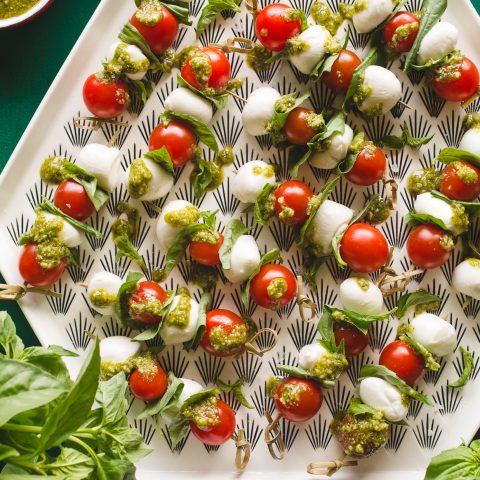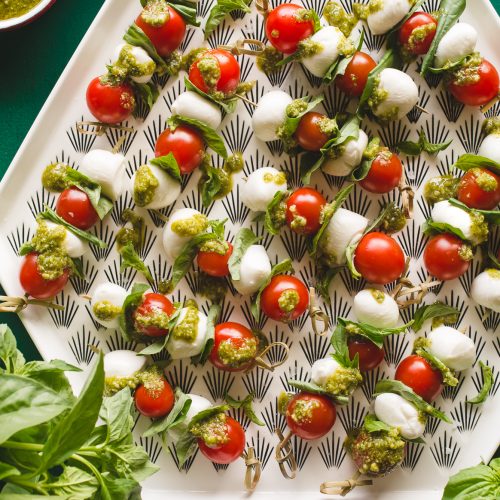 Caprese Skewers Recipe
Ingredients
1

pint

cherry tomatoes (you might not use them all)

8

ounces

small fresh mozzarella balls

Small to medium basil leaves (from 1 bunch of basil)

1/2

cup

prepared pesto

1 1/2

tablespoons

extra virgin olive oil

Flaky sea salt
Instructions
Using a toothpick, skewer 1 cherry tomato, 1 basil leaf (folded or torn if larger) and 1 mozzarella ball. If your toothpick is longer, you can skewer 2 tomatoes and mozzarella balls, adding a piece of basil in between each.

Place pesto in a medium bowl and whisk in olive oil. The pesto should be a pourable consistency. Add more olive oil or splash of water if needed.

To serve, place skewers on a serving platter and drizzle with pesto. Finish with a sprinkling of flaky sea salt. Serve extra pesto on the side for dipping or drizzling.
Tried this recipe?
Tag @brandiego on Instagram so I can check it out!
26