Flavored with white wine, garlic and thyme, this Mushroom Risotto recipe is rich, creamy and packed with plenty of wild mushroom flavor.
This post may contain affiliate links.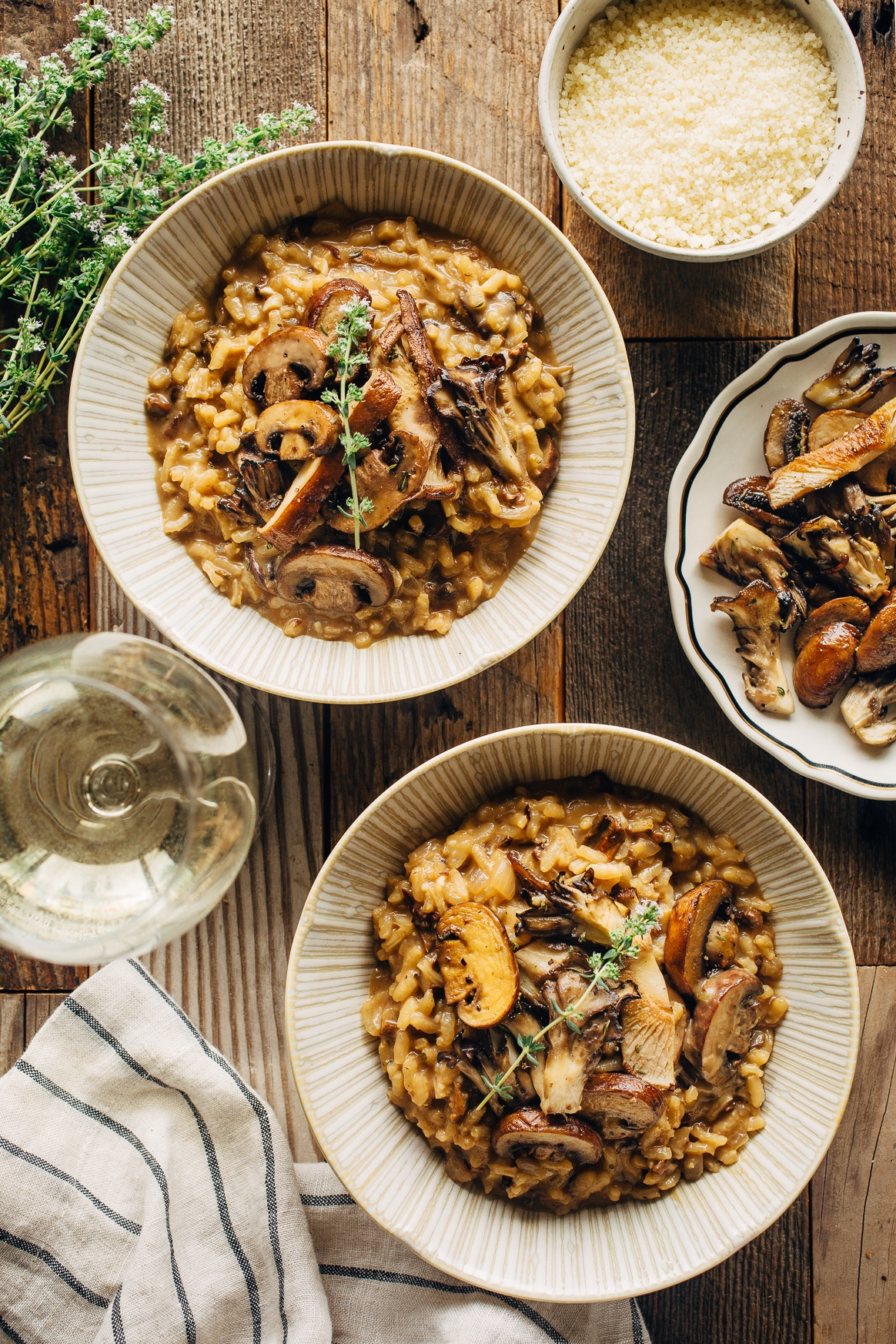 A few years ago, I shared this delicious Wild Mushroom and Mascarpone Risotto; however, that recipe requires the use of a special piece of equipment. This Mushroom Risotto recipe varies in flavor a bit, and no special equipment is needed.
Prepared on the stovetop, my Mushroom Risotto is infused with dried mushrooms that have been rehydrated (plus their soaking liquid) and a golden mix of roasted mushrooms. Each bite is savory and earthy with plenty of creaminess from the rice, butter and Parmesan cheese. This is a must-try for anyone who loves mushrooms. Continue reading for the recipe.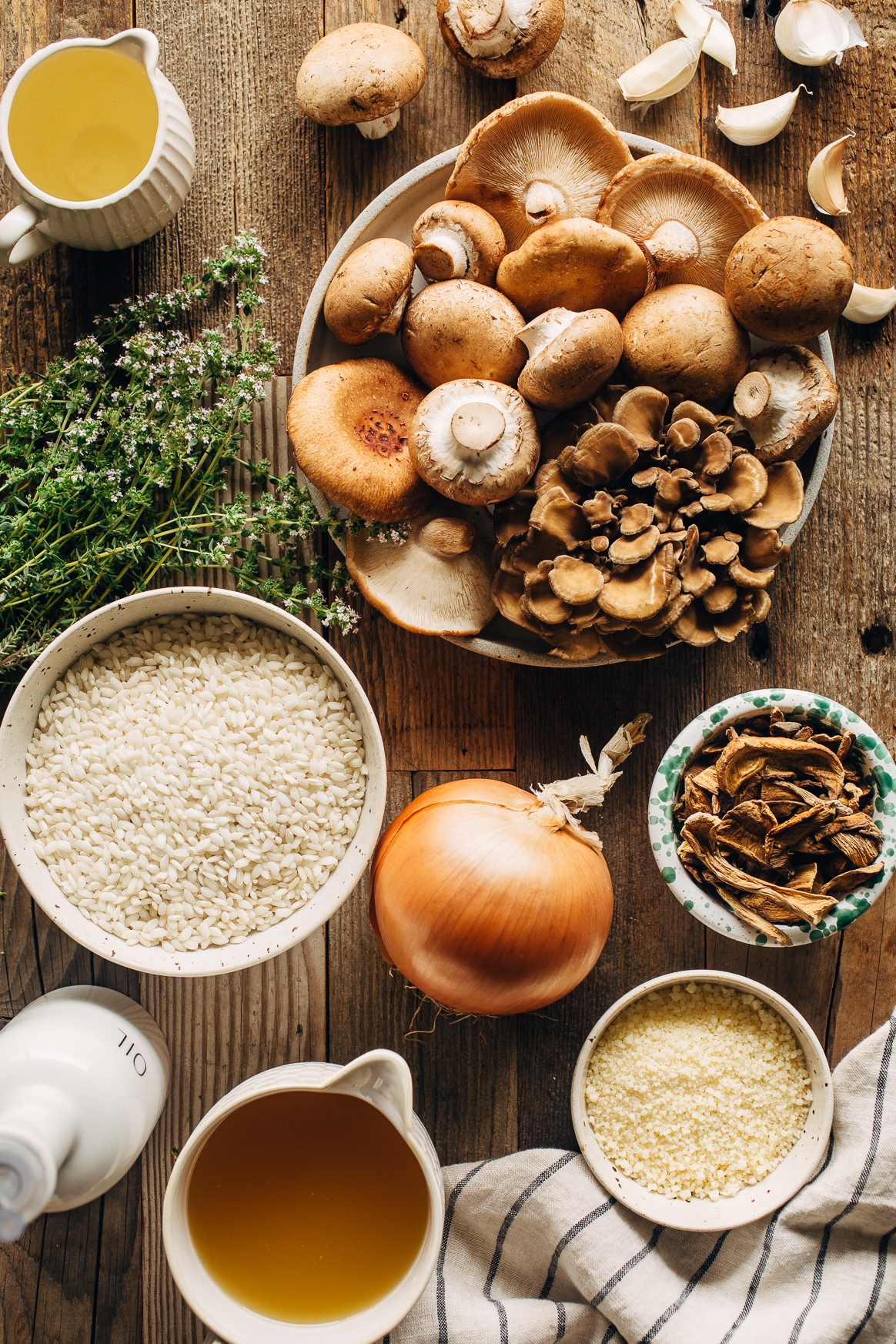 I used a mix of cremini, shiitake and maitake mushrooms here. Maitakes are actually one of my favorite mushrooms to cook with, because they really have such an intense, meaty flavor.
But don't worry if you can't find this specific blend of mushrooms at the market. I've made this Mushroom Risotto before with just all cremini mushrooms, and it was still so delicious.
I should note that the use of dried mushrooms here is optional, but highly encouraged. I always like to keep some dried mushrooms in my pantry. They last forever, and can really add some great depth of flavor to a dish.
How to Make Mushroom Risotto
To make mushroom risotto, you start by roasting 1 pound of mushrooms with garlic and thyme until tender and golden. While those mushrooms are roasting, you steep 1 ounce of dried mushrooms in boiling water for 15 minutes. You then drain and chop the mushrooms, but reserve 1 cup of the soaking liquid. These two steps are what help make the risotto wonderfully mushroom-y.
Once the prep is done, you can dive into making the risotto. Bring a pot of chicken stock mixed with the mushroom soaking liquid to a simmer on a side burner and keep warm.
Meanwhile, cook onion, garlic and chopped thyme in olive oil and butter until tender. Stir in 1 cup of risotto rice (arborio used here), and let cook in the fat for 2 minutes. Deglaze with some dry white wine and let that completely cook off.
At this point, you start adding the chicken stock to the rice a ladleful at a time. With each addition, you need to stir the rice and let it completely absorb the liquid. This gradual process cooks the rice while coaxing out the starch to form a creamy sauce (without any cream!).
During the final addition, you stir in some of the roasted mushrooms, butter and Parmesan cheese. I like to reserve some of the mushrooms to serve on top with more grated Parm.
What to serve with Mushroom Risotto
Mushroom Risotto can certainly be enjoyed on its own, but it also pairs beautifully with beef, pork and chicken. I recently enjoyed it with some cooked Italian sausage.
For a beverage pairing, try the dry white wine you used in the risotto (Sauvignon Blanc or Pinot Grigio) or earthier reds like Pinot Noir or Syrah. I've also enjoy this with a robust Zinfandel.
Mushroom Risotto
Ingredients
1

ounce

dried mushrooms (optional)

1

pound

mushrooms, wiped cleaned, trimmed and sliced*

4

whole cloves garlic plus 1 minced garlic clove, divided

5

sprigs thyme plus 2 teaspoons chopped thyme, divided

4

tablespoons

olive oil, divided

Kosher salt

Freshly ground black pepper

4

cups

low-sodium chicken stock (or 5 cups if you're not using the dried mushrooms)

3

tablespoons

unsalted butter, divided

1/2

medium yellow onion, chopped

1/2

cup

dry white wine (such as Sauvignon Blanc or Pinot Grigio)

1

cup

risotto rice (I used arborio rice here)

1/2

cup

grated Parmesan cheese, plus more for sprinkling
Instructions
Place dried porcini mushrooms in a medium bowl and cover with 1 1/2 cups boiling water. Let soak for at least 15 minutes. Drain mushrooms, reserving 1 cup of the soaking liquid. Chop mushrooms and set aside.

Preheat an oven to 400°F. Place wild mushrooms, 4 garlic cloves and thyme sprigs on a baking sheet. Toss with 3 tablespoons olive oil, then sprinkle with salt and pepper. Roast, tossing occasionally, until soft and golden brown (20 – 25 minutes). Discard garlic and thyme sprigs, then season mushrooms to taste with more salt and pepper. Set aside.

Add mushroom soaking liquid to chicken stock, and bring to a simmer in a medium saucepan over medium heat. Once simmering, reduce heat to low, and keep warm.

In a large, heavy-bottom pot, warm 1 tablespoons olive oil and 1 tablespoon butter over medium heat. Add the onion along with a pinch of salt, and cook until the onion is tender but not browned (5 to 6 minutes). After 3 minutes add the garlic and chopped thyme. Stir in the rice and cook for 2 minutes, then add the white wine and cook for 1 more minute. Add 1 cup of warm chicken stock and a pinch of salt, and cook, stirring occasionally, until all of the liquid has been absorbed. Continue adding warm chicken stock 1/2 cup at a time, waiting until the stock is absorbed before adding again, and stirring frequently to make sure the bottom doesn't burn. Continue until the rice is cooked through, but still al dente, about 30 – 35 minutes total. You may not use all of the chicken stock. During the last addition, stir in the chopped porcini mushrooms and 1/2 the roasted mushrooms.

Take the risotto off the heat, and stir in Parmesan cheese and remaining 2 tablespoons butter. Season to taste with salt and black pepper.

To serve, spoon risotto in a shallow bowl and top with reserved roasted mushrooms, a sprinkling of Parmesan cheese and a few turns of black pepper.
Notes
*I used a mix of cremini, maitake and shiitake here. Feel free to use whatever type of mushrooms are available to you. I would just avoid white button mushrooms
Tried this recipe?
Tag @brandiego on Instagram so I can check it out!
24