Where are my gnocchi lovers at 🙋🏻‍♀️?! This recipe for Gnocchi with Tomato Sauce features store-bought potato gnocchi baked in a homemade tomato sauce with fresh mozzarella cheese and grated Parmesan. So simple, but so delicious.
This post may contain affiliate links.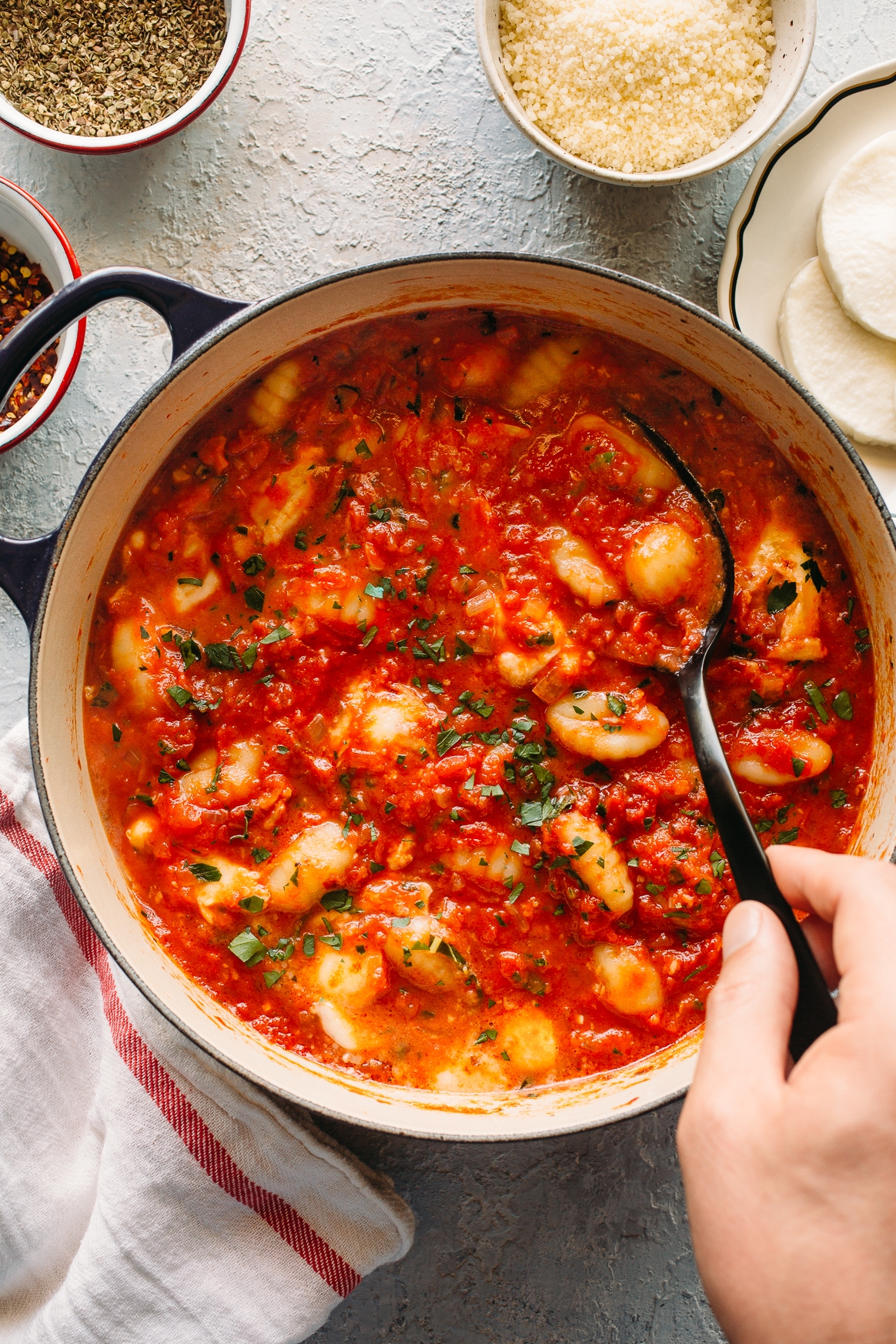 Ever since I was a child, I have always loved gnocchi. Seriously, I tried making them for the first time when I was 10. It was a massive failure, but hey I tried.
Since then, I've mastered how to make them from scratch, but I also like to keep packaged gnocchi in the pantry in the event an impromptu gnocchi craving strikes. This recipe for Gnocchi with Tomato Sauce pairs these tender potato dumplings with a quick version of my Mom's homemade tomato sauce. The whole meal comes together in about 40 minutes. Continue reading for the recipe.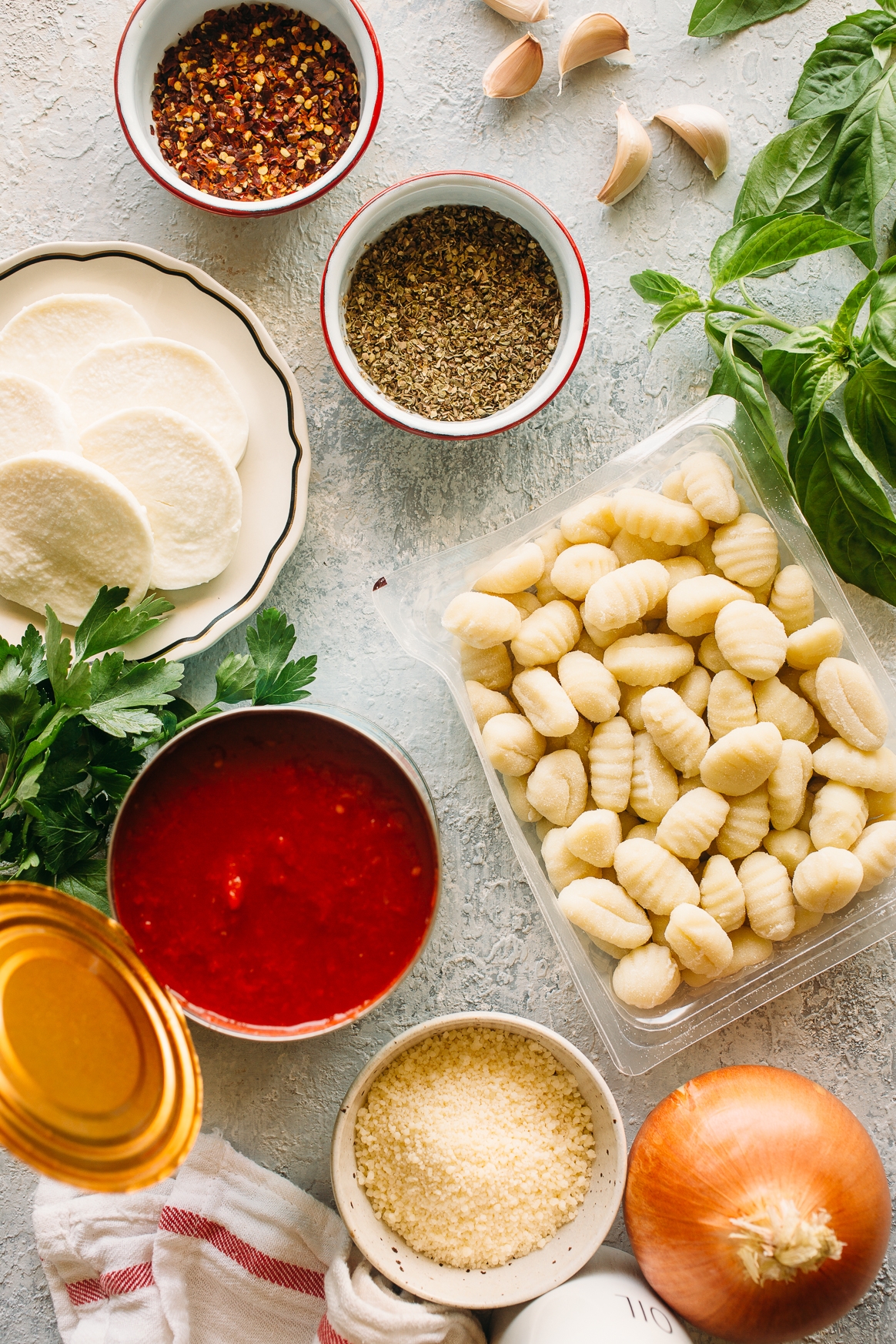 If you've never made tomato sauce from scratch, then you need to give this recipe a try. It's a major upgrade on jarred tomato sauce, and it's not difficult at all.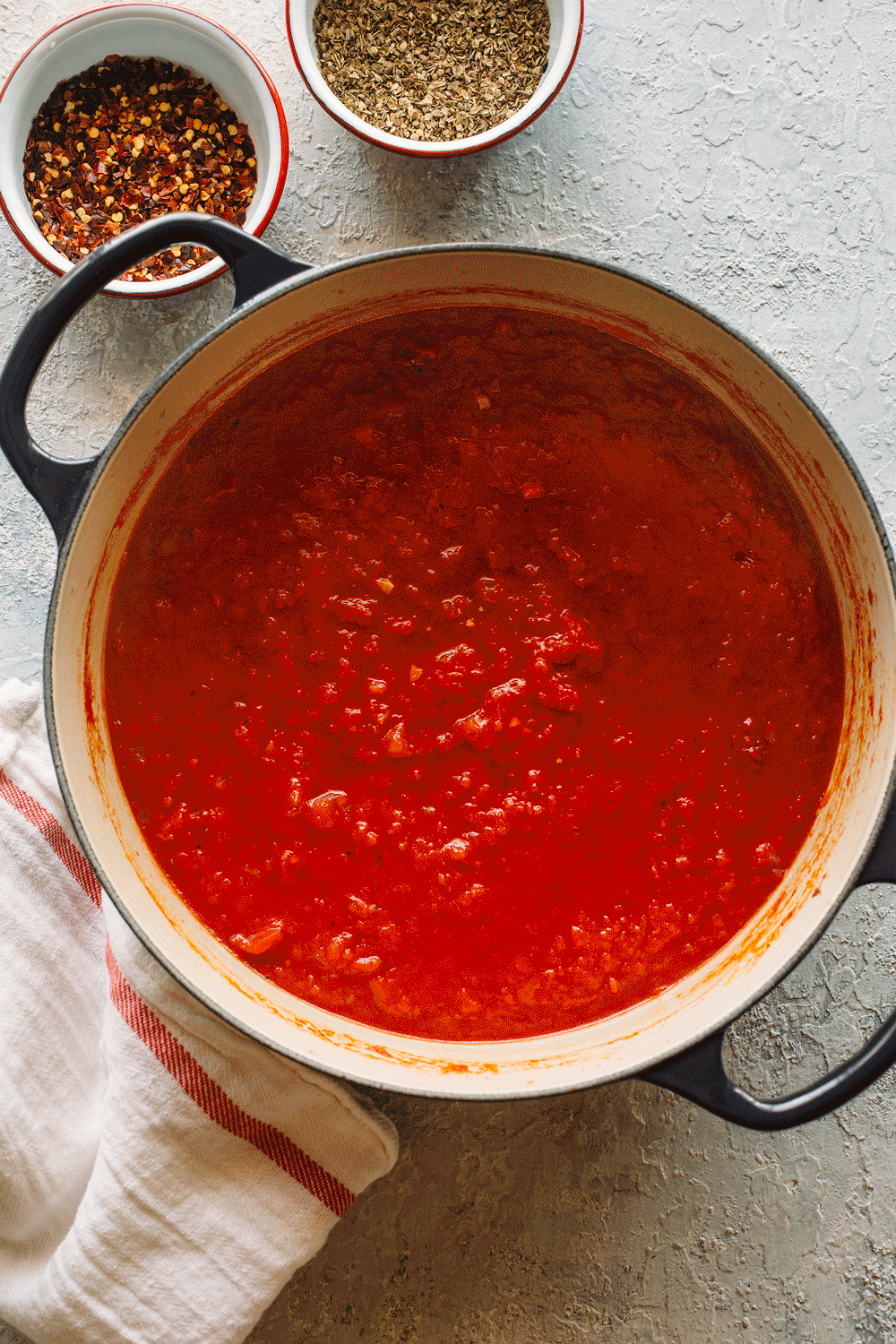 How to make Gnocchi with Tomato Sauce
To make Gnocchi with Tomato Sauce, you start by sizzling some onion, garlic and red chile flakes in olive oil until tender and fragrant. Then, you stir in a can of crushed tomato, a splash of water, and a sprinkling of dried oregano, sugar, salt and pepper.
You simmer the sauce for just 30 minutes, then stir in chopped fresh basil and parsley. While the sauce is simmering, you cook gnocchi in a big pot of salted boiling water.
Packaged gnocchi usually cook in 2 to 3 minutes, and they're done once they float to the top of the pot. You drain the cooked gnocchi and stir them into the tomato sauce.
The dish is finished with fresh mozzarella cheese and grated Parmesan. I like to pop the whole pan under the broiler to get the cheeses all golden and melty. Then, I swirl the cheese in the sauce to evenly mix it in. The cheeses are optional, but highly encouraged.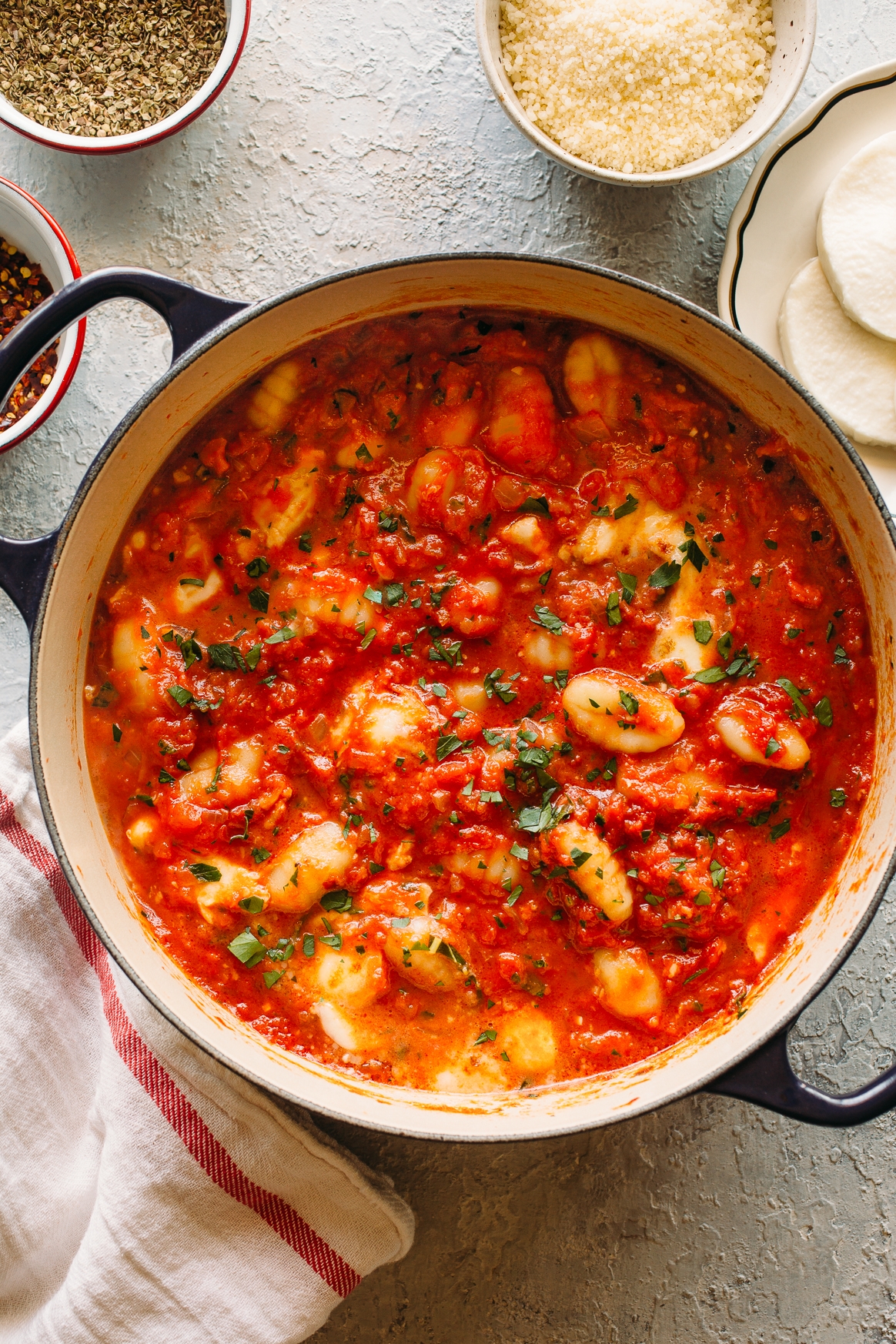 Can you bake gnocchi?
When cooking gnocchi, you always need to boil it first and then you can bake it. Here are two ways you can bake gnocchi:
One trick I learned from my friend Linda, is to butter or oil a small baking dish first. Then, as the gnocchi are done cooking, you transfer them to the baking dish and toss with the oil. Pop the baking dish in the oven and bake for 5 to 10 minutes to get the gnocchi a little golden on the outside.
In this recipe, the cooked gnocchi are swirled into tomato sauce and then finished in the oven to melt cheese on top.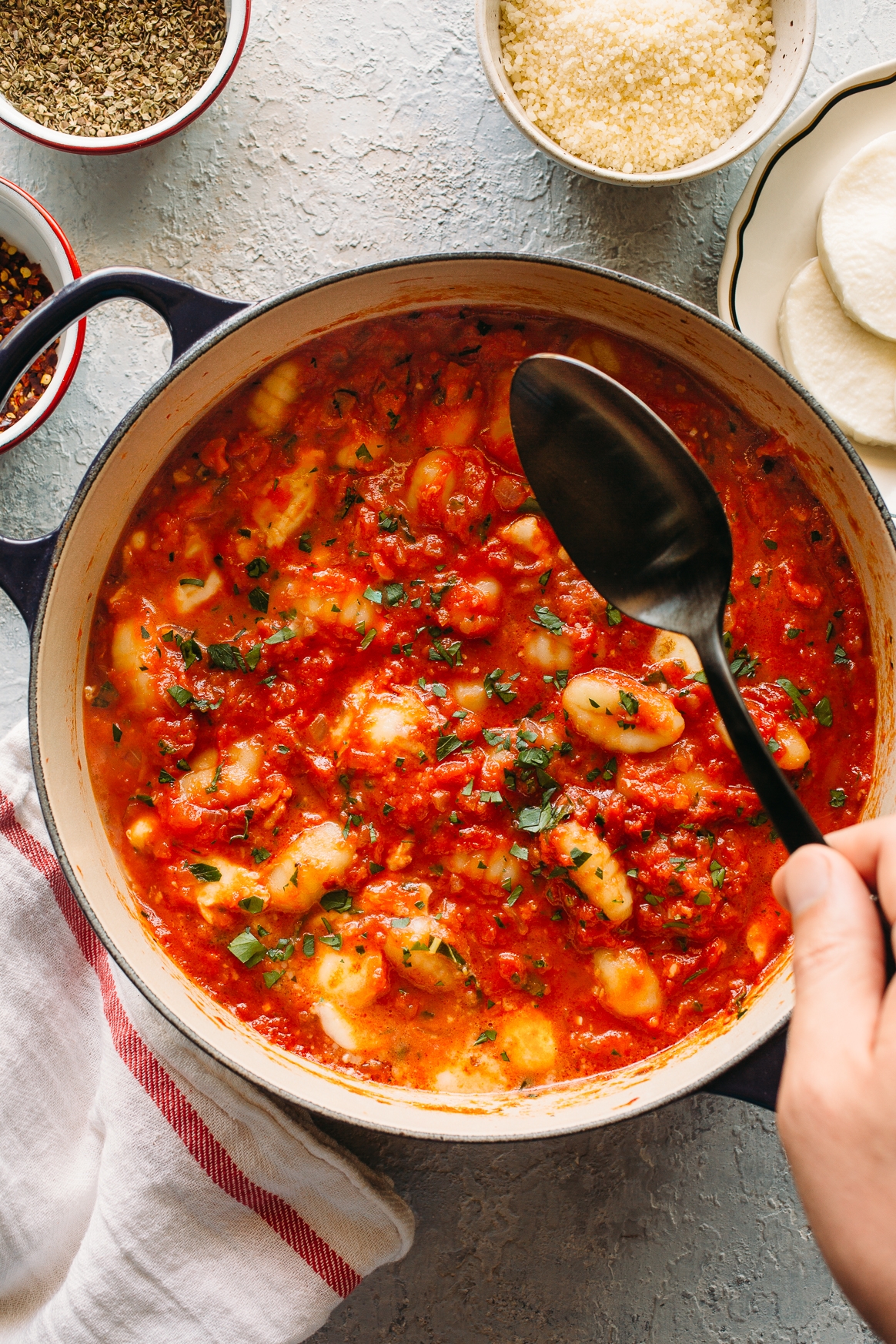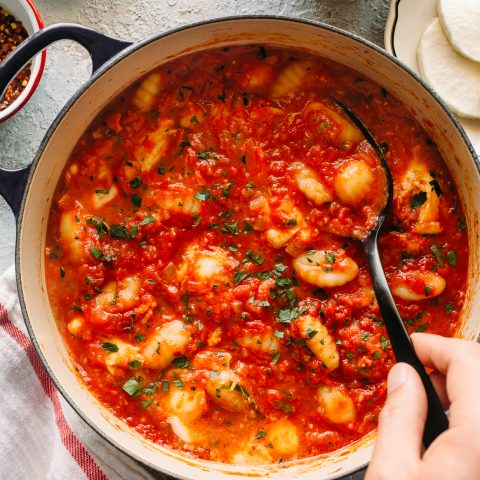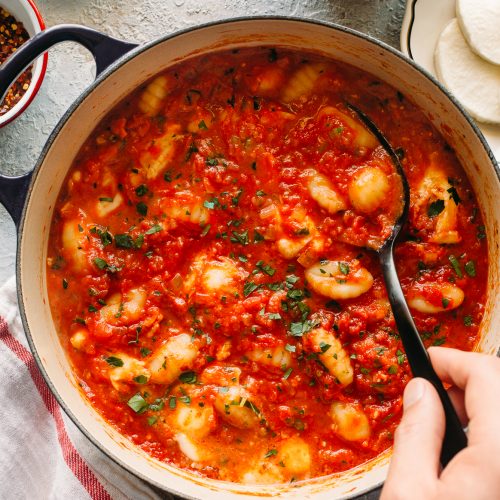 Gnocchi with Tomato Sauce
Ingredients
2

tablespoons

extra virgin olive oil

1/2

medium-sized onion, finely chopped

2

cloves

garlic, minced

Pinch

of red pepper flake, or to taste

1

28 oz. can crushed tomato

1/2

teaspoon

dried oregano

1/2

teaspoon

sugar

Kosher salt

Freshly ground black pepper

1

tablespoons

chopped fresh Italian parsley, plus more for sprinkling

1

tablespoons

chopped fresh basil, plus more for sprinkling

1

16 oz. package potato gnocchi

6

ounces

fresh Mozzarella, torn

Freshly grated Parmesan cheese
Instructions
Warm olive oil in a 10-inch saute pan (with high sides). Once you see the oil shimmering, add the chopped onion and sauté for 1 minute, stirring occasionally. Add the minced garlic and pinch of red pepper flake then continue to sauté until onions are soft and translucent, stirring occasionally (about 4 minutes more).

Add crushed tomato, oregano, sugar, a few pinches of kosher salt and several turns of freshly ground black pepper, stirring to combine. Bring sauce to a boil, reduce heat to low then simmer, partially covered, for 30 minutes. Stir in chopped parsley and basil, then season to taste with salt and pepper.

Meanwhile, bring a large pot of salted water to a boil. Cook gnocchi according to package instructions, drain, then transfer to the pan with the tomato sauce. Stir the gnocchi into the sauce, then top with mozzarella and an even dusting of Parmesan cheese.

Place pan under a broiler set to high, and cook until the cheese melts and turns crispy and golden in spots (5 to 7 minutes). Once the pan comes out of the oven, fold the melty cheese into the gnocchi, then finish with a sprinkling of fresh parsley and basil. Serve immediately.
Tried this recipe?
Tag @brandiego on Instagram so I can check it out!
64