I don't know about you, but I am perfectly happy eating a big plate of pasta. Not Jorge though. He's always asking, "where's the protein?!" This Chicken Carbonara recipe satisfies both my love for pasta and his need for protein!
This post may contain affiliate links.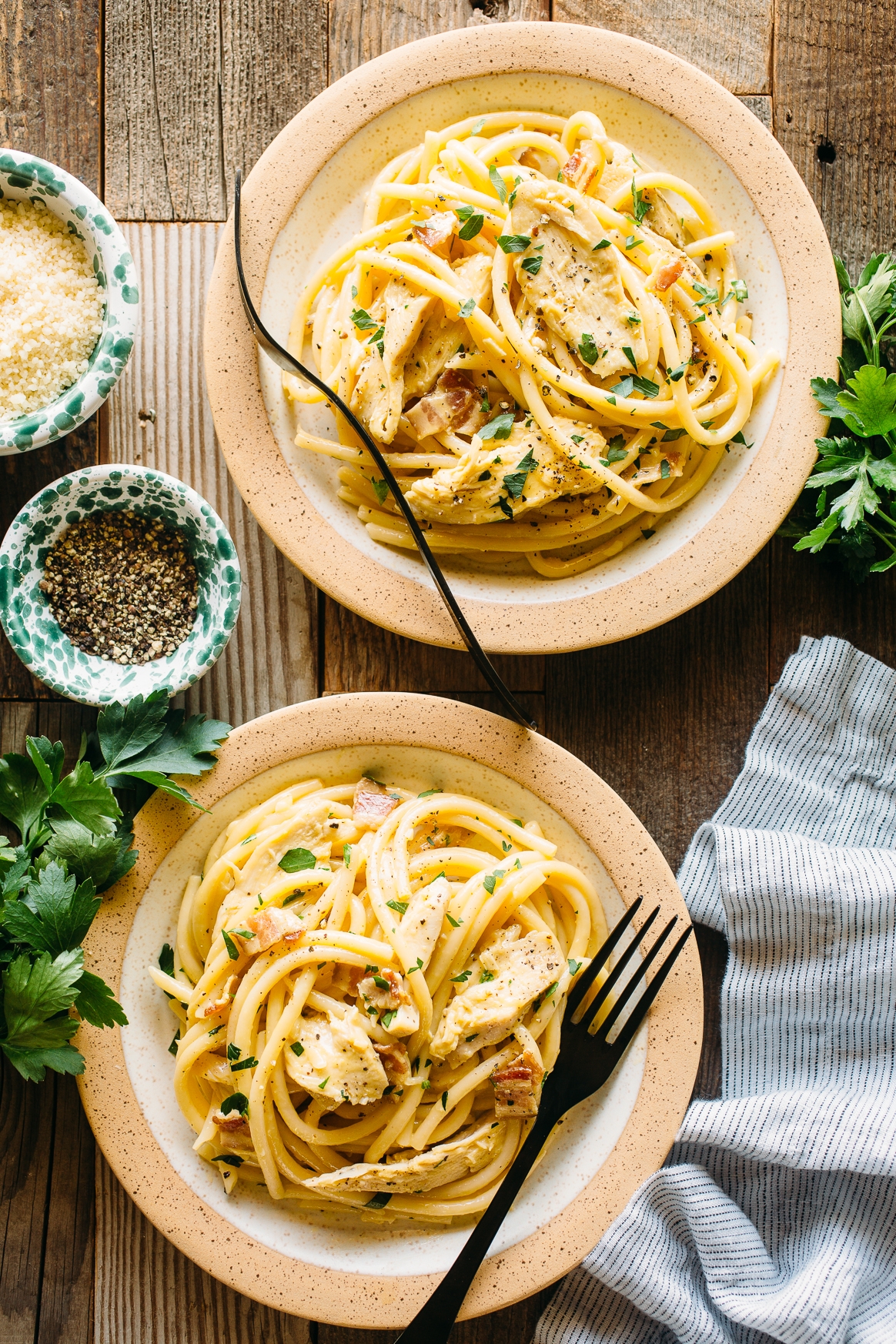 Carbonara is a classic Italian pasta dish flavored with eggs, cured pork, black pepper and either Pecorino Romano or Parmesan cheese. I actually shared my go-to carbonara recipe many years ago. The creamy sauce is made by mixing starchy pasta water with beaten eggs. No butter or heavy cream needed here!
This Chicken Carbonara recipe folds some sliced chicken breast into the mix, making it a complete, satisfying meal. Continue reading for the recipe.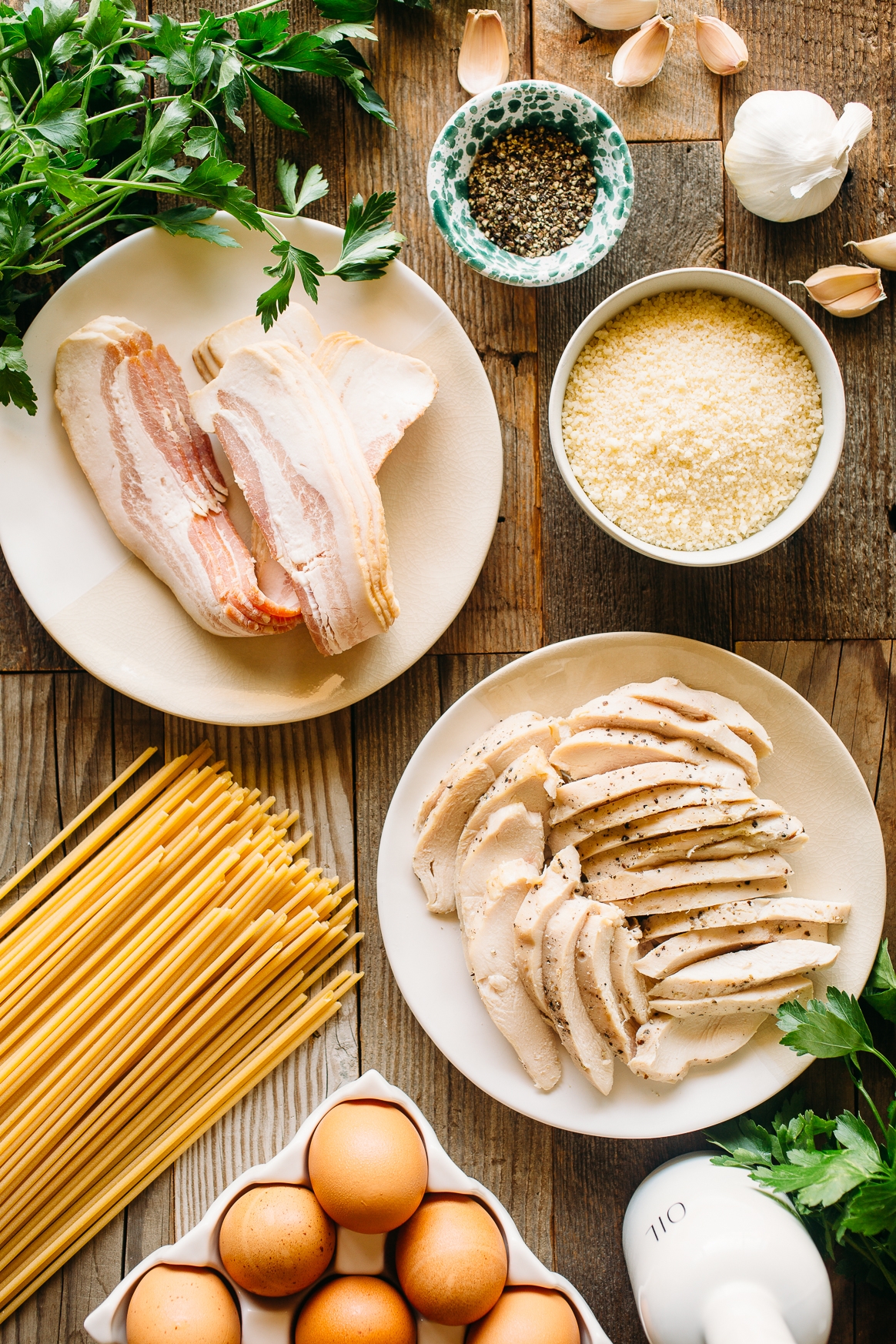 I should start by saying that this is not a classic carbonara recipe. Typically, you would use guanciale or pancetta as the cured pork part of the dish, but I like to use bacon. I've always got bacon in the fridge, and I like the smokiness it adds to the dish.
Garlic and parsley are also not traditional carbonara ingredients, but I think garlic works beautifully with all of the other flavors, and the freshness of the parsley helps cut through some of the richness of the sauce.
What is Chicken Carbonara?
Chicken Carbonara is a twist on a classic Italian pasta dish where sliced or shredded chicken is folded into the creamy sauce. I like to use sliced chicken breast, but you could used any cooked chicken you have on hand. This is a great use-up for any leftover rotisserie chicken!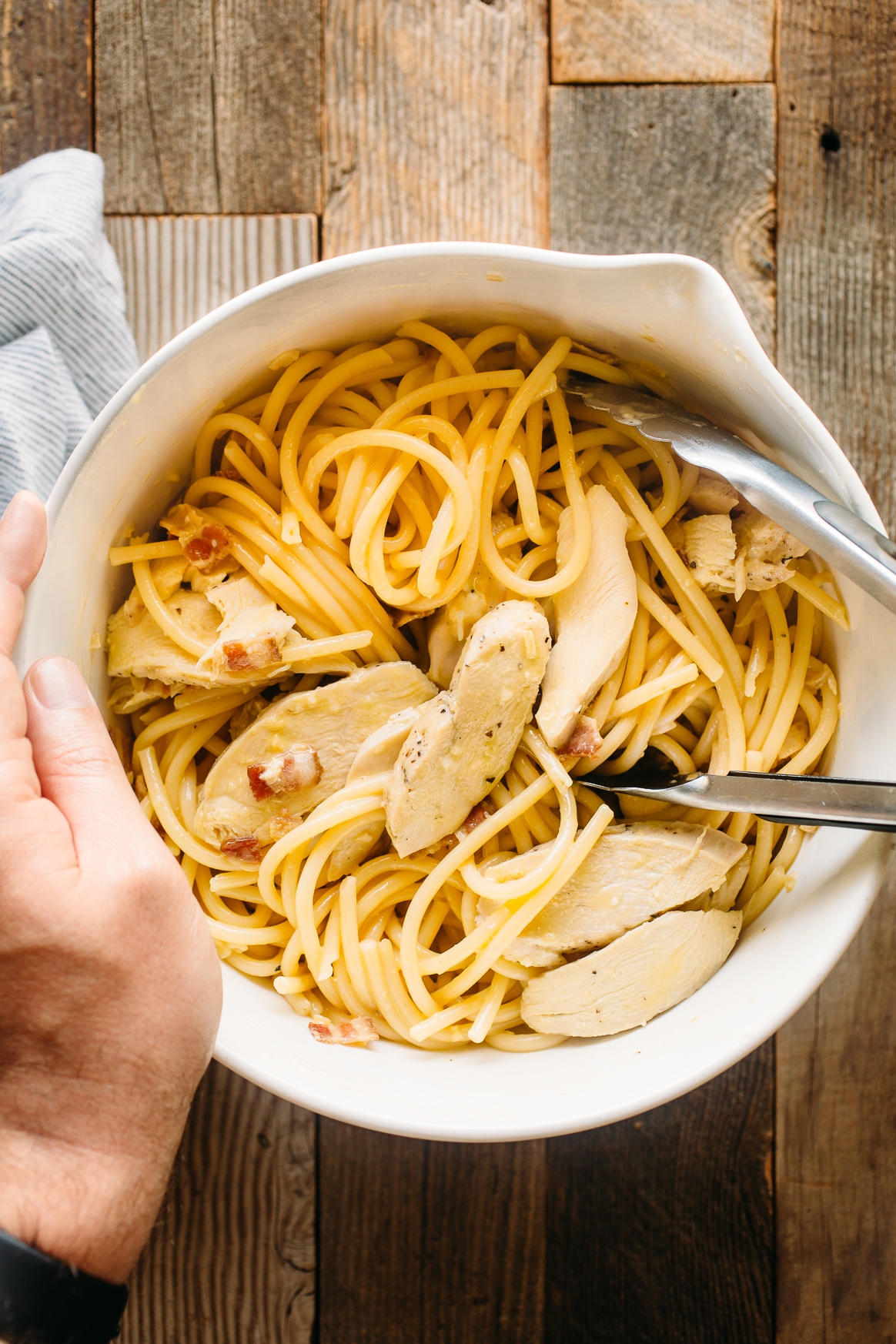 How to Make Chicken Carbonara
To make Chicken Carbonara, you start by cooking bucatini or spaghetti (or any similar pasta shape) in a big pot of salted water. Meanwhile, you cook sliced bacon in a skillet until crispy, then stir in chopped garlic. Right before the pasta is done cooking, you toss cooked chicken into the skillet to warm through.
Next, drain the pasta, but reserve 1 cup of the starchy cooking liquid. Add the pasta to the skillet, and let it cook in the bacon fat for a few minutes.
To bring the whole dish together, you add eggs and parmesan to a large bowl and whisk to combine. I like to whisk in a little of the hot cooking liquid at this time to temper the eggs. Then, you transfer everything from the skillet into the bowl, tossing to combine.
As you are tossing the bucatini in the egg mixture, the eggs will gently cook and form a silky sauce that clings to the pasta. I like to occasionally splash in cooking water if the pasta is looking dry. You finish the dish with plenty of chopped parsley and ground black pepper.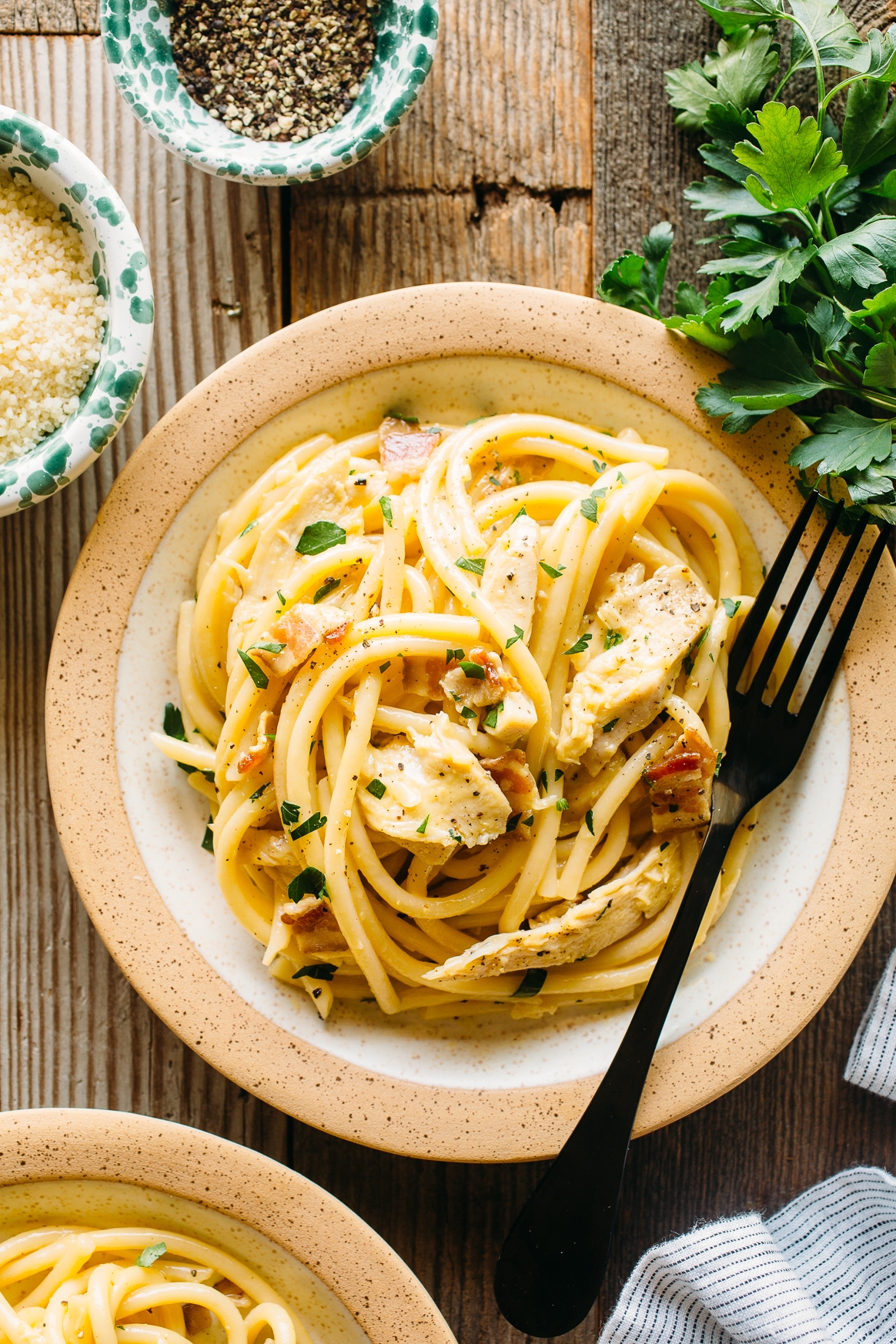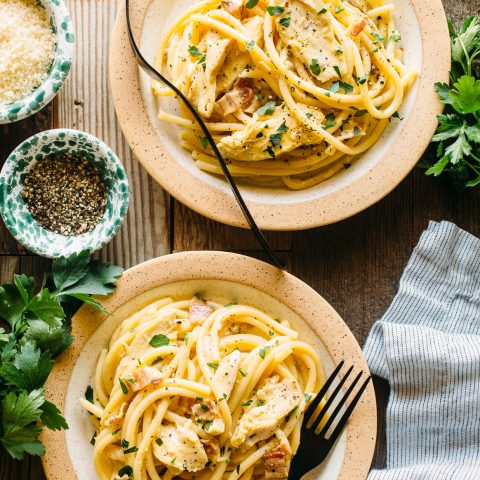 Chicken Carbonara Recipe
Ingredients
1

pound

dry bucatini, spaghetti, fettuccine or linguine

3

eggs plus 1 egg yolk

3

ounces

(1 cup) grated Parmigiano-Reggiano, plus more for serving

Freshly ground black pepper

Kosher salt

2

tablespoons

extra virgin olive oil

5

ounces

(5 to 6 slices) bacon, sliced into small strips

4

cloves

garlic, finely chopped

12

ounces

sliced cooked chicken (from about 2 cooked chicken breasts)

Handful of Italian parsley chopped, plus more for serving
Instructions
Bring a large pot of salted water to a boil, add the bucatini and cook until just al dente (about 9 minutes).

Meanwhile, prepare the sauce. Add eggs, egg yolk and cheeses to a large bowl, whisking to combine. Season with several turns of black pepper and pinch of salt. Set aside. Warm olive oil in a large skillet over medium heat, then add the bacon and cook until crispy (about 5 minutes). Add the garlic and cook until fragrant (about 30 seconds). At this point, if the pasta isn't done cooking, take the skillet off the heat. Return the skillet over medium heat 1 minute before the pasta is done.

Drain the pasta well, reserving 1 cup of the starchy cooking water. Add chicken to the skillet with the bacon and garlic, and cook for 1 minutes, tossing to coat in the bacon fat. Then toss in the bucatini, and cook for 2 minutes.

Drizzle a little of the starchy water into the bowl with the eggs, whisking to combine. This will help temper the eggs, and keep them from scrambling. Pour the contents of the skillet into the bowl with the eggs and cheese and using tongs, toss and stir to combine. The pasta will cook the egg, forming a thick sauce. Drizzle more starchy liquid in as you are stirring to thin out the sauce. The bucatini should be evenly coated in the sauce, but you shouldn't see liquid pooling in the bottom of the bowl. Stir in chopped parsley. Season to taste with salt and pepper (this dish can take a lot of pepper).

To serve, divide carbonara between 4 plates and top with extra parsley, Parmesan cheese and black pepper. Enjoy immediately.
Tried this recipe?
Tag @brandiego on Instagram so I can check it out!
34