This Baked Eggplant Parmesan recipe features layers of tender, baked eggplant, melty mozzarella cheese, tangy tomato sauce and crispy breadcrumbs infused with garlic and herbs. You guys, this recipe is SO delish.
This post may contain affiliate links.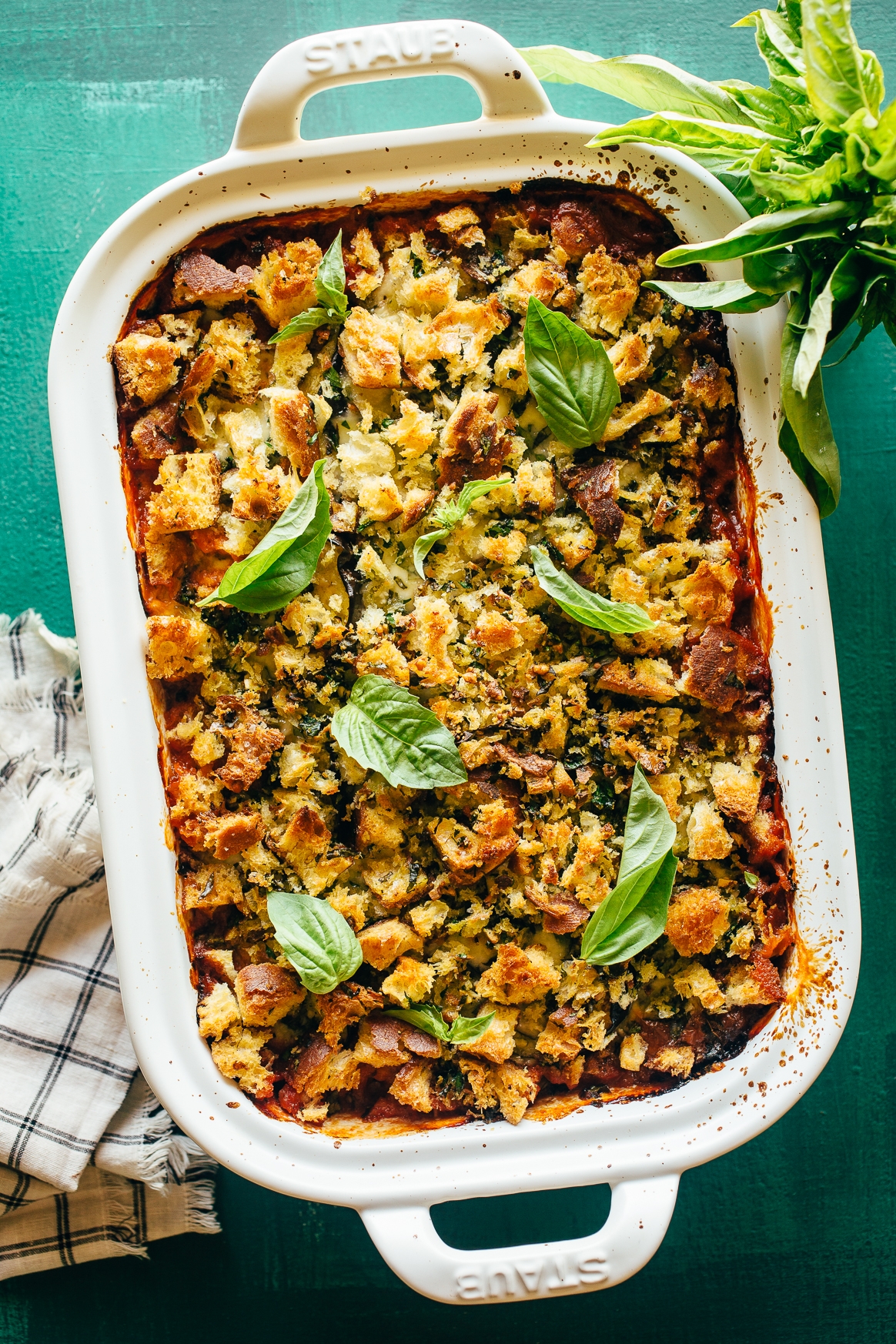 So I'll have to tell you that I really love Eggplant Parmesan, but I don't like the task of breading and frying individual slices of eggplant. I developed this Baked Eggplant Parmesan recipe as a way to enjoy this classic dish without having to toil over a skillet of sizzling hot oil.
The key here is to season thick slices of eggplant with salt, pepper and oregano, and then roast in a hot oven until tender and golden. This allows you to cook all of the eggplant slices at once, before layering them into the baking dish. If you love eggplant parm, then you must give this recipe a try.
Now you may be wondering, "Brandon, if you don't bread and fry the eggplant, how are you going to get that crispy cronchy thing going on that you'd find in a classic eggplant parm?" I've got two words for you: breadcrumb topping.
This recipe features a blanket of homemade breadcrumbs seasoned with olive oil, basil, parsley, salt, pepper and a rude amount of garlic. I'm talking four cloves here. As the eggplant parm cooks in the oven, the breadcrumbs get crispy and golden, providing plenty of satisfying cronch to the finished dish.
If you are garlic sensitive, you can certainly tone down the garlic a bit. But I think four cloves really punch up the breadcrumbs and complement the rest of the flavors in the dish.
How To Make Baked Eggplant Parmesan
To make Baked Eggplant Parmesan, you start by brushing slices of eggplant with olive oil and seasoning with salt, pepper and dried oregano. The eggplant is then baked until tender and golden (flipping each slice halfway through).
Next, you layer ingredients in a 9″ x 13″ baking dish in the following order:
Tomato sauce
Baked eggplant
A mixture of low moisture mozzarella, fresh mozzarella, grated Parmesan and chopped herbs
You'll repeat these layers three times to fill up the baking dish. To finish the dish, you top with fresh breadcrumbs tossed with olive oil, chopped garlic, chopped herbs, salt and pepper.
The eggplant parm cooks in the oven, uncovered, until the top is golden brown and the sides are bubbling (about 45 minutes). You just need to let the dish cool for 10 minutes and you can dig in!
How Long to Bake Eggplant Parmesan?
Eggplant Parmesan usually takes 45 to 50 minutes to bake. Rather than relying on time, I like to look at visual cues for doneness. The top of the eggplant parm should be golden and you'll see sauce vigrously bubbling around the sides of the dish.
Do you cover Eggplant Parmesan when you bake it?
The simple answer is: no. In this recipe, you want to get the breadcrumbs on top nice and golden, so you need to bake it uncovered.
Baked Eggplant Parmesan Recipe
Ingredients
3 1/2

pounds

eggplant, cut crosswise into 1/2-inch slices (about 3 large ish eggplants)

1/2

cup

extra virgin olive oil

1

tablespoon

dried oregano

Kosher salt

Freshly ground black pepper

3

cups

tomato sauce (homemade or store-bought)

8

ounces

fresh mozzarella cheese, diced

6

ounces

low-moisture mozzarella cheese, grated

3

ounces

(3/4 cup) finely grated Parmesan

1/4

cup

finely chopped basil

1/4

cup

finely chopped parsley
For the breadcrumb topping:
3

cups

coarse fresh breadcrumbs (I used ciabatta)

4

garlic cloves, minced

1/4

cup

olive oil

1 1/2

tablespoons

finely chopped basil

1 1/2

tablespoons

finely chopped parsley

3/4

teaspoon

kosher salt

½

teaspoon

freshly ground pepper
Instructions
Preheat an oven to 450°F. Evenly space out 2 oven racks.

Lay the eggplant in an even layer on two parchment-lined rimmed baking sheets. Brush both sides of the eggplant slices with oil, then season each side with oregano, salt and pepper. Bake for 15 minutes, then flip and bake until other sides are lightly browned (about 10 minutes more). Set aside. Reduce oven temperature to 400°F.

Add both mozzarella cheeses, Parmesan cheese and chopped herbs to a medium bowl, tossing to combine.

Spread 1 cup of tomato sauce in an even layer in the bottom of a 9 x 13 baking dish. Top with 1/3 of the eggplant, arranged in an even layer. Top the eggplant with 1/3 of the cheese mixture. Repeat even layers two more times with remaining ingredients (so you'll finish with a layer of cheese on top).

To make the topping, place bread crumbs, garlic, olive oil, herbs, salt and pepper in a medium bowl, tossing to combine. Spread bread crumbs out evenly over the baking dish.

Bake until the top is golden brown and the sides are bubbling (45 to 50 minutes). Let cool for 10 minutes before serving.
Tried this recipe?
Tag @brandiego on Instagram so I can check it out!
24