I'm a big fan of making risotto on the stovetop, but sometimes I'm not in the mood for all that stirring. When time and energy are short, I whip up a batch of this easy Instant Pot Risotto.
This post may contain affiliate links.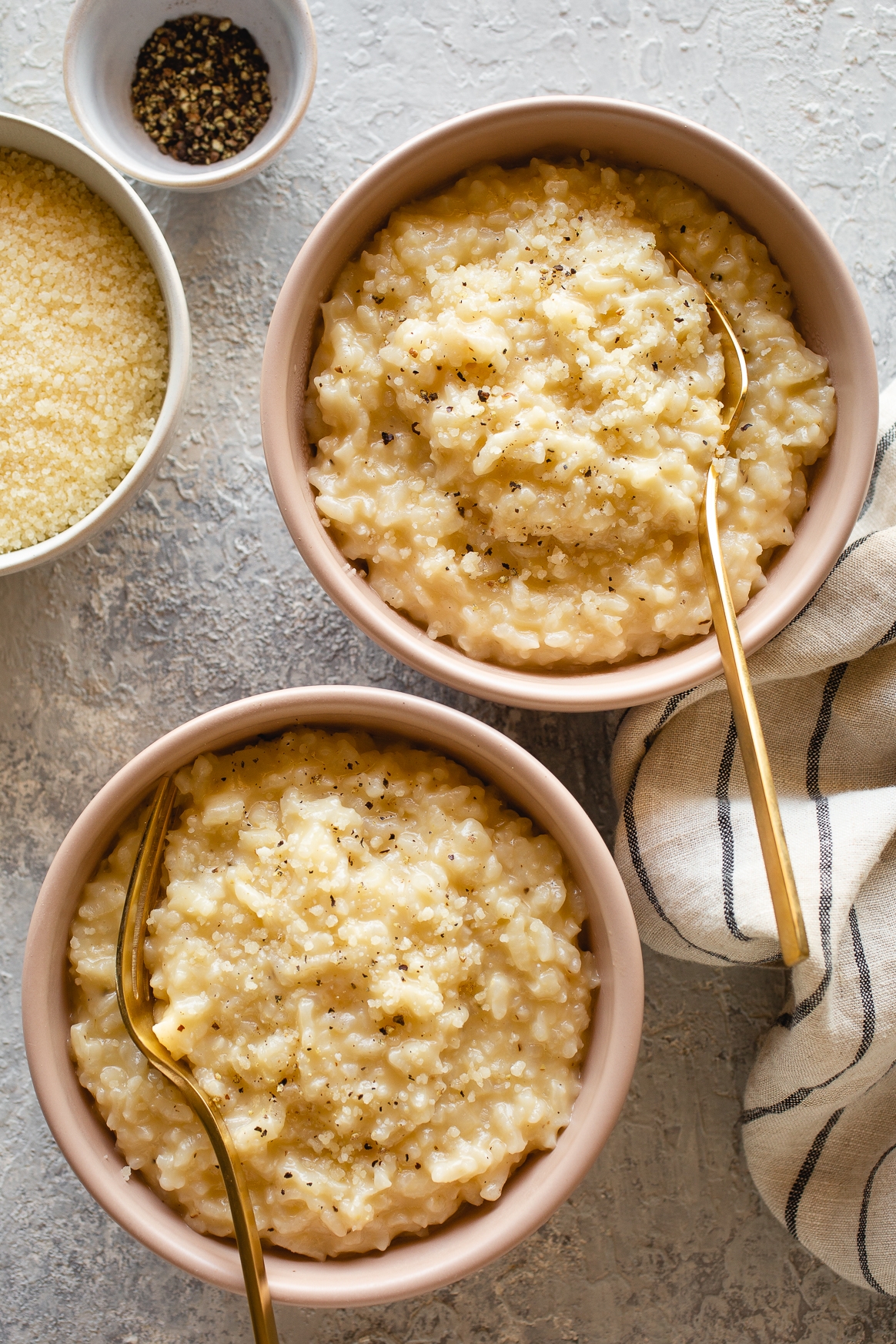 Let me start by saying that this is just a basic risotto recipe with the classic flavorings of onion, garlic, white wine, Parmesan cheese, black pepper and butter. You can certainly enjoy it as is, or you can top with plenty of delicious things like sautéed greens, asparagus, roasted mushrooms, sliced chicken or cooked shrimp. This risotto is a flavorful base that you can easily build upon.
Traditional risotto requires about 40 minutes of stirring and attention while this recipe calls for just a few minutes of sautéing and 5 to 6 minutes of pressure cooking. The finished Instant Pot Risotto is tender and wonderfully creamy. Continue reading for the recipe.
How to Make Risotto in the Instant Pot
To make risotto in an Instant Pot, you start by cooking onion and garlic in olive oil using the saute function. Once they're tender and fragrant, you stir in rice and cook for a minute and half, allowing the rice to soak up some of that flavorful fat.
Next, you deglaze the pan with a dry white wine and let the liquid cook off for a minute. Then, stir in Arborio rice and chicken stock, and cook on high pressure for 5 to 6 minutes.
Once the pressure naturally releases, you finish the risotto with butter, freshly grated Parmesan cheese and plenty of black pepper.
How long do you cook risotto in an Instant Pot?
Risotto cooks in just 5 to 6 minutes in an Instant Pot. Cooking the rice for 5 minutes will result in a more al dente risotto. Cooking for 6 minutes will result in a super creamy risotto. Either option is delicious!
Just make sure you plan a little extra time to allow for a natural release. This can take up to 20 minutes.
Instant Pot Risotto Recipe
Ingredients
2

tablespoon

extra virgin olive oil

2

tablespoons

unsalted butter, divided

1

medium yellow onion, chopped

2

cloves

garlic, minced

Kosher salt

1 1/2

cups

risotto rice (I used arborio rice)

1/2

cup

dry white wine (such as Sauvignon Blanc or Pinot Grigio)

4

cups

low-sodium chicken stock

1/2

cup

grated Parmesan cheese, plus more for sprinkling

Freshly ground black pepper
Instructions
Using the saute function, heat olive oil and 1 tablespoon butter in an Instant Pot. Add onion and a pinch of salt, and sauté, stirring occasionally, until onion is soft (about 3 minutes). Stir in garlic and cook just until fragrant (about 30 seconds). Stir in the rice and cook for 1 1/2 minutes, then add the white wine and cook for 1 more minute.

Stir in stock, cover and cook on high pressure for 5 to 6 minutes. 5 minutes will result in a slightly al dente risotto (similar to a stovetop risotto). 6 minutes will give you a super creamy risotto. Allow the pressure to release naturally. Stir in the Parmesan cheese and remaining 1 tablespoon butter, and continue to stir until the rice has absorbed the rest of the liquid and gets creamy (about 3 minutes). Season to taste with additional salt.

To serve, spoon risotto into a shallow bowl and top with extra Parmesan cheese and freshly ground black pepper.
Tried this recipe?
Tag @brandiego on Instagram so I can check it out!
8