This Pesto Gnocchi recipe combines two of my favorite things: fresh basil pesto and tender potato gnocchi. Below, you'll find a simple version of this dish plus a "fancier" variation made with toasted walnuts, arugula and lemon.
This post may contain affiliate links.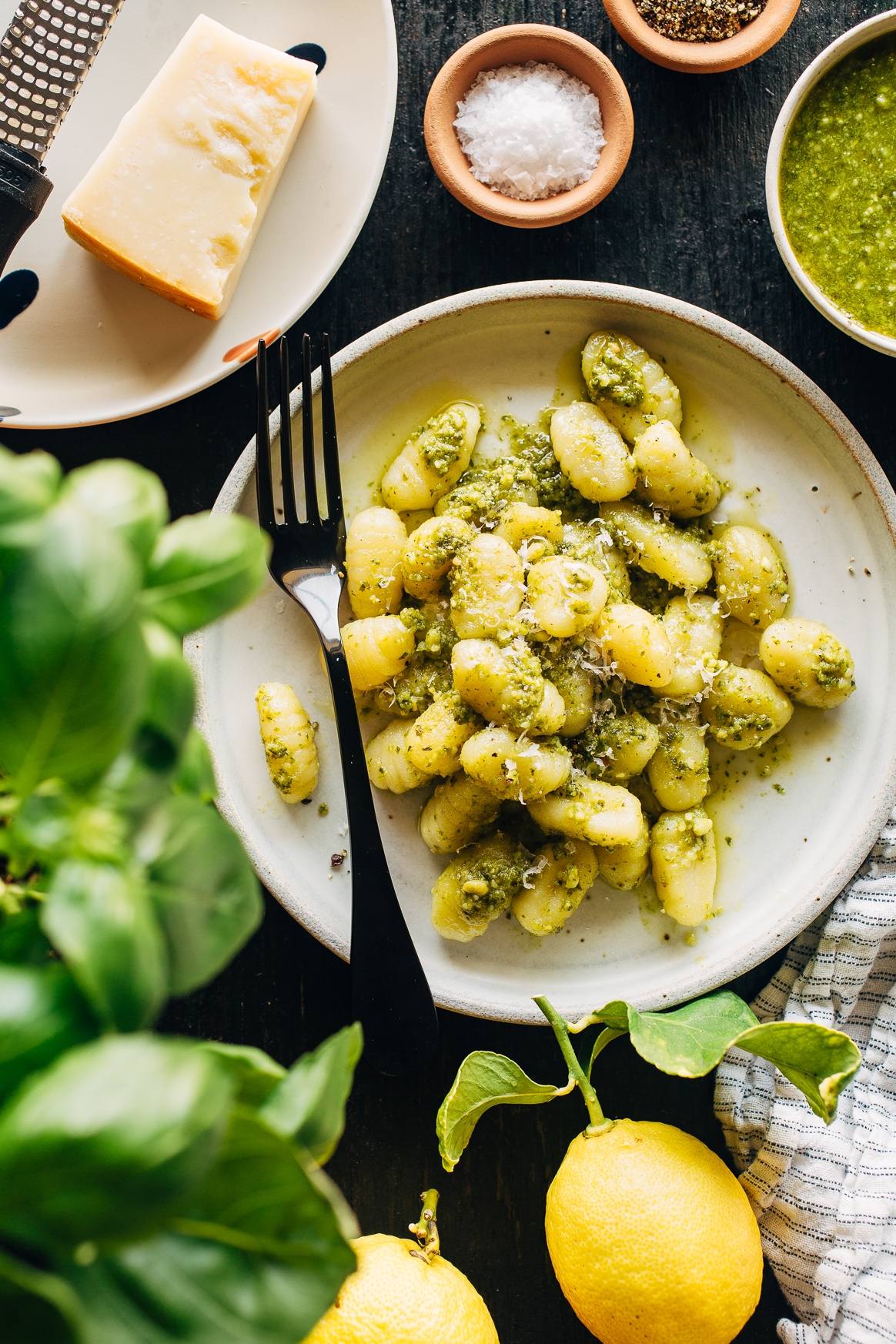 I love to make Pesto Gnocchi during the week when I'm low on both time and energy. Often, I'll make this dish with store bought pesto and packaged gnocchi, and I can have dinner on the table in about ten minutes. The hardest part of the recipe is waiting for the water to boil!
Another great thing about Pesto Gnocchi is how customizable it is. I've included a variation below that adds toasted walnuts (for crunch), lemon (for zing) and baby arugula (for substance). But you could add anything that goes well with pesto, including proteins like chicken, shrimp or sliced steak. Continue reading for the recipe.
How to cook Pesto Gnocchi
To cook Pesto Gnocchi, you start by bringing a big pot of salted water to a boil. Then, drop in 1 pound of potato gnocchi (homemade or store bought), and cook until they float to the surface (2 to 3 minutes).
While the gnocchi are cooking, you warm up 2 tablespoons of butter in a large skillet. Once the gnocchi are done, you drain and transfer them to the skillet. Next cook the gnocchi in the butter until they just start to crisp at the edges (about 1 minute).
Take the skillet off the heat and stir in 1/2 cup pesto (homemade or store bought). To serve, you divide pesto between 2 plates (for a big portion) or 4 plates (for a small portion), then top with grated Parmesan cheese and black pepper.
What to serve with Pesto Gnocchi?
For a leveled up version of this dish, I like to top a plate of Pesto Gnocchi with a handful of arugula leaves, a scattering of toasted walnuts and a squeeze of fresh lemon. You don't have to be precise with measurements.
You can also serve a number of proteins with this dish. Roasted or grilled chicken would be wonderful. Shrimp, salmon or halibut are all good options. Sliced steak is one of Jorge's favorites. Anything that goes well with the flavor of basil is great here.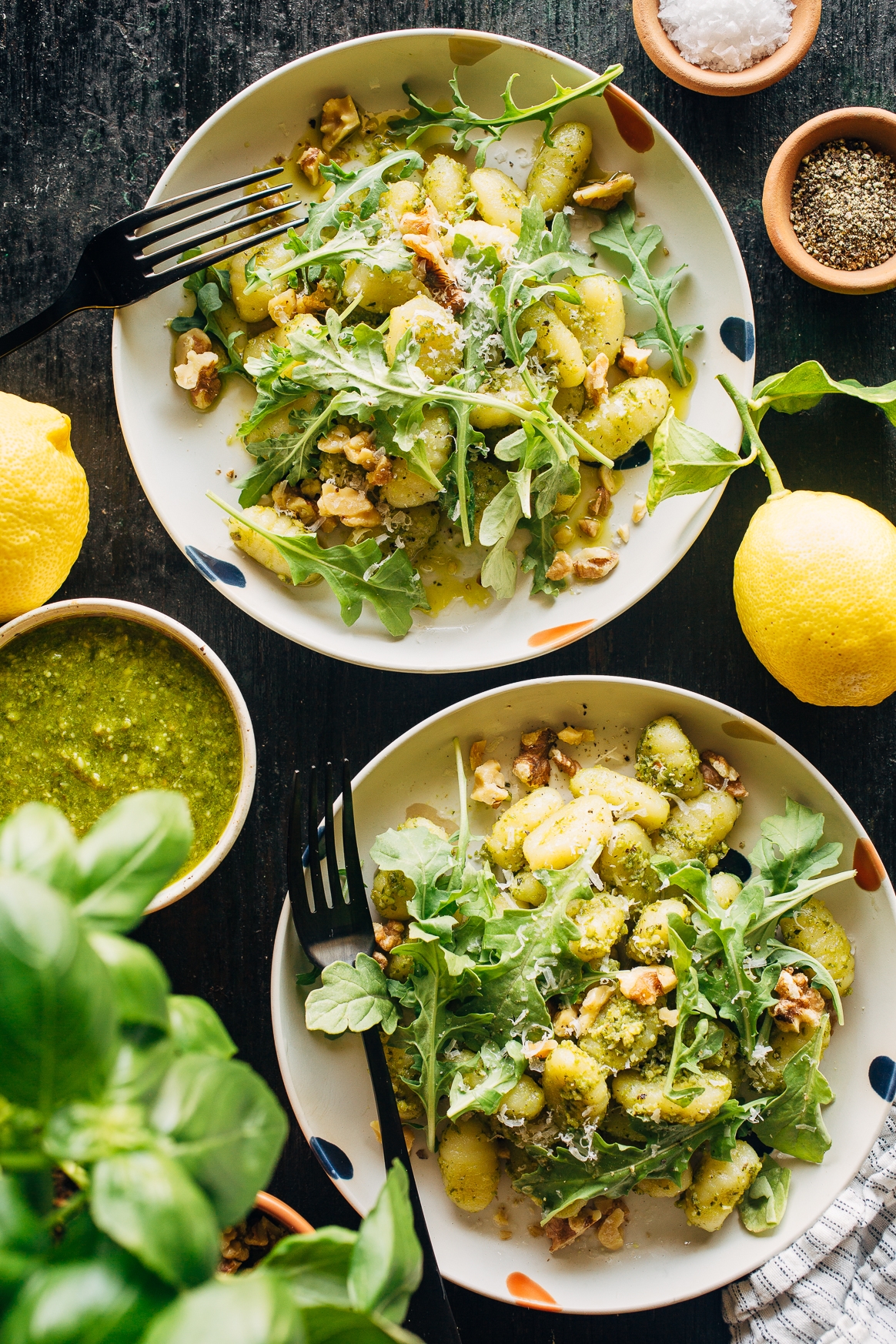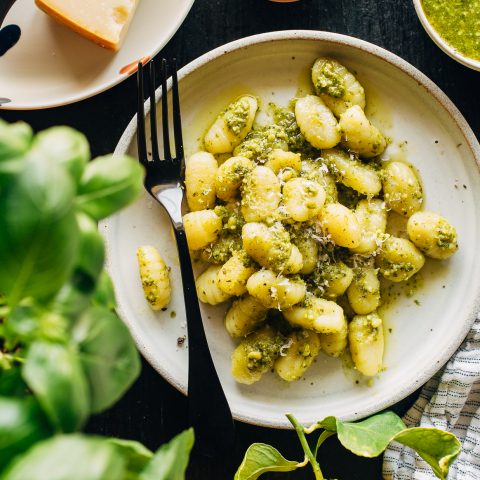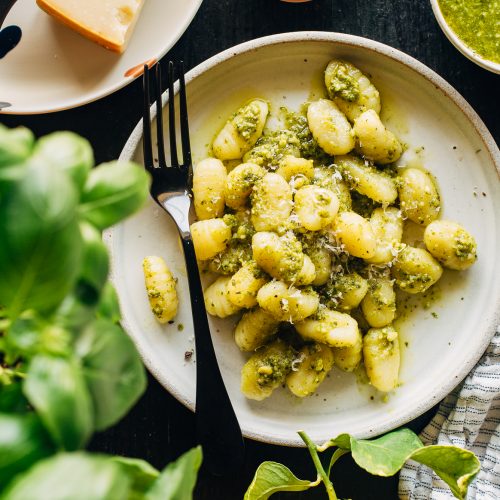 Pesto Gnocchi
Ingredients
1

(16 ounce) package potato gnocchi

2

tablespoons

butter

1/2

cup

basil pesto (homemade or store-bought)

Kosher salt

Freshly grated Parmesan cheese, for topping

Freshly ground black pepper
Optional toppings: baby arugula, toasted walnuts, lemon juice
Instructions
Bring a large pot of salted water to a boil. Cook gnocchi according to package instructions. Drain, but reserve 1 cup of cooking liquid.

Meanwhile, warm butter in a large skillet over medium heat. Once melted, toss in cooked gnocchi. Let cook for 1 minute, then take off the heat. Stir in pesto, tossing to coat. Season to taste with salt.

To serve, spoon some gnocchi in a shallow bowl and top with freshly grated Parmesan and black pepper. If you'd like to level up the dish, top with some baby arugula leaves, toasted walnuts and a squeeze of lemon juice.
Tried this recipe?
Tag @brandiego on Instagram so I can check it out!
13