I love a good white pie from time to time. My go-to's are usually this Zucchini Pizza or a Wild Mushroom Pizza, but recently, I've been all about this creamy Alfredo Pizza.
This post may contain affiliate links.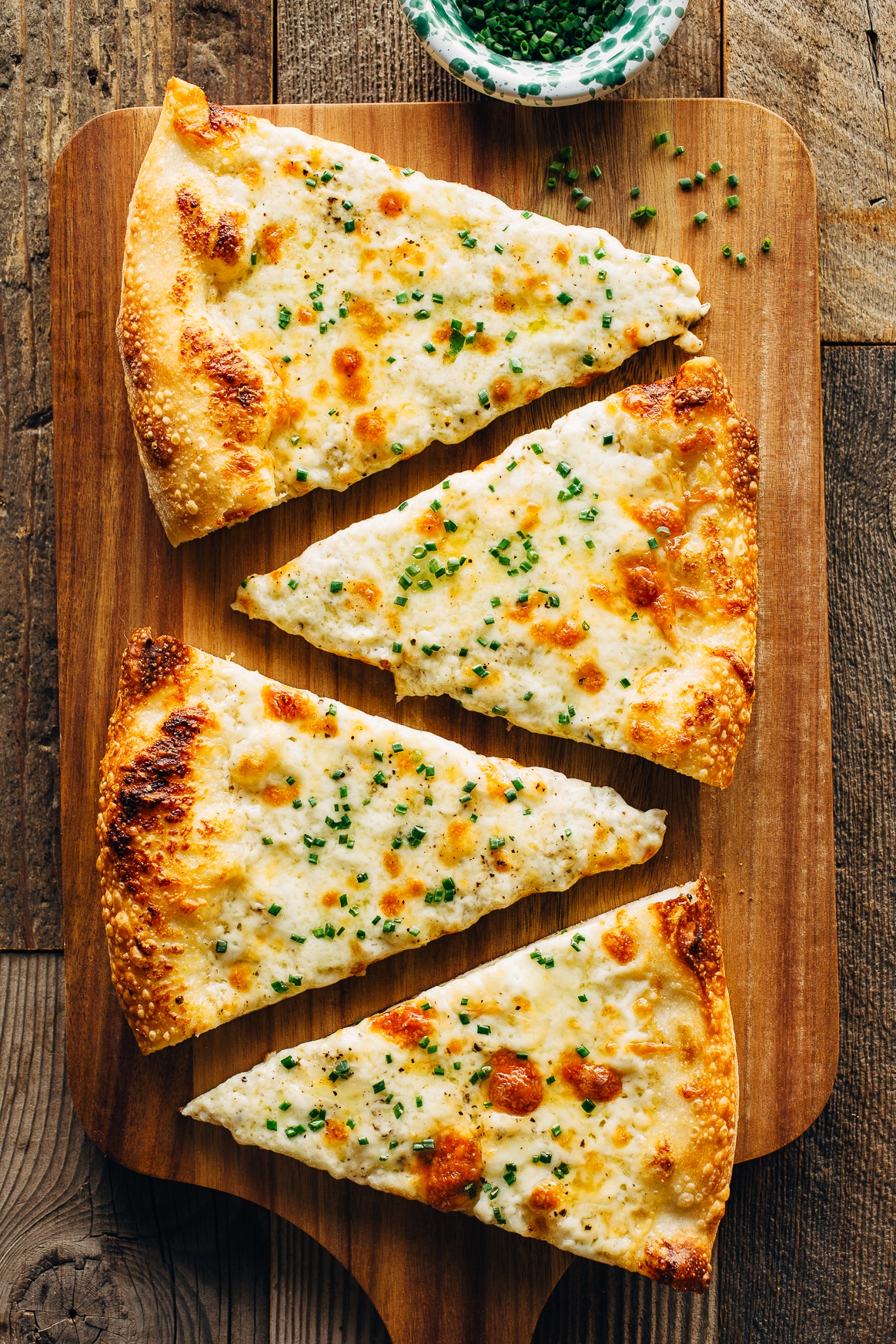 The concept is pretty simple here. Pizza Dough + Alfredo Sauce + Mozz + Parm = 1 rich and delicious pizza. I like to top this pizza with a scattering of sliced chives, but to be honest, that's totally optional. The simplicity of the ingredients really highlights the flavor of Alfredo sauce.
This Alfredo Pizza would be perfect with a cold beer and fresh side salad tossed with a tangy vinaigrette. Continue reading for the recipe.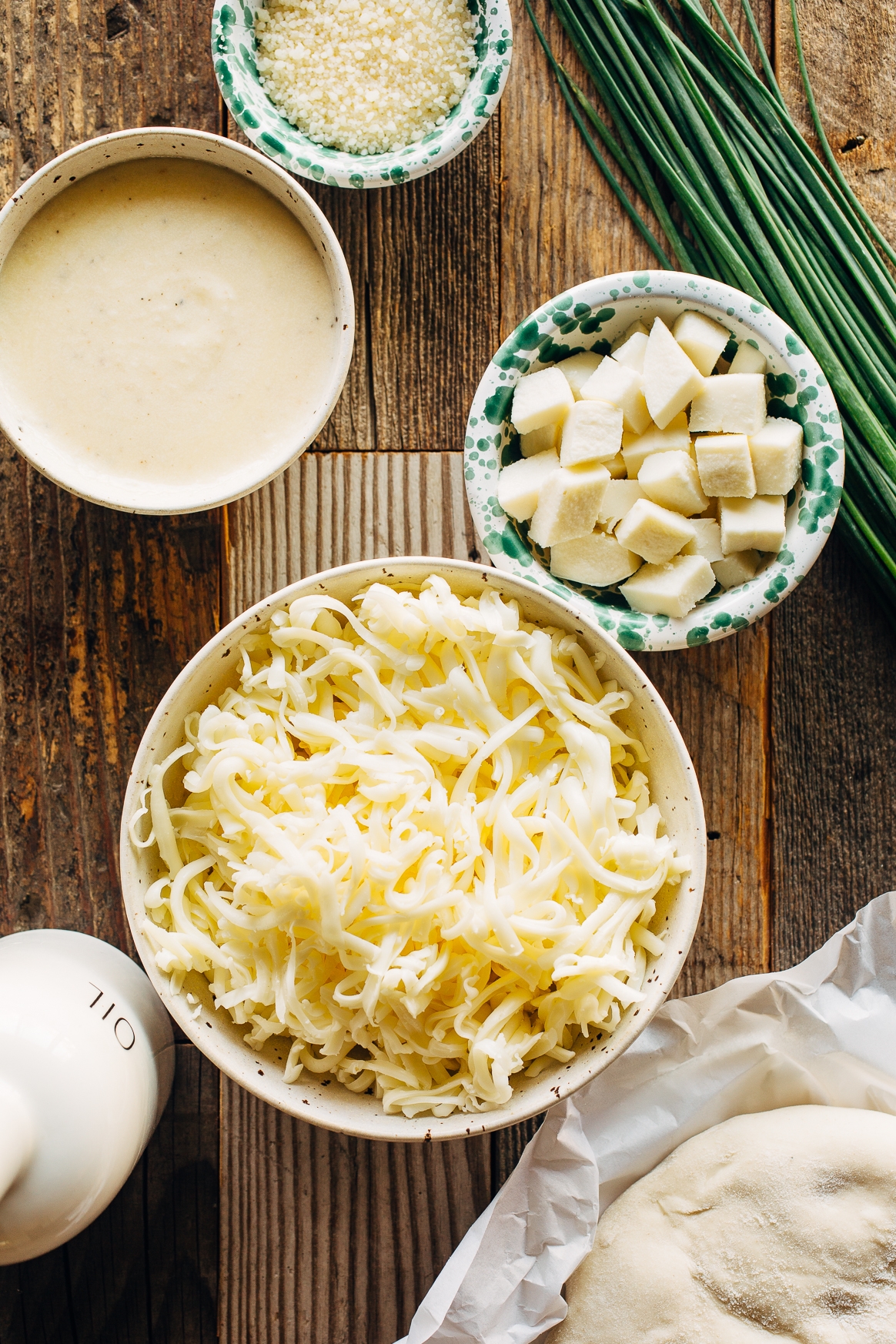 How to make Alfredo Pizza
To make Alfredo Pizza, you stretch out a ball of pizza dough evenly on to a pizza pan. Then, you top with 3/4 cup of Alfredo Sauce (I prefer to use homemade here). Next, you sprinkle on a mix of shredded low-moisture mozzarella and diced fresh mozzarella.
I like to use a mix of two mozzarellas, so you get the flavor of fresh mozzarella mixed with the dry stretchiness of low-moisture mozz. If you were to use 100% fresh mozzarella here, the finished pizza would be way too wet!
You finish the pizza with grated Parmesan cheese, salt and pepper, before transferring it onto the bottom rack of a hot oven. I'm talking 500°F here. This will ensure you get a nice, golden crust.
In my oven, a pizza cooks for precisely 11 minutes. Timing can vary based on your oven, so I would recommend checking the bottom crust for color around 8 or 9 minutes. The pizza is done when the bottom of the crust is deeply golden brown.
After the pizza comes out of the oven, you let it sit for a few moments, then sprinkle with chopped chives. Slice and enjoy immediately!
Can you use Alfredo sauce for white pizza?
The quick answer is: Yes!
Often, I'll make a white pies with just cheese, but Alfredo sauce can be used as a base sauce for white pizza. You'll need about 3/4 cup for a large pizza.
Just keep in mind that Alfredo Sauce is a made with butter, cream and Parmesan cheese, so you're adding a good amount of fat to the pizza. Don't go too overboard with additional cheese or other fatty ingredients.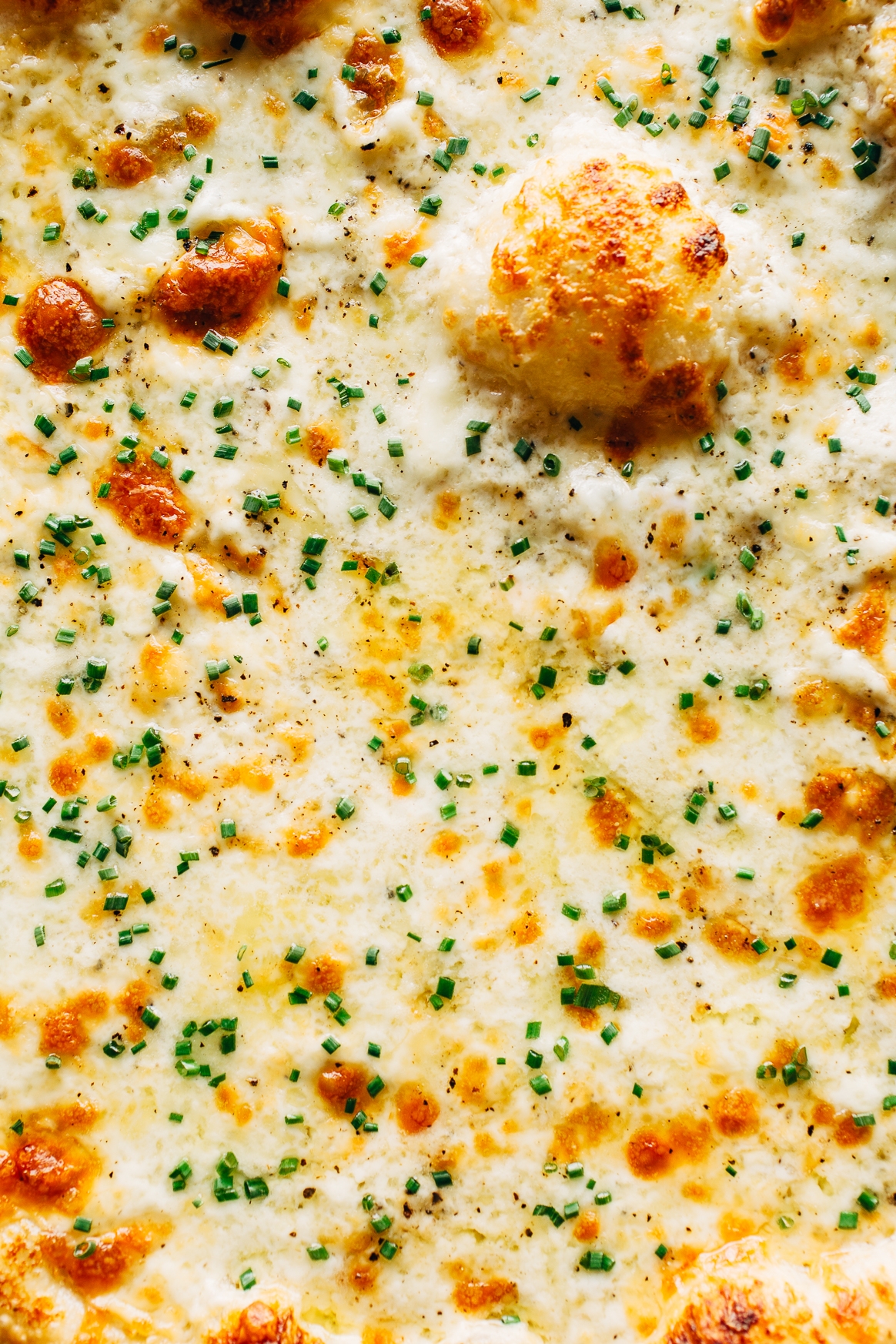 What to put on Alfredo Pizza?
Alfredo Pizza is delicious as is, but you can also top it with other veggies and proteins. Try adding some cooked asparagus, broccoli, kale or Brussels sprouts on top. Or, raw bell pepper, japaleno or Fresno chile.
Cubed chicken is a tasty topping. Especially when paired with bacon! You could also put shrimp on Alfredo Pizza, but I would recommend putting cooked shrimp on top after the pizza comes out of the oven.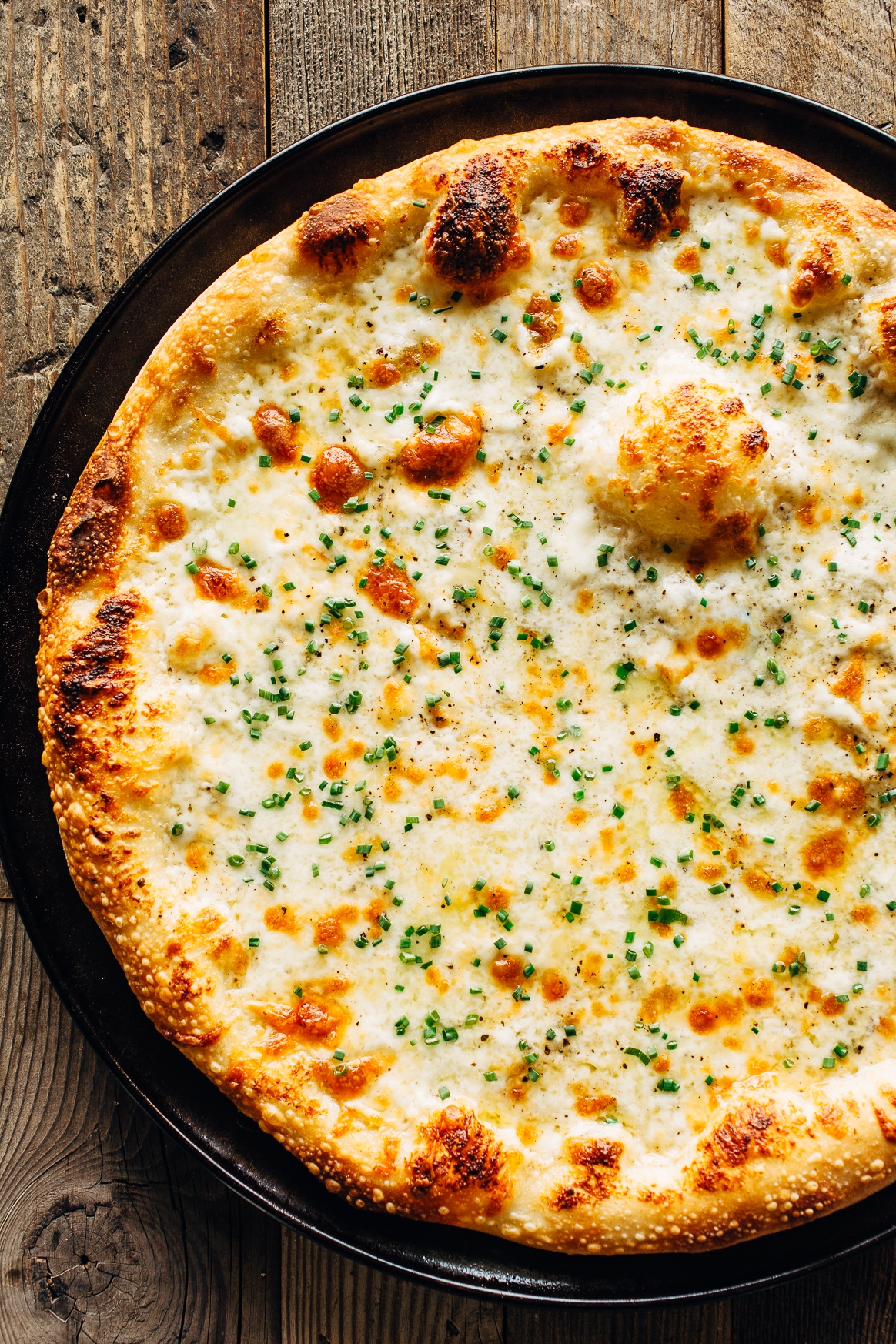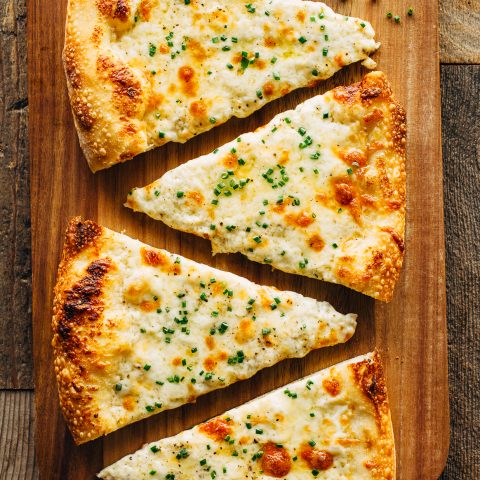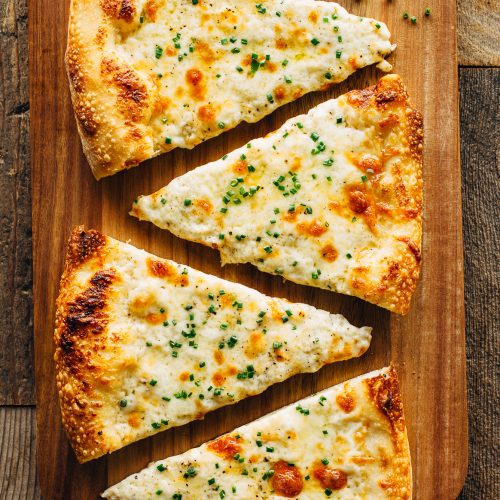 Alfredo Pizza
Ingredients
1

ball pizza dough

3/4

cup

Homemade Alfredo Sauce

8

ounces

low moisture mozzarella cheese, grated

3

ounces

fresh mozzarella cheese, diced

Grated Parmesan cheese

Kosher salt

1 1/2

tablespoons

thinly sliced chives (optional)
Instructions
Preheat an oven to 500°F, and set an oven rack in the lowest possible position. Lightly coat a pizza pan with nonstick cooking spray.

Stretch pizza dough into a round large enough to fit the pizza pan. Spread Alfredo sauce evenly over the pizza dough, then top pizza evenly with mozzarella cheeses and dusting of Parmesan cheese. Sprinkle a little more kosher salt on top of the pizza.

Transfer pizza to the oven on the lowest rack and cook until the crust is golden brown (bottom and crust) and the cheese is nice and bubbly (9 – 11 minutes). Finish the pizza with a sprinkling of chives.
Tried this recipe?
Tag @brandiego on Instagram so I can check it out!
22