This Zucchini Lasagna recipe features layers of tangy tomato sauce and creamy spinach ricotta spread between golden planks of broiled zucchini. There is no meat or pasta in this lasagna, so it's a perfect option for Meatless Monday or anyone who's eating keto!
This post may contain affiliate links.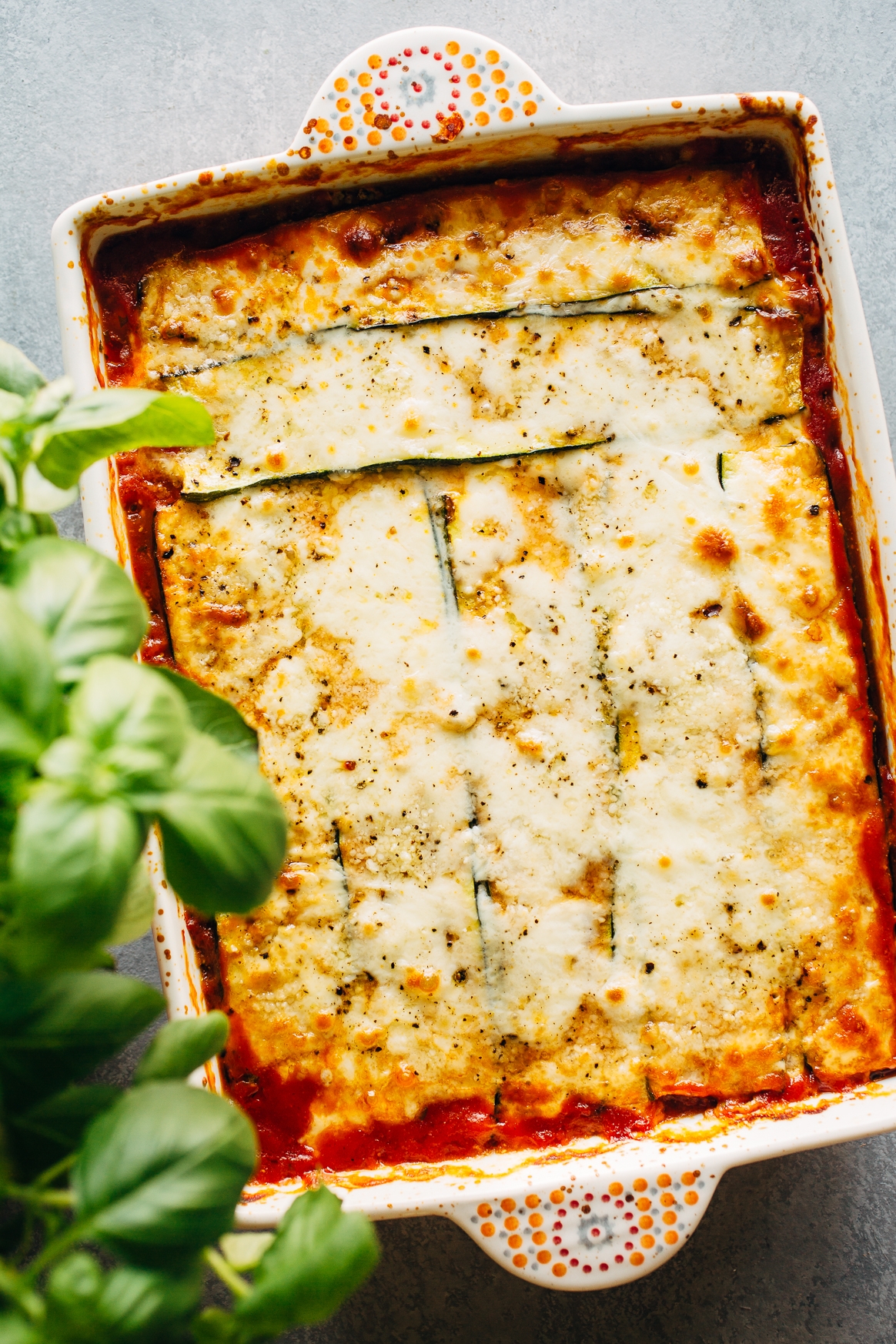 During the summer months—when zucchini is in season—I'm always looking for new ways to use up all the zucchini from my garden. This recipe transforms four medium zucchini into a flavor-packed lasagna that's easily adaptable.
If you want to add more veggies, you can layer in roasted eggplant, roasted red peppers, cooked corn or sautéed asparagus. If you want to add some protein, you can use a meat sauce instead of regular tomato sauce. Or, you could even layer in some cooked ground turkey, pork or chicken. Any way you stack it up, this Zucchini Lasagna is SO delish. Continue reading for the recipe.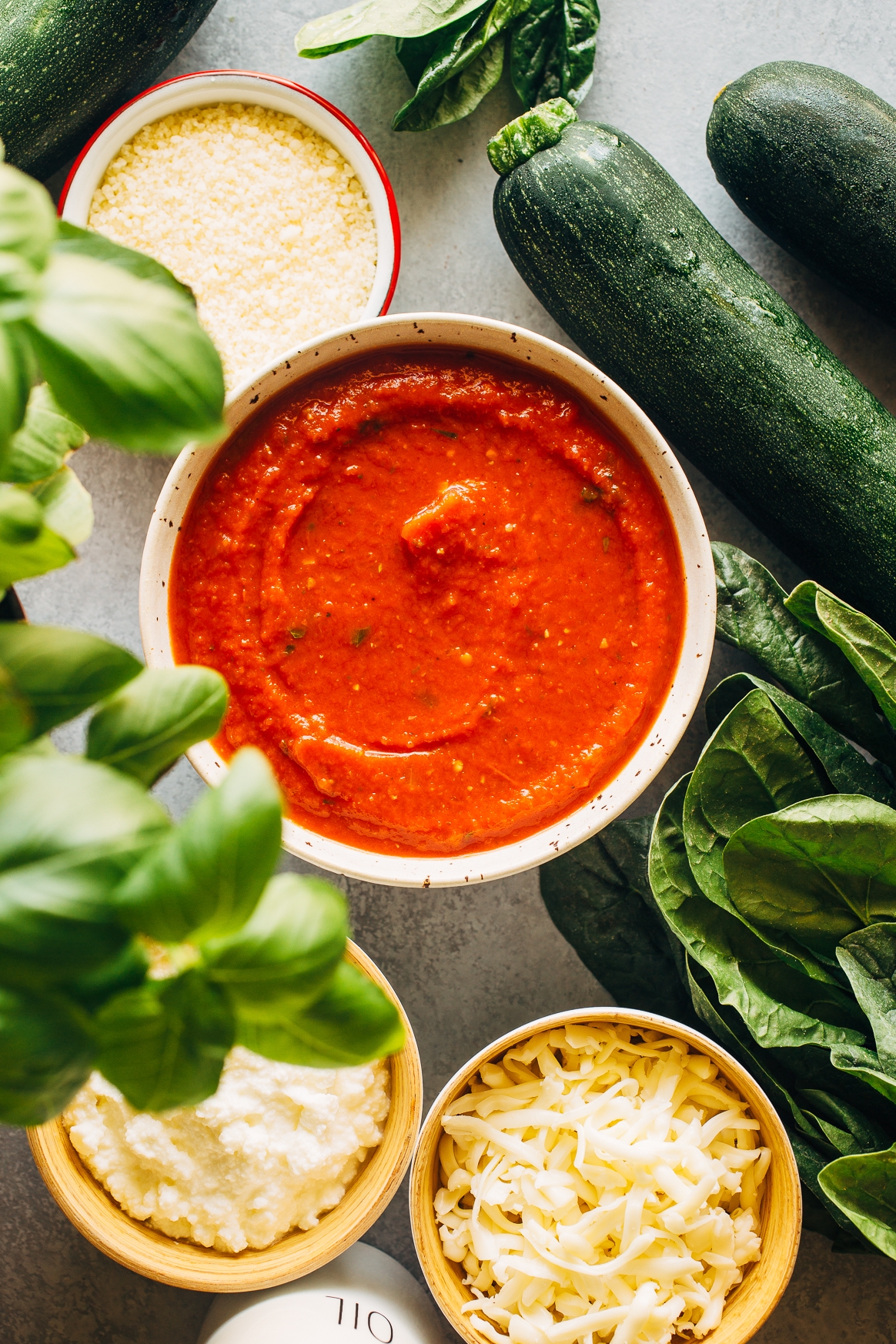 How to Make Zucchini Lasagna
To make Zucchini Lasagna, you start by cooking spinach in olive oil until tender. The spinach is then mixed with ricotta cheese, mozzarella cheese, Parmesan cheese and fresh basil. This is the flavorful cheese mixture that you'll layer throughout the lasagna.
Next, you slice the zucchini into 1/4″-thick planks, sprinkle each plank with salt and let sit for 10 minutes. During this time, the salt will season the zucchini while drawing out some water. You then blot the zucchini dry, brush on olive oil and broil the zucchini until tender and golden.
Once you've got the layers prepared, you just have to assemble the lasagna. In a 9 x 13″ baking dish, you layer even amounts of tomato sauce, the cheese mixture and the zucchini "noodles." You can use homemade tomato sauce here or something store-bought.
You finish the assembly with a layer of grated mozzarella and Parmesan, then bake the lasagna, covered, in a 400°F oven for 45 minutes. During the last 15 minutes, you remove the foil to let the top of the lasagna get all golden and bubbly. Just make sure you let the lasagna sit for 10 minutes before digging in!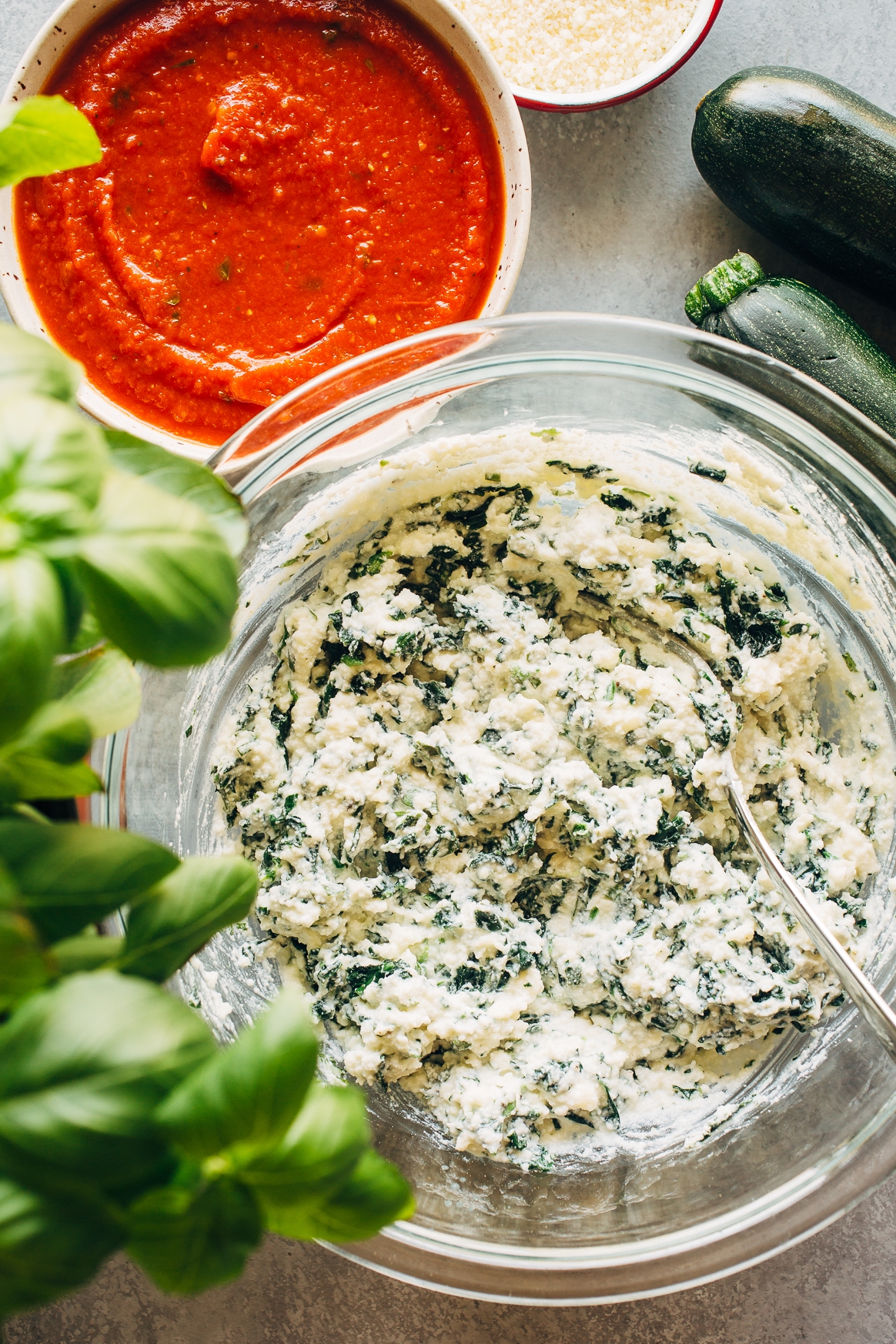 How to slice zucchini for lasagna?
I like to slice zucchini into 1/4″ thick planks for lasagna, so that the zucchini resembles traditional lasagna sheets. To do this, I trim the ends of the zucchini, then slice lengthways using a mandolin set to 1/4″ thickness.
I really do think a mandolin is the best tool to make zucchini lasagna noodles, because it easily creates uniform slices. I can slice up three zucchinis in a matter of moments rather than spending a lot of time using a knife. Just make sure you use the hand guard when using a mandolin!
How to make zucchini lasagna not watery?
Zucchini is notorious for being watery when cooked, so here are two ways I like to fix that issue. First, salt the slices of zucchini before cooking them, and let them sit for 10 to 15 minutes. This will draw out a lot of water. You then blot the zucchini slices dry to remove all of that moisture.
Next, brush the zucchini with olive oil and broil on high. Broiling will help to dry out the zucchini slices even more, and cause the zucchini to get golden in spots (extra flavor!). These two added steps should help make your Zucchini Lasagna not water!
One thing to keep in mind is that you may see some liquid in the bottom of the baking dish from the tomato sauce, because there are no pasta sheets to absorb liquid. This will depend on what type of tomato sauce you use. But it's not a lot of liquid, and it is flavorful (rather than watery!).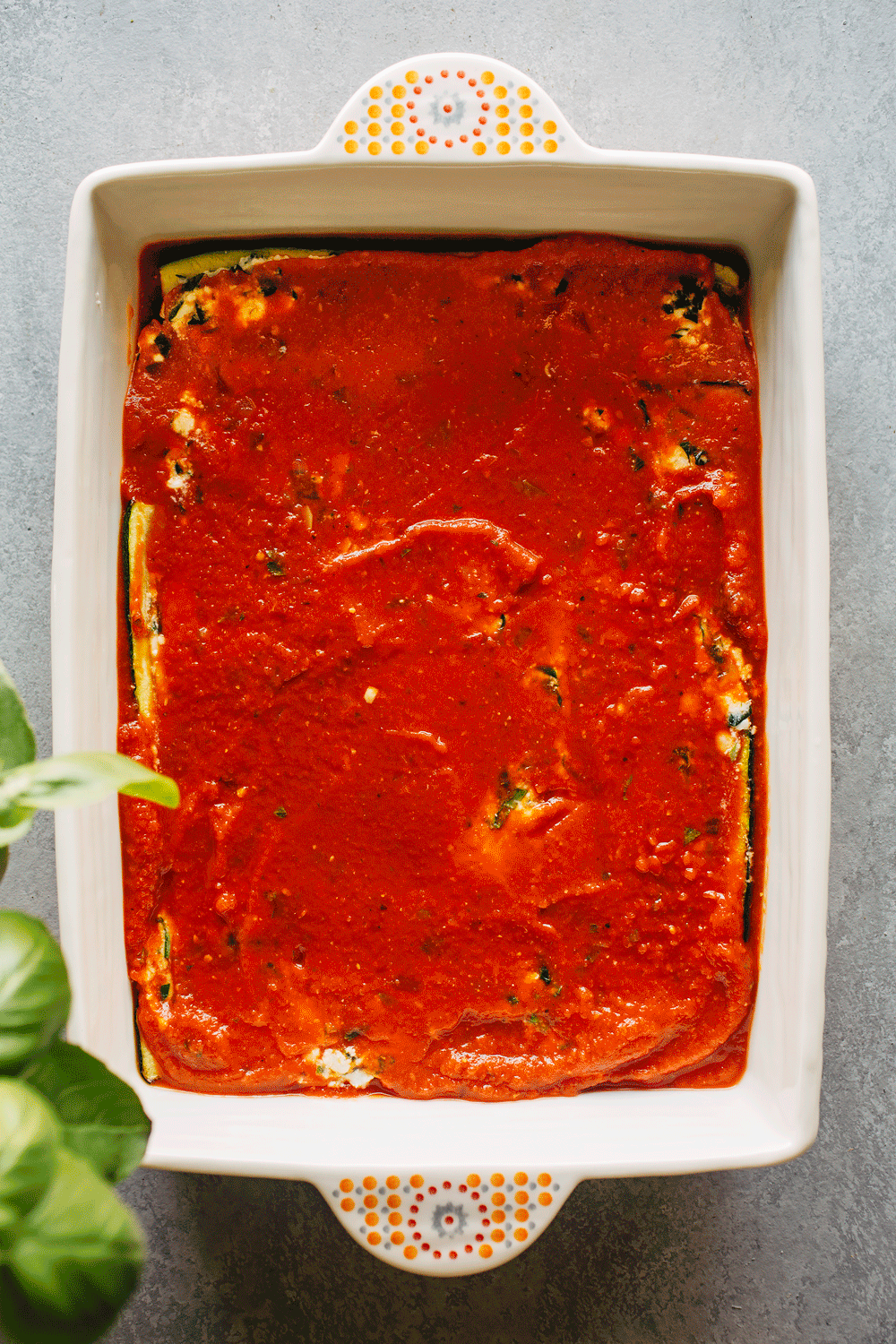 How long to cook zucchini lasagna?
You cook Zucchini Lasagna for 45 minutes in a 400°F oven. I recommend cooking the lasagna covered for 30 minutes, and then uncovered from 15 minutes. During that last 15 minutes, the cheeses on top will get all melty and golden. You can also pop the Zucchini Lasagna under the broiler for few minutes at the end to get even more golden color on top.
Can you freeze zucchini lasagna?
You can definitely freeze Zucchini Lasagna! You'll want to prepare the lasagna through step 6 below – fully assemble, but don't bake it. Next, wrap the baking dish tightly with plastic wrap, then tightly wrap with foil. At this point, you can freeze your uncooked zucchini lasagna for up to 3 months.
To cook the lasagna from frozen, first let the lasagna thaw in the fridge overnight. Then remove the plastic wrap and cover again with foil. At this point, you can continue with Step 7 below.
Zucchini Lasagna
Ingredients
For the cheese mixture:
1

tablespoons

extra-virgin olive oil

1/2

pound

spinach, rinsed well

Kosher salt

1

pounds

whole-milk ricotta cheese

3

ounces

grated low moisture mozzarella cheese

1 1/2

ounces

freshly grated Parmesan cheese

10

large fresh basil leaves, finely chopped
For the lasagna:
4

medium

(3 pounds) zucchini, sliced into 1/4"-inch planks

Kosher salt

1/4

cup

olive oil

4

ounces

grated low moisture mozzarella cheese

1 1/2

ounces

freshly grated Parmesan cheese
Instructions
Warm olive oil in a large skillet over medium heat. Add the spinach with a pinch of salt, and cook, stirring occasionally, until wilted (about 3 minutes). Let spinach cool, then place on two layers of paper towels. Bring the corners of the paper towels up around the spinach and squeeze out as much liquid as you can over the sink.

Finely chop the drained spinach, then add to a big bowl with the remaining cheese mixture ingredients. Stir to combine, then season to taste with salt.

Meanwhile, spread out zucchini slices on a large cutting board and sprinkle each slice with a little salt. Let sit for 15 minutes, then blot away any excess moisture with a paper towel.

Preheat the broiler to high. Place slices on a parchment-lined baking sheet in an even layer (you may need multiple baking sheets). Brush zucchini with olive oil, then working in batches, broil zucchini until tender and golden in spots (about 10 minutes per batch). Flip zucchini slices halfway through cooking.

Switch oven temperature to 400°F.

Spread 1/3 of the tomato sauce in an even layer in the bottom of a 9 x 13 baking dish. Top with 1/3 of the zucchini, arranged in an even layer. Top the zucchini with 1/2 of the cheese mixture. Repeat even layers two more times with remaining ingredients (so you'll finish with a layer of zucchini on top). Top evenly with mozzarella and Parmesan cheese.

Cover with foil and bake for 30 minutes. Remove the foil, then bake until the cheese is melty and golden on top (about 15 minutes more). Let cool for 10 minutes before serving.
Tried this recipe?
Tag @brandiego on Instagram so I can check it out!
12