I like to think of this Walnut Pesto recipe as my budget-friendly version of traditional basil pesto. Made with toasted walnuts, Parmesan cheese, basil, parsley, garlic and lemon, this pesto is rich, creamy and wonderfully herbaceous.
This post may contain affiliate links.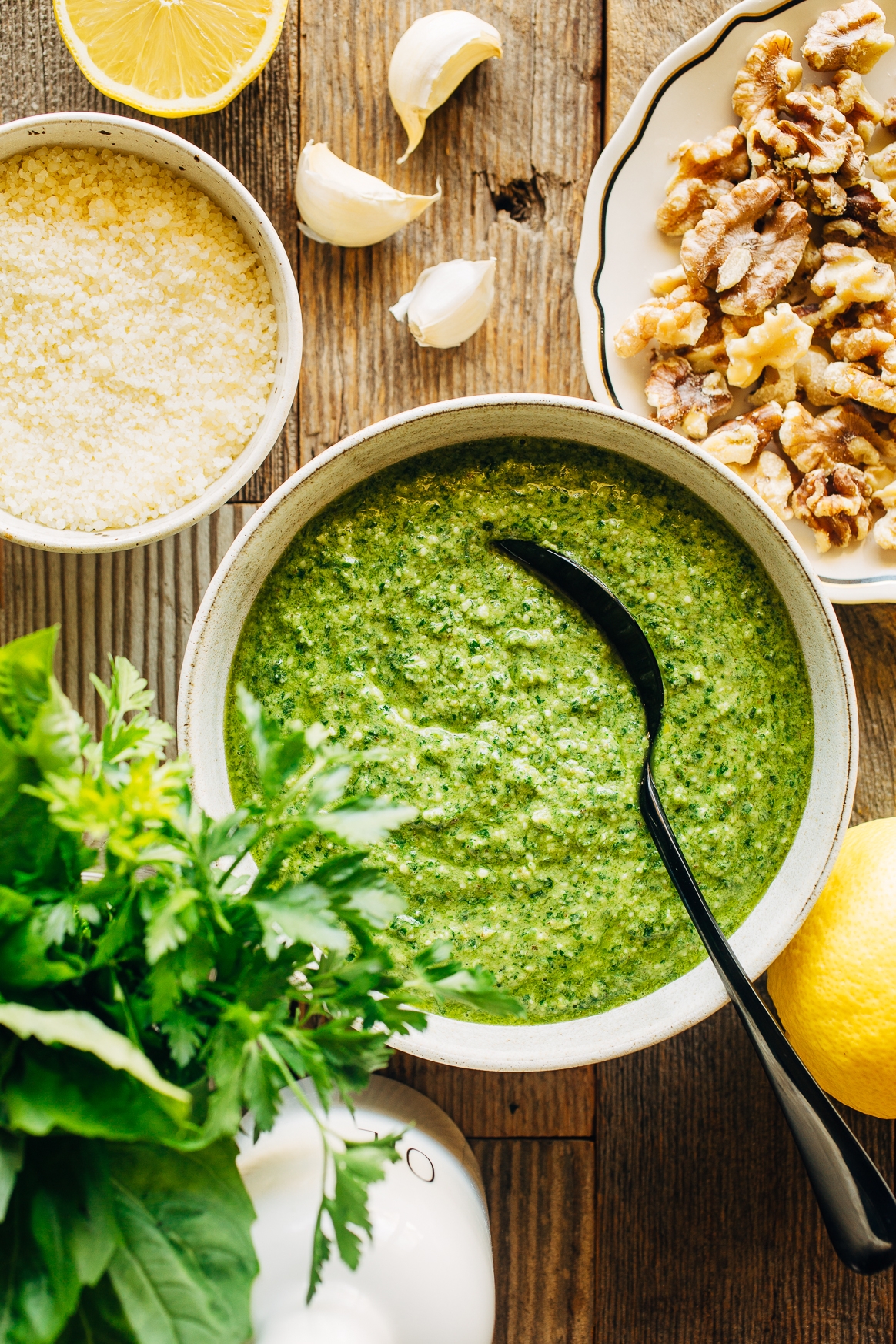 So, why do I consider this recipe to be budget-friendly? Classic pesto is made with pine nuts, and they can be very expensive compared to walnuts. Also, this pesto is made with part Italian parsley, an herb that's cheaper than basil.
But even though some of the ingredients are less expensive, this Walnut Pesto is still packed with plenty of flavor. It does taste slightly different than a traditional basil pesto, but it hits all the same spots. And you can use it in any way you'd use regular pesto! Continue reading for the recipe.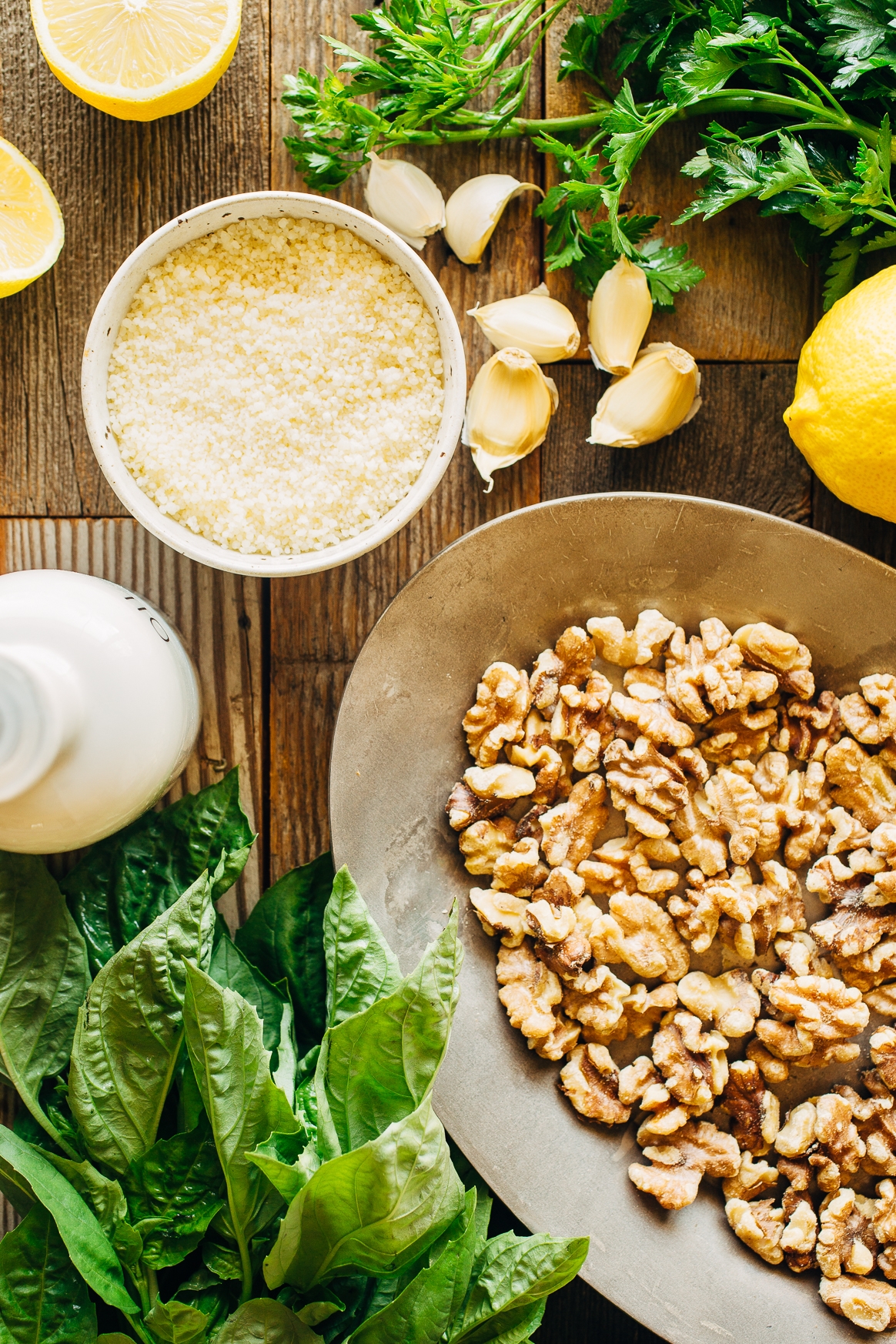 What is Walnut Pesto?
Walnut Pesto is a creamy, herby sauce made with flavors similar to a traditional basil pesto. This version comes together in a food processor, but you can also use a mortar and pestle to pound everything together.
How to Make Pesto with Walnuts
To make pesto with walnuts, you start by soaking 4 cups of herbs in cold water for 5 minutes. This briefly shocks the basil, locking in that vibrant green color. I'm using a mix of basil and parsley in this recipe, but if you find yourself with an abundance of basil (perhaps from a lively garden), you can use 100% basil here.
Next, you blitz toasted walnuts, sliced garlic and olive oil in a food processor until smooth. You then shake the herbs dry, add to the food processor and blitz a few times to combine.
Finally, you add grated Parmesan cheese, lemon zest and lemon juice to the mix, and process until smooth and creamy.
To store Walnut Pesto, transfer to a jar and top off with extra olive oil. Store covered in the fridge for up to 1 month.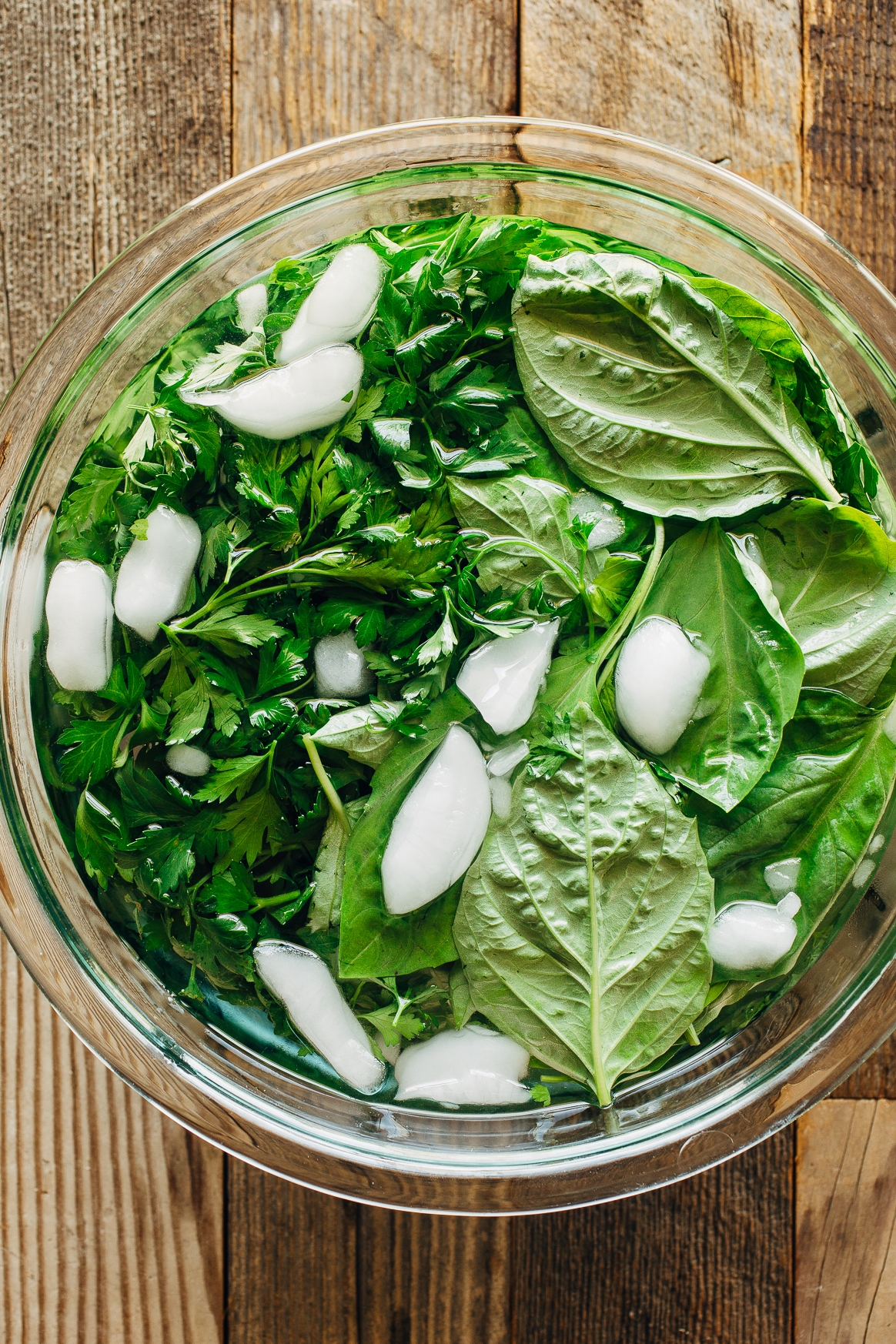 Can you make pesto with parsley?
You can make pesto with parsley, but I wouldn't use 100% parsley. Basil is the main flavor of pesto, so it should always be present. This recipe calls for 2 cups of basil and 2 cups of Italian parsley.
Can walnut pesto be frozen?
You can freeze walnut pesto in an airtight container for up to 6 months. You may want to consider freezing it in smaller portions (an ice cube tray is perfect here!), so you can defrost a bit at a time. To thaw, let sit in the fridge overnight, then top with a thin layer of olive oil.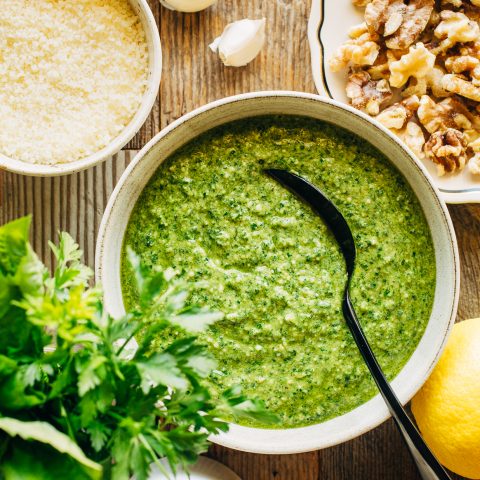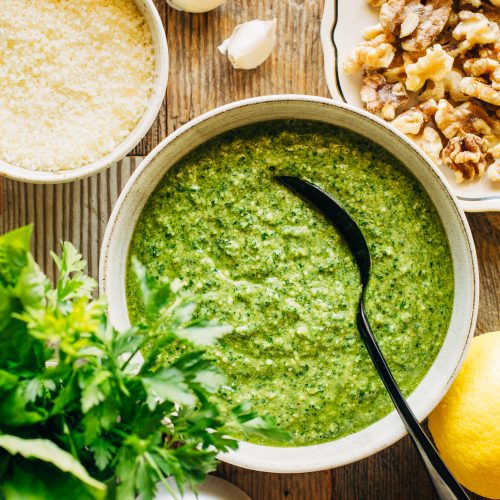 Walnut Pesto
Ingredients
1 1/2

ounces

(2 cups) fresh basil leaves

1 1/2

ounces

(2 cups) fresh Italian parsley leaves

3/4

cup

toasted walnut halves, coarsely chopped

1/2

cup

extra virgin olive oil, plus extra for the jar

3

garlic cloves, sliced

Kosher salt

3

ounces

(1 cup) freshly grated Parmigiano-Reggiano cheese

2

teaspoons

fresh lemon zest

1

tablespoon

lemon juice
Instructions
Fill a large bowl with ice water. Place basil and parsley in the water and let soak for 5 minutes.

Add walnuts, olive oil, garlic and a pinch of salt to a food processor and blitz until smooth. Take the herbs from the water and shake off any excess (but don't fully dry). Add herbs to the food processor (tearing any big basil leaves) and blitz until evenly combined (about 5 to 6 pulses). Add the cheese, lemon zest and lemon juice and blitz until just combined (about 5 more pulses). If the pesto is too thick, pulse some of the cold soaking water (a few teaspoons at a time) until it's a smooth, creamy texture. Season to taste with additional salt.

Transfer pesto to a jar and top with a thin layer of olive oil. You can store pesto in the fridge for 1 to 2 weeks. After each time you use it, make sure there's a thin layer of olive oil on top of the pesto. This will ensure that the top doesn't turn brown.
Tried this recipe?
Tag @brandiego on Instagram so I can check it out!
Here's how to use this Walnut Pesto: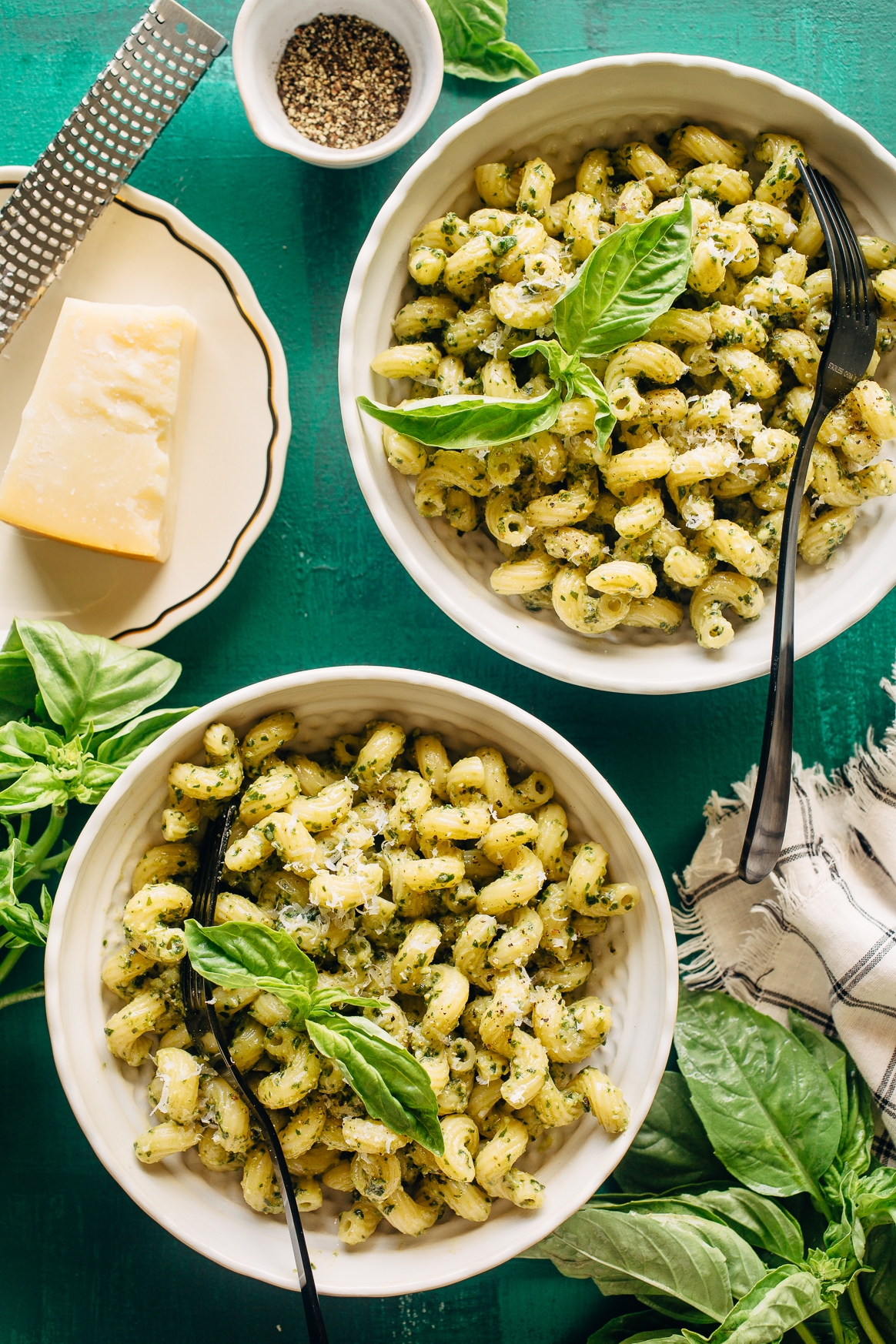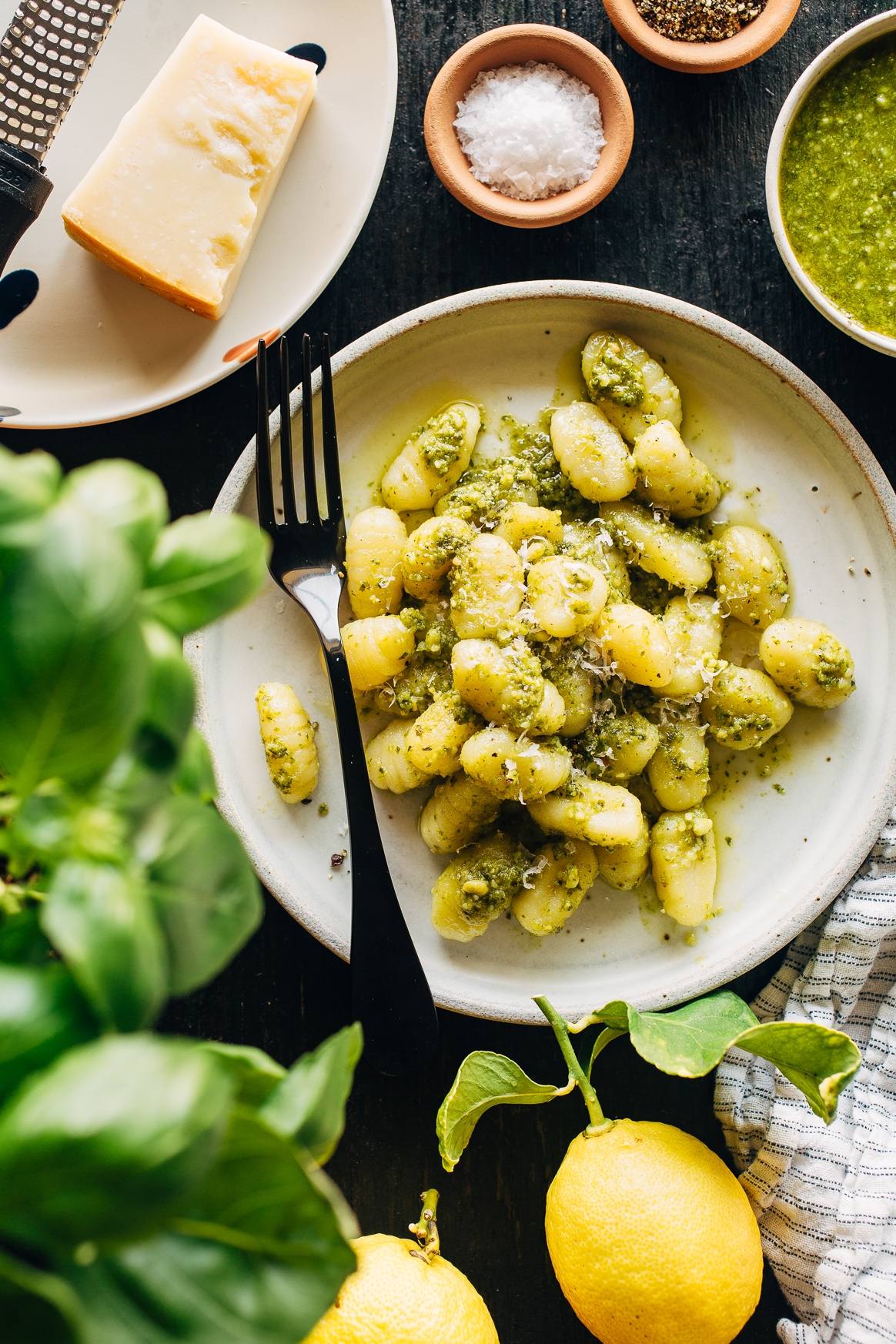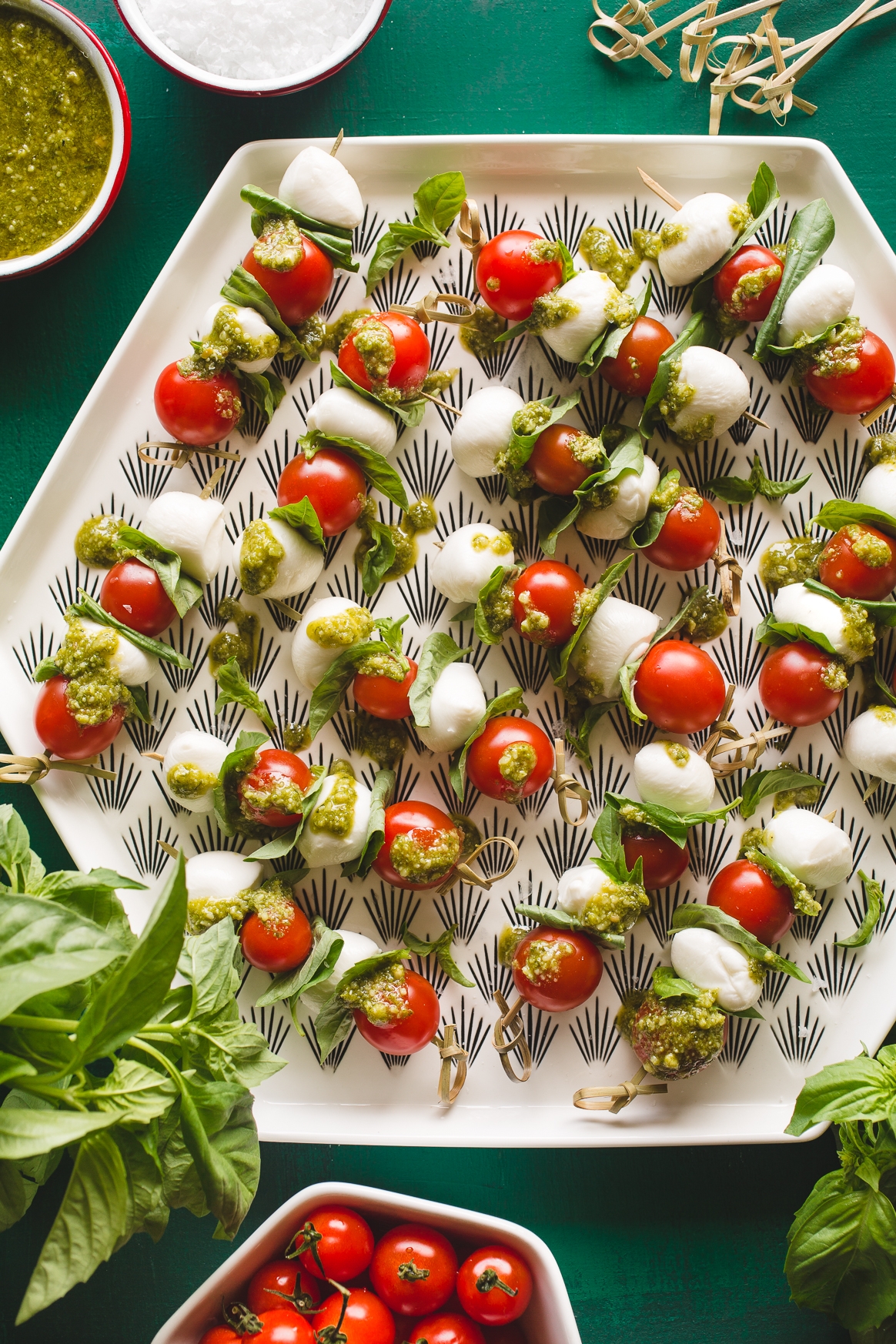 9