This Homemade Vodka Sauce recipe features a silky tomato sauce infused with pancetta, cream, onion, garlic, Parmesan cheese and crushed red chile flakes. Of course, there's also vodka in this recipe, and we'll chat more about that below.
This post may contain affiliate links.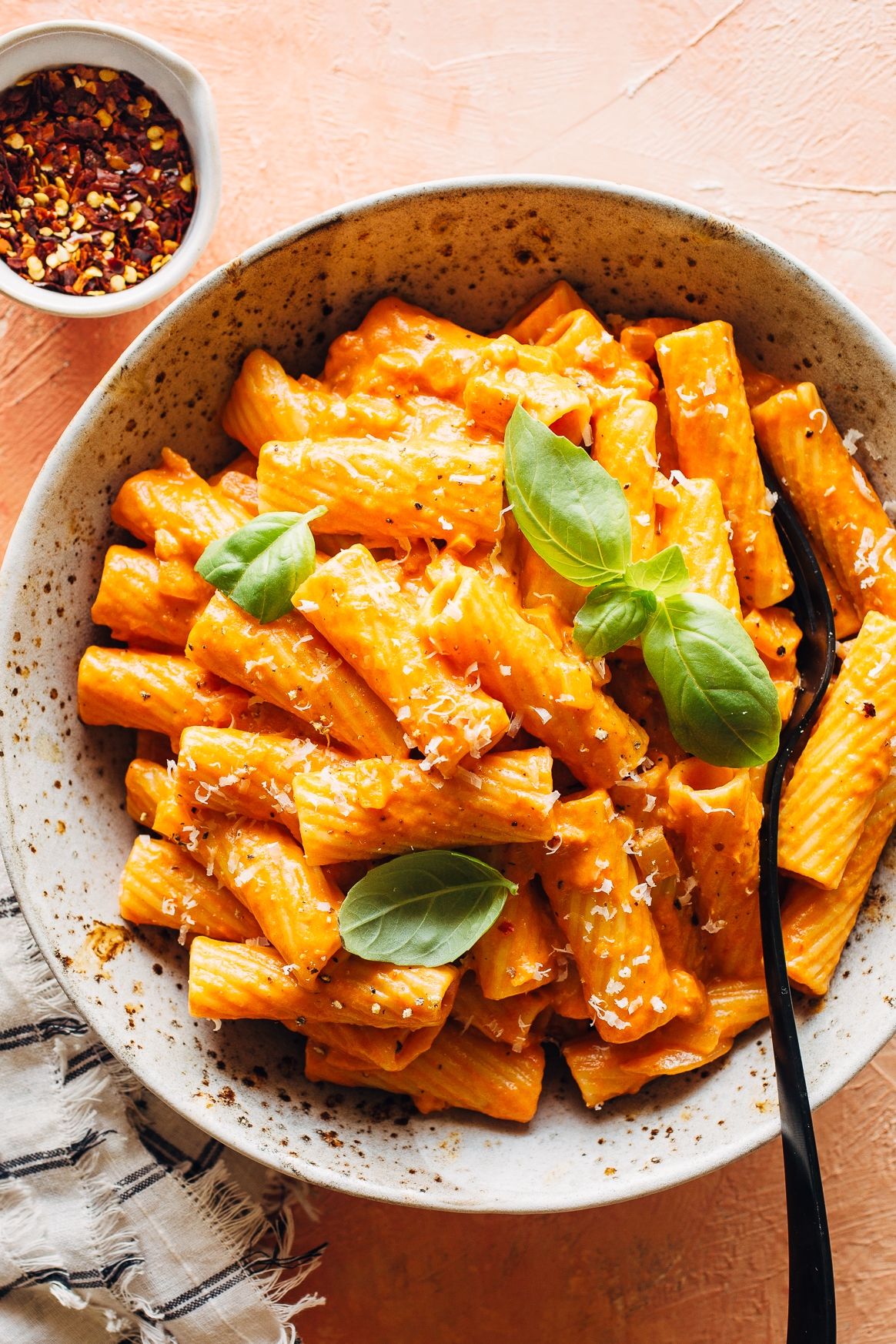 I have always loved vodka sauce. During my younger years, my mom would pick up fresh pasta and vodka sauce from Sapore's, a local Italian market, as a treat. She would even send vodka sauce care packages to me in college!
I can't say that my Homemade Vodka Sauce compares to Sapore's, but it's certainly delicious and really simple to prepare. Continue reading for the recipe.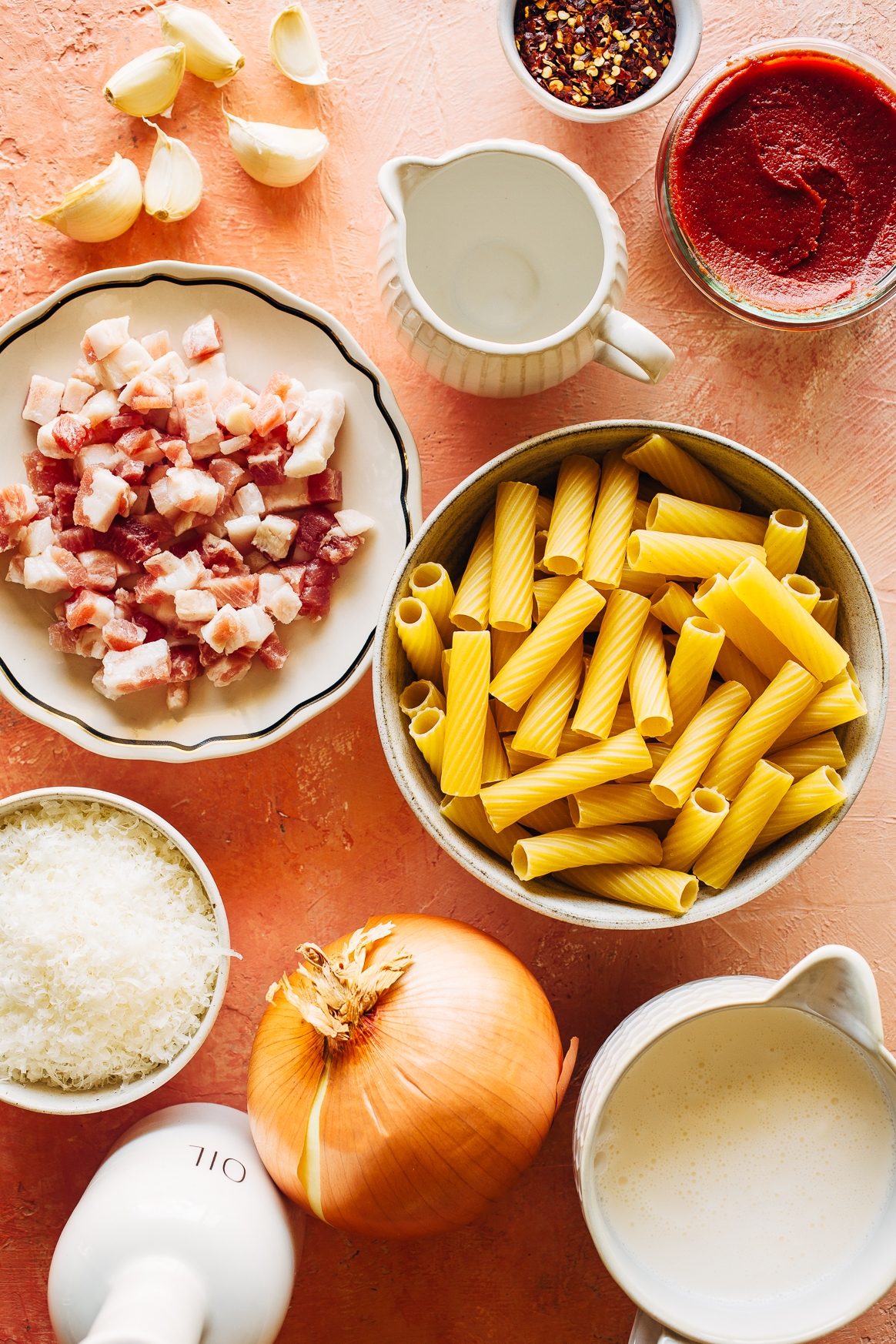 What is vodka sauce?
Vodka Sauce is a tomato cream sauce flavored with vodka, onion, garlic, pancetta, crushed red chile flakes and Parmesan cheese. Heavy cream gives vodka sauce it's characteristic pink-orange color and rich flavor.
Vodka doesn't have a distinct flavor, so you maybe be wondering why it's needed at all! Well, vodka helps to unlock the flavors of the other ingredients in the sauce. So it's hard to pinpoint exactly how the vodka affects the flavor, but you'd notice if it was missing!
How to make vodka sauce
To make vodka sauce, you start by cooking diced pancetta in olive oil until crispy. Then you stir in chopped onion, garlic and crushed red chile flakes, and cook until tender.
Next, you add tomato paste, and cook, stirring occasionally, until it turns a darker shade of red. This step really helps to wake up the flavor of the canned tomato paste. You then deglaze the pan with 2 ounces vodka, then slowly stir in heavy cream to form a smooth sauce. Finish by seasoning to taste with salt and pepper.
At this point, your vodka sauce is done! To serve with pasta (rigatoni pictured here), you cook the pasta in boiling, salted water until al dente. Then you drain the pasta, reserving 1 cup of cooking liquid.
Add the pasta to the sauce in a skillet over low heat. Stir in 1/2 cup of the reserved pasta water, then gradually stir in grated Parmesan cheese. As you are stirring, if the pasta looks dry, you can add more cooking liquid. You finish the dish by seasoning once more with salt and pepper. I like to add some fresh basil on top when serving.
What does vodka sauce taste like?
To me, vodka sauce tastes like a rich, creamy tomato sauce. You won't detect any traces of vodka as you are enjoying the sauce. This recipe also has pancetta, so from time to time you'll get a little bite of pork as well.
How to make vodka sauce without vodka?
I should start by saying that you can't make vodka sauce without… vodka! For a few years, my mother was making a vodka sauce recipe she saw on a Catholic cooking show, and we would always have a good laugh each time she'd bring it up. I would say, "It sounds like a delicious tomato cream sauce, but it's not a vodka sauce!"
Having said all of that, I think you can make this recipe without the vodka and still enjoy it. You can use any alcohol to help unlock the other flavors in the sauce. Vodka is nice, because it doesn't add any additional flavors. But if you don't have vodka, try a dry red wine.
If you want to enjoy this recipe without any alcohol, then just omit the vodka. You'll have a very delicious tomato cream sauce in the end.
How much vodka in vodka sauce?
For this recipe, you'll need just 2 ounce of vodka for the sauce. You really don't need much to amp up the other flavors of the sauce!
What meat goes with vodka sauce?
This vodka sauce would be lovely with ground pork, chicken or turkey. The flavor of the sauce is on the delicate side so you wouldn't want a stronger-flavored meat like beef or lamb.
I would recommend stirring in some cooked ground meat in Step 3 below. You may also want to reserve a little bit more cooking liquid to help make the sauce creamy.
Can you freeze vodka sauce?
Vodka sauce actually freezes really well. Prepare the sauce through Step 3 below, let cool completely, and then store in a tightly-sealed container for up to 1 month in the freezer.
To reheat, let thaw overnight in the fridge, then bring to a simmer in a skillet over medium heat. You'll need to do a little stirring to get the creamy texture back. Once the sauce has come up to a simmer, you can continue with Step 4 below.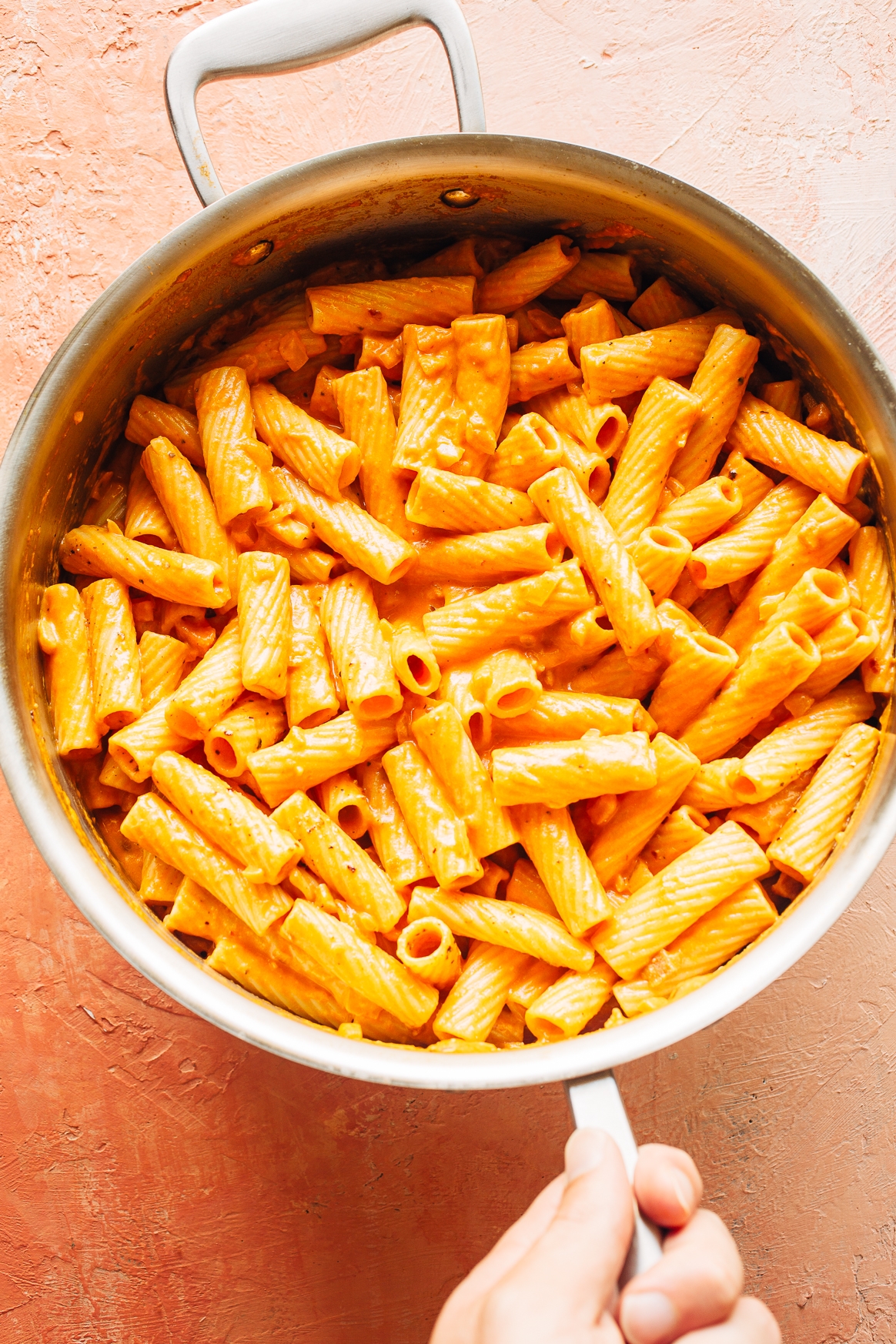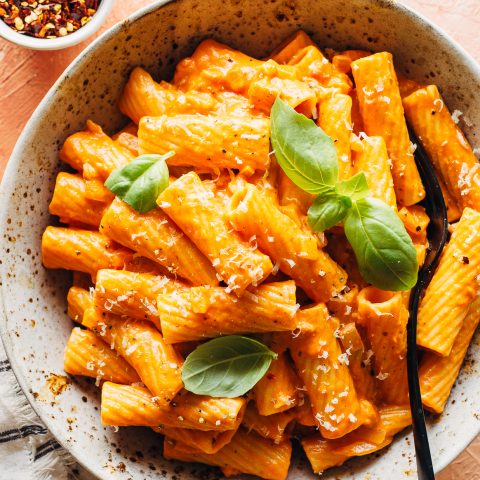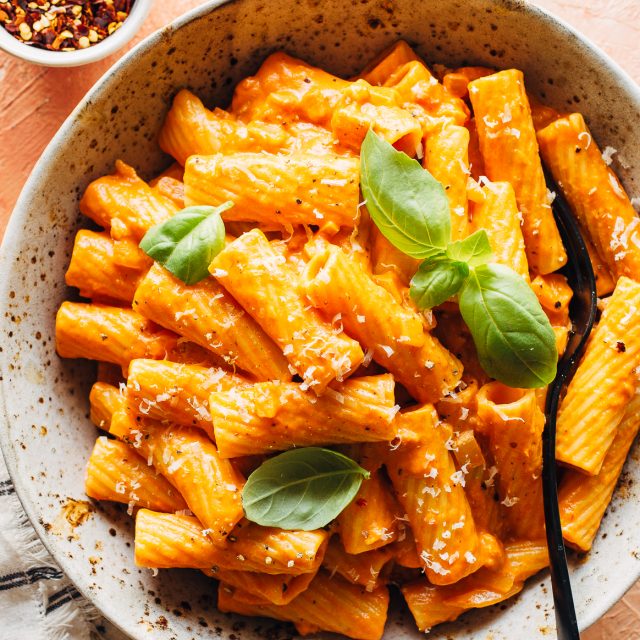 Rigatoni in Vodka Sauce
Ingredients
1

pound

rigatoni

Kosher salt

2

tablespoons

extra virgin olive oil

4

ounces

diced pancetta (or bacon!)

1

medium onion, finely chopped

3

garlic cloves,

1/2

teaspoon

crushed red pepper flakes

1

(6 ounce) can tomato paste

2

ounces

vodka

¾

cup

heavy cream

Freshly ground black pepper

2

ounces

Parmesan cheese, finely grated, plus more for sprinkling
Basil leaves, for serving
Instructions
Bring a large pot of salted water to a boil. Add the rigatoni to the boiling water and cook just until al dente. Drain, but reserve 1 cup of pasta cooking liquid.

Meanwhile, warm olive oil in a large, heavy bottomed pot over medium heat. Add pancetta and cook, stirring occasionally until crispy (4 to 5 minutes). Stir in onion, garlic and red pepper flakes, and cook, stirring occasionally until the onion is translucent (about 4 minutes).

Add tomato paste and cook, stirring often, until it takes on a deeper shade of red and starts to brown on the bottom of the pot (6 to 7 minutes). Deglaze the pan with the vodka, scraping up any bits that may be stuck on the bottom of the pot. Reduce heat to low, then slowly stir in the heavy cream to form a smooth sauce. Season to taste with salt and black pepper.

Add the cooked rigatoni to the pot along with 1/2 cup of hot cooking liquid. Gradually add the Parmesan cheese, stirring constantly to melt the cheese. Splash in pasta cooking liquid as needed if the sauce is too thick. The sauce should evenly coat the rigatoni, but you don't want to see liquid pooling at the bottom. Check for seasoning one last time. You may need to add more salt.

To serve, spoon rigatoni into a shallow bowl, then top with a sprinkling of Parmesan cheese and a few basil leaves.
Tried this recipe?
Tag @brandiego on Instagram so I can check it out!
10