This is a sponsored post written by me on behalf of Foster Farms. All opinions are 100% mine.
This post may contain affiliate links.
Made with Foster Farms Free Range Boneless Skinless Chicken Breast Fillets, this Grilled Lemon Pepper Chicken is seasoned with just salt and lemon pepper. The chicken is grilled until charred and smokey, then finished with homemade lemon-herb butter. This is an easy dinner recipe that I'll be making all summer long.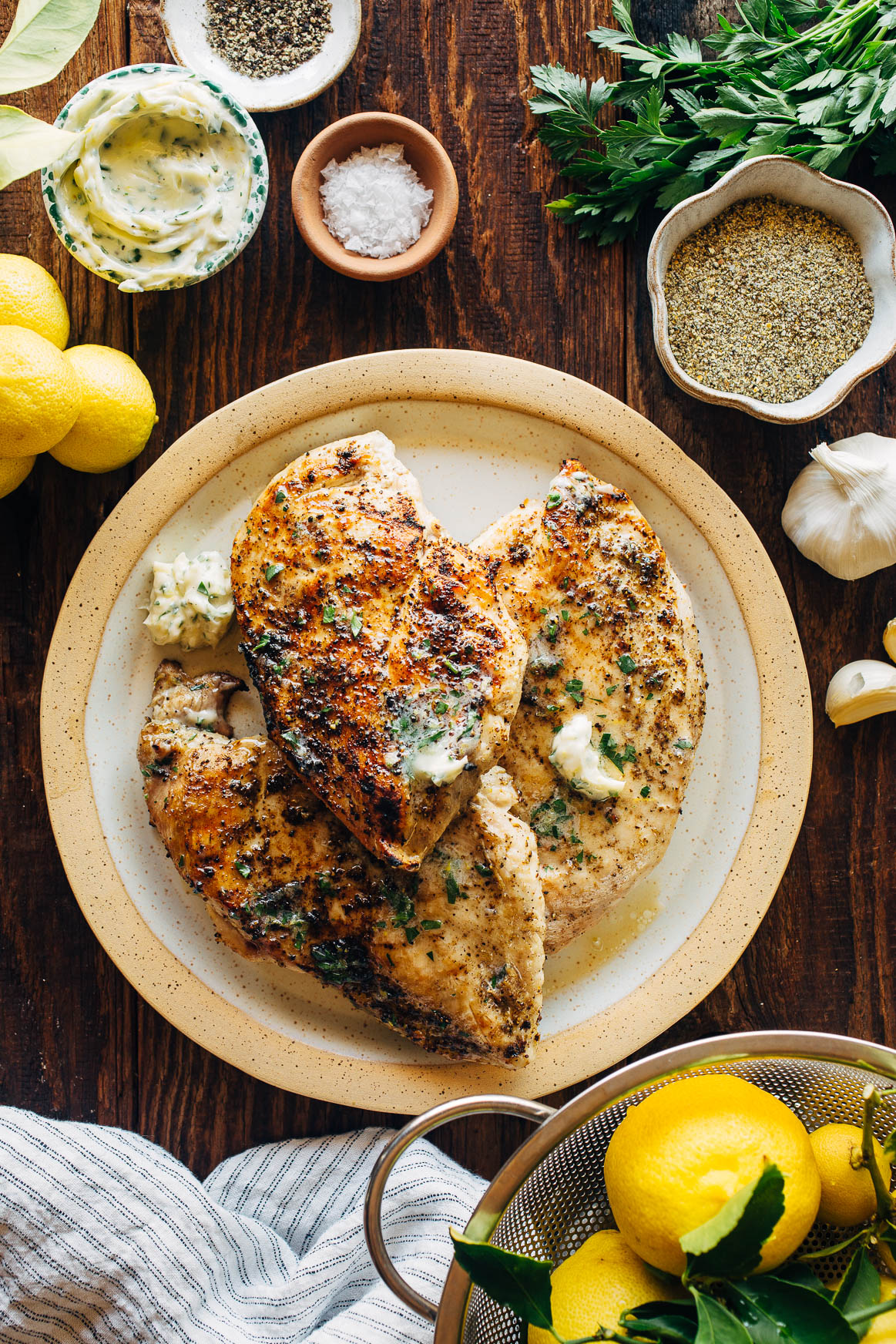 During my younger years, I definitely had a boneless, skinless chicken breast phase, and I haven't made them that often since. Usually I cook whole chickens or chicken thighs. But over these past couple of years, I've been on a quest to fall back in love with chicken breasts, and this recipe is one of my favorites.
Grilled Lemon Pepper Chicken might seem like a simple concept, and one that you're already well familiar with. But I urge you to continue reading below to see my easy techniques that will result in juicy chicken that's packed with flavor.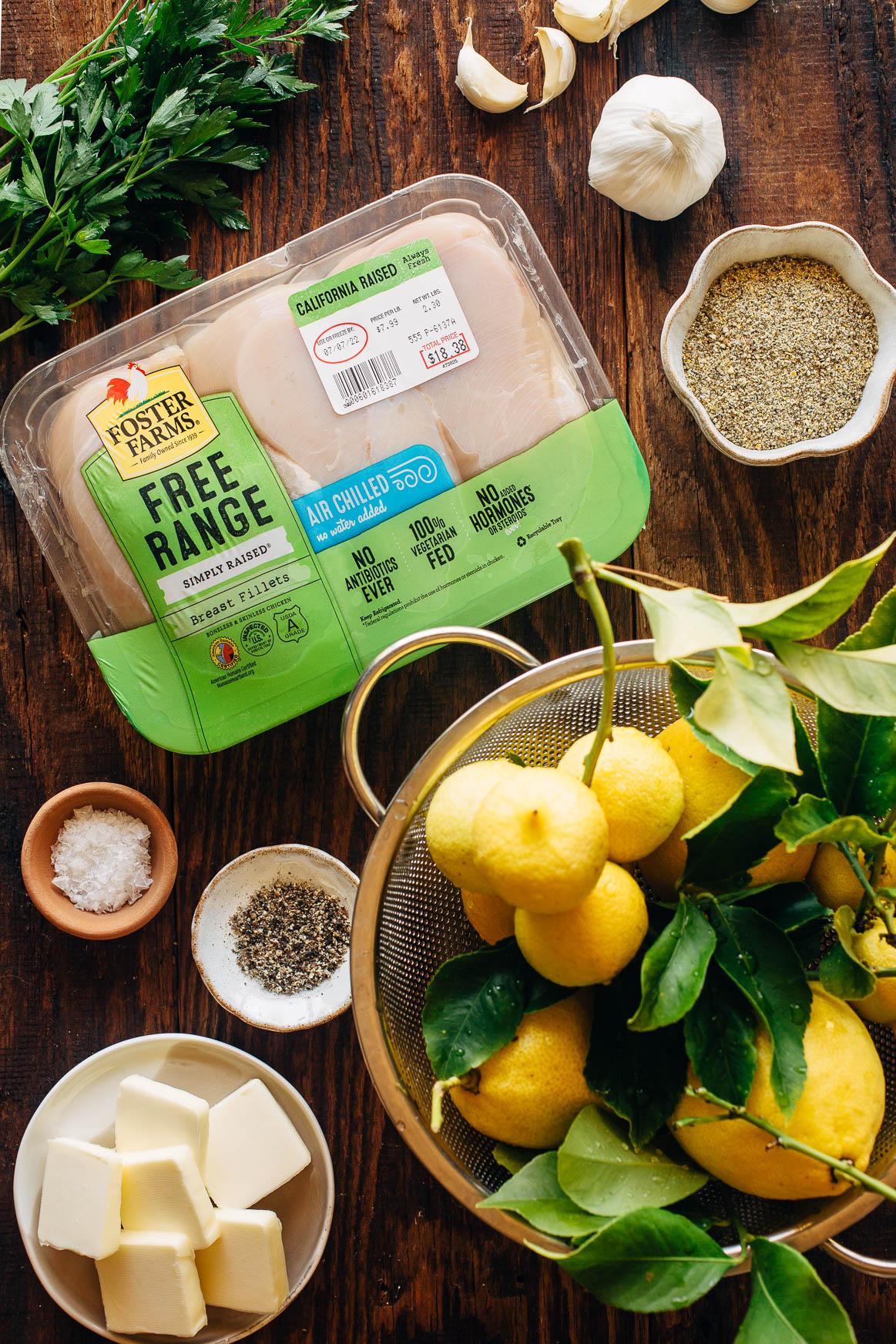 How to Make Lemon Pepper Chicken
To make Lemon Pepper Chicken, you start by pounding out boneless skinless chicken breasts until they're an even thickness. I like to do this by placing one breast in a ziplock bag, and using a meat tenderizer to flatten out the thicker part of the breast.
After that, you briefly brine the chicken (more about this below) to ensure it stays nice and juicy while grilling.
Once the chicken has been brined, you season it with lemon pepper. You can use a store bought blend or try making your own! Cook the chicken on a preheated grill over medium-high heat until the outside is charred and the inside registers 165°F. Let the chicken rest for 5 minutes before serving.
I like to create a two zone grilling set up where one side of the grill is at medium-high and the other is on low (or push all the coals to one side if you are using a charcoal grill). This provides some flexibility if the outside of your chicken is done cooking before the inside is finished. Simply move the chicken to the cooler side of the grill, and let it cook slowly until the inside is done.
I like to finish my Lemon Pepper Chicken with a homemade butter infused with garlic, lemon, parley and black pepper.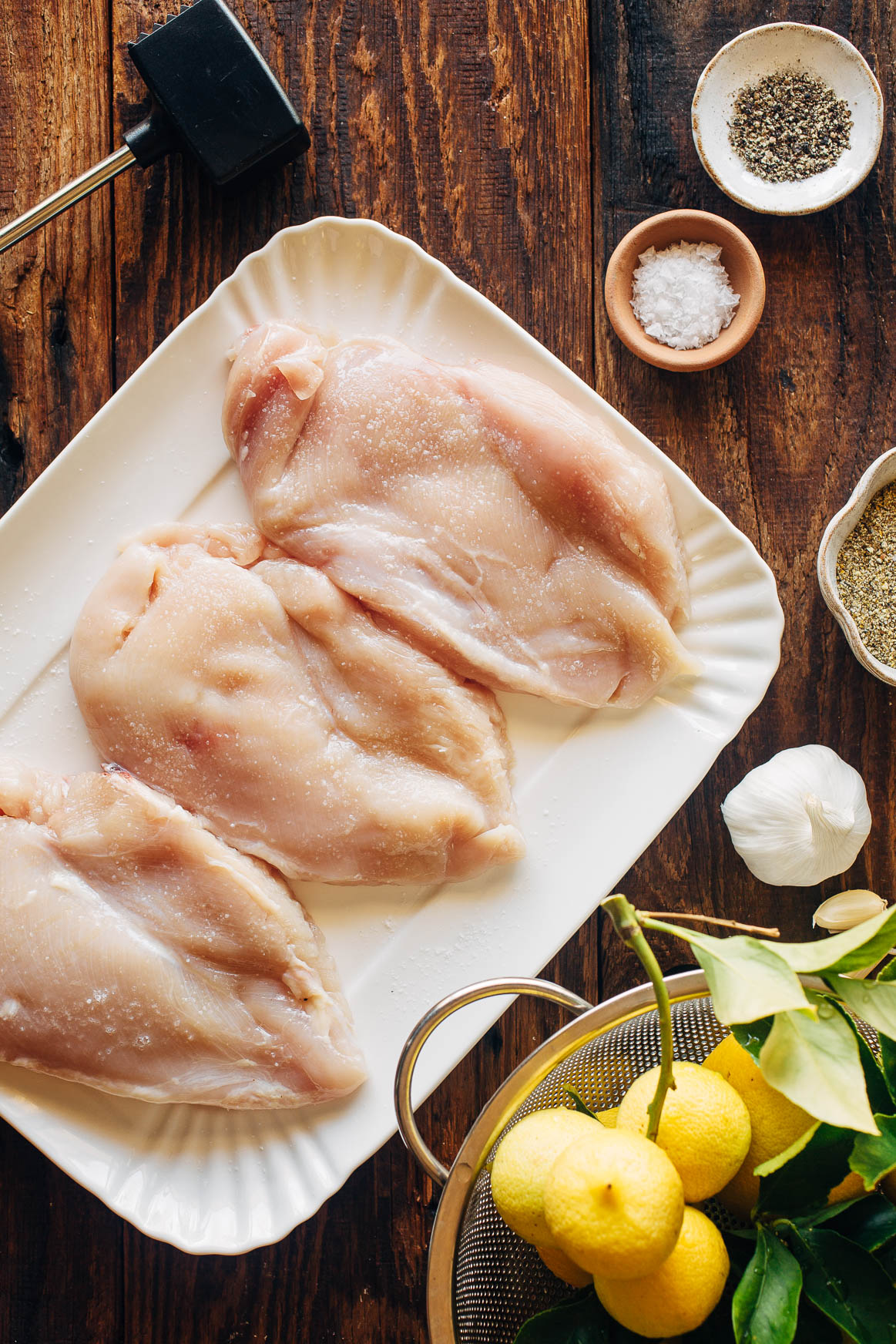 How Brine Chicken Breast for Grilling
There are two ways to brine chicken for grilling: wet or dry. For this recipe in particular, I would recommend a dry brine. To dry brine a chicken breast, simply season it all over with salt and let rest uncovered in the fridge for 30 minutes. The easy step allows you to season the chicken, and also help prevent the chicken from drying out while it cooks on the grill.
If you are interested in trying a wet brine, give this recipe a try.
How Long to Grill Chicken Breast
The short answer is about 5 minutes per side; however, I would highly recommend you check for doneness using a thermometer. Once the chicken reaches 165°F, it's done!
Chicken breasts can dry out quickly, so I would definitely pay attention while you are grilling. Don't just set a timer and walk away! Keep an eye on the outside of the chicken, and flip or move the chicken around the grill as needed to keep it from overcooking.
What Goes With Lemon Pepper Chicken
Grilled Lemon Pepper Chicken is a light and flavorful protein that pairs well with plenty of side dishes. Try it with:
You can also dice up the grilled chicken and add it to pasta, chicken salad (the one with mayo!) or soup.
1