This is a sponsored post written by me on behalf of Foster Farms. All opinions are 100% mine.
This post may contain affiliate links.
My Chicken and Wild Rice Soup, made with Foster Farms Chicken Thighs, kale, wild rice and wild mushrooms, is the perfect way to kick off cozy szn.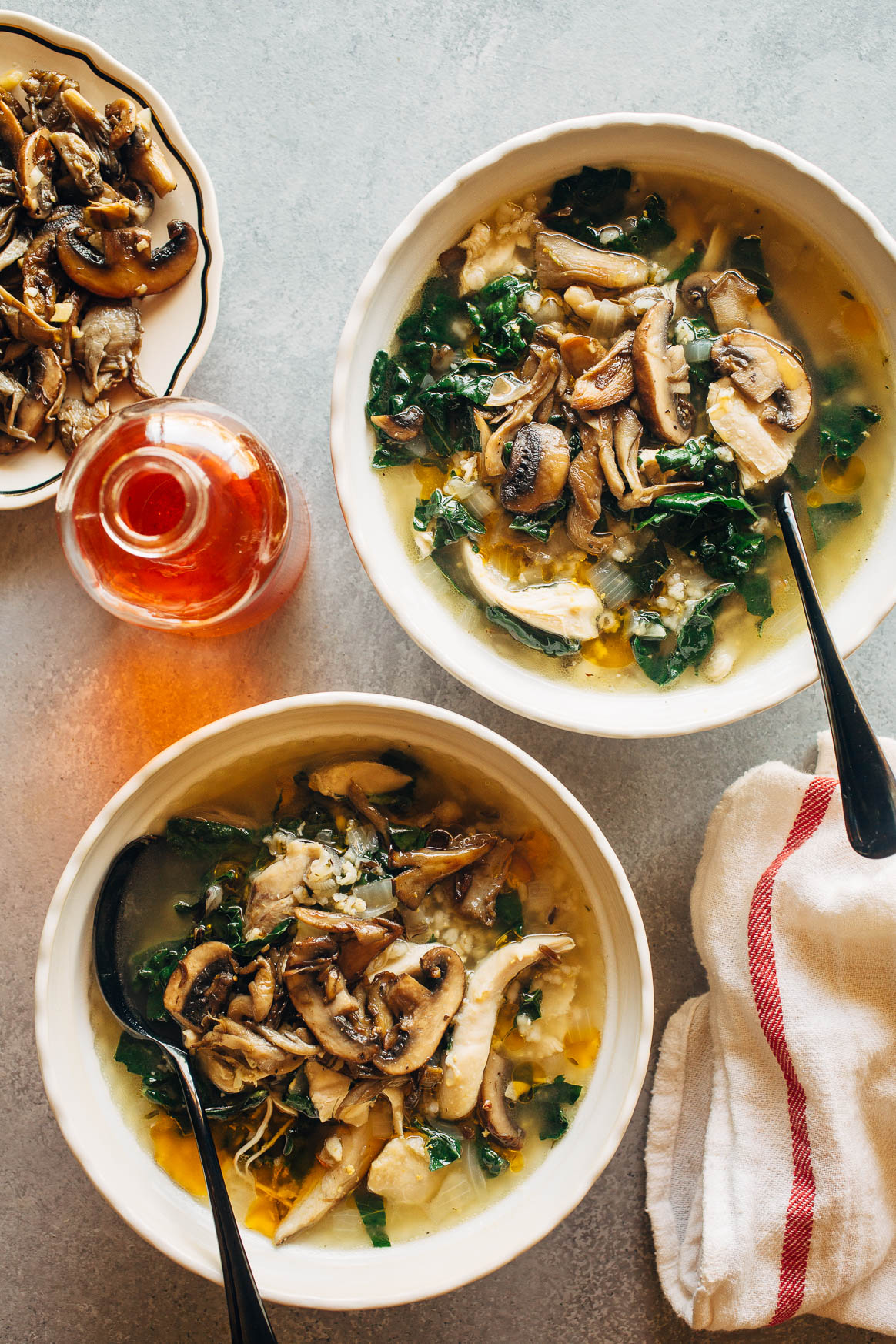 Chicken and Wild Rice Soup is a comfort food classic. My version features kale and mushrooms rather than the typical celery and carrots. The resulting soup has a lighter feel to it, but it's still so hearty and satisfying.
I like to finish this soup with a drizzle of chile oil to add a little extra richness and spice, but that's totally optional. You could also sprinkle on some fresh herbs or grated Parmesan cheese. Continue reading for the recipe.
How to make Chicken and Wild Rice Soup
To make Chicken and Wild Rice Soup, you start by cooking onion, garlic and thyme in butter until soft and aromatic. Then, you stir in chicken stock, wild rice and Foster Farms chicken thighs.
I'm using 1.5 pounds of boneless skinless chicken thighs here that I prepare myself from a package of bone-in, skin-on thighs (more about that below!).
Next, you let the soup simmer until the chicken thighs are cooked through (about 20 minutes). Remove and shred the chicken thighs, and let the soup continue to simmer until the rice is completely cooked (10 to 15 minutes more).
While the soup is cooking, you prepare the flavorful mix-ins. I like to add chopped kale here, but cabbage or swiss chard would also be nice. A super-flavorful addition to this soup is a full pound of wild mushrooms cooked with butter and garlic until tender and golden. I prefer to cook the mushrooms separately so they have a chance to nicely brown up in the pan.
Once the rice is done cooking, you fold in the chopped kale, cooked chicken and mushrooms. The soup is finished with salt, pepper and a splash of white wine vinegar.
You can easily enjoy this soup as-is, but I like to drizzle some chile oil on top.
How to Prepare Boneless Skinless Chicken Thighs
This recipe calls for boneless, skinless chicken thighs. I find that chicken thighs really add a rich chicken flavor to the soup, and the simmered meat is juicy and tender.
Sometimes the only cut of chicken thighs available at the store is bone-in, skin-on. Luckily, it's easy to prepare boneless skinless chicken thighs at home. Start by pulling the skin off of each thigh. You can discard the skin or roast it in the oven for a tasty snack (or use it in this recipe for Mustard Deviled Eggs with Crispy Chicken Skin).
Using a sharp pair of kitchen scissors, make cuts along the bone until you can remove it. Try to keep the cuts close to the bone, so you don't waste any of the meat. You can remove any excess fat if you'd like, and if you see a tough piece of connective tissue (sometimes near the bone), remove that as well.
You'll get about 1.5 pounds of boneless, skinless chicken thighs from 2 pounds of bone-in, skin-on thighs.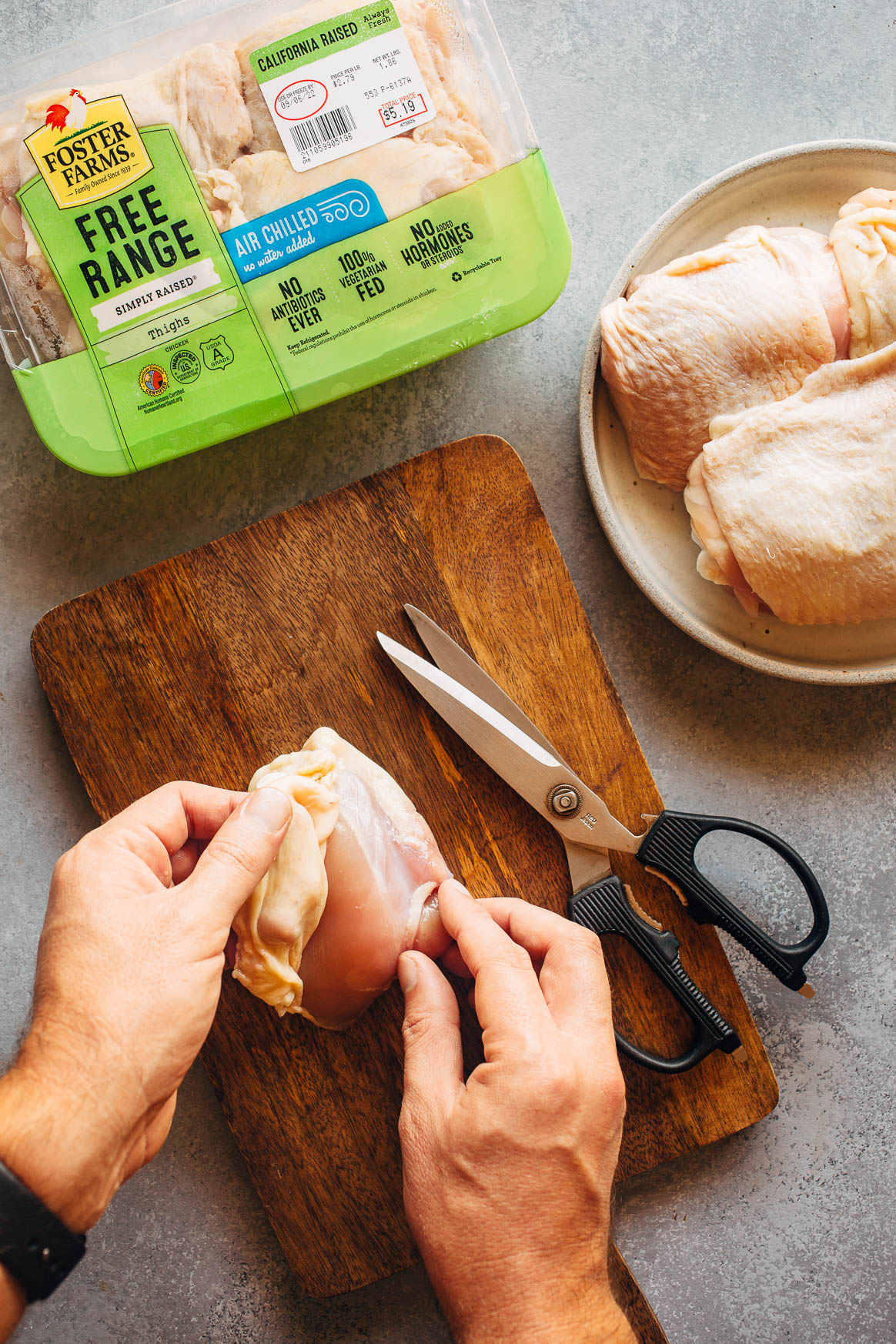 Can You Freeze Chicken and Wild Rice Soup?
This soup definitely freezes well. You can transfer any leftovers to a freezer-safe container, and freeze for up to 1 month.
The ingredients in this soup hold up when reheating, making it a perfect meal prep or make-ahead meal. Flavors can dull a bit when you defrost the soup, so definitely check the seasoning again once you reheat. You may need to add more salt, pepper and white wine vinegar.
1