This is a sponsored post written by me on behalf of Foster Farms. All opinions are 100% mine.
This post may contain affiliate links.
Each year, I get a number of questions from readers looking for a Thanksgiving protein other than turkey. I usually direct them to my roast chicken recipe, but this year, I've got a special recommendation: Truffle Butter Chicken Thighs.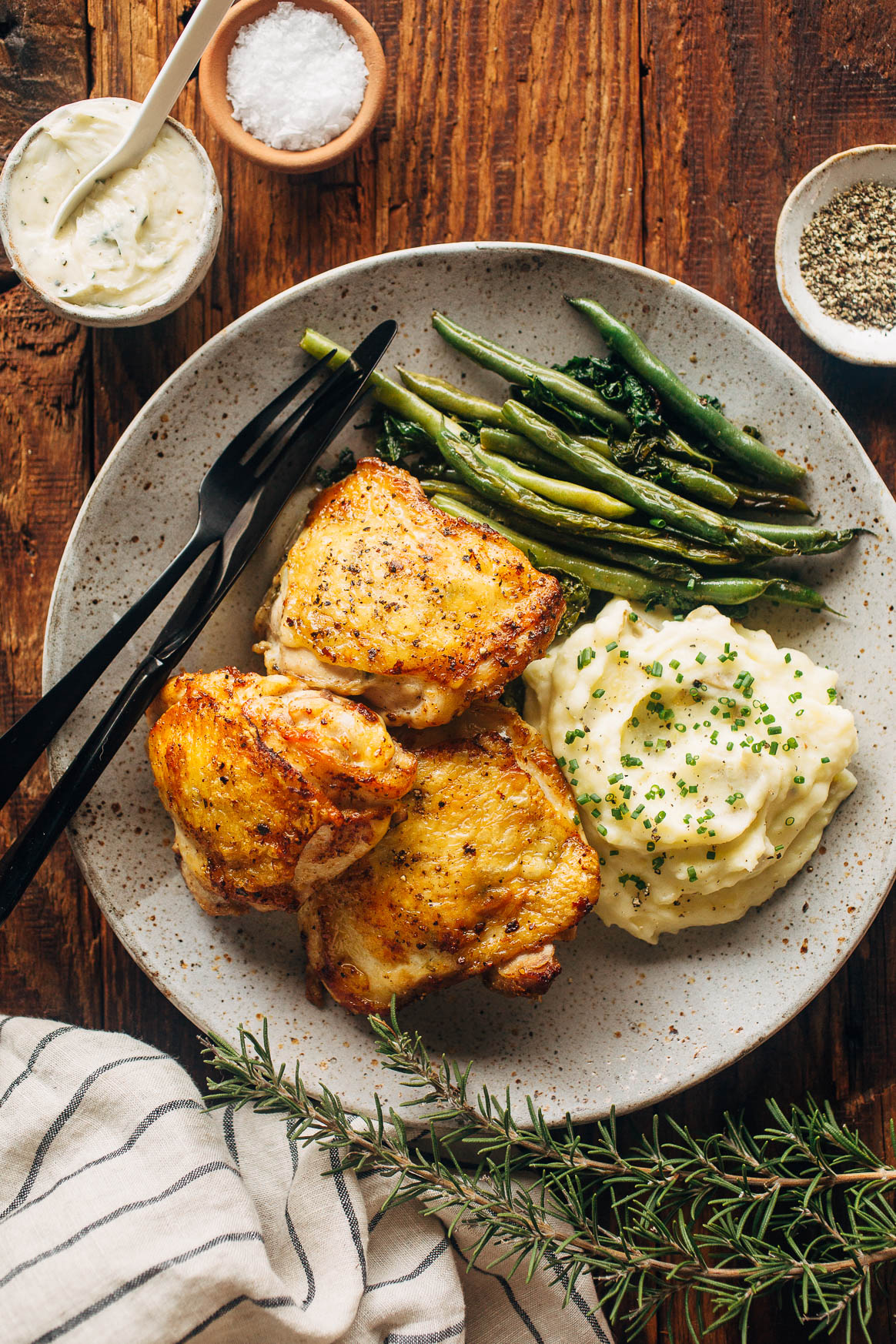 In this recipe, Foster Farms Simply Raised Chicken Thighs are slathered with a homemade truffle butter (more about this below!), pan-seared until golden, then finished in the oven. These chicken thighs have crispy, golden skin and tender, juicy meat. And they can certainly rival any Thanksgiving turkey! Continue reading for the recipe.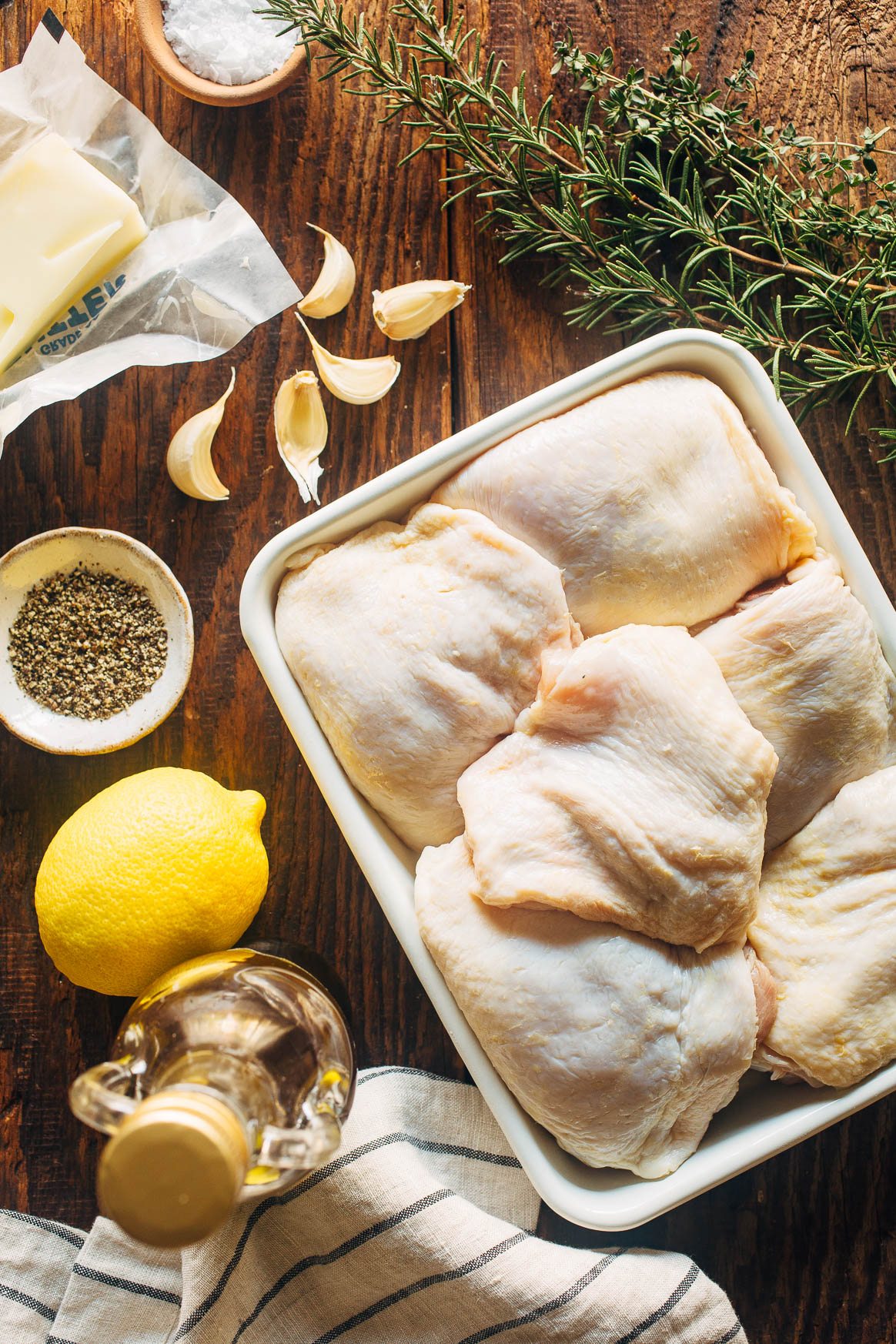 How to Make Truffle Butter
You can certainly purchase truffle butter; however, I find it has a short shelf life and it can be very expensive. Instead, I prefer to make my own truffle butter at home, using fragrant white truffle oil.
Here's how I make truffle butter: place 1 stick of room temperature, unsalted butter in a medium bowl. Add 2 to 3 teaspoons of good quality truffle oil along with 1/2 teaspoon of salt, stirring to combine. Season to taste with more truffle oil and salt.
This recipe for truffle butter is a great base recipe, and you can easily add other ingredients to amp up flavors. For example, here I also stir in 1 grated garlic clove, 1 1/2 teaspoons of fresh herbs (thyme and rosemary), 1 teaspoon of lemon juice and several turns of black pepper.
Just don't go overboard with other flavors – you want to make sure the flavor of truffle is still very present!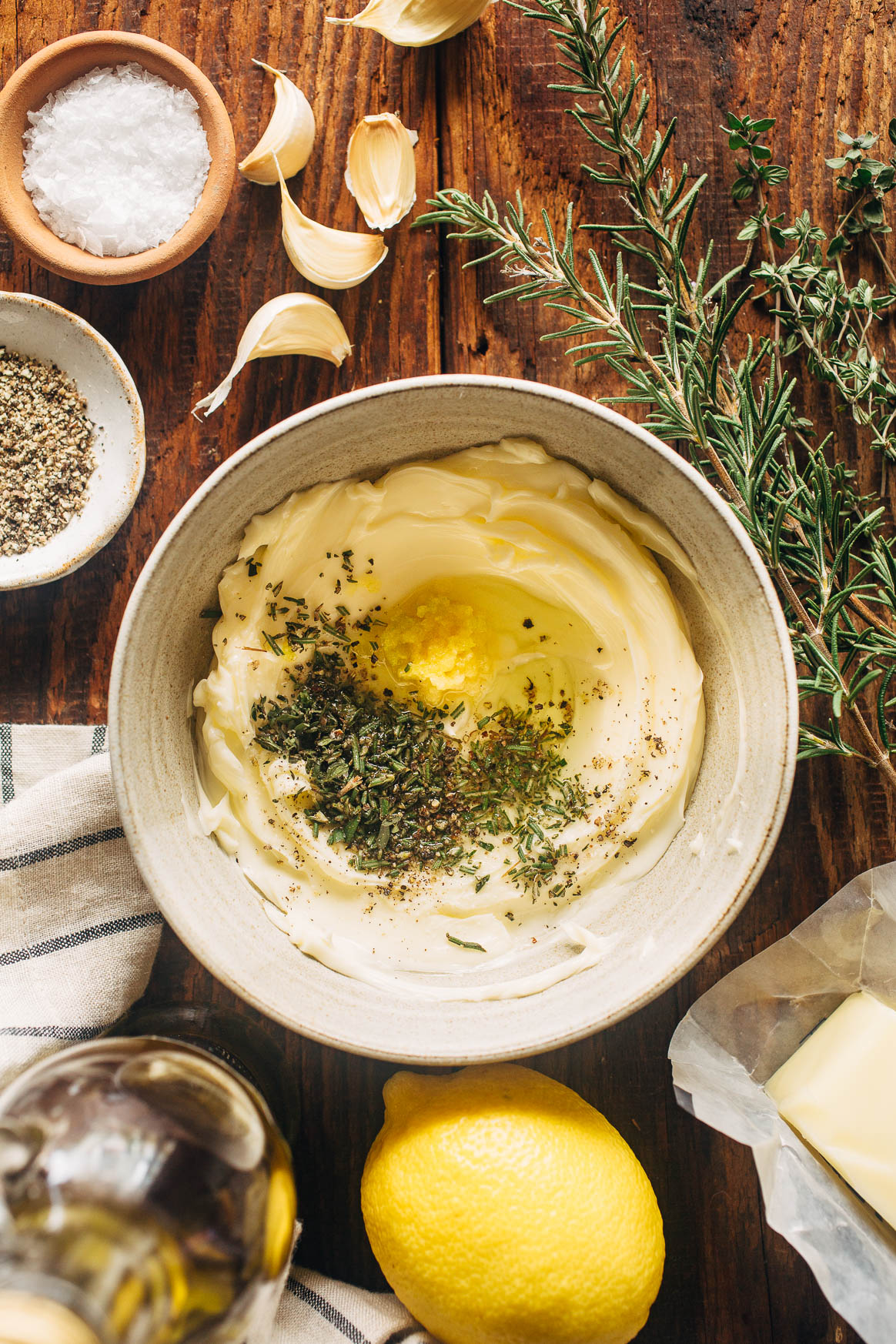 The key to infusing these chicken thighs with plenty of flavor and moisture, is to slather each thigh with truffle butter underneath the skin. This will allow all of the seasoning to absorb into the meat. You also want to make sure you season the outside of the chicken with salt and pepper.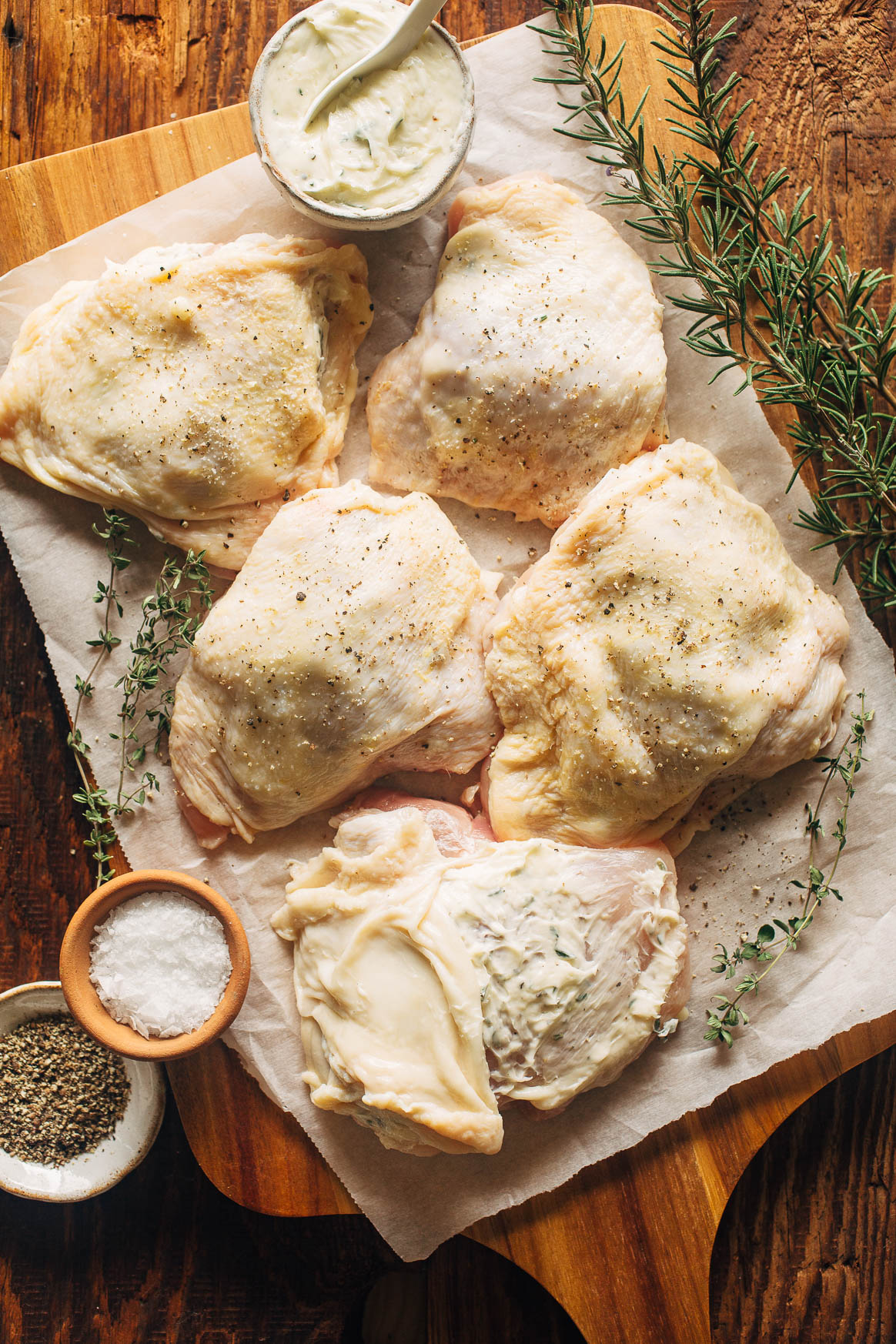 The best way to achieve crispy chicken skin when cooking thighs is to start them in a skillet skin-side down. Once the skin gets lovely and golden, you flip the thighs and finish them in a 425°F oven. This ensures that the thighs are cooked all the way through without overcooking the exterior.
If you are scaling this recipe up for a crowd, it may be easier to roast the chicken thighs on a sheet pan (425°F for 25 to 30 minutes). Just keep in mind that the skin won't get as crispy!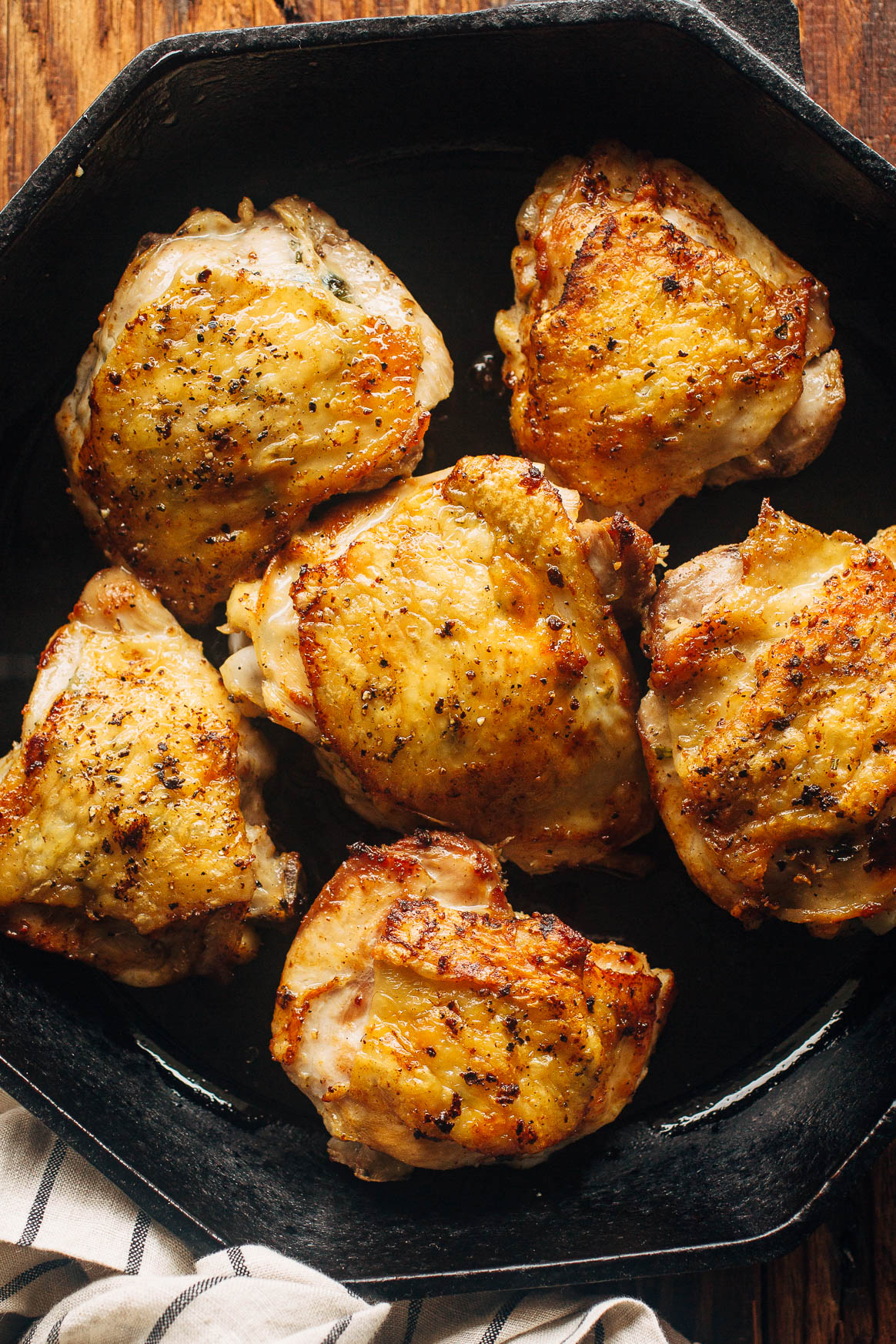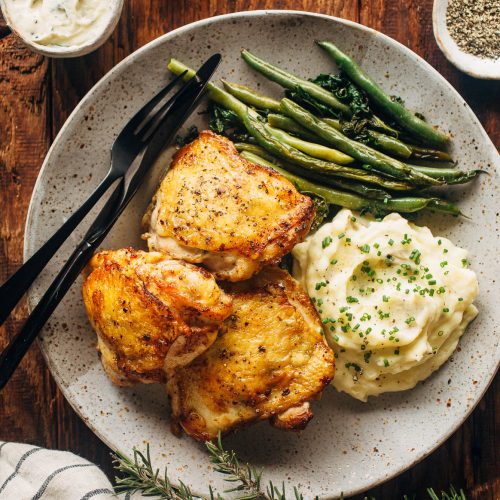 Truffle Butter Chicken Thighs
Ingredients
1

stick butter, at room temperature

1

garlic clove, finely grated or minced

2 – 3

teaspoons

truffle oil

3/4

teaspoon

finely chopped thyme

3/4

teaspoon

finely chopped rosemary

1

teaspoon

lemon juice

½

teaspoon

kosher salt

¼

teaspoon

black pepper

6

Foster Farms Chicken Thighs (about 3 pounds)
Instructions
Preheat an oven to 425°F.

Place butter in a medium bowl along with garlic, truffle oil, herbs, lemon juice, salt and pepper. Mash and stir until evenly combined. Season to taste with additional salt, pepper and truffle oil.

Using your fingers, evenly spread a heaping teaspoon of truffle butter beneath the skin of each thigh. You should have some truffle butter leftover. Season both sides of each thigh with salt and pepper.

Warm a large cast-iron skillet over medium-high heat. Place chicken in the skillet skin-side down, and cook until the skin is crispy and golden (5 to 10 minutes). The chicken may pop and splatter. Use an outdoor burner or splatter screen to keep your kitchen clean! Flip each thigh, then transfer the skillet to the oven. Continue to cook until the chicken registers an internal temperature of 165°F (about 10 minutes more). Let rest for 5 minutes before serving.
Tried this recipe?
Tag @brandiego on Instagram so I can check it out!
5