I've been traveling a lot recently.  Everything has been wonderful, but I'll have to say that it feels good to get back to a regular schedule!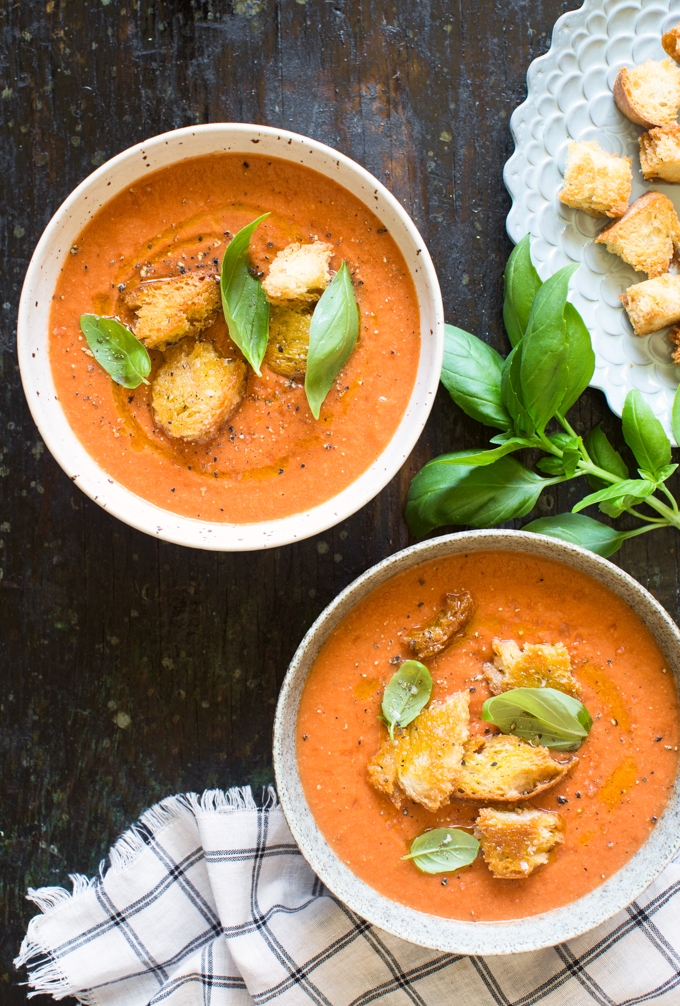 Summer produce—like tomatoes, corn, melons, berries, peppers and stone fruit—is in full swing right now, fueling my inspiration in the kitchen.  On hot evenings with ceiling fans whirring about, I've been throwing together simple dinners that require minimal effort and oven time like this Tomato and Watermelon Gazpacho recipe.  The base of this chilled soup is made of whole peeled tomatoes and juicy sweet watermelon.  The two are blended up with celery, onion, garlic, basil, red wine vinegar, olive oil and slices of French bread.  All of these ingredients are raw, so the only kitchen work here is chopping and blending!  Transfer the soup to the fridge and let chill until ready to serve.
Hued a vibrant shade of red-orange, this Tomato and Watermelon Gazpacho is finished with crunchy croutons, fresh basil leaves, olive oil and a sprinkling of flaky sea salt.  Each spoonful is fresh and light.  You'll be surprised at how much flavor this soup packs even though none of the ingredients were cooked with heat!  Enjoy this as is for lunch or pair with an effortless salad for dinner.  Continue reading for the recipe.