I'll have to say, the process for making sweet-tart Coconut Yogurt couldn't be easier.  Simply introduce some good bacteria to canned coconut milk, keep warm, and let sit for several hours.  BAM!  Coconut Yogurt.  I love serving it with toasted pepitas, dried apricots, flaked coconut and a drizzle of runny honey.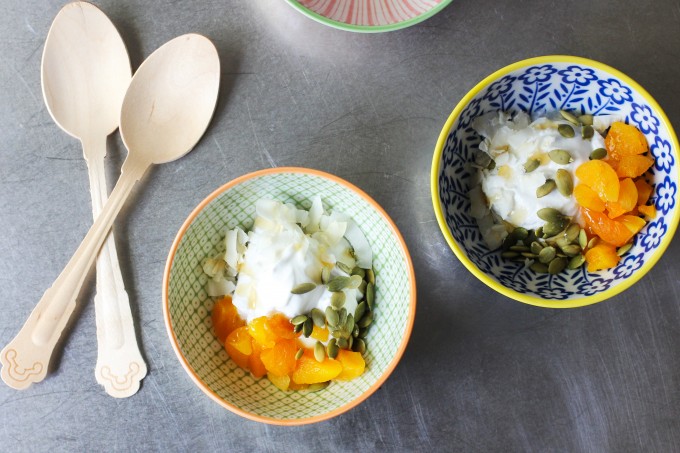 Coconut Yogurt
Ingredients
1

(13.5 oz.)

can full-fat coconut milk

1

tablespoon

dairy-free probiotic kefir (I purchased the Inner-Eco brand at Whole Foods)

Nuts, dried fruit, honey and coconut, for topping
Instructions
Add coconut milk and probiotic kefir to a microwavable jar, stirring to combine. Warm in the microwave until the mixture reaches 115°F (1 minute in my microwave).

Secure the lid on the jar and place in a crock pot. Fill the crock pot with warm tap water 3/4 of the way up the side of the jar. Turn the crock pot on warm and wait 5 minutes. Keep a thermometer in the water and make sure the temperature doesn't rise above 120°F. The bacteria will die if they are warmed over 120°F.

Once you feel the sides of the crock pot starting to warm, turn off the crock pot and pull the plug. Cover the crock pot, then wrap the entire machine in a large towel.

Let sit for 7 - 24 hours. The yogurt will get tangier (funkier) the longer it sits. 24 hours = super funk. Store Coconut Yogurt in the refrigerator for several weeks. Serve with a variety of nuts, dried fruit, flaky coconut and honey.

You can drain the Coconut Yogurt in a strainer lined with damp cheesecloth to tighten up the consistency. Or, just be gentle when handling your jar of yogurt. After a day in the fridge, the coconut water will fall to the bottom and the full fat yogurt will rise to the top. That yogurt is wonderfully creamy. Just be sure not to shake up the jar.
Tried this recipe?
Tag @brandiego on Instagram so I can check it out!
This Coconut Yogurt is part of my Paleo Recipes: Week of May 13 article.  Check it out here!