Carbonara is one of my favorite pasta dishes, and today, I'm sharing a carbonara recipe that I've perfected over the years.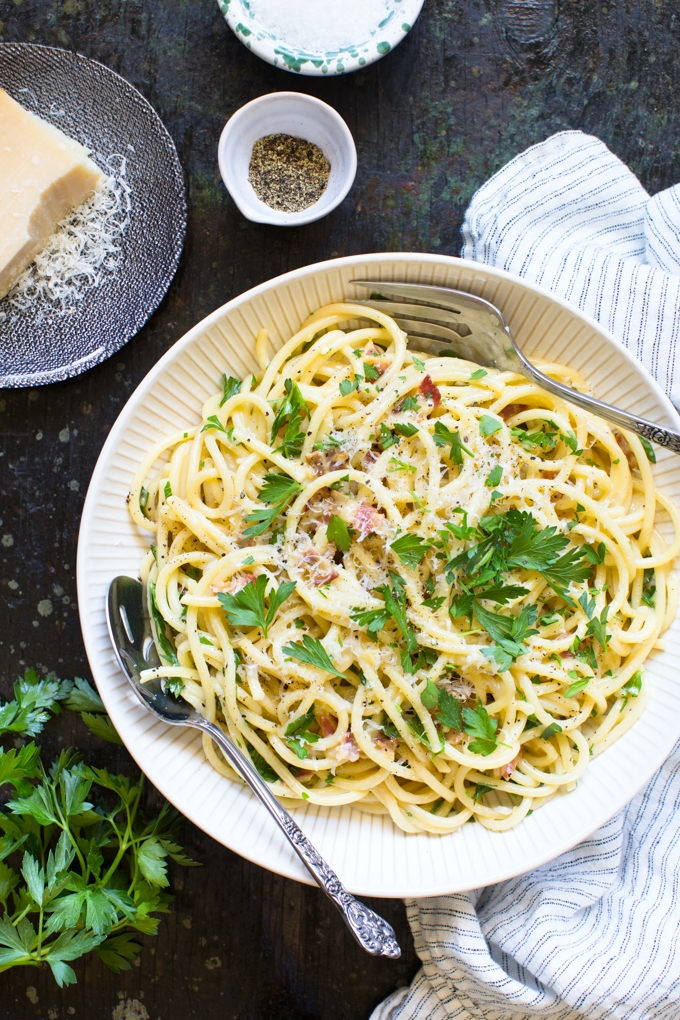 Simply put, carbonara is bacon and eggs pasta.  You start by cooking bacon in olive oil with garlic.  Pancetta would work here as well if you have that instead.  Cooked bucatini is then tossed in the pan to absorb all of that flavorful fat.  The pasta is then transferred to a bowl with eggs, cheese and pepper.  As you stir the hot pasta, the eggs gently cook, forming a wonderfully rich sauce.  Freshly chopped parsley finishes the dish.  Carbonara is silky, salty, creamy, porky and peppery.  It's truly a delight.
Carbonara has been a favorite over the years, because it comes together in under 30 minutes and can be made with mainly pantry/fridge staples.  Usually, I'll just have to grab a bunch of parsley at the market, and I'm ready to go.  This dish is made with raw eggs, so if that weirds you out, you may not want to prepare it.  I've made carbonara countless times over the past 10 years, and I've never gotten sick though.  Continue reading for the recipe.